Given the widespread of new Corona variants such as Delta and Omicron, there's a little hope of things getting better in the near future. In this pandemic marred world, the only way to keep ourselves, our employees, and our businesses safe is to stay at home, get vaccinated, and continue to follow all the necessary precautions. The hybrid work model gained popularity in the year 2019, the time when Covid-19 hit the world for the first time. And to everyone's surprise, it proved to be the best option to continue business operations in a time of great uncertainty. 
Many organizations now understand how well they can make things work for their organization and employees by adopting a hybrid work model. In this blog, we will talk about what hybrid work really is and how this new model of working can be of great help. 
What Is A Hybrid Workplace Model?
In simple words, hybrid work is a model that organizations adhere to streamline flexible working conditions for their employees. It allows employees to work from anywhere at any place. To support employees' preferences, many employers are planning to keep remote work an open option. 
According to
research
, nearly half of respondents (48%) say they'd like to work a few days remotely and a few days from the office.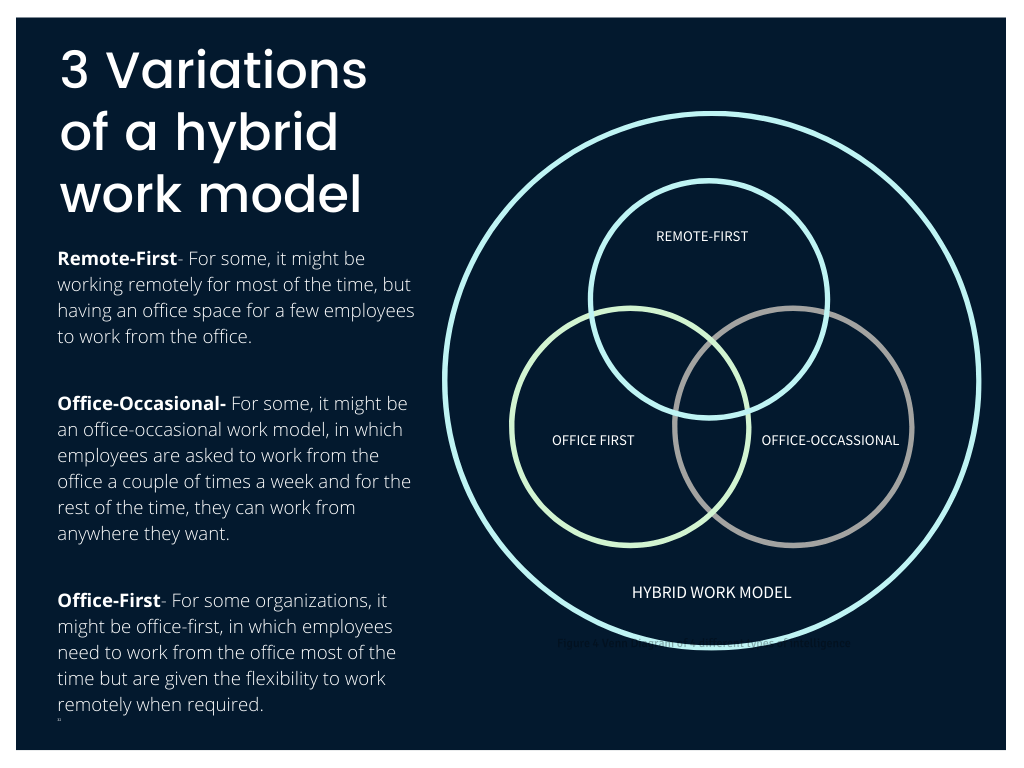 Challenges Associated With Hybrid Work
As remote work is here to stay, hybrid work is going to be present as well! However, there are many challenges of hybrid work model and some of them are as follows: 
✅Lack Of Alignment Between Employees
Sometimes, it becomes difficult for in-office employees and remote employees to get aligned with each other. During the hybrid work practice, the line between collaboration and autonomy gets blurred. This lack of alignment can impact their performance as well as their relationship with each other. 
✅Poor Communication And Collaboration
This is another major challenge of the hybrid work model. When there isn't an agreed-upon time when to connect or when to start a particular project, there tends to be miscommunication. When all members of your team work at different times and paces, collaboration becomes difficult. 
✅Underutilization Of On-Site Workplaces
Even if all your team members are working remotely, there will still be a requirement for a dedicated office space. When there are not many employees who work from an office, all the office perks seem like a waste of resources. This is why most organizations are opting for coworking spaces as these give businesses access to a wide range of amenities without the investment. 
✅Unconscious Bias Can Be A Matter Of Concern
A hybrid work model can fuel unconscious bias in the workplace. Research studies have shown that employees who are seen in the office working even after working hours are always favored over remote employees when it comes to performance evaluations. However, you can opt for a performance management system (PMS) and get rid of this problem. A PMS helps you track the real-time performance of your employees. 
So these are some of the challenges of hybrid work that may impact your organization in many ways. That's why organizations need to stick to some best practices to manage their workforce in a hybrid model. 
Let's have a look at what employers can do to successfully manage hybrid work model:
How to Manage Hybrid Work To Gain 100% Success?
Data from a recent
WeWork and Workplace Intelligence survey
says that 75% of employees have no problem in giving up at least one benefit or perk for the freedom to choose their work environment.  While 64% of employees would pay up to $300 for access to an office. 
Step on these points to enable your hybrid model to work well. 
✅Understand Employees' Needs & Preferences
It is vital to keep tabs on its
impact on employees' engagement
and productivity levels to get rid of the negative sides of remote working. Employee collaboration is one of the most common de-merit of remote work. Hence, it is necessary to understand the consequences of employees being physically separated. 
Employees decide where to work on the basis of what they need to get their work done (39%) and who else is going to be at the workplace that day (37%). 
It is mandatory to keep a check on employees' preferences and their nature of work for setting up a successful hybrid workplace.
✅Make Room For Communication Goals
It is not an easy task to achieve good organizational alignment
. Today it is has become highly important. Hybrid work makes organizational alignment difficult to achieve. This is why making room for clear communication around an organization's strategy, goals, mission, and vision becomes part of the new order. 
Unfortunately,
only 61% of workers
feel they receive the exact information related to what is happening in their office.
Distributed workforce needs to align their set goals and level of understanding on the same page. Doing this will never bring any reason as a cause of obstruction in their newly formed hybrid workplace.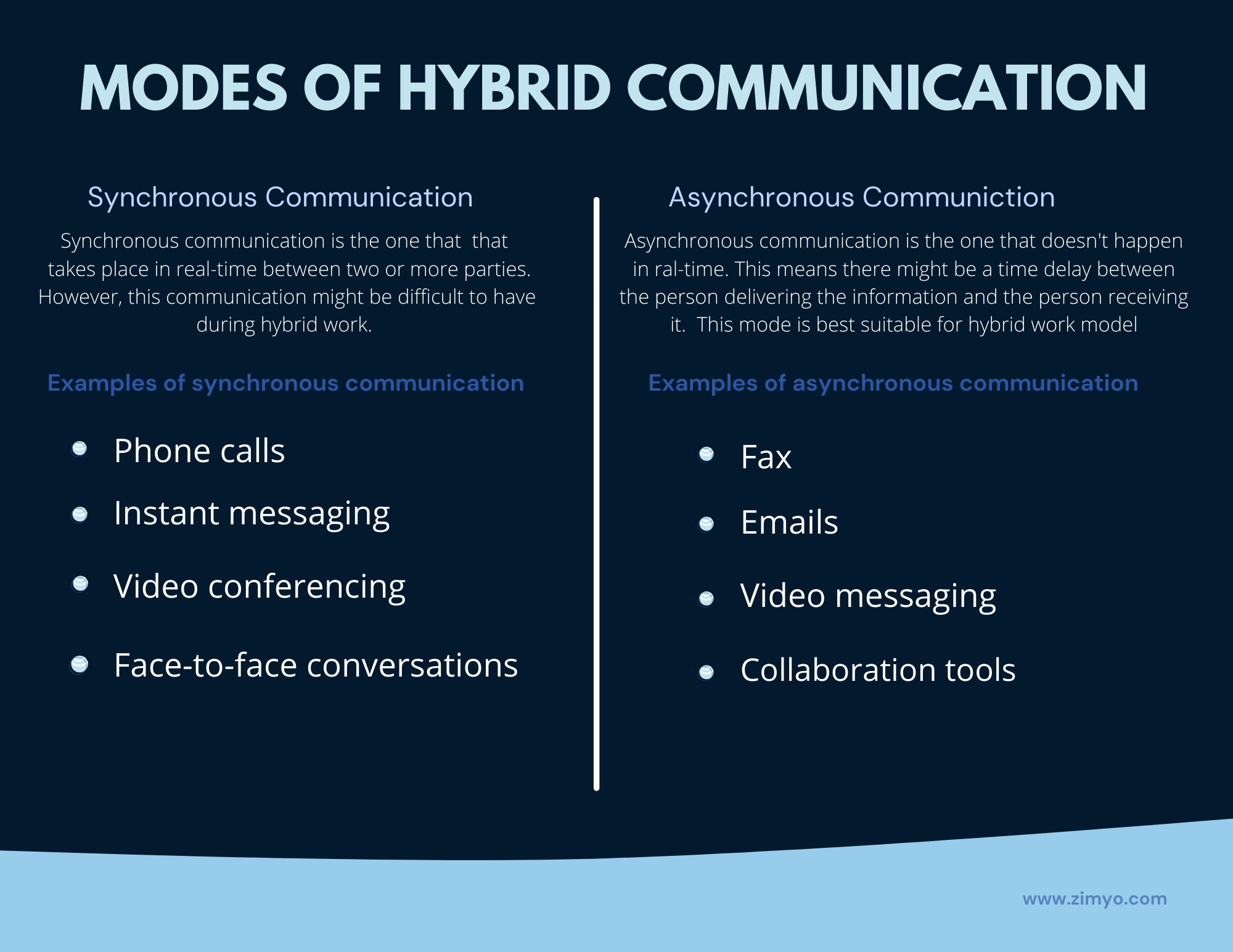 ✅Make Employee Communications Your Priority
Proper employee communication
is the key prerequisite for success in a hybrid workplace. Many employers are still working hard to achieve next-level communication. However, most of them have made workplace communication their #1 priority. 
Based on
research
:
The #1 expectation from employees is that their employers should take part in meaningful and effective communication, but

Only 42% of employees say their company puts effort into communicating on all levels.
Lack of proper employee communication technology often stands as a roadblock in improving remote communication.
✅Ask For Feedback
Hybrid work craves better employee listening.
Your employees' feedback is crucial
for understanding the impact of newly set hybrid work on employees' wellbeing, productivity, and engagement. 
This is why organizations around the globe are setting space for regular employee surveys. While they used to do annual
employee engagement surveys
, some of them are now collecting daily feedback from their employees.
However, many employers find it hard to get feedback from their employees. Particularly those who are not in direct reach including
deskless and frontline workers
. You can record regular and honest feedback from your employees with the use of the right technology-
✅Give Guidance Whenever Required
Your employees should never be assuming about serious stuff including when they should be present at the office. 
Although the hybrid work model is like a piece of cheese slice stuffed in the middle of remote-first and office-first, it can still get swayed in either direction without clear guidance. 
For that reason, it's important to create new rules, procedures, and the best hybrid work strategies. As we often lean on leaders for guidance, check this to learn about
the most important leadership skills
!
✅Don't Discriminate!
Recently, Dropbox reiterated an issue that many people have slammed the hybrid model — promotions and benefits might not be awarded on an equal basis. As Dropbox's statement said, 
"Hybrid approaches may also perpetuate two different employee experiences that could result in barriers to inclusion and inequities with respect to performance or career trajectory."
A study on this topic is also in full support of the idea that office workers are more likely to be promoted. According to a survey by
Gartner
, 64% of managers are more likely to give office-based workers a pay raise than remote workers. The reason is they believe that office workers perform better than workers in a WFH setting. 
It is the need of the hour that organizations should invest in training managers to avoid biases against remote workers during performance reviews.
✅Include New Benefits For Remote Employees
Because of the rise of the hybrid work model, employers need to think again about the perks and benefits they offer to their employees. While travel allowance used to be a good perk, today this benefit is no longer valid to many employees. 
Instead, employers are hoping to receive more relevant perks amid the WFH setting. For instance, some employers are giving out compensation for Wi-Fi and electricity expenses. While some are offering home office supplies such as standing desks, laptops, or even offering
financial employee benefits. 
The Benefits of Hybrid Work Model In 2022
Apart from the little bad about hybrid work, there is a lot of research that speaks well about hybrid work.  It has proven to be beneficial in terms of motivating employees, making them more engaged, and helping them stay productive. 
Here are the top benefits of hybrid work models.  
✅Better Employee Experience
According to
research
, a majority (66%) of employees say they are constantly worried about their health and safety when it comes to getting back to the workplace. More than half (56%) of employees believe a hybrid work model rules out the former in every aspect. The hybrid work model makes more room for flexibility. This positively impacts employees' wellbeing, safety, and creates work-life balance.
✅Raised Bar Of Productivity & Engagement
Happy employees with better working experience are also more engaged. According to a
Gallup survey
, employees who worked remotely had the highest engagement.  This is why it is imperative to allow employees to work remotely so that they can deliver their best all the time. When employees are engaged they feel more productive and deliver their best performance. 
✅Easier Talent Attraction & Retention Rate
Earlier research revealed that 41% of workers would be okay to take a job with a lower salary if the company is in a hybrid work setting. While complete flexibility used to be a not-so-attractive talent magnet, it is now becoming a prerequisite for many candidates. So if you wish to attract and retain top talent, then you must consider offering hybrid work as an added benefit to your prospective employees. 
✅Positive Impact On Employee Mental Health 
If an employee prefers to work remotely and save himself from commuting to the office, then he can choose to work remotely. Similarly, if an employee wishes to work in the office as he/she feels isolated at home then he/she can come to the office. This type of flexibility introduces a better work-life fit for the employees. This eventually has a positive impact on their mental as well as physical health. 
✅Other Benefits
Apart from the aforementioned benefits, the hybrid work model also helps you hire talent from a wider pool. As you know that having a remote workforce is not much of a challenge, so you can now hire people from different geographies. This in turn promotes diversity in your organization. Reduced infrastructure costs are another thing that makes the hybrid work model a suitable choice for the organization. 
Conclusion
Picture a hybrid model as the ultimate face of your business to achieve tremendous heights. After all, in this modern age of high competition- you can't let any type of physical constraint, ongoing pandemic, or any other calamity take the best of you, your organization, and your employees.