Are you thinking of implementing HRMS Software in your organization? Well, it's a great decision!
By automating several repetitive or manual HR operations, HRMS software empowers an organization to improve its strategic outcomes and long-term business performance.
But what kind of HRMS software should you deploy?
With HR needs rapidly becoming more complex and layered, the HR management system software should be budget-friendly while also offering all the functionalities required. It should also come with a security factor in HRMS and end-to-end accessibility, given the criticality of data stored in your database. Other considerations include tax impact, integration, control, and mobile support as well.
HR management system software should help a company to integrate all the core functions of HR in one platform which includes modules such as:
Payroll management
Performance and appraisal management
Rewards & benefits
Employee recruitment & onboarding
Time & Attendance management
Choosing the best HRMS software in India can be a quite daunting task, especially if you're rolling it out for the very first time!
Confused? There is no right or wrong in this. The kind of HR management system software you go for should primarily depend on the kind of resources you possess, your budget, and your business need and size.
Here is a point-by-point comparison of Cloud HRMS and On-Premise HRMS solutions to help you decide what works better for your organization.
What Is A Cloud-Based HRMS Software?
The cloud-based HRMS software is an HR system that is managed and maintained through a remote server. To access it, you've got to log in through your internet browser. Cloud computing rests on the pillars of shared resources and network access to supply low-cost and on-demand rapidly provisioned resources.
Advantages of Cloud-based HRMS software
Do you also have this question in mind "Why to choose cloud HRMS software?" Here are some of the reasons why!
Accessibility:

With cloud software, applications are often accessed from anywhere at any time via any device or an online browser.

Affordability:

With cloud hosting, there's no upfront cost, whereby reasonable payments need to be made on a daily basis like all other expenses. This also includes cost incurred for the system maintenance, support services, daily backup chargers, and licensing as well.

Maintenance:

Since it's a hosted software, there's no need to worry or invest time within the maintenance of the software or the hardware it's installed on. HRMS Cloud solution provider is liable for compatibility and any upgrades.

Security:

Cloud service provider employs security measures that an organization would find extremely high if it were to be done inhouse. Hence the higher the measures, the higher security it offers.

Recently released figures suggest over 51 percent of IT leaders believe data security is better in the cloud than in their own data centers, and 58 percent say that it is the most secure, flexible and cost-effective solution suited to business challenges.
Deployment:

Cloud software can be set up easily and takes less time because it is accessible using the internet, whereby there's no need for a physical server to be in place.

Scalability:

Cloud technologies offer greater flexibility as these are often scaled up on demand as per the business requirements.

Costs:

Since the necessity to take care of on-premise servers is eliminated, the price of power and other resources aren't present.
Disadvantages of Cloud-Based HRMS software
Connectivity:

So as to stay productive, there's a requirement to have access to reliable internet at all times.

Costs:

The entire ownership cost may well be higher compared to an upfront cost if spread over the system's entire life cycle.

Customizable:

Complex development needs may not align with a cloud solution sometimes.
What is On-Premise HR software?
The On-Premise HR software is one which is installed and implemented in your company's premises. You need an in-house IT team to manage and maintain the On-premises system.
Advantages of On-Premise HRMS software
Cost:

The full cost of ownership is lower as compared to the recurring payments if the system's entire lifecycle is covered.

Control:

Since it's your hardware, data, and software platform, you've got complete ownership and control. Any changes, configurations, and upgrades can be done based on your free will.

Connectivity:

There's no reliance on external factors like the web to access your servers.

Security:

On-premises servers are not accessible to those outside the network, as they are not storing the data online. For companies who handle sensitive data, on-premises storage is also a preferred option.
Disadvantages of On-Premise HRMS software
Cost:

There's a large upfront capital cost that needs to be incurred, together with support and functional costs.

Maintenance:

Any hardware and software, storage, data backups, and disaster recovery must be maintained on-premise. With limited technical resources and budget, this could become a problem, especially for smaller firms. Data is the backbone of your business. Losing it may be crippling, both for your efficiency and your reputation. With on-premises storage, a malfunction within the system or a compromised system held for ransom can cause you to lose your data permanently. While a cloud-based system will keep your data insured, on-premises storage systems have all the information stored on an enclosed server, meaning you assume a greater amount of risk.

Deployment:

Because the software must be installed on servers and individual computers, the deployment takes longer.
How to Choose Between Cloud-Based & On-Premise HRMS Software?
Cloud-Based & On-Premise HRMS software are two of the best HRMS software in India and are available with their own set of positives and negatives. In order to come to a decision between both of them, you need to know the factors related to both the solutions and choose which might be best for your business.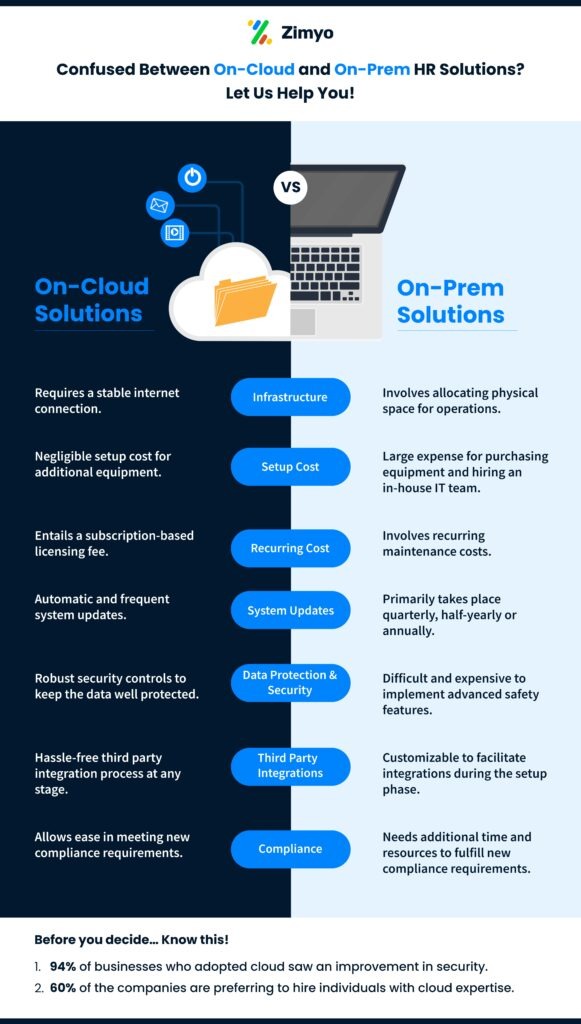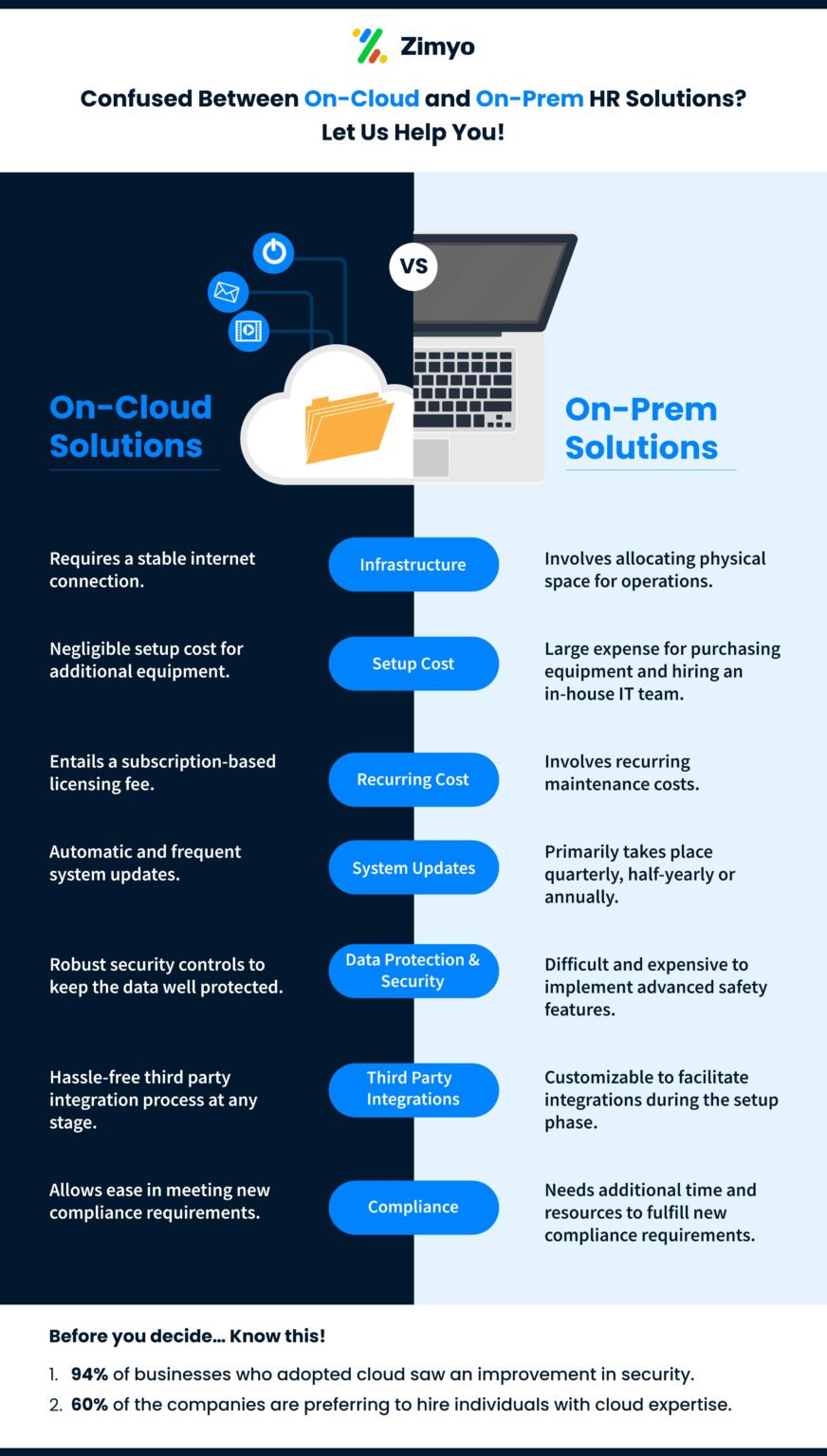 While choosing the type of HRMS software, you want to first consider the scale of your company. If you're a growing company with over 100 employees and need plenty of customizations and alterations within the software now and then, a cloud-based solution isn't the proper choice for you. What you need is an in-house solution that provides you scope for your growth and organizational changes.
If you go for an On-Premise HRMS, you need to really keep trying to find new patches manually and pay additional costs for newer upgrades. this can be harder because it must be done during business hours only when there's an IT personnel to manage it. This would definitely decrease productivity and increase workload. On the other hand, HRMS on cloud doesn't require any manual labor and is usually freed from charge.
There's also a rising tide of organizations moving towards cloud: The 15th Ernst & Young Annual Global Information Security Survey found that 59% of organizations already keep data within the cloud or are going to do so.
The bonus is that your HRMS cloud solution provider will make sure of all the installations, updates, and maintenance after business hours in order that your business productivity doesn't go down.
On-premise HRMS enables you to cater to your data yourself and only you are to blame for any loss in data or breach of security. Though an HRMS cloud solutions provider features a high level of security and contingency measures in place, keeping it with you would mean that your sensitive data doesn't leave the organization and is in your control.
According to the latest forecast by Gartner on Market Trends, End-user expenditure on cloud services will total to $4.4 billion in 2021. This will be a 31.4% hike in comparison to 2020.
The On-cloud HRMS even offers easier data backup than on-premises servers ever could. Even if your computer goes haywire or the local files are deleted, you can find & access the stored data again. This means that your organization can easily minimize the risk of losing critical information.
However, just in case you're feeling that it's difficult for you to manage all the sensitive data and feel that a far better option would be to hand it over to a trusted source that will store and secure it on your behalf, then you'll be able to go ahead and invest in an On- premise HRMS cloud solution.
This is a less-discussed point but is extremely important to think about while deciding which one to choose. A cloud-based HRMS software would require good internet connectivity at all times for it to function effectively. However, if you don't have a good internet connection or if your company is located in remote locations with limited network connectivity, then on-premise HRMS would be a secure bet for you.
Flexibility and Risk Level
If you have got a small and rapidly growing business, it's essential that your HRMS has some level of flexibility and scaling up feature. If you choose an HRMS on cloud, you'll be able to work on a monthly contract so you don't need to buy it once you don't need it.
Also, this solution can support your business in cases of sudden growth spurts and cutting down. You'll just obtain whatever you utilize. However, in the case of on-premise HRMS, you've got to pay for additional hardware and software packages. The installations, preparations, configuration, and implementation of such software would take plenty of it slow and resources.
Capitalization of Investment
This is a really important aspect to think about for any business and while some business chooses to overlook it, some others prefer that over other advantages. In the case of an on-premise HRMS, your investment on that is often capitalized and value depreciated. However, with HRMS on cloud your ability to take advantage of the investment is incredibly limited.
When we are comparing Cloud HRMS Vs On-Premise HRMS, it's a general assumption that HRMS on cloud is relatively less costly and affordable compared with on-premise HRMS, it's not exactly true. There is a lot of cost difference between cloud HRMS and On-premises HRMS. The entry cost may be lesser for the cloud-based solution, but after you have a look at the ownership cost in a long run say 3-4 years, HRMS on-premise has the lowest cost of ownership compared to its cloud counterpart.
There isn't any right or wrong choice when we talk about Cloud HRMS and On-premise HRMS. Both systems carry advantages and disadvantages. Therefore, the HRMS solution you choose and deploy should primarily rely on your available resources, IT strategy, budget, and business need.
---
Also Read: HRMS vs HRIS vs HCM