HRMS, HRIS, HCM – This word puzzle can confuse anybody in the workplace. They are so perplexing that the majority of employees and employers use these terms interchangeably. However, all three of them are different from one another; they are not quite the same!
Clearly, having little or no understanding of this in the business world, especially as an HR professional, can be a bit embarrassing.
HRMS (or Human Resource Management System) tools have in a true sense given the uniqueness that your startups require. While features of HRIS, HRMS, HCM software are different, they all improve the efficiency of your HR professionals.
Therefore, HRMS tools for startups and small businesses have created a buzz. With the advantages these tools have to offer, all of these terms can be understood to identify which one suits best for your organizational needs. Furthermore, let's talk about what each of these terms implies:
What Is HRMS Software?
HRMS software refers to a system of tools that helps you manage human resources and business data with the comfort of sitting behind a screen. Therefore, with the amount of burden on HR, it is safe to say that a digital advancement would be the right way to go.
HR has to perform almost every duty that remotely means managing the employees of the organization. From recruiting to motivating, everything is on HR's shoulders. If only we had a robot as an HR!
However, HRMS is no less than what an HR robot would feel like. It aids in:
Recruiting employees using artificial intelligence wherein one of the jobs performed is scanning candidate resumes for your employee requirements.
Payroll management of every employee based on what is the accepted income for an employee performing a specific task in the organization.
Leave applications are also easy to tackle with HRMS by logging the leaves taken by any employee and whether they are eligible for another based on reasons and previous records.
The attendance of an employee is also taken care of by the HRMS portal.
An HRMS system also helps keep an account of how an employee performs the tasks given to them by assessing the percentage of goals accomplished and the time taken in doing so.
What Is An HRIS?
HRIS or Human Resource Information System is a type of HRMS. Function-wise, there is not much difference between HRMS and HRIS. Typically, HRIS is used to track numerical data and employee information. However, it aids organizations in managing their policies, employees, and procedures.
It is also used for data entry, data tracking, and data management of the HR department in an organization. Moreover, it helps to take care of tasks related to HR, accounting, management, and payroll that are going on within a department numerically.
It also helps to handle human resource expenses without the wastage of any resources in the HR department of an organization. Therefore, it facilitates efficiency in the decisions made for HR.
HRIS supports an organization by ensuring the addition of skilled and talented employees and their enrichment in every step of the journey. As any typical company spends a major chunk of its budget on employees, HRIS helps to extract major quality from them.
What Is HCM?
HCM or Human Capital Management refers to curating business strategies to meet their organizational goals and applying information technology to implement them. It also undertakes employee rewards and their management. The type of strategies supported by HCM includes:
Employee planning
Assessing the employees' capabilities
Managing the performance of employees
Logging for the time taken in the achievement of goals and the resources exploited
Training of employees
Recruiting a skilled workforce
Implementing and enhancing teamwork qualities in a department
Taking an account of employee suggestions in building a plan
Reporting & Analytics
Differences Between HRIS, HCM, and HRMS
Now that we've defined each of these terms, let's look at the big question: What are the differences between HRIS, HCM, and HRMS?
HRIS Vs. HRMS
HRMS and HRIS are commonly used interchangeably. They are both designed to automate HR operations and processes while also acting as a single database to store workforce data. As a result, each of these databases contains all data that the HR team requires for key HR procedures like payroll processing and benefits management. What exactly is the distinction between the two?
HRIS stands for Human Resources Information System. It is a compact package of HR software. It's designed to help your business run smoothly as it is equipped with the most important HR features and applications that every business requires. All employee-related data, including leave balances, employment information, performance reviews, and demographic data, is managed using HRIS software.
Human resource management software, on the other hand, is a one-stop-shop for all aspects of HR management. It includes all of the features included in the HRIS, as well as advanced features including time, labor, and payroll management.
Because employee policies and guidelines differ from one state to the next, HRIS features can be adjusted to meet state requirements.
The HRMS package can easily manage taxes and a variety of other laws. In comparison to HRIS, HRMS analytics are more powerful. HRMS has a much greater number of third-party app integrations than HRIS.
HRMS Vs. HCM
HRMS is appropriate for a small to midsize company's HR needs, but HCM is appropriate for a larger company's entire employee lifecycle. Not only can HCM fulfill all of the tasks that HRM software does, but it can do it in the most efficient way possible. It can be used for succession planning as well.
HRMS software allows firms to be ready for potential risks and uncertainties in addition to standard HR functions. It can detect red flags and alert the human resources department before it's too late.
HRMS is also essential for engaging, deploying, managing, and retaining employees.
Core Features Of HRMS, HRIS, HCM: A Detailed Comparison 
At first glance, the features of HRMS, HRIS, HCM software may appear hazy. People frequently get confused by these concepts and terms, so learning about the benefits and features of HRMS, HRIS, HCM software before purchasing them is critical.
Let's look at these systems in more detail.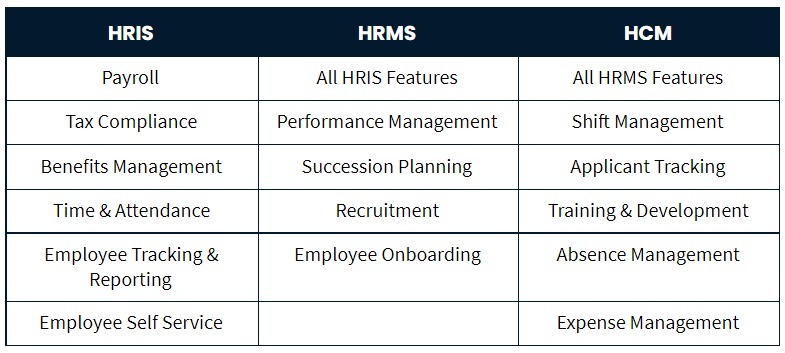 HRIS
The features of an HRIS might vary greatly depending on the type of company being targeted. With that in mind, here's a rundown of HRIS software features.
Main Features of HRIS:
Organizes and maintains master employee data.
Automates compensation and benefit planning.
Provides payroll management services.
Helps in recruiting and retaining top talent.
Assists in the planning of duties and structures for positions and departments.
Provides applicant tracking and recruitment services.
Maintains a log of career development plans and training.
Employees and managers can use self-service options.
Provides basic analytics and reporting features.
Creates and maintains performance evaluations.
Records employee absences and leaves.
When Can You Choose HRIS?
If you have to manage HR, payroll, and benefits responsibilities for a large workforce on a daily basis.
If you need to automate new hire check-ins and performance reviews, this is the tool for you.
You are unable to record any written performance warnings or performance improvement plans.
HRMS
When you purchase an HRMS, you gain access to everything that an HRIS provides, as well as payroll management and more effective employee management features.
Main Features of HRMS:
Database administration.
Employee interface.
Training and development.
Applicant tracking options.
Time and attendance management.
Talent acquisition and retention.
Developing workflows.
Benefits administration and management.
Employee self-service portals.
Automating routine HR actions.
When Can You Choose HRMS?
Reduce paperwork by storing and managing all papers, forms, and reports online. It also saves money on paper and physical storage.
Automate data collection, processing, and documentation to eliminate inaccuracies in employee data.
Automate tasks that are tedious and time-consuming.
Improve your teams' internal performance.
Simplify payroll management by effectively storing attendance and time-off data on cloud.
Increase data security by password-protecting every piece of information.
Improve the entire workplace culture and growth opportunities to reduce employee turnover.
HCM
HCM software encompasses all HRIS features as well as talent management and global features.
It also combines other tools and features, such as performance analytics, payroll records, and timesheets, making it easier for businesses to manage and track all employee-related information.
Main Features Of HCM:
Core HR, such as employee life cycle management with payroll and benefits administration.
Attendance, time tracking, scheduling, and absence management.
Workforce administration, project management, and labor forecasting.
Talent management (recruiting, onboarding).
Performance management.
A staff portal for self-maintenance of employees.
Analytics for strategic HR, including reports, dashboards, and predictive analysis.
Automation of manual processes, such as resume importing and data entry.
When Can You Choose An HCM?
To reduce the risk of losing top talent.
Boost employee engagement and nurture it.
Increase the ROI of onboarding processes.
Improve the flow of information throughout the organization by establishing greater communication.
Recruiting and retaining more talent.
To better corporate culture.
Need for a system that is adaptable to each organization's activities and actions.
Management and optimization of the workforce.
Optimization of talent (career pathing , competency mapping, succession planning, learning, and development.
HRMS vs HRIS vs HCM: Which One Should You Prefer?
Whether you choose an HRIS or an HCM, your selection should be based on a detailed analysis of the current situation and your future growth objectives. You'll need to identify a system that can meaningfully connect people and workflows. After all, your payroll and HR solutions have an impact on each and every employee, as well as the company's overall performance.
The right software can provide a lot more than just administrative features. It could help you with day-to-day operations, strategic expansion, compliance risk reduction, and employee engagement.
Advanced technologies and analytics can help you take your organization to new heights. You'll be in a stronger place for strategic expansion and will be ready to meet workforce, technological, and data trends.
Conclusion
The market for online HR software was predicted to be worth $13.8 billion. HR software systems, which began as talent management tools, have evolved into essential systems. Furthermore, the upgrade train shows no signs of slowing down, so expect more robust features to hit the market in the near future.
When deciding between HRIS, HRMS, and HCM, take your time. Consider your own experience, real-world automated procedures, and real-world scenarios, rather than just marketing and pretty interface graphics.
The software you choose is entirely dependent on the demands, size, and goals of the organization, and the peculiarities of each software might be crucial when it comes to optimizing your HR procedures. Take your time to be sure of the solution you want to use to meet your business requirements. If you choose your HR management solution wisely, it will improve the overall performance of your company.
Furthermore, because employees will be free from normal and tedious daily duties that will be automated, they will be more open to unique ideas – a nice bonus, right? Choosing the inappropriate software could cost your firm time, money, and even data. So before you make a final decision of investing in HR software, evaluate cost, functionality, limitations, data recovery, analytics, and customer support to get the most out of it.
---
Also Read: Cloud HRMS Vs On-Premise HRMS: How to Make The Right Choice?