Human Resource Management is a vital aspect of any company or organisation. It is responsible for hiring new employees, training them and taking care of their grievances, and providing solutions. The job of HR is to also ensure that the company follows local rules and regulations related to labor laws. They ensure that all the treatment of employees is fair and without discrimination. However, if done manually Human Resource management can be a tedious process. It involves a copious amount of paperwork, documentation, and record-keeping. It takes a dedicated amount of manpower and cost to keep the process running smoothly. That's where the vital role of HR automation software fits in.
Due to advancement in software technology, there exists a number of HR automation software and tools to choose from. These tools assists in the human resource management process and alleviate a lot of painstaking manual work. This saves time and money for both the employees and the company. The goal of human resource automation is to enhance the efficiency of the HR department by freeing the employees from the tedious manual processes. This allows them to focus on more complex human-centric tasks like making strategic decisions.
More and more companies are seeing the advantage of this approach. Thus HR automation software is invading the HR space. This incentivises companies and employees to adapt to the new system and learn to take full advantage of automation.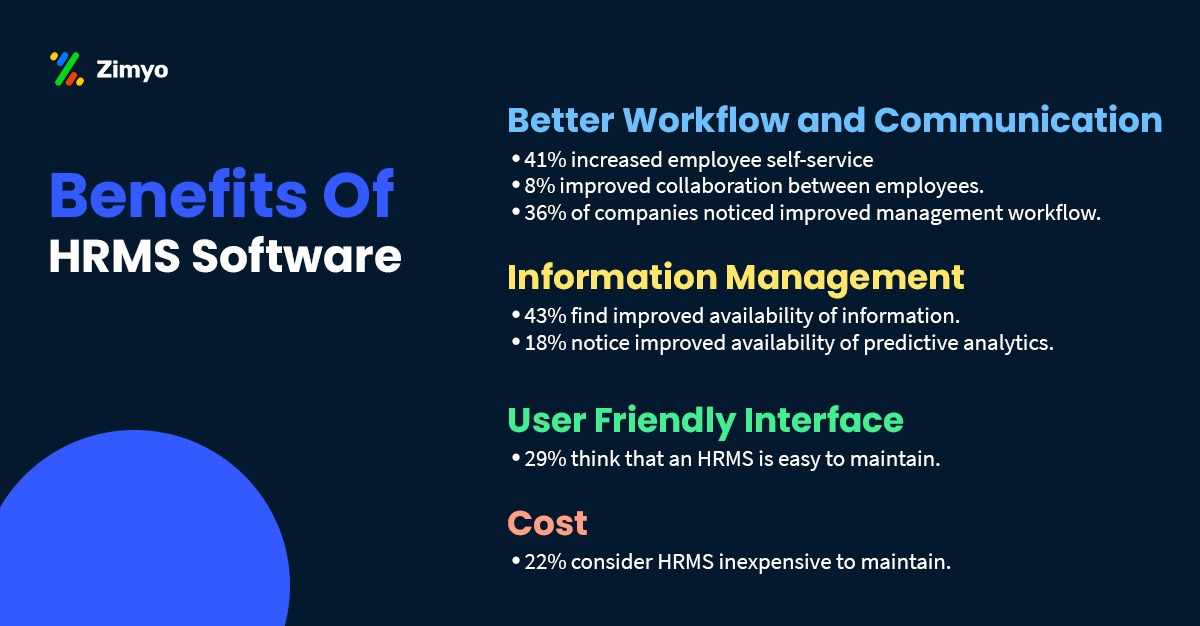 Benefits of HR automation software
Automating HR tasks can help companies streamline, design, integrate and deploy human resource tasks and processes at much lower cost, time and money. There are numerous benefits to HR automation, if it's implemented effectively.
The key benefits are:
Rapid processing and data sharing among employees and teams improves productivity.
Raises the standard of employee engagement, thus reducing employee turnover.
Cuts down on storage and printing costs brought on by paper-based processing
Reduces instances of compliance risk or policy violations
Optimises the hiring process, while ensuring it's done at a minimum cost. This leads to the growth of the organisation.
Reduces data entry errors caused by humans and ensures that they don't misplace important documents.
Enables decision-makers to make informed decisions about the organisation by taking insights from data and reports.
Encourages collaborative effort with all relevant stakeholders to train, hire, and retain skilled employees.
Provides HR with more time to analyse data to make strategic decisions for organisational operation and growth.
HR challenges without automation
Keeping in mind all these benefits, not investing in HR automation can prove detrimental to the health of an organisation. The problems compound as the business grows. Some of the problems that can be potentially faced are as follows:
➡️Increased manual errors
Certain tasks like checking leaves, verifying timesheets, calculating payrolls, etc can be swiftly and efficiently performed by software with close to zero errors. The same tasks, if performed by humans, potentially could lead to a much higher error rate. This could lead to lost company time and efficiency as all entries need to be double or triple checked to rectify the errors.
➡️ Increased cost
If we don't automate tedious manual human resource management tasks, it clutters up time for the HR department. This time could have been otherwise used to focus on more complex and meaningful tasks, which software can't performed, like making strategic decisions.
➡️Keeping tab on employee becomes difficult
One of the key tasks of the Human Resource department is to regularly check up on new employees to ensure that they are fitting into the company, and their role in it, as smoothly as possible. However, it might prove difficult for them to keep tabs on all new employees as they have various other tasks and responsibilities on hand. This could lead to them unintentionally missing or forgetting meetings or check-ins. If we automate this process, it would enhance the experience of a new employee in the organisation and led to a smooth onboarding process.
Processes that can be automated by HR software are:
1. Employee Onboarding
Employee onboarding is an integral part of the corporate experience that is very important for both the employee and employer to get right. A smooth onboarding process ensures that the employee adjusts well into their new work environment and has clarity about their roles and responsibilities. It also makes it clear what the structure of the organisation is, who they report to and who their team members are. This greatly improves communication between the employee and the rest of the organisation, and thus in turn improves productivity.
Using automation can greatly improve the onboarding process for both the employee and the company. The employee onboarding software can collect documents from the employee, raise asset requests, give access to tools, etc. Relevant team members can deliver tech support, and other types of assistance, digitally without having to wait around for the physical presence of the necessary teams.
2. Leave Request
Requesting for leaves manually can be a long and tedious process, involving paperwork. This is a waste of company and employee time. It can become a daunting task for the employee, especially if it's an emergency leave. HR automation software automates the process and you can also apply leaves directly from the software.
3. Employee Timesheet
Tracking the timesheet for every employee manually can be an intimidating and repetitive task that involves a tedious amount of paperwork. It can very easily be automated to make the process easy, smooth, and error-free. Every employee can clock in when they start their workday and clock out at the end of the day. The software can then compile a consolidated report containing the timesheet of every employee, in a format that's easy to read and understand for the human resource management team.
4. Performance Tracking
Performance tracking is a process undertaken by HR that dynamically measures, tracks, and analyzes the performance of every employee based on various metrics appropriate to the organization's goals. Doing it manually may not only be a tedious task but can also cause errors and bias. For the sake of transparency, bias, and discrimination-free performance management it's best to automate the process using performance management software. It ensures accurate performance tracking and accurate results.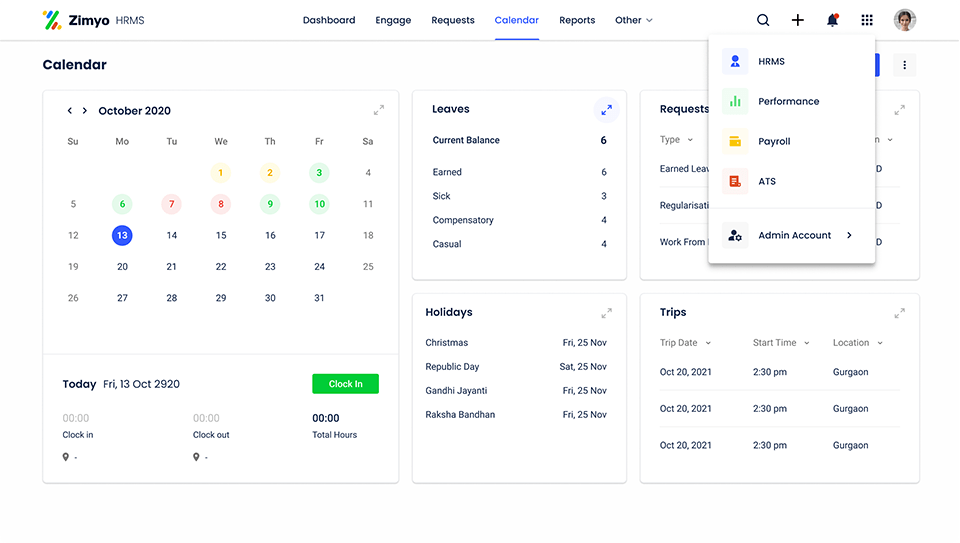 Some top features that HR automation software should have:
➡️Organization Chart
This ensures that the hierarchy in the company is clear and transparent. This improves communication flow within the organisation and increases efficiency.
➡️Customised Workflows
Employees belong to different teams and perform different roles, so their workflow needs are different. A good HR automation software will have the flexibility to accommodate different needs by customizing the workflow.
➡️Roles and Permissions
Employees belonging to different levels in the company require access to different features and permissions. A good HR automation software should have the capability to assign different roles and permissions to different employees.
➡️Helpdesk
It's common for people to run into problems while using any software and it may require troubleshooting. Thus, the HR management software needs to have a dedicated helpdesk to support the users and solve their problems.
➡️Employee Directory
It's essential that the human resources team keep a tab of all existing employees of the company, their roles, and other important details. The software can keep track of all that information efficiently and accurately. It can also dynamically update the list as new employees are added or existing employees have a change in their details.
➡️Centralised Document Repository
A company or organisation has to keep track of lots of papers and documents. These can be personal identification documents of employees, contracts, job sheets, etc. It can be extremely tedious to manage all the documents manually. So this is one area in which a good HR automation software needs to perform well.
Zimyo: The best HR Automation software
Catering to the trust of more than 500 companies of various sizes, Zimyo aims at providing #1 Employee Experience to organisations. Zimyo's solutions enable hundreds of organizations to improve their key metrics by minimizing their employee onboarding time, turnover ratios, improved ESS procedures and helpdesk, and much more. In the HR Tech space, Zimyo offers businesses an end-to-end platform for HR, payroll, performance, engagement, and employee benefits.
At Zimyo, our vision is to empower thousands of organizations across the world to offer true 'employee experience' to their employees, helping them get the best out of their workforce, drive higher engagement, and build a differentiating human capital advantage. With our robust HR solutions, organizations have experienced reduced employee attrition, increased retention, and employee engagement by 2.5-3x.
---
Also Read:
Steps of Employee Empowerment Process at Workplace