Payroll management is essential to almost every business, regardless of the industry. Certain sectors, however, require more than standard payroll software for efficiently managing employee expenses. The logistics and transportation industry is one of them. Logistics firms have a variety of jobs for their employees, but they often pay differently than other industries. Due to such circumstances, there is an extreme importance of payroll software for the logistics industry.
With the pressure to stay cost-effective and maintain compliance, and the hassle of dealing with an on-the-go workforce with multiple shift patterns, payroll processing can be difficult for the logistics industry. Thus, payroll software for the logistics industry should be efficient and adaptable to deal with a complex payroll process.
Compliance in the Logistics Industry
When it concerns complying with laws and regulations, the logistics industry has some unusual characteristics. Taxation and compliance imposed on the transportation solutions significantly influence the quality of logistics services provided to the clients. In recent years, it has become increasingly difficult for logistics companies to comply with rules and regulations. The compliance activities involve the drafting and maintenance of an internal procedural framework designed to adapt to external regulations, national and international. A massive amount of control over global shipments lies with the federal, state, or local governments. Moreover, several environmental issues such as the anti-idling and other emission reduction rules enacted by state and local governments have raised concern that the cost of compliance may exceed its benefits. 
However, increased compliance helps avoid unnecessary expenses and adapt with ease to new challenges arising in the future. Making use of HR compliance services to stay up to date with these changes and taking preemptive measures to ward off challenges can go a long way in ensuring that companies have had no compliance violations. 
HR Challenges Faced by the Logistics Industry 
The rapidly growing logistics industry serves a great responsibility in facilitating trade and taking care of fluent operations. The economy would collapse if logistics and storage industries did not transport materials and supplies to manufacturers and completed goods to consumers. The industry relies on people based remotely, yet faces an image problem that hinders recruitment. In addition to overcoming the challenge of hiring and retaining skilled workers, human resources professionals in logistically-focused firms contend with regulatory, training, engagement, internal communication, and compensation issues.
Also Read: HR trends in the logistics industry.
The following are some of the biggest HR challenges in logistics –
1️⃣Job Attraction 
Logistics companies face competitive challenges in attracting talent, and this is likely to continue over the next few years.  Requirement for vital positions in logistics information systems, customer service, and transportation and warehousing supply chain positions is likely to remain a major challenge. Manager-level positions are commonly cited as difficult roles to fill. Hiring people for supervisor and analyst roles was also identified as a challenge. Thus, talent requirement is one of the biggest constraints and challenges for many logistics companies in recent times. The problem is exacerbated by competition for resources and a lack of knowledge and interest in the sector.
2️⃣Employee Retention and Workforce Management
Employee Retention has become a burning human resources issue in logistics because employees seem to be over-ambitious and materialistic. They are ready to search for new opportunities within and outside of the supply chain. The reason for increasing employee turnover is low employee morale, absence of a well-defined career path, and poor superior-subordinate relationship.
3️⃣Training and Career Development 
Companies indicate an alarming fact that technical development courses are essential for supply chain personnel to tide over the emerging issues and developments related to supply chain management. On-the-job training and professional development courses are the most common methods of employee development. Research reveals that employees are not fully satisfied with the training they have received and that it doesn't meet their needs to cope with dynamic supply chain management issues.
4️⃣Hybrid work models
Businesses adopted the work-from-home models in the wake of the pandemic. The logistics sector is one sector that has been completely disrupted due to the pandemic. It is one industry where complete work from home is not possible. Therefore, transportation and logistics companies always had some segment of the workforce working from the office. Compared with high-tech enterprises, logistics enterprises have a disadvantage in terms of employee quality and the lack of manager specialization. Logistics front-line couriers are usually from the local rural areas, have low levels of education, and limited business skills. With the right investments in HR technology and training, executives, managers, administrators, drivers, and others can work together as a team in a hybrid model.
5️⃣Low Level of Information Management in Enterprises
In terms of staffing, the human resources department of logistics enterprises usually gives priority to experience management, pays little attention to information management, and has not yet established a reliable human resources management information platform. Due to the lack of rational data analysis of individual employees' abilities, management relies heavily on their experience and thinking. Therefore job settings and subjective job assessments are often used in departmental allocation. If this continues, logistics enterprises are unlikely to be able to fully leverage the newly emerging information and network technology for human resource management, reducing the overall effectiveness and efficiency of enterprise management.
Now that we know about compliance challenges, let's dig deeper into the common payroll challenges in the logistics industry.
Payroll Challenges in Logistics Industry 
The majority of logistics and transportation companies lack an integrated HR management system connected with their core logistical operations. As a result, worker insights are unclear and work coordination is lacking. Managing the employee data, processing payment, payroll calculation, government reporting, compliance, etc. are the most difficult tasks of your transportation and logistics business. 
In transportation and logistics, people work from different locations and in different environments. Complex shifts and varying time patterns are typical in this business, which necessitates differing degrees of management, and constraints. The manual processes can be tedious and time-consuming. HRM and payroll software for the logistics industry must manage the overall performance more efficiently, as travel policy, negotiation, and tax calculations are involved.
➡️Compliance
The first and most important payroll challenge the logistics industry faces are ensuring that the payroll system it uses complies with local legislation and labor laws. Thus preventing employees from working too many hours at once is something that needs the immediate attention of HR professionals in the logistics industry. In an industry renowned for long hours combined with employees scattered in several locations, the labor laws add pressure on payroll professionals to set parameters on working hours.
Any organization's payroll department, particularly in logistics, must stay informed of constantly changing laws and legislation. Therefore, to ensure compliance, payroll software for the logistics industry should have a method for incorporating changes in the law. Thus, it's crucial to partner with a payroll company for trucking businesses to provide the compliance support you need.
➡️Taxation
Companies in the logistics industry are responsible for deducting any taxes before making any payments and managing employee expenses. The people employed in the logistics industry come from varied educational backgrounds depending on the job requirements. Most often, the lower-level employees are not educated enough to understand taxations and deductions adequately to manage their finances efficiently. The tax department makes modifications regularly to ensure the country's economic health which might not reach the workers due to lack of information caused by lack of education.  Therefore, such modifications must be implemented in the payroll system. Also, to avoid penalties and extra work, compliance should be implemented within the provided timeline thus safeguarding employees and ensuring their financial stability and wellbeing.
➡️Access To Self-Service
Payslips, for instance, take a significantly longer time to process at the payroll department. Payroll and taxes rules in the logistics industry change often, and so does the information on payslips.
As a result, if an employee wishes to check their payslip, they must call the payroll department. A self-service alternative designed for such requests can help the payroll department get rid of some of those duties. With one of the best payroll solutions, you'll have access to self-service features that are crucial for payroll management.
➡️Staying Updated With The Employment Norms
Workforce restrictions vary in every country of operation, making payroll management a headache for big businesses. Logistics companies typically have local offices in other countries. They must incorporate local rules governing their payroll systems. The salary scale will be significantly affected if an employee from the home country runs the office abroad.
Travel, lodging, and other expenses must be calculated into payroll when employees travel overseas for training.
➡️Overtime Calculations
As more people order items online, the field of logistics constantly grows. Logistics workers include drivers, assemblers, couriers, and more. Any item shipped involves several different logistics workers. Currently, there is an unfortunate trend among logistics employers and companies who hire logistics contractors. Several of these employers and companies currently pay their workers' unfair overtime wages, violating laws. Overtime work is often applicable on any working hours completed over the standard workweek of 40 hours.  Therefore, for any overtime hours, employers must pay their workers 1.5x their standard hourly pay rates. Payroll software for the logistics industry must be capable of correctly determining the worker's overtime to effectively manage overtime calculation. Therefore, helping logistics companies to determine the overtime amount due to workers. This allows companies in the logistics industry to effectively manage overtime calculations. 
➡️Allowances
Every logistics firm pays an allowance to its employees based on guidelines issued by the government and corporates. Since the sum varies according to profitability and regulatory requirements, the payroll software must have options to customize these allowances. This is because the allowances are expected to differ between the logistical arms within the same company. Therefore, the allowances must be calculated depending on the location of the payroll system.
➡️Analyzing and Optimizing Payrolls
Logistics units often end up paying far more than they should because of the periodic overtime employees work. Such inconsistencies should be detected by the payroll software, which must notify management. If the payroll system is capable of recording a higher proportion of overtime pay, the firm may opt to recruit additional employees on a contract to cover the additional hours. Such reporting has the potential to have a major influence on a company's revenue.
➡️Key Performance Indicators (KPIs)
In most cases, the framework of domestic and international payroll operations is substantially identical. The primary difference between domestic and foreign payroll processing is the inclusion of country and region-specific characteristics in reporting.
While logistics firms that only have to comply with local restrictions could use fairly simple metrics, companies that export to numerous countries must-have KPIs incorporated into the payroll software that can monitor across all nations and territories.
There is a need to address numerous payroll challenges in the logistics industry. In-house payroll departments may cause chaos, especially if the workers you hire are unfamiliar with guidelines and legislation.
➡️Time & Attendance Payroll Integration
Logistical jobs typically work on shifts and pay hourly. There are technological solutions to using manual time punches for clocking in and out which could make monitoring and paying accurate salaries much easier. Manual punches might be unreadable if punched in the same location, making punch timing difficult to understand. To compute salary and other incentives, the 'data' must be properly replicated, exported, and shared between teams. Due to the huge paperwork and people involved, even a routine everyday activity takes a long time and effort, therefore mistakes and inconsistencies are prevalent.
➡️Need For Higher Flexibility
Payroll monitoring entails more than just paying your employees. COVID-19 has resulted in considerable changes for some firms, demanding greater flexibility. For example, a corporation may have cut or adjusted its work shifts, forcing frequent and significant changes to employees' schedules, impacting holidays, payroll, and other processes to plan and estimate overtime and other payments.
Because of shifting market needs, businesses are constantly adapting and redesigning whole supply chains. This entails dealing with a large number of vital activities, leaving little time to resolve payroll-related issues.
➡️Challenges In Handling Remote Work
With so many employees working remotely during COVID-19, traditional HR and payroll administration is nearly impossible. Card readers and sign-in forms are inadequate for managing attendance. The hard copy process of leave and pay seems to be no longer viable. Because of the various submissions, management clearances, confirmations, and coordination required, email processing could be hectic.
Furthermore, with the pandemic, the traditional onboarding, and offboarding procedure, which needs extensive paperwork and face-to-face encounters, is no longer viable. In such cases, a system that can handle remote attendance, leave applications, performance management, training, and other HR and payroll processes is more critical than ever. 
Reinventing Payroll Software for the  Logistics Sector With Zimyo
The payroll software provided by Zimyo aims to automate the calculation of salaries, taxes, charges, overtime benefits, and other important information that is essential. By implementing HR and payroll automation, managing large workforces becomes extremely easy. With a robust HRMS and payroll software like Zimyo, it becomes easy for the HR professionals of the logistics industry to manage large workforces. Zimyo offers simple software solutions that are accessible anywhere. It's easy to use and the solution streamlines all the required backend functions in the transport and logistics industry.
With Zimyo, payroll reports are generated in a single click and the workflow of the business is improved. Since the software enhances easy communication with the employees, it is easy for employers to manage the highly competitive sector easily.
Also Read: Functions of Payroll Management Software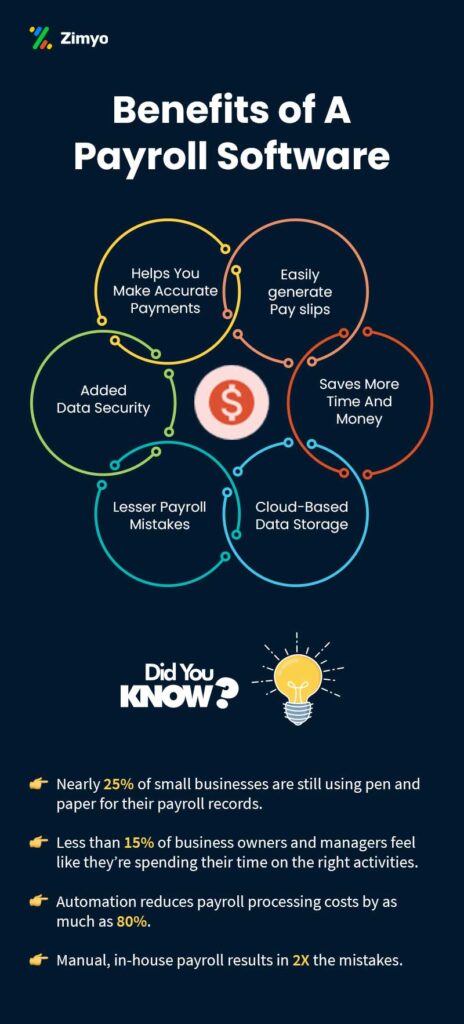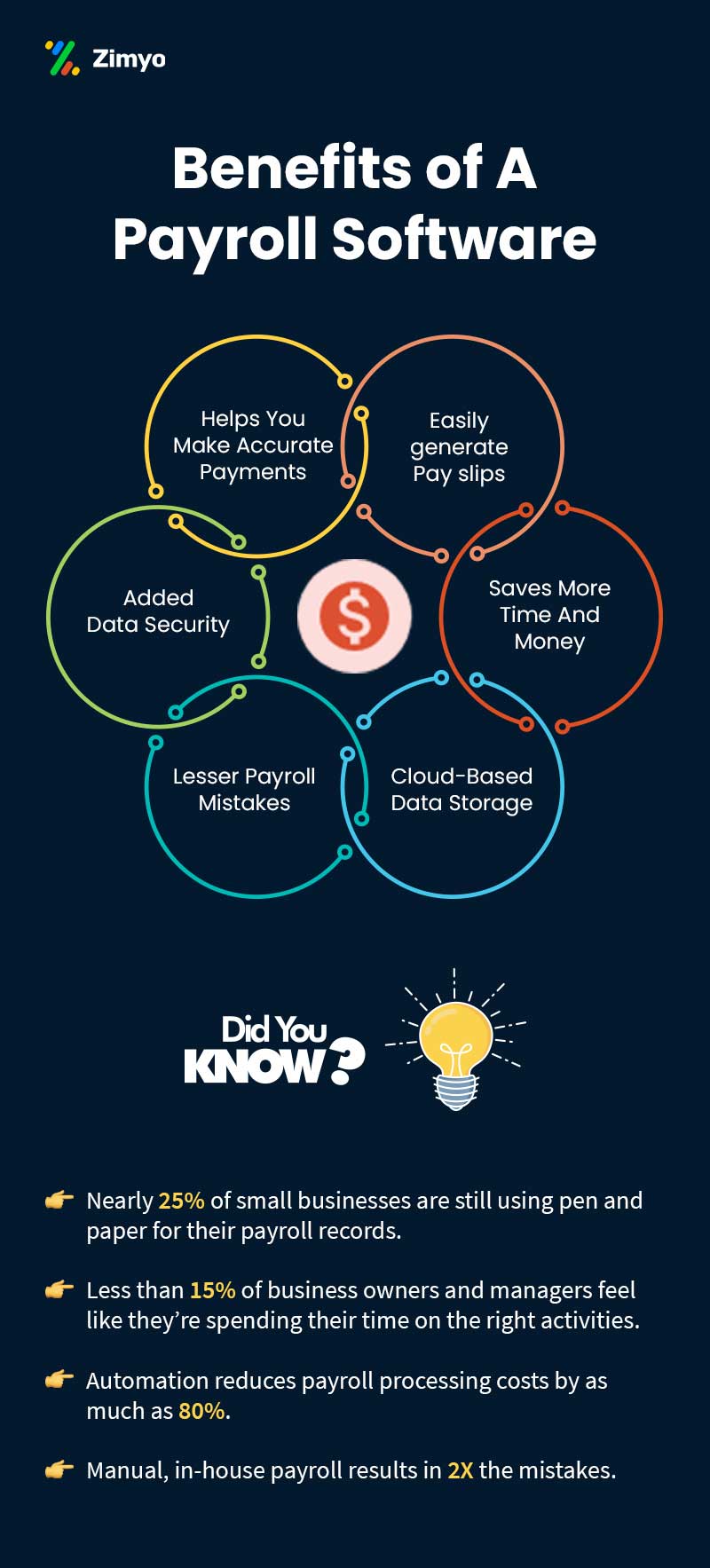 Here's how Zimyo Payroll software can help the HR professionals in the logistics industry:
1️⃣Compensation Structuring
The payroll system simplifies employee compensation structures and handles their salaries directly by automating processes. Employees do not enjoy paycheck mistakes or delayed salary processing, thus Zimyo HRMS payroll validates numerous aspects such as compensation and pay scales, standard and overtime, incentives, and other data that contribute towards employee compensation.
2️⃣Compliances and Taxes
With complex rules and regulations for the logistics industry, it often becomes difficult for HR professionals to stay updated and make sure new updates are implemented on time. As a result, an ideal payroll system enables you to handle tax and regulatory compliances per the latest modifications and updates provided by the government, as failure to submit payroll taxes is a big problem. Hence, payroll processing software fills out several forms when recording payroll taxes and accounts to determine tax deductions. It also ensures the fulfillment of varying tax rates of different locations, both domestically and internationally. 
3️⃣Payroll Integration
The integration feature of the Zimyo payroll management system saves a lot of time and provides the utmost security by preventing any sort of data theft without any need for manual data entry. As the workforce of the logistics industry is always on the go, payroll software ensures minimum risk of errors. It automatically synchronizes the data exchanged between HRMS and payroll. Zimyo Payroll is your go-to solution for all your payroll and accounting needs.
4️⃣Employee Loans
Loans to reliable workers are normal practice in any firm. But in industries like logistics where more people who need a loan are there, it gets difficult to lend so much money as well as maintain multiple records and update them simultaneously. Automated Payroll makes it simple to configure and authorize employee loans based on a dynamic process. It also includes loans with EMI payments.
5️⃣Flexi-Pay
Job satisfaction is critical since employees are the company's most valuable asset. As part of their compensation, several firms offer Flexi perks to their workers. Zimyo payroll processing system software has a Flexi-Pay feature that keeps track of the expenses along with the benefits given to the employees. Also, logistics is one of those industries where reimbursements make a huge impact as the workforce is always on the go. Therefore a payroll software designed for the logistics sector should be efficient enough to manage the reimbursements for distribution without any kind of dependence on maintaining spreadsheets.
6️⃣Expense Management
Expense management is a very crucial task in an organization in the logistics sector due to reimbursements being an integral part. It is the function on which the balance of the organization depends. Online Payroll software by Zimyo tracks and manages the real-time checks on expense claims filed by the employees and keeps a check on unwanted expenditure. Employees also have an option to file claims according to their convenience which gives them access to the softcopy of receipts, thereby enhancing transparency in the organization.
7️⃣Pay Slips and Reports
The Zimyo automated payroll software is capable of generating reports like leave summaries, salary statements, and salary benefits. It has a tailor-made approach based on the company's requirements that manage and customize reports with the company's pay slip templates. The payroll software for the logistics industry is capable of generating payslips and downloading regulatory payroll forms.
CONCLUSION  
Payroll processing, as previously noted, is critical for organizations, and so is payroll software. With a large workforce, non-traditional work methods, and tech-driven processes, the payroll software for the logistics industry ensures workplace coordination in today's fast-paced corporate world. Most businesses serve the same function, but the features and sizes vary. Analyzing your company's needs will assist you in determining the best payroll system for your business. Zimyo HR software for logistics organizations enhances productivity by streamlining and automating critical payroll activities. With Zimyo, you can focus on revenue and strategic functions without having to worry about payroll processing.
---
Also Read: Payroll Software for Manufacturing Industry