Both employees and HR managers need to know about some of the common HR terms that are used on a regular basis in the organization. Here are the top 50 HR terms one must know while working in an organization:
Core HR terms
1. Hybrid workplace
The hybrid workplace is the new HR term that is gaining popularity these days. A hybrid workplace model allows employees the flexibility to work from anywhere, i.e, either remotely or from the office. This model balances the needs of individual employees and, therefore, allows for better working conditions.
2. Workflows
Workflows are generally a series of sequential tasks that ensures that important tasks are completed efficiently and on time.
3. Breach of Contract
This is the term that is used to describe a situation in which one party in a binding contract violates one or more of the terms of the agreement.
4. Blue Collar Workers
Blue-collar workers is the HR term that denotes employees who are paid to perform manual labor on an hourly basis.
5. Turnover
It refers to the rate at which employees resign from a company and are replaced by new people.
6. Employee Attrition
It is the process of reduction in the workforce due to voluntary reasons such as resignation, retirement, or any personal reasons.
7. Employee Retention
This term means retaining the employees in the organization for a long period of time by taking strategic actions.
8. Arbitration
Arbitration is the process through which a dispute between two people is resolved by a neutral third party. This third party specializes in resolving the labor-management, collective or individual conflicts and delivering a final legal decision.
9. Career Plateau
It is a stage when the progress of an employee seems difficult or obstacle-ridden. This can be due to multiple reasons, for instance, company structure, job role, or any other factor that is not related to his/her skills.
10. Whistleblower
Whistleblowers are the employees who publicly disclose perceived wrongdoing, misconduct, or unethical activity within an organization to the public or to those in positions of authority.
11. Ombudsperson
It is the name given to a neutral third-party individual who acts as a mediator in resolving disputes at the workplace through facilitating communication.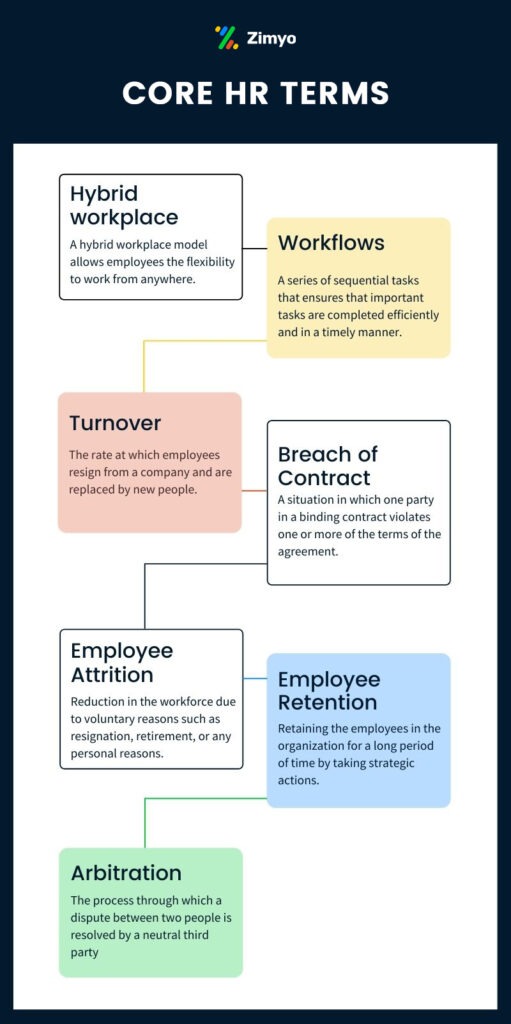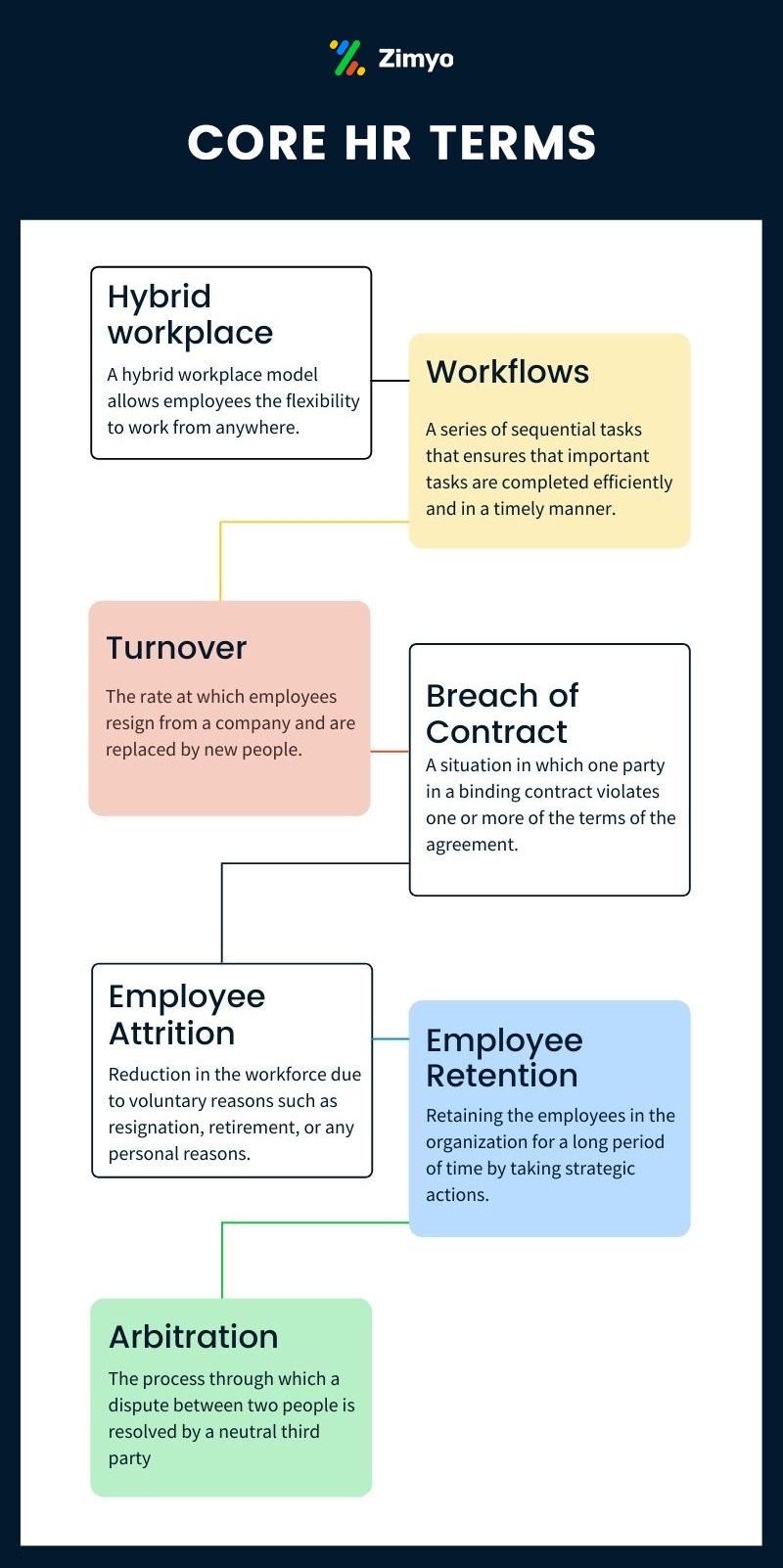 Top Core HR Terms
Recruitment and Onboarding
12. Background Check
It is a part of the hiring process in which an investigation is carried out to check a potential employee's background, based on criteria such as education, criminal records, past work experiences, etc. This verification is done because organizations often need to confirm if the information provided by the candidate is true or not.
13. Blended Workforce
As the name suggests, a blended workforce is the blend of full-time, part-time, contract hires, and gig workers.
This might not sound great to hear but this rule allows an organization to hire employees on the basis of gender, religion, or nationality, based on the argument that these factors are essential for the said job.
15. Buddy System
It is part of the employee onboarding process in which a new hire is assigned a buddy who guides the new hire on the different aspects of the job. It may include making him/her familiar with the office environment and other members of the team.
16. Abandonment Rates
It is an HR metric in which the number of applicants that start but never finish completing a job application on a company's Applicant Tracking System (ATS) is measured.
17. Downsizing/Restructuring
Both these HR terms indicate that the company is planning to lay off employees and reduce its headcount.
18. Talent Management
Talent management refers to not only the attraction and selection of the employees but also the retention of employees. This can be done by using strategic processes such as performance evaluation, employee engagement, learning and development, employee benefits, etc.
19. Cost Per Hire
This refers to the total cost involved in hiring an employee, including expenses of job advertising, administrative costs, benefits, and onboarding costs.
Time and Attendance Management
20. Overtime
Overtime refers to the extra work an employee performs after completing his working hours.
21. Paid Time Off (PTO)
Paid time off is given to employees as a perk. Under this leave policy, an employee can take off of work and still receive compensation. Vacation leave, sick leaves, and self-care leaves come under the PTO policy.
22. Loss of Pay (LOP)
It is another HR term that refers to the leave taken by an employee when he/she does not have a leave balance in his/her account but is given permission to remain absent.
23. Off-Duty Hours
A term used to refer to the hours during which the employee is completely relieved of his/her job duties and can attend to his personal activities.
Payroll
24. Remuneration
Remuneration is another term for salary. It refers to the payment made to someone for his/her work or services.
25. Arrear
It is an HR term that refers to past salaries or compensation that are paid to the employees.
26. Minimum Wage
Minimum wage refers to the minimum amount of remuneration that an employer is required to pay as permitted by state or federal laws. Currently, the minimum wage in India is ₹178 per day.
27. Red Circle Rate
A red circle rate is a rate of pay that is authorized above the maximum salary for a job position. Once an employee is red-circled he/she is not eligible for a raise or promotion.
28. Wage drift
It is an HR term that refers to the difference between the negotiated and the actual wages due to a variety of possible factors such as overtime, bonuses, age, and performance.
Performance Management Terms
29. 360-degree feedback
360-degree feedback is the process in which an employee gets performance reviews from his peers, internal customers, team leaders, and other members of the organization.
30. 9-Box Matrix
This is a matrix that allows managers to measure the potential and performance of the employees. It is mostly used for succession planning to identify and award top players in the team.
31. Key Performance Indicators (KPI)
KPI is a term widely used in performance management that refers to strategic metric measures that are used to evaluate or measure the performance of an individual or an organization.
32. KRA (Key Responsibility Area)
Simply put, KRAs are measurable key responsibilities of a job. For example, for a marketing manager, it can be the number of MQLs generated in a quarter.
33. OKR (Objectives and Key Results)
It is a collaborative goal-setting process that is used to set ambitious and measurable goals quarterly. This ensures that everyone in the organization is working towards the same goal.
34. Alternation Ranking
It's a performance appraisal method of ranking employees' performance as best and worst.
35. SWOT Analysis
This HR term means analyzing the following aspects of your business- Strengths, Weaknesses, Opportunities, and Threats. This helps you know what is working and what isn't working for your organization.
36. F&F (Full & Final Settlement)
F&F is the procedure carried out by the employer when an employee resigns from the company. This is the time when the employee is paid for the previous working month and it also includes any additional remuneration or deductions.
Benefits Administration
37. Voluntary Benefits
Also known as supplemental insurance or employee-paid benefits, this is an HR term that refers to the benefits paid for by the employee through payroll deductions. Some of the examples include life insurance, disability income, auto insurance, ID theft protection, legal services, and financial counseling, etc.
38. Supplemental Unemployment Benefits (SUB)
This HR term refers to taxed benefits designed to provide severance pay to terminated employees along with the state unemployment benefits.
39. 401(k) Plan
It is a company-sponsored retirement plan that allows employees to defer taxes as they save for retirement by placing pre-tax salary directly into an investment account.
40. Consolidated Omnibus Reconciliation Act (COBRA) of 1985
The COBRA regulation makes it obligatory for organizations with more than 20 employees to provide healthcare benefits with an option for continuing coverage, even if the employee might lose the coverage. This might happen due to several factors including termination of employment, the transition between jobs, and other life events.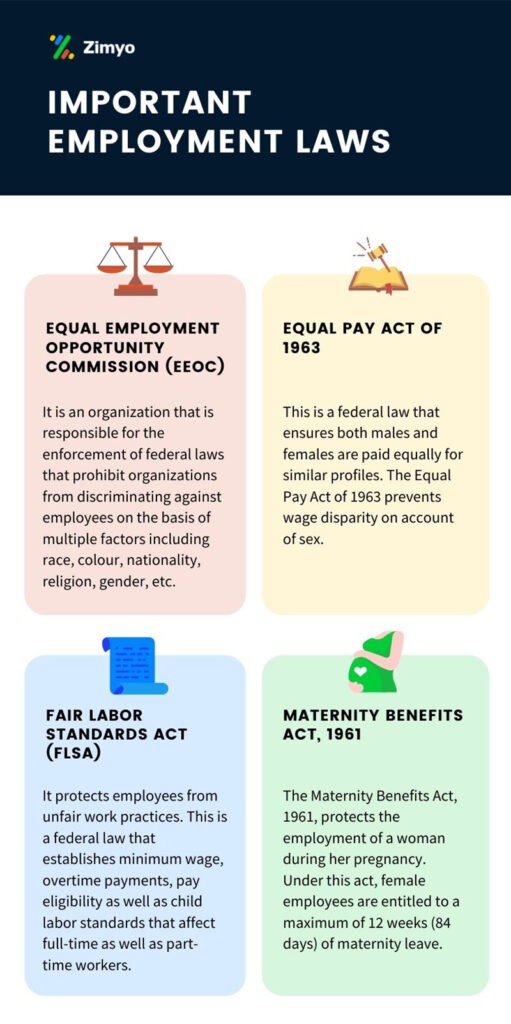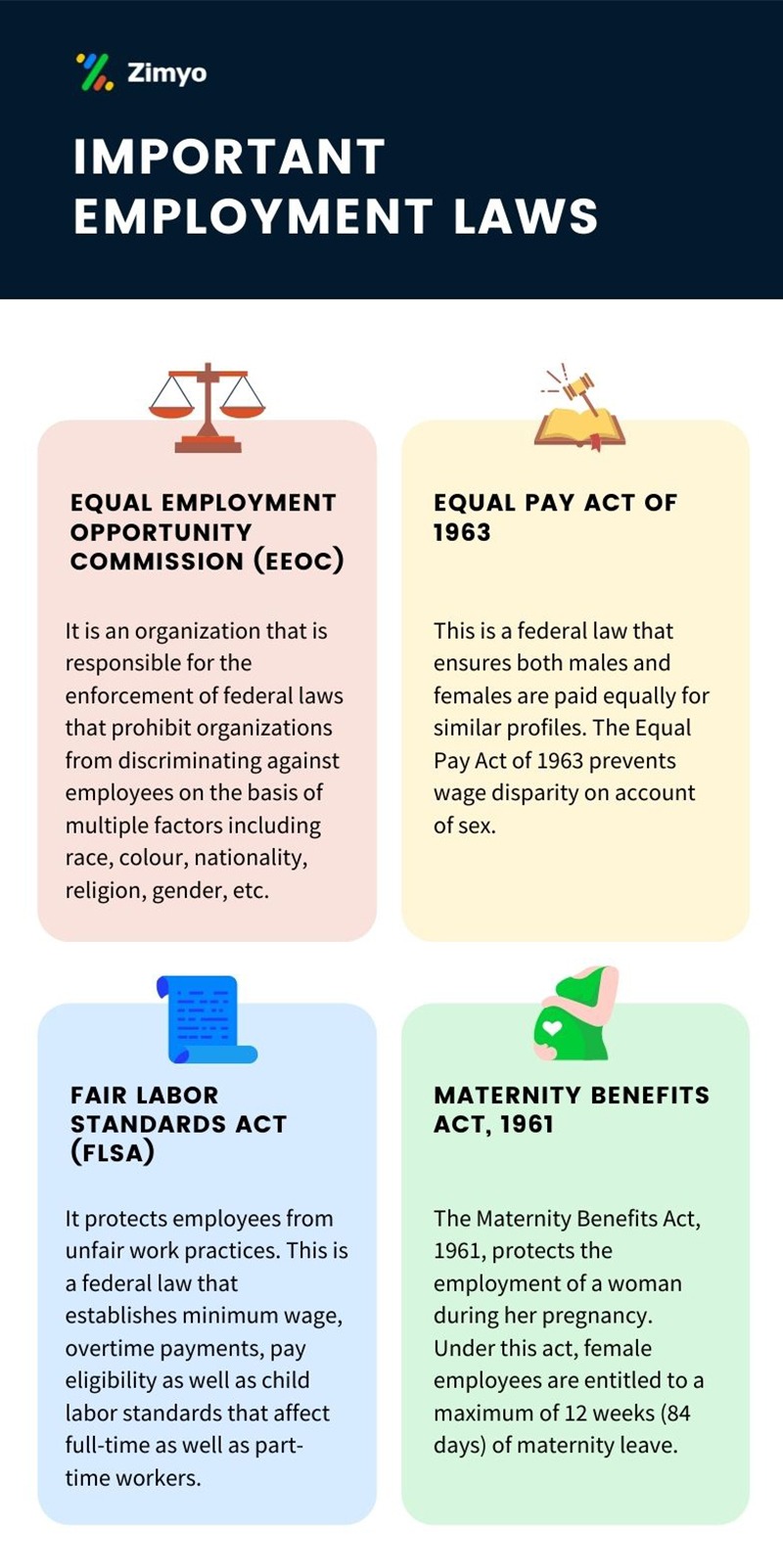 Important Employment Laws
41. Equal Employment Opportunity Commission (EEOC)
It is an organization that is responsible for the enforcement of federal laws that prohibit organizations from discriminating against employees on the basis of multiple factors including race, colour, nationality, religion, gender, etc.
42. Equal Pay Act of 1963
This is a federal law that ensures both males and females are paid equally for similar profiles. The Equal Pay Act of 1963 prevents wage disparity on account of sex.
43. Fair Labor Standards Act (FLSA)
It protects employees from unfair work practices. This is a federal law that establishes minimum wage, overtime payments, pay eligibility as well as child labor standards that affect full-time as well as part-time workers.
44. Maternity Benefits Act, 1961
The Maternity Benefits Act, 1961, protects the employment of a woman during her pregnancy. Under this act, female employees are entitled to a maximum of 12 weeks (84 days) of maternity leave.
HR technology terms
45. HRMS
You can simplify the complexity of managing multiple entities & multiple employment types from a single system with a Human Resource Management System. The system allows to automate mundane HR activities and efficiently manage employee and company data and resolve employee queries.
46. Applicant Tracking System (ATS)
An applicant tracking system allows recruiters to hire the perfect fit for the organization from a large talent pool. It makes job listing, sourcing and screening candidates, scheduling interviews, and onboarding a piece of cake.
47. Payroll Management System
A payroll management system is important because it allows you to pay your employees timely and accurately. Process payroll, generate automated payslips, download reports, manage expenses and claims, all through a payroll management system.
48. Employee Engagement
AI-driven employee engagement solutions allow organizations to keep their employees engaged and productive. There are many tools such as mood analysis modules, recognition platforms, internal communication channels, etc. that help organizations improve employee engagement.
49. Time and Attendance Management System
Manage attendance, leave, holidays, shifts and roster, policies, etc. with an automated time and management system. Prevent fraudulent activities, keep track of timesheets, and capture real-time employee attendance.
50. Performance Management System (PMS)
A Performance Management System (PMS) allows organizations to set SMART goals, keep track of employee performance, exchange continuous feedback, and also allows employee self-assessment.
Conclusion
So these are some of the top HR terms that everyone should know. Have we missed any other important terms? Feel free to let us know in the comment section below, we will be happy to learn from you!
---
Also Read: 12 Things to keep in mind while designing HRMS Dashboard