What is the formula for successful business processes? It is giving your 100% in all you do!❤️
As an HR professional, you need to concentrate on what your employees can do for your company rather than becoming overly involved in the details of their compensation.
An HR manager's job is as fascinating as it sounds, but it's also stressful. Especially if you're still using manual payroll systems with piled-up paperwork and spreadsheets. It's simple to make common errors when specifics like income sources, deductions, and compliances divert your attention.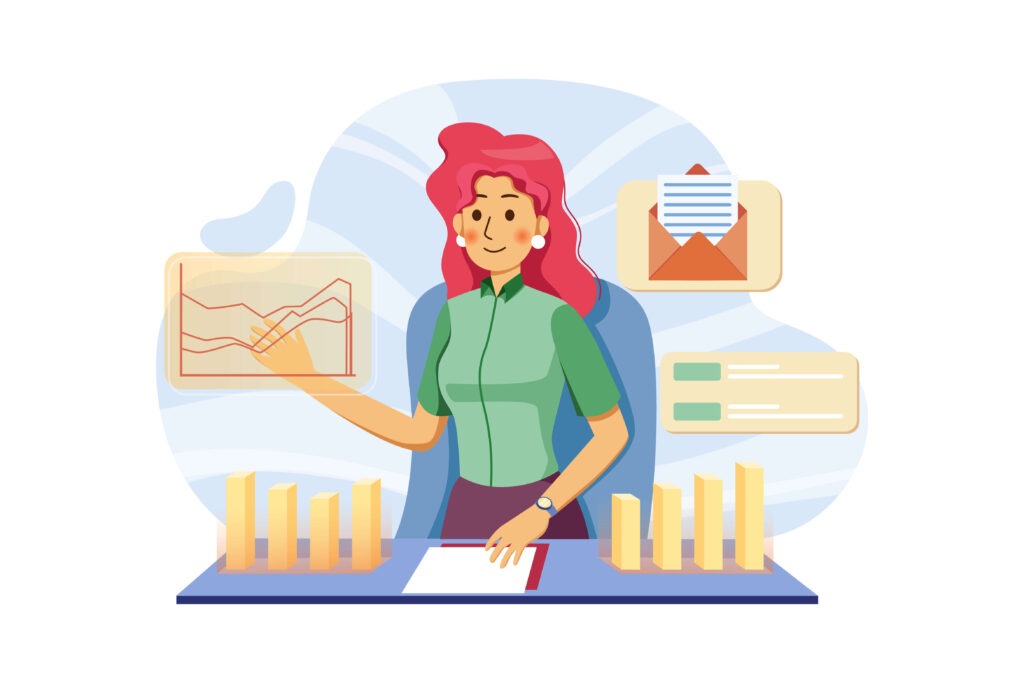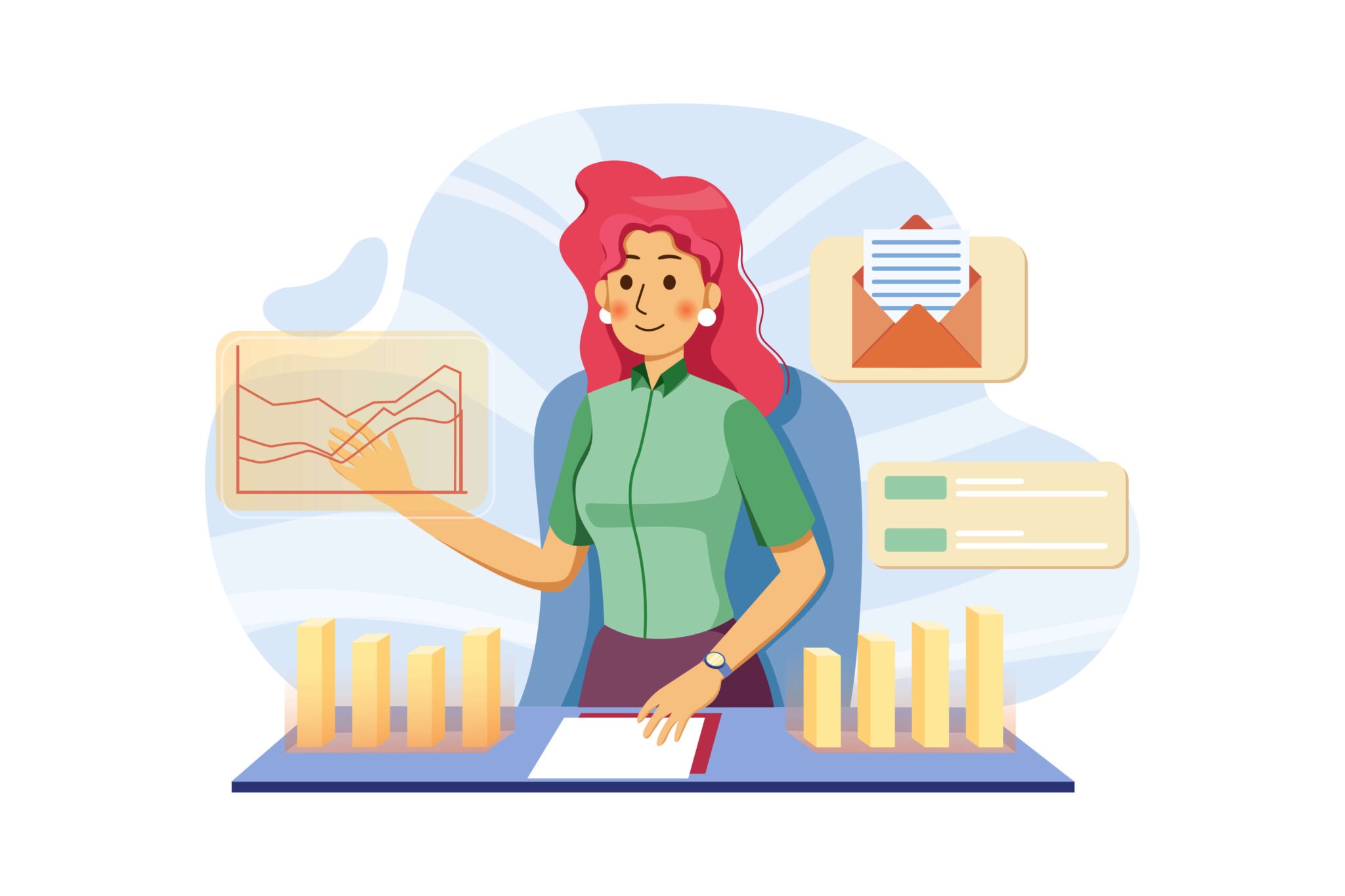 You can use cloud-based HR software to simplify business operations and increase investment return due to technology improvements.
Every businessman is familiar with payroll software and understands why it is essential to workflow productivity. However, when discussing small businesses, it can become a contentious issue.
Previously, SMEs had to think twice before investing in technology since it was so expensive. However, as technology has evolved, even essential tools such as payroll software have become a cost-effective asset for businesses. Payroll software is a cost-effective approach to reduce risk and reclaim more time in your day.?
? Some Facts About Small Business Payroll
Payroll automation and a skilled HR by your side save time and money in the long run. Surprisingly, despite this, current statistics suggest a do-it-yourself tendency that has the potential to ruin you.
Less than

15% of business owners

and managers believe they are devoting their time to the most productive activities.

Despite the fact that payroll is the most widely outsourced service,

60% of small firms

still manage it in-house.
? You Have Better & More Important Things To Do!
Have you ever been in a situation like this?
While sipping a pina colada on a sunny vacation, no business owner likes to wonder if they have signed the paychecks or not.❎
Payroll for small businesses must be accurate, timely, and compliant with government rules and regulations. It's hard to find the perfect person in-house to meet those standards. You can put your skills and abilities to much greater use rather than wasting them to find the right person to process payroll. 
? Payroll Mistakes Are More Costly Than You Think!
When it comes down to it, proper payroll practices foster confidence and trust in your team.?? Payroll errors, on the other hand, have the opposite consequence.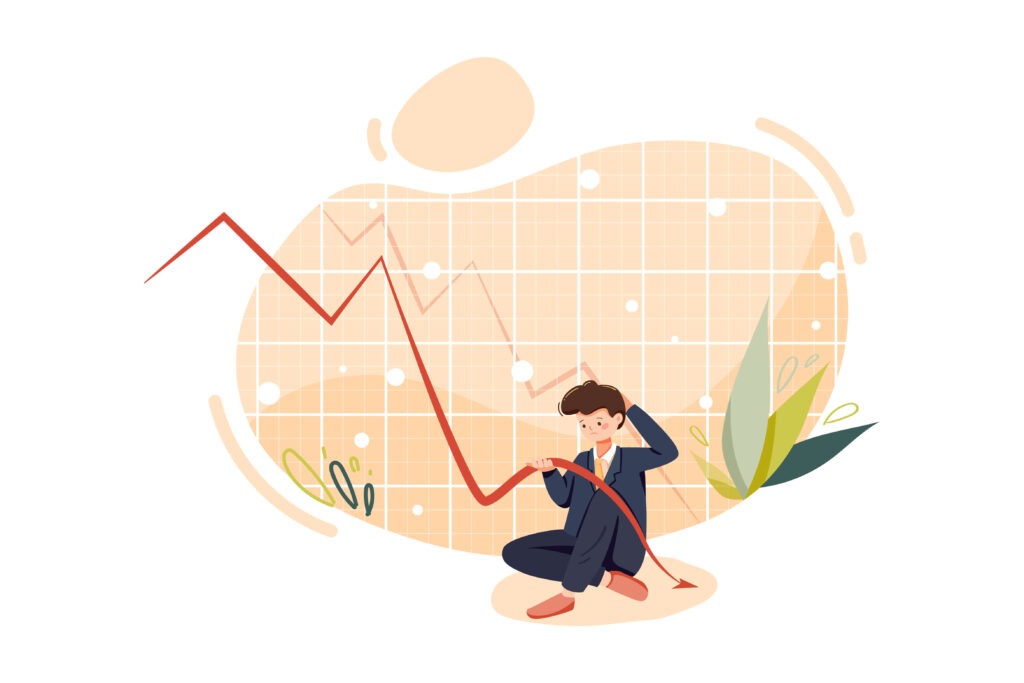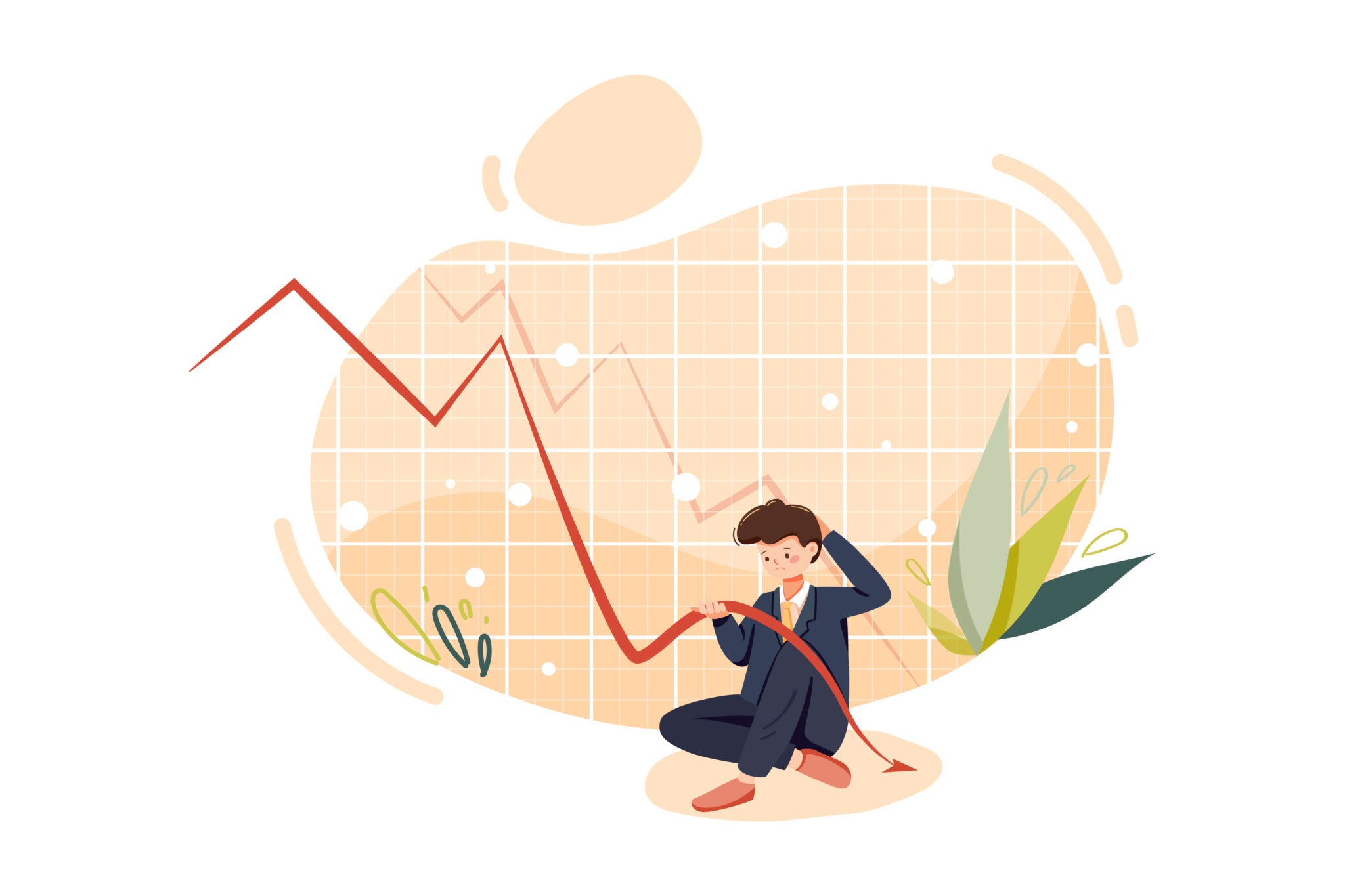 Considering that approximately 49% of employees will begin looking for another job following two payroll errors, you can't afford to take any chances. This is predictable given that the majority of employees in North America live paycheck to paycheck. The figure jumps to 78 percent in the United States.
In a similar way, your company might not be able to afford payroll blunders. Besides, it takes a significant amount of time and effort to fix them. Penalty interest accumulates quickly, resolving these mistakes takes time, and you're more likely to be audited.
✅ The Benefits Of Automating Payroll With Payroll Software
When you consider the benefits of a payroll system for small businesses you'll discover that it gives you peace of mind as it keeps you in compliance with the law. But it's more than that – it's about saving time and money.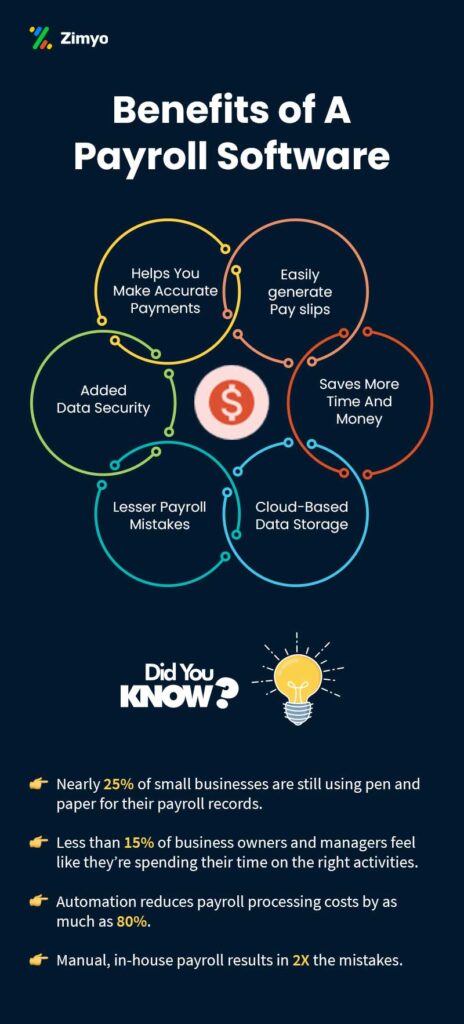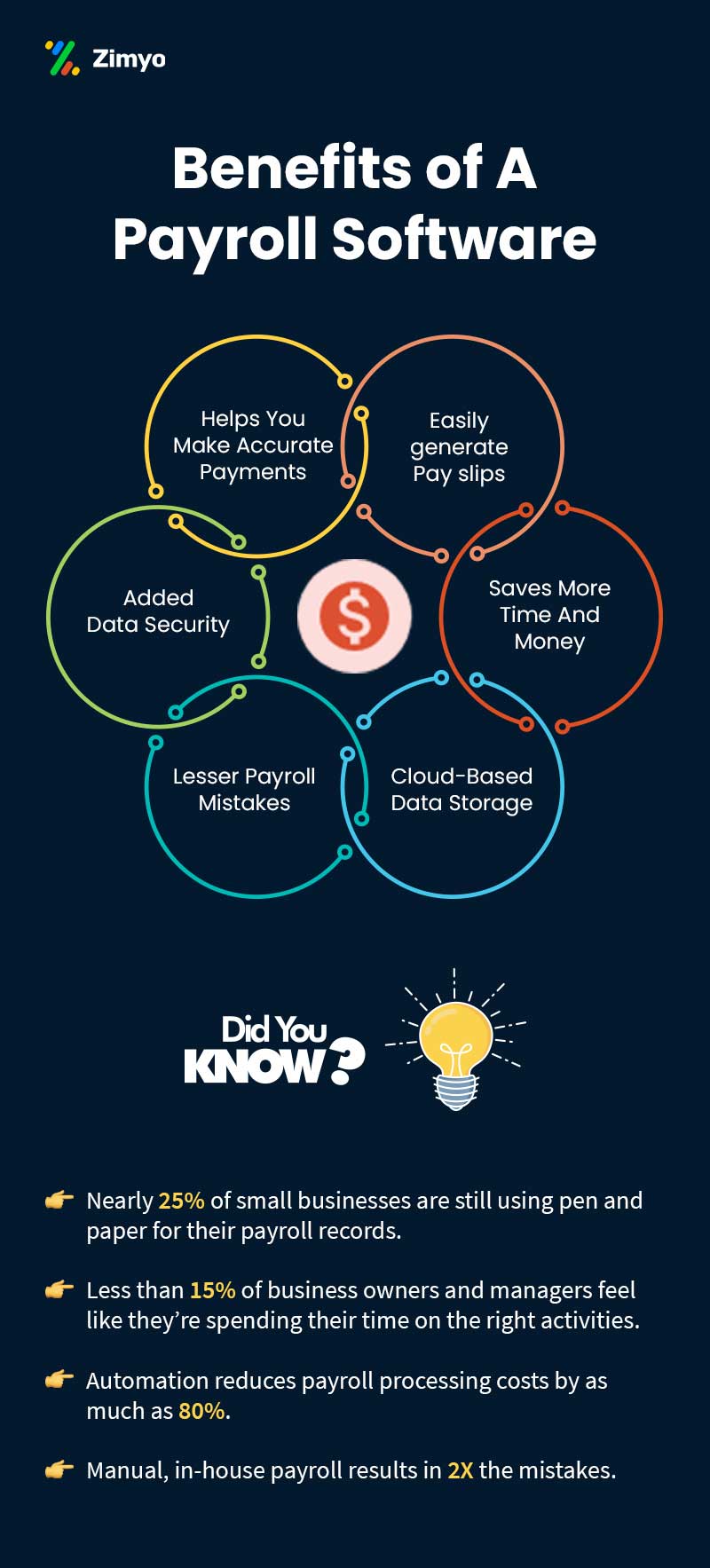 Some companies believe that paying for payroll software and hiring payroll professionals is an unnecessary expense. However, as previously stated, it's often an expense you can't afford to overlook.
➡️ Manual, In-House Payroll Leads To A Twofold Increase In Errors
When you don't have an in-house payroll expert, payroll errors are common. Unless you've recently studied payroll tax rules in-depth, it's advisable to invest in good payroll software.
Time is money – and when you do the math of the cost of using payroll software, well it's way much better to save your time and focus on priority tasks to enhance productivity.
? There's So Much More To Payroll Than Just A Paycheck!
When it comes to payroll, most small business owners overlook the numerous details involved. For instance, while paying your employees, there are two basic categories to consider:
Incomes — the sum of money added to the paycheck.
Compensation/salary

Overtime costs

Leaves/Holidays

Increments/Bonuses

Additional Allowances
Deductions — the sum of money subtracted from the paycheck.
Taxation on earnings

Unemployment benefits

Premiums for healthcare plans

Contributions to a savings plan
Maintaining accuracy in these computations, completing reports, and remitting payments is probably the most time-consuming and error-prone aspect of payroll.
That's why it is now important to emphasize the need for the most up-to-date payroll automation software in any organisation which is unaffected by the size of the company or its desire to expand.
? 5 Ways How Payroll Software Can Benefit Small Businesses!
Let us look at five ways in which a payroll management system might magically transform your company's fortunes around in your favor:
➡️ When It's Difficult To Stay Updated & Compliant
There will always be a need to keep up with the recent modifications. Maintaining payroll compliance in accordance with company and national standards is not an option; it is a need.
So, if you're having trouble keeping up with current events, it's time to implement top-notch payroll software at your office and make use of the system's auto-update features.
➡️ When Documentation Takes Up Lot Of Time & Effort
When it comes to wage computation, distribution, and overall management, paperwork is one of the most difficult obstacles to overcome. It requires a significant amount of time, effort, and even database space.
The storage issue and burden of managing databases manually is addressed by cloud-based technologies.
The time and energy saved can then be put toward developing key business initiatives. Payroll management systems, on the other hand, are ideal for small businesses with a small employee base.
➡️ When Time & Attendance Aren't Managed Appropriately
If you're still recording and tracking your employees' attendance and leaves the old-fashioned way, you're far behind the times. Establish a reliable time and attendance system to ensure precise monitoring.
After that, integrate the payroll software with the system and enjoy accurate time and attendance management without any problems.
➡️ When Instant Paycheck Allocation Is a Big Problem
The most important aspect for an employee is the timely release and deposit of their salary into their account.
Working professionals can avoid the hassles of manually depositing paychecks. With an efficient payroll management system, monthly wages can automatically be transferred to each employee's accounts.
➡️ When Payroll Management Becomes Extremely Costly
Finally, we know that budget control is a common concern for all SMEs. They need to invest in both efficient and affordable tools.
Bringing payroll HR software to the business, rather than spending a lot of money on managing it individually, is a better alternative for saving costs and improving operations.
There's a reason why firms struggle with HR management in this area. It is regarded as the most complex of all HR functions. So go ahead –  invest in good HR and payroll software for small businesses to see how it will benefit your company.