Even the new budget is talking about digital innovations! Then, why are you still relying on traditional methods of attendance tracking? Make the right choice and opt for modern time tracking tools such as a biometric attendance system that makes it easy to keep track of your employees' time and attendance. The biometric attendance system uses advanced technologies to scan the fingerprints, face, palm, DNA for recognition and grant access.
These devices are safe and secure and are widely used in hospitals, schools, offices, banks, etc. to keep track of employee attendance. Biometric devices are a great tool over the existing time tracking tools as it's foolproof and thus prevents time theft or other fraudulent activities such as buddy punching or proxy attendance. So, how does it prevent employees from misleading their employers? How does a biometric attendance system work? What makes it a great tool for employee attendance tracking? To know the answers, keep reading!
How does a biometric attendance system work?
A biometric system scans unique features of an individual such as fingerprints, faces, etc. which become a unique entry code that can only be entered by one person. This eliminates all the chances of proxy attendance as no two people have the same fingerprints or DNA. This fosters a culture of fairness and transparency in the workplace.
So whenever an employee enters the organization they need to scan their fingerprints or other biometric modalities to mark their attendance. The system then verifies the identity of the employee clocking in and out by matching the fingerprints with the record present in the database and the access is granted.
You can use these biometric systems alone or add additional input methods to them. These are the additional input methods you can add to your existing biometric attendance system: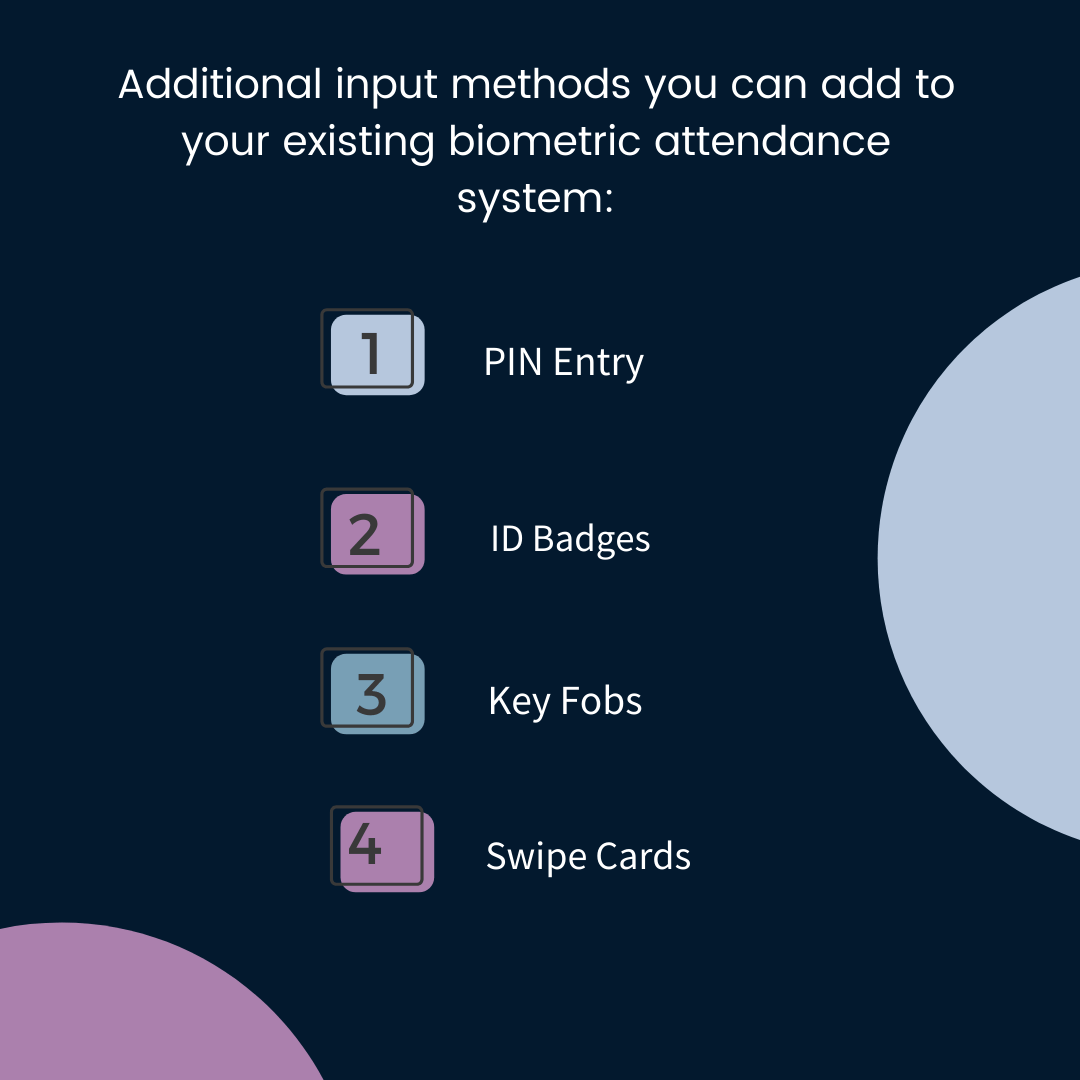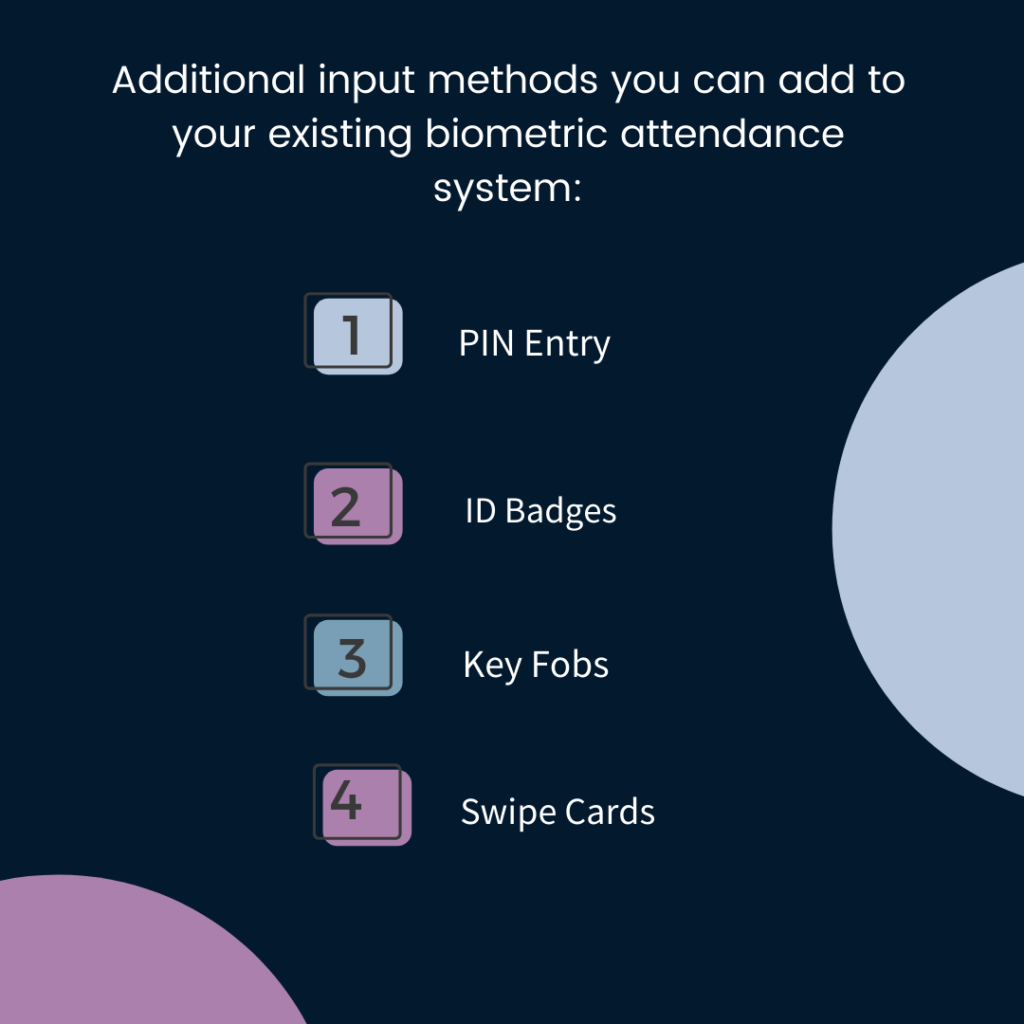 If you are wondering what makes biometric attendance systems a great tool for employee attendance management, then below is a list of benefits of biometric attendance systems. It gives you a clear idea of why it is so popular among organizations:
Benefits of Biometric Attendance System
Prevents Time Theft
Trusting your employees is a good thing as long as it doesn't affect the business in any way. There are many instances where employees take advantage of your trust. This is why it is important to have a biometric attendance system in place so that you can identify and stop intentional as well as accidental timesheet fraud. Using a biometric attendance system eliminates time theft and increases security and accuracy in employee attendance. Apart from that, it also shapes your company culture by delivering a clear message to your employees that work ethics or rules won't be compromised for anybody and that there are consequences for misconduct.
Eliminates Buddy Punching
Buddy punching is a form of time theft that affects the entire organization. According to the American Payroll Association (APA), 75% of U.S. businesses are affected by buddy punching. This often happens when one employee punches in for another employee as a favor between teammates. However, this innocent and small favor not only costs you money but also damages the work culture as when there's no tracking then more and more people will do the same. This is where a biometric attendance system comes into play. A biometric doesn't allow any employee in the organization to duplicate entries or clock in and out for his/her coworkers. Thus, eliminating buddy punching.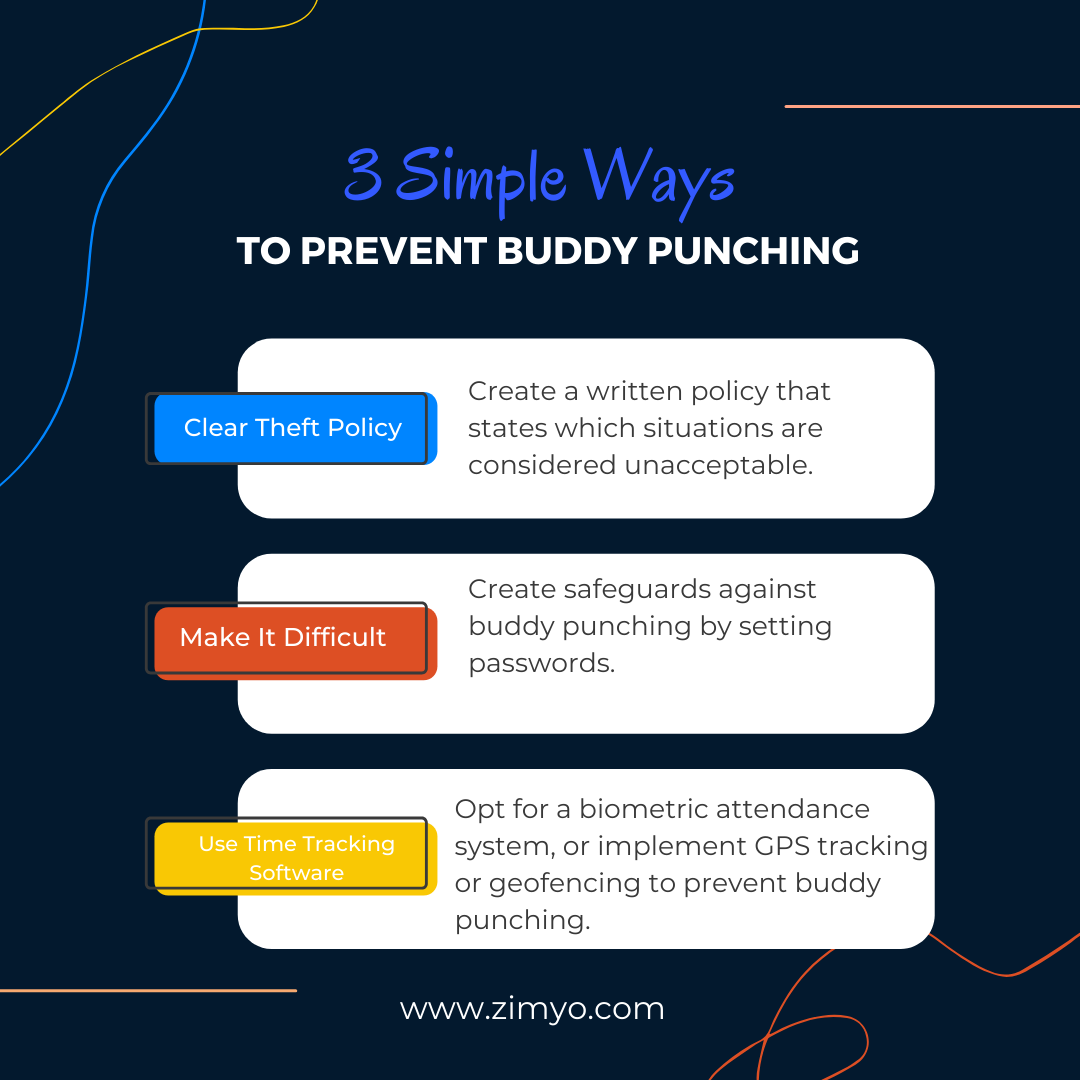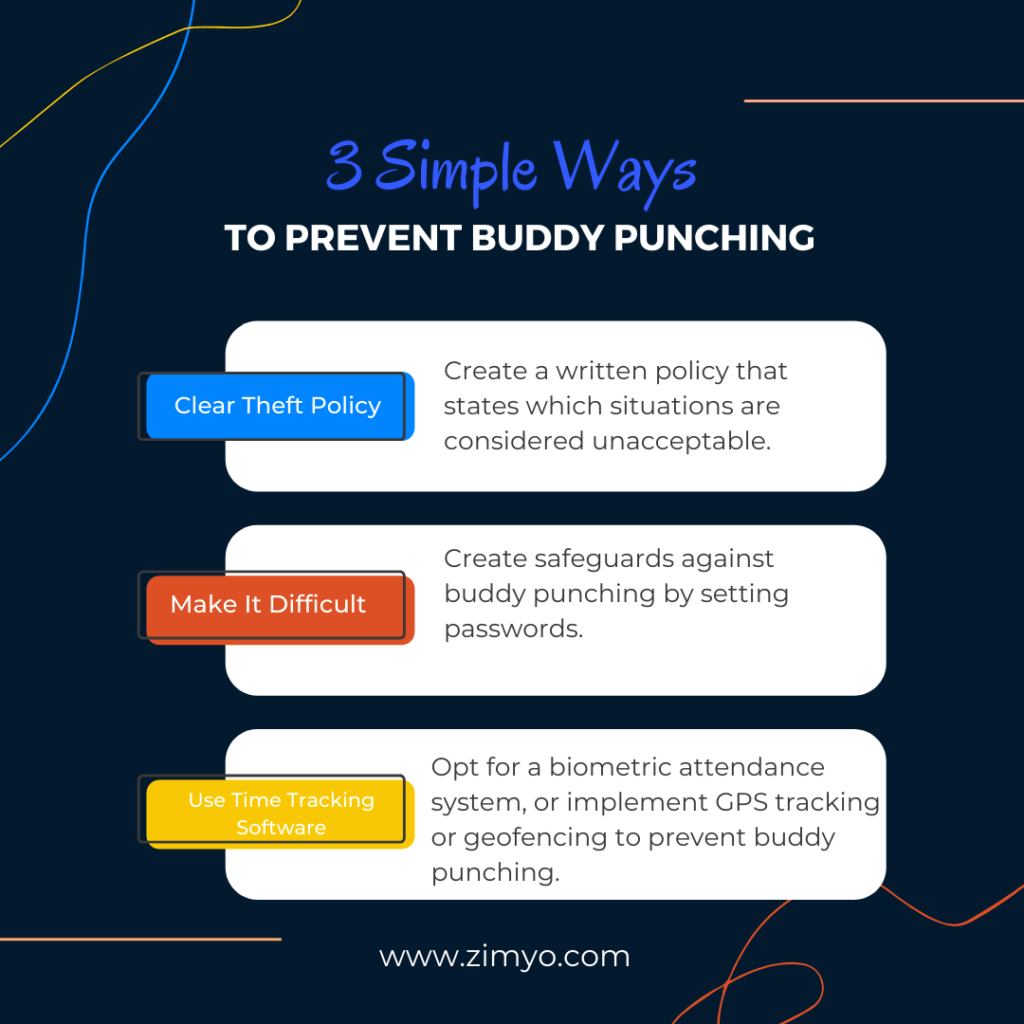 Easy Data Access
Biometric devices give easy access to data. They allow HR leaders to capture time and attendance data at any time. The system offers you detailed insights into the attendance of employees. With this data, you can easily identify late arrivals, early leavers, and overtime. This helps you take appropriate action and make changes in the system accordingly. A biometric system attendance is also a boon for the HR or payroll department can compute salaries efficiently using the available data.
Improves Payroll Accuracy and Efficiency
We all know how important it is to pay employees timely and accurately. Without having a proper attendance system in place, payroll processing can be a daunting task. However, with a biometric attendance system, you can simplify this complex process. An effective biometric attendance system installed in your organization reduces the administrative burden on the payroll department. It reduces the timesheet errors and increases the accuracy of your payroll process. You can integrate your biometric system with the payroll software and compute salaries for your employees with just a few clicks. It is that simple!
Easy to Install
Another benefit of a biometric attendance management system is that it is easy to install and highly convenient to use. The installation process only takes a few minutes or hours to get completed. It doesn't require extensive rewiring and there is no need to offer special training to the employees. These devices are also easy to integrate with other systems or security devices. Biometric attendance systems are also highly convenient to your employees as they don't have to worry about their IDs or badges being stolen, misplaced, or forgotten at home. They can simply mark their attendance by scanning their fingerprints on the biometric device.
Conclusion
Apart from a biometric attendance system, there are other devices such as time and attendance management software, online time tracking tools, and mobile apps for employee attendance tracking. All these devices offer great solutions when it comes to attendance management. However, one must always consider the needs of his/her organization before implementing or opting for any of the aforementioned tools for employee attendance tracking.