Since its inception, Zimyo has always focused on enhancing user experience and offering value to its customers by providing them with robust HR solutions. With each passing day, Zimyo is strengthening its product portfolio and bringing innovative solutions to the table. Apart from developing new products, the integration of all its products with any third-party software application has become much simpler. Zimyo aims to provide seamless integration thus offering better connected experiences to its customers. 
Benefits of Zimyo integrations
✅Robust, simple and convenient web services API for interacting with various Zimyo solutions
✅Ease of integration and development ensures less manual efforts and improved efficiency
✅Reliable integration development for customers
Zimyo Integrations- HRMS 
With technology becoming an indispensable part of our day-to-day business activities, integration with multiple applications has become the need of the hour. Not every business can offer everything to its customers, this is where integration comes into play. These integrations enhance your user experience with minimal effort and reduced costs. Currently, Zimyo HRMS is integrated with multiple third-party applications such as: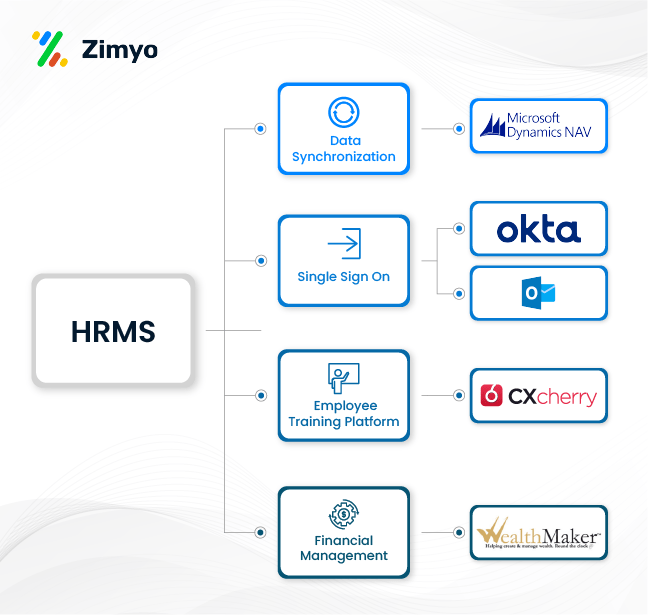 1️⃣Okta SSO
This integration helps organizations maintain a single sign-on to use Zimyo solutions. You don't have to maintain different login credentials to leverage the benefits of the Zimyo products. Your employees can log in to our HRMS by using their Okta sign-in credentials. 
2️⃣Microsoft Outlook
Zimyo's integration with Microsoft Outlook helps reduce admin and paperwork by reducing password issues by providing single sign-on. This makes the use of HRMS more convenient and synchronized. 
3️⃣Microsoft Navision
From eliminating repetitive tasks to reducing data entry time to speeding up the process, this integration is truly advantageous to organizations. 
4️⃣WealthMaker
Wealthmaker contains tax exemption data that can be intelligently used by Finance and Payroll departments to help employees manage their finances and save taxes. 
5️⃣CXcherry
Zimyo's integration with CXcherry is one of the most popular integrations. This enables organizations to provide training and fulfill the educational needs of the employees. 
Zimyo Integrations: Applicant Tracking System (ATS)
Apart from that, Zimyo has a smart applicant tracking system that is integrated with some of the top third-party applications, and some of them are as follows;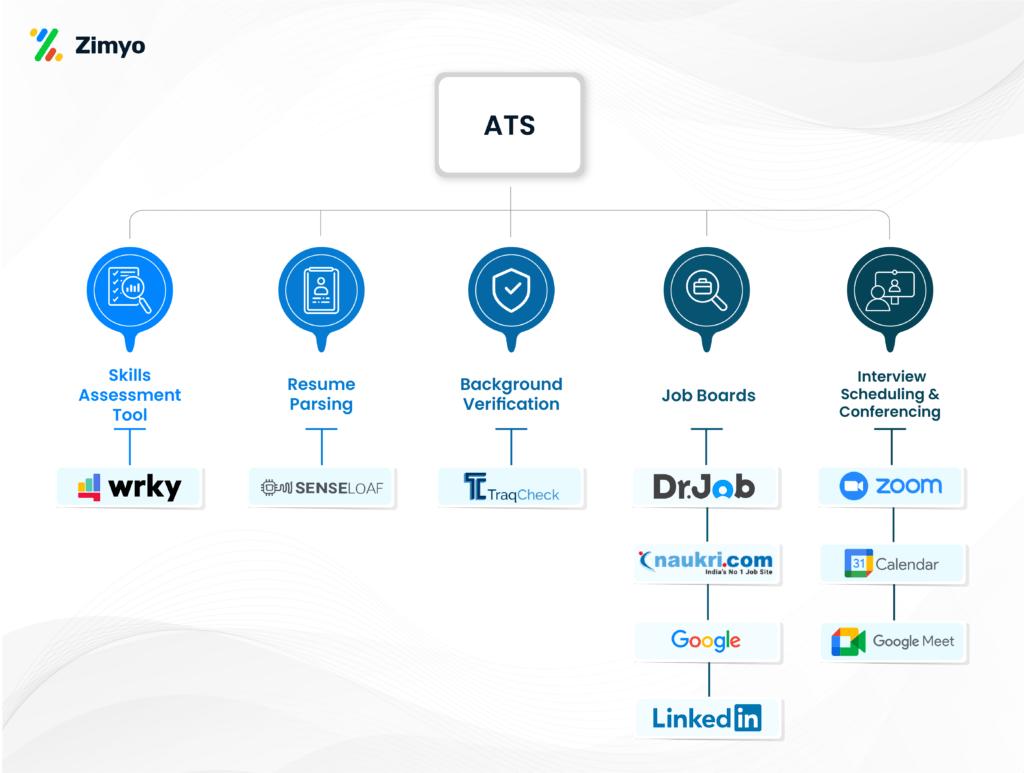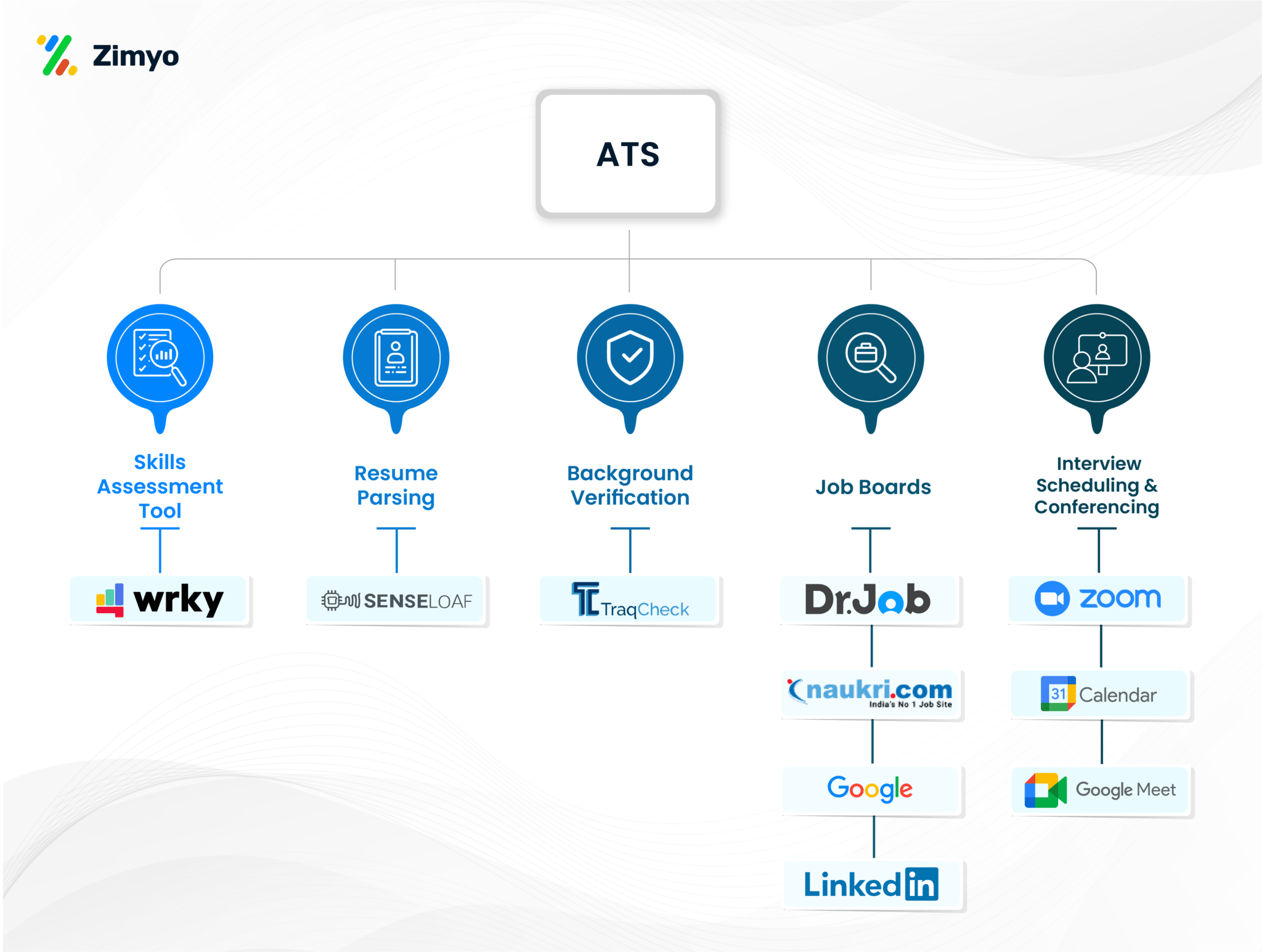 1️⃣Wrky
Say goodbye to resume spamming with this exceptional integration. Hire skilled and qualified people by conducting skill assessment tests. Zimyo's integration with Wrky allows organizations to hire only skilled and qualified candidates by conducting skill assessment tests. 
2️⃣SenseLoaf
Make informed and sound decisions during the hiring process by using the resume parsing feature. Zimyo's ATS is integrated with SenseLoaf to speed up the hiring process by processing candidate data much faster and more efficiently. 
3️⃣TraqCheck
Zimyo's integrations with TraqCheck enable organizations to boost the speed, accuracy, and efficiency of background checks and identity verifications. This helps you hire the right candidates, thus saving you from a number of potential risks and lowering unwelcome attrition rates. 
4️⃣Job Boards Integration
Integration with prominent job boards such as Dr. Job, Naukri, Linkedin, Twitter, Google Jobs, etc. makes Zimyo ATS a suitable choice for all recruiters. This helps HR professionals reach out to millions of skilled candidates in one go. When your jobs are distributed on a larger scale, your odds of creating a more diverse workforce increase. 
5️⃣Video Conferencing Tools
Zimyo's integration with Zoom & Google Meet allows organizations to schedule interviews, generate automated meeting links and send automated calendar invites.
6️⃣Interview Scheduling with Google Calendar
Integration of Zimyo HRMS with Google Calendar makes it easy to connect with your peers, update all your meetings and events, manage your time and know your colleague's availability.
Final Words
Zimyo provides easier interoperability and scalability among products and solutions from multiple vendors. With digital transformation at its peak, millennials forming 50% of the global workforce, and rising expectations in user experience, businesses need more intuitive, productive, and better-integrated products. And Zimyo is that product for you. 
If customers aren't getting any value from the product, then there's no point in getting money from them. These robust integrations give our users more reasons to use Zimyo's solutions. These integrations provide a better user experience and promote engagement.
We have been proactive to enhance the user experience by focusing on increasing our product's utility and visibility. Adding integrations helps users leverage more value and pass on a message of how well Zimyo's HR solutions fit into the big picture of accomplishing tasks and solving pain points.