For recruitment agencies, a reliable and robust applicant tracking system has a huge impact on their business's growth and success. With the right ATS in their firm, they can save time and money in the hiring process to outsource the candidates.
Finding the perfect candidate is like searching for a needle in a haystack. But with an efficient applicant tracking system in house, it gets easier to recruit the best candidates from the industry talent pools.
Applicant tracking systems (ATS), make it easier to gather and organize applicants, automates the recruitment processes, and finds the best fit that aligns with an organization.
Staffing agencies automate the entire recruitment process by implementing an effective and reliable applicant tracking system in their organization. Better means of sourcing talent, a streamlined process, and tailored features like integrations with job boards, bulk posts, easy candidate communications, etc., help the recruitment agencies better.
What is ATS (Applicant Tracking System)?
Applicant Tracking System ATS, is a modern-day software that recruitment agencies use to track and manage job applicants that they outsource. 
ATS in staffing agencies generally have features like applicant tracking, resume parsing, email automations, interview scheduling, candidate collaboration tools, analytics and reporting, etc. The idea behind using an ATS in recruitment agencies is to streamline the entire hiring process and to efficiently source candidates to other organizations.
Furthermore, Applicant Tracking System gives staffing agencies an advantage of being compliant with legal or industry laws. By automating the hiring process, hiring agencies can be time and cost efficient while recruiting the best candidates.
Applicant Tracking Software in staffing agencies uses algorithms and data that the recruiters feed in it to track and match candidates for specific positions that other companies have available.
The software often filters out the resumes that don't match its predefined criterion such as lack of job skills, education, work experience, etc. This allows the recruitment agencies to choose only top-tier candidates that meet the needs of companies seeking them.
ATS in staffing agencies helps in more ways than one. Applicant tracking systems enhance the candidate selection by streamlining and automating almost every task involved in recruitment. 
The ATS screens applicants by checking for keywords in the resumes that match the skills required for the job role. This eliminates the manual sorting of candidate applications.
Features to look for in a reliable Applicant Tracking System (ATS)
Once the 'why' and 'how' for choosing an applicant tracking system are figured out, the next step is to research the various systems and their features. Almost every ATS has similar features or qualities, so an ATS that does more than just store candidate information should be your choice.
Let's look at the six basic and unique features that an applicant tracking system should have.
A new software solution doesn't initiate forgetting the old ones. The old solutions have a lot of important data saved in it and implementing a new software doesn't mean neglecting that old data. 
An ATS that integrates well with the old solution is going to help in the long run.
2. Cloud-based & accurate
A modern day recruitment solution should be accessible from anywhere in the world. A robust cloud-based platform has every necessary information available. 
The recruiters and hiring managers have the upper hand by sharing notes and looking up candidate data with the assurance that the information is up-to-date.
3. Reports, insights, and analytics
The data collected by ATS around your recruitment and hiring processes helps in identifying what initiatives are working for you and what aren't. 
With such metrics organizations can improve processes to reduce costs, remove bottlenecks, and create a better candidate experience.
Tracking linkedin applications and posting on other job boards isn't the whole thing. A robust and reliable ATS helps in the enrichment of candidate sourcing pipeline and growing the talent pool as it tracks, manages, and hires the talent.
Chasing after every chosen candidate for an interview round can be quite hectic. That's why a reliable applicant tracking system will look after that step too.
Streamlining interview scheduling and management with a powerful ATS to help both team members and the candidates.
6. Automation and personalization
Workflows are a major factor behind overall organizational productivity. 
The hiring teams who source, engage, manage and nurture the candidates require a well-structured workflow to streamline the entire recruitment process.
Top 10 ATS software for recruitment agencies
A top-tier Applicant Tracking System improves the hire quality, reduces the administrative work, and improves the collaboration between several recruiters.
ATS eases the hiring process by scheduling and managing the work. It is automated and thus, time-saving. The software is capable of managing a large number of applications at once in a short span of time.
Applicant Tracking System in India became popular because of its cost effectiveness. If you want to choose the best ATS software for recruitment agencies, allow us to help you. We have presented here the Top 8 ATS software for recruitment agencies.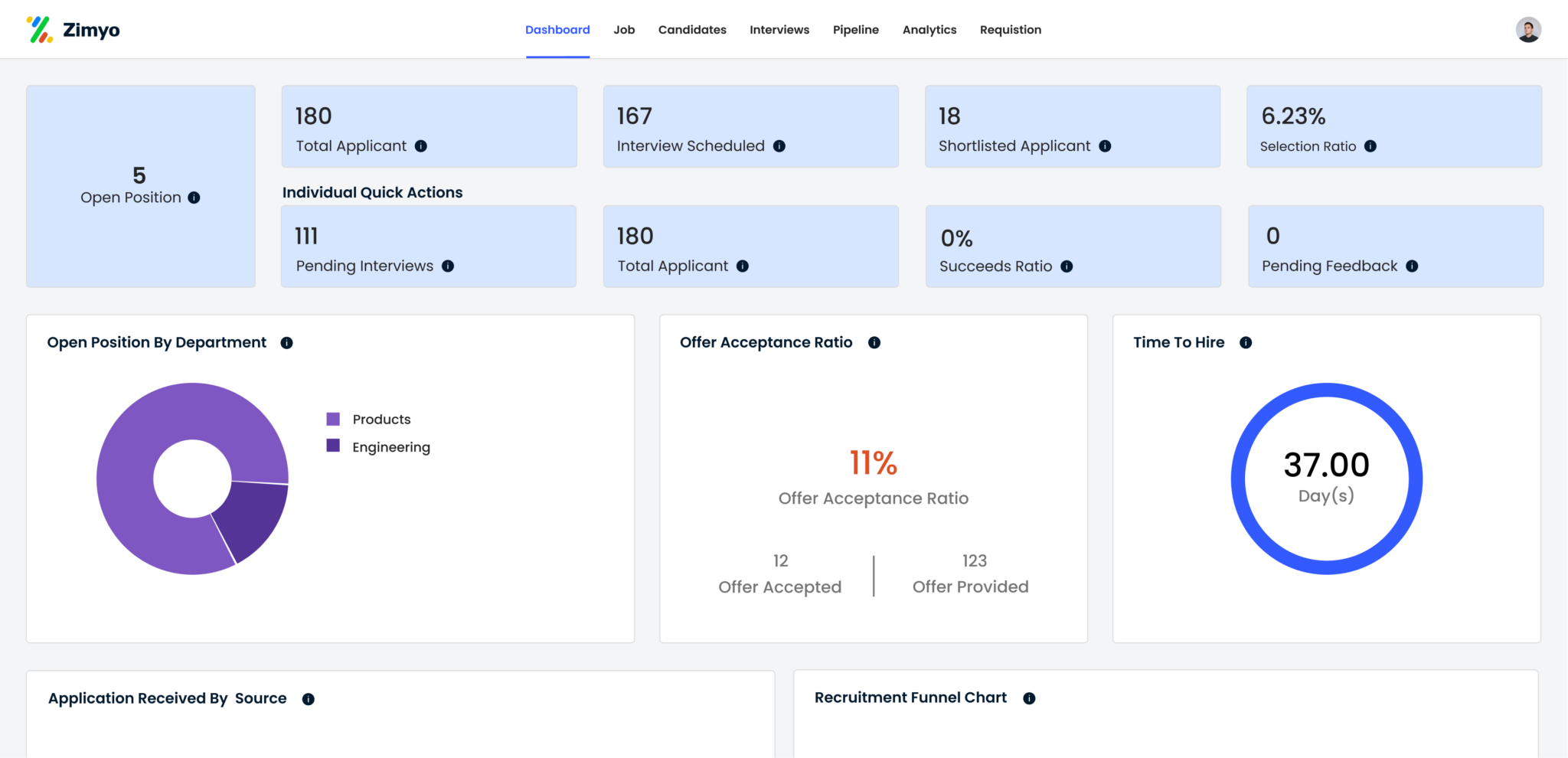 Zimyo is one of the best ATS for recruitment agencies all over the world. It streamlines the entire hiring process for companies and provides numerous useful features. An AI-driven recruitment software that's fabricated to trace and hire top-tier candidates from the industry talent pools for staffing agencies to source them to third party firms. Zimyo has integrations with top job boards and job openings on multiple sites can be posted in seconds with one click.
Zimyo also provides Hr software, payroll management, performance management, employee engagement, time & attendance, and much more among its 40+ modules. Zimyo mobile app serves both Android and IOS operating systems.
It is budget-friendly which makes it suitable for small and medium enterprises. The base package starts from ₹60/month and has all the services needed. You can update to higher packages as per your recruitment agency's needs. 
It helps staffing agencies save a lot of time and makes the hiring process cost-efficient. It has a real-time tracking service as well which maintains discipline and punctuality. It has a user-friendly interface which makes it easy to use and understand.
Organizations like Bajaj capital, Amity University Online, Yash Raj Films, TVF, Collegedekho.com, etc., have implemented Zimyo in their organizations and are immensely satisfied with the services. 
Features of the best ATS for recruitment agencies:-
Post jobs on multiple platforms with one click.
Integrations with LinkedIn, Google Jobs, Naukri.com, etc.
Resume Parsing and Interview Scheduling.
Create a career page for your company to attract the right talent.
Build hiring teams for different posts.
Filters the best quality candidates from the industry talent pools.
Predefined job description templates to cut manual labor.
Scorecards to review and mark the candidates.
Cloud-based data management system.
Makes the process of hiring simple and easy.
Perform multiple actions in bulk.
Predefined offer letter templates that save a lot of time.
Notifications on each stage of the hiring process.
Suitable for small and medium enterprises.
Best for recruitment agencies
Cost-effecient for staffing agencies
Live support is available for customers via email and mobile.
Customer training is provided to make the use of software easy for you.
Mobile applications are present for android as well as IOS.
A make in India initiative that supports bilingual languages - Hindi and English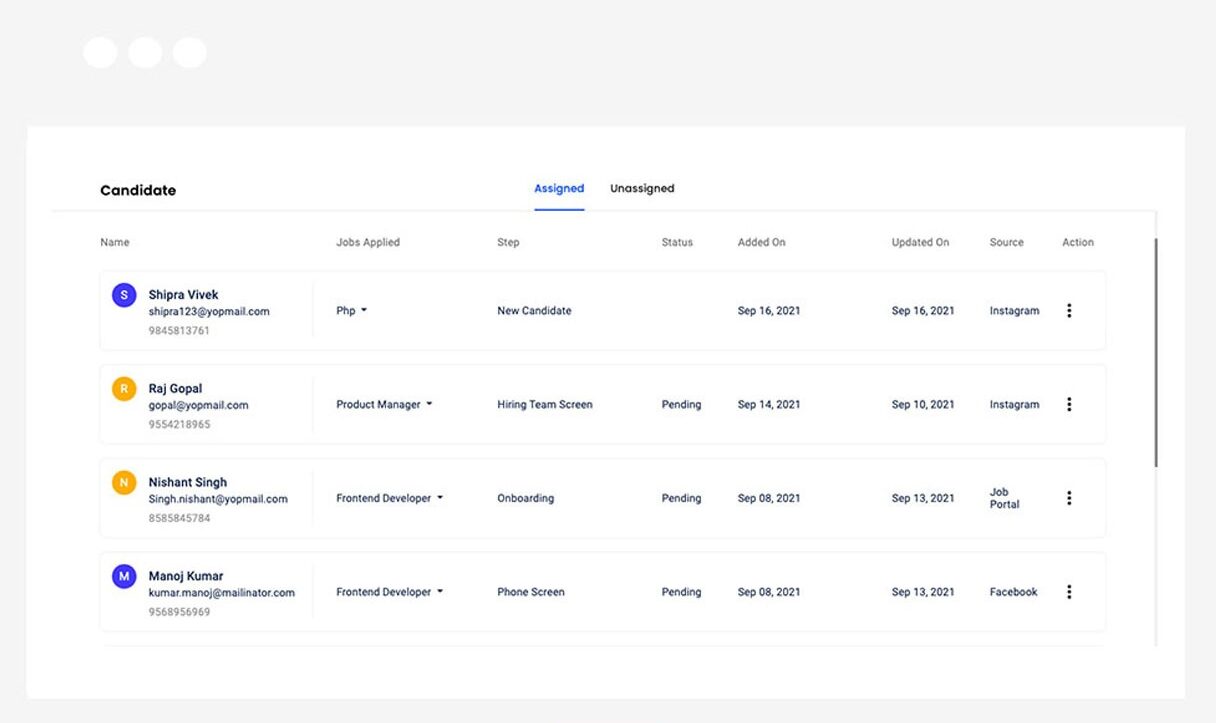 Find your next great hire with Zimyo Recruit!
Zimyo's robust integration with multiple job boardslets everyone post openings in a snap for recruitment agencies.
Naukri RMS is an ATS software by Info Edge India Ltd. This software makes the hiring process cost-effective and easy for the staffing agencies. The common platform for the hiring process has useful collaboration tools for communication. It provides efficient analysis and services like applicant tracking system and candidate management for the recruitment agencies. 
A cloud-based solution that makes the workflow easier and more understandable. It fully automates the entire recruitment process for staffing agencies to source the candidates and saves a lot of time and money. It improves productivity and efficiency, additionally. It has services such as social media integration, resume parsing, and recruitment management.
Features of the top ATS Software for staffing agencies:-
Analyzes the applicant workflow and makes the entire process easy.
Available on desktop platforms like Mac and Windows.
The cloud service enables RMS to be available across all devices including mobile phones.
Time-saving for recruitment agencies
Freshteam ATS software provides services that help in hiring new candidates. It offers a free trial which can be useful for startups and staffing agencies. The software helps hiring managers throughout the recruitment process and manages everything easily. Unique features like archiving the candidate are available to interact with them later on. It also provides an android app that keeps the recruiter up to date all the time. 
Features of top ATS software for recruitment agencies:-
Packed with features like offer management, interview scheduling, and employee onboarding.
Perfect for the recruitment agencies and maintains candidates' profiles.
Automated workflows that enhance efficiency and save time.
Customer training and support are available.
Software is available for Android mobiles too.
Freshteam is available on Windows as well as Mac.
Services are available in multiple languages like English, Dutch, Spanish and French.
Pyjama HR is an ATS software that serves startups as well as recruitment agencies. A web-based end-to-end solution for all hiring issues. It makes recruitment fast and hassle-free for staffing agencies. The software helps in saving time and automating tasks. Its primary features include advanced search, interview scheduling, candidate module assessment, etc. The ATS software has powerful filters and allows strong team collaboration.  
Features of best ATS for staffing agencies:-
A web-based deployment.
Available on all devices -mobile, desktop, laptop, and tablet.
Available on web platforms such as Mac and Windows.
Mobile application for android as well as IOS.
Services like customizable branding.
Free package available with the basic features required.
HR mantra is one of the most famous ATS among the recruitment agencies worldwide. It helps in automating the entire hiring and HR process and saves up to 30 minutes per employee that further increases the ROI by up to 10 times. It's a perfect fit for many business owners around the globe.  
With HR Mantra choose the features that you want to use and pay only for them. This application tracking software has hundreds of clients.
Features of top ATS software for recruitment agencies:-
Audit management, document management, employee self-service management, Audit trail, Event Calendar event management, etc.
Integrations with HR and payroll.
Great option for Agencies, startups, and large businesses.
Email and mobile phone support.
Services are available in multiple languages such as Hindi, English, Chinese, French, German, etc.
Available on all 3 desktop platforms Web app windows and Mac.
Breezy HR is an ATS software with automated recruiting services. It makes the entire hiring process for recruitment agencies easy and efficient to outsource the candidates. Helps in saving time by automating tasks such as job posts, interview scheduling,  and follow-ups. It provides an user-friendly interface that makes the interaction between candidates and hiring managers easy. Breezy HR is a worldwide solution also used in India. 
Features of top ATS for staffing agencies:-
Email templates, application management, and interview management.
For startups, agencies and enterprises.
Live Customer support via email and phone.
Mobile application available for android operating system.
Available on Windows and Mac platforms.
Free trial available.
Works well with different languages
An effective ATS software designed to make the workflow easy and compatible with a modern workplace culture. Services like background screening and talent acquisition, are included too and save time during the hiring process. 
Zoho Applicant tracking system is suitable for freelancers, startups, agencies, enterprises, and SMEs. Customers are granted with relevant training. A detailed analysis for better hiring strategies is concluded by the ATS software as well. 
Features of best ATS Software for recruitment agencies:-
Publish premium job boards and set up your company's career page.
Workflow automation to save time and money.
Available on Windows, Mac, and Web App.
Mobile platforms like Android and IOS have its app.
Services are available in many languages including German, French, English, and Hebrew.
Live Customer support is available via phone and email.
Talent recruitment automates the entire recruiting process for staffing agencies and the workflows make everything more efficient. Driven by artificial intelligence the platform brings you the future of recruitment through technical knowledge. 
Hiring time is reduced and candidate engagement is increased efficiently. Features such as email templates, task management, applicant tracking, and applicant workflow. It aims to provide simplified solutions for agencies.
Features of best ATS software for staffing agencies:-
Resume search, social media integration, and social recruiting.
Customer support is available via email.
Available on all Desktop platforms Web app, windows and Mac
Services are available in English.
Free trial available.
If you were exploring the best ATS software for recruitment agencies then this article must've been helpful for you. Carefully analyze your agency's needs and requirements before choosing an ATS software.
Also consider every step and feature to hire and then outsource the selected candidates to other firms. Make your hiring process fast and effective with Zimyo Recruit.