Today, organizations are spending heavily on cloud-based HRMS to optimize and streamline their HR management processes. HRMS on cloud technology has replaced the conventional methods of HR management and 44% of talent managers look to cloud solutions to increase efficiency and productivity, while 35% see the cloud as a way to reduce costs. So what is it that makes cloud-based HR solutions a top choice of HR leaders? Why do organizations prefer cloud HRMS over On-premise HR solutions? What are the benefits of a cloud-based HRMS? Want to know the answer to these questions? Keep reading! 
What is cloud-based HRMS? 
A cloud-based HRMS is hosted on the servers of an external services provider which can be easily accessed online by anyone in the organization from anywhere. Unlike disparate systems, cloud HRMS allows you to have all information available to you with just one click and in one place. It requires no computer infrastructure, no maintenance, and no big upfront investment. You can simply pay monthly, yearly, or quarterly for the service. 
Why do organizations prefer Cloud-Based HRMS over On-Premise HRMS? 
On-premise HRMS is installed and implemented on your organization's premises. Moreover, you need your own IT team and infrastructure to manage and maintain the on-premise HR solutions. To avoid this additional cost and headache, organizations always prefer cloud HR solutions to manage their HR tasks. The below infographics give you a basic idea of how HRMS on cloud technology is different from on-premise HRMS.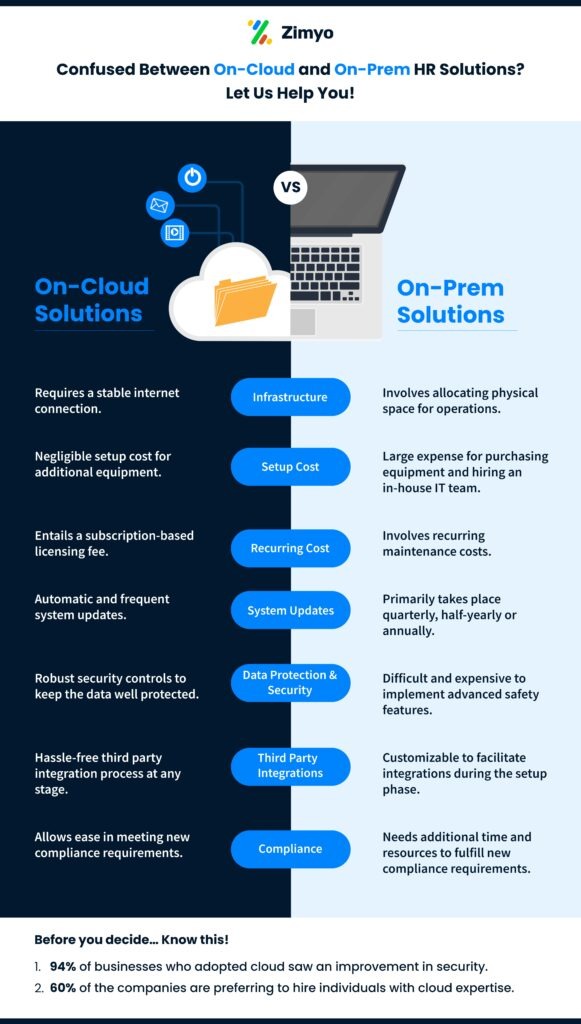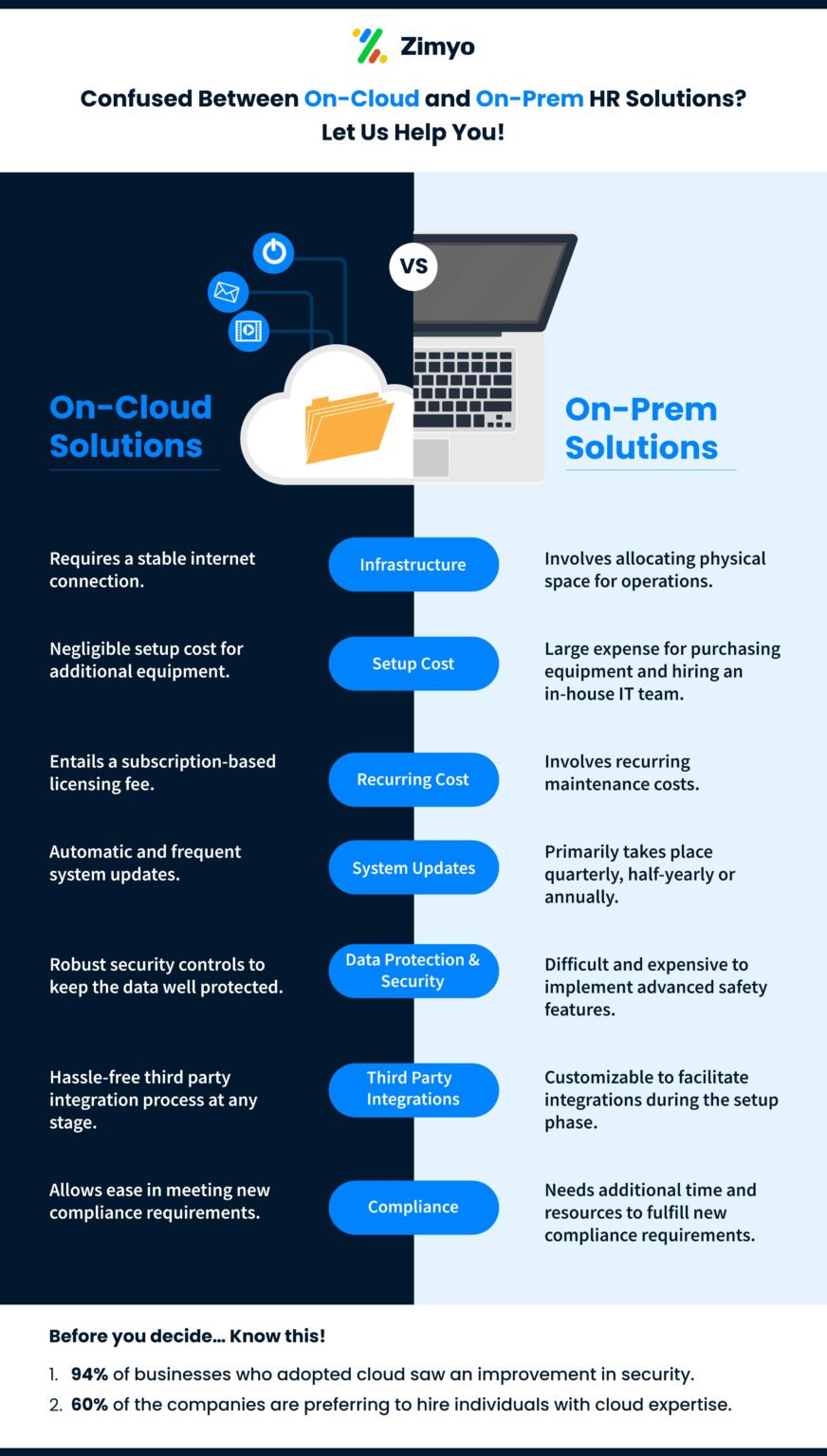 Now, let's know about the benefits of cloud-based HRMS. 
Benefits of HRMS on Cloud Technology
According to research, in recent years, 49% of organizations have invested in human capital management programmes and 32% of them, in cloud space. This shows how rapidly organizations are adopting cloud HR solutions. The convenience it provides, the flexibility it offers, the transformation it brings to the HR department, is something that makes it the preferred choice of HR leaders.  Some of the major benefits of cloud-based HRMS are as follows:
Hassle-free installation and maintenance
Physical installation of cloud HR solutions can be troublesome for any organization. It takes a lot of time which can interfere with other business functions. Therefore, organizations opt for an HRMS on cloud technology that is easy to install and maintain. It is hosted over the internet and you don't need extra resources to install or maintain it. The HR solutions providers take care of the complete implementation process and offer all the necessary support- right from IT to customer support. 
Accessible at any time from anywhere
Easy accessibility is a major advantage of using a cloud-based HR solutions. All you need is a stable internet connection to reap the benefits of a cloud-based HRMS. You can keep track of your employees' time and attendance, measure performance, and access important employee documents from any corner of the globe. Similarly, employees can mark their attendance, apply for leaves, download their payslips from anywhere at any time. This is a great advantage in recent times when more and more organizations are opting for a remote or hybrid working model. 
Reduced costs 
An on-premise HRMS comes with additional costs which means you'll have to pay for everything- from getting a software license to training the staff to maintain the security. However, with a cloud-based HRMS, you can pay for the features you want. You can make payments at your convenience. For example, you have the option to choose from a quarter payment plan, a monthly payment plan, or a yearly payment plan when you opt for HRMS on cloud technology. Also, there are no installation or maintenance charges involved in a cloud HRMS and the software updates are not too costly. 
Keeps your data secure all the time
HR managers deal with sensitive employee and business data and keeping a watchful eye on this information all the time isn't possible. Losing this important data can cost a fortune to your organization. This is where cloud-based HRMS can help you. A cloud-based HR software provides high-level data security and prevents unwanted visitors from accessing private information. Since updates are easy and automatic, you don't have to worry about your data security. Also, the system ensures you are using the latest technology to manage your workforce and data. 
Customizable HRMS
The world of work is constantly changing, therefore, you need a software or human resource management system that can be customized to suit the changing business needs. A cloud-based solution is highly customizable and it is very easy to make changes in the existing system. You just need to contact your HR services provider and all your changes will be implemented in no time. It also allows you to choose only those features that you think are necessary for your organization. 
Easy to integrate and scale
Scalability is another feature that makes HRMS on cloud technology, the right choice for your organization. With a cloud-based HRMS, you don't need to invest in new software if your team size increases or decreases. You can simply make changes in your subscription plans and you are ready to go. Moreover, it is easy to integrate with third-party applications or services. This allows you to perform multiple functions from one single platform without having to spend much. 
Boosts employee engagement
As it relates to employee engagement, 80 percent of HR leaders believe that implementing HR technologies into their processes improves employee attitude toward the organization. Therefore, if you want to boost employee engagement in your organization, then invest in cloud HR software. This is because it allows employees to access all their information at any time. It also reduces unnecessary intervention from HR leaders and offers more autonomy to employees. 
Final Words
Did you know there's a $10 billion global demand for HR software? The growing HR software market is expected to pass $10 billion by 2022. Over half of the core HR solutions are cloud-based. This huge investment in a human resource management system or HRMS on cloud technology is because it enables HR leaders to be growth enablers. From hiring to enabling a smooth separation- an HRMS makes it easy for HR leaders to manage their day-to-day activities with ease and efficiency.
---
Also Read: Top 9 Functions Of Human Resource Management (HRM)