Some people view HR policies as bureaucratic and overbearing. In reality, these are a great way to ensure compliance in the organization, maintain proper discipline and decorum, and streamline internal processes. We have to understand that HR management cannot be everywhere all the time to ensure everything is in place and all employees are behaving ethically. Therefore, we need certain rules or guidelines or HR manuals to provide useful and necessary assistance to the employees. Having written policies reduces the amount of direct supervision by the management and increases the efficiency of work processes. But before diving deep into how they are beneficial to the organization, let's first understand what is a HR policy?
What are HR policies?
Human resource policies are guidelines, rules, or procedures that an organization adopts to regulate the behavior or conduct of its employees and their managers or supervisors. The human resources framework talks about the rights, responsibilities, and expected behaviors of all the people that work in an organization. These guidelines are applicable to all the members of the organization- from an office boy to the CEO.
The human resources department develops an employee handbook that contains all the instructions or guidelines to be followed for ease of governance within an organization. This is then distributed as soon as an employee joins the organization.
The HR activities and actions are highly regulated and can have serious legal, human rights, and discriminatory implications. Therefore, it is imperative to have implementable guidelines as it forms a linking pin between the management, employees, and the rule of law. Developing these policies manually can be a tedious task, therefore, organizations are opting for HR software to manage HR procedures.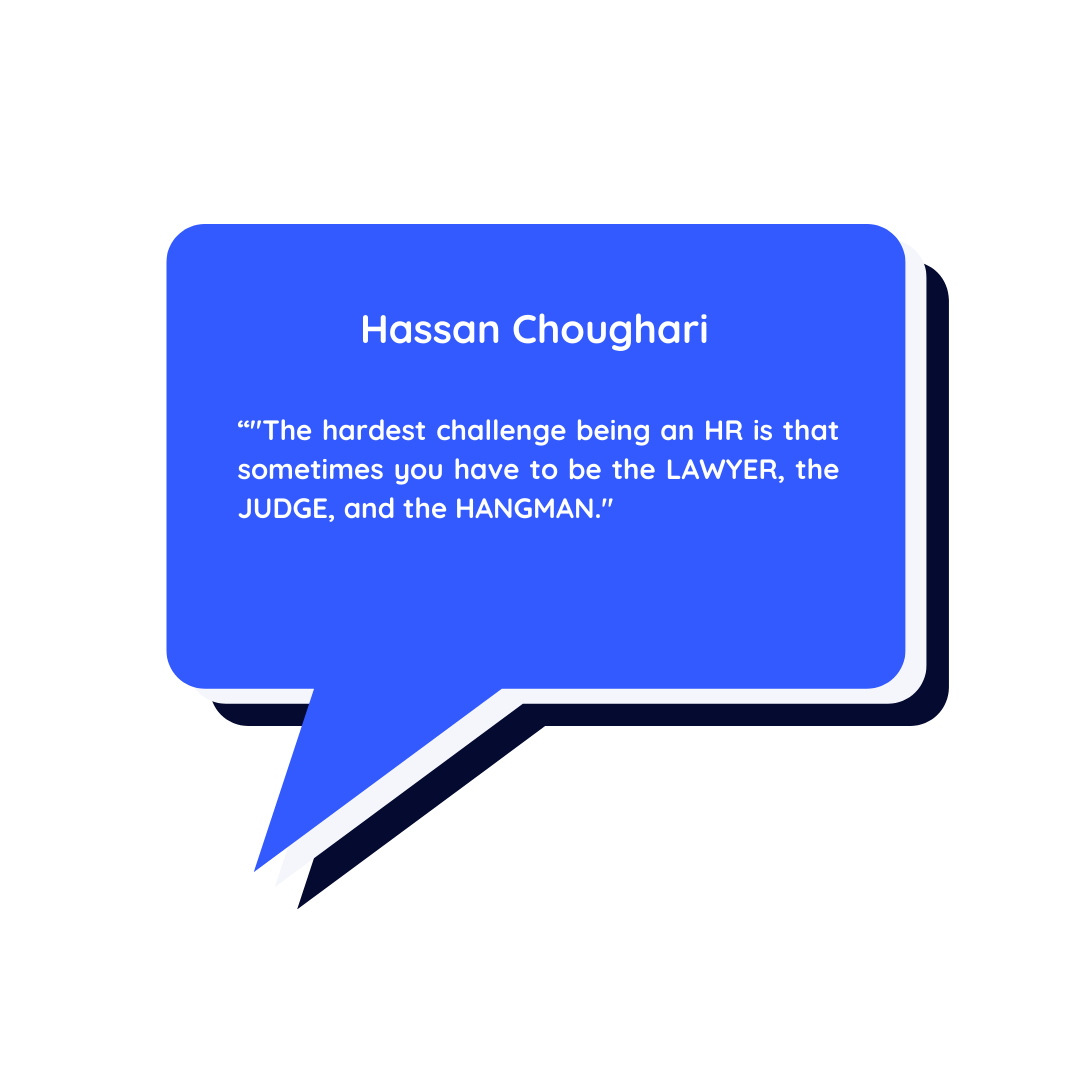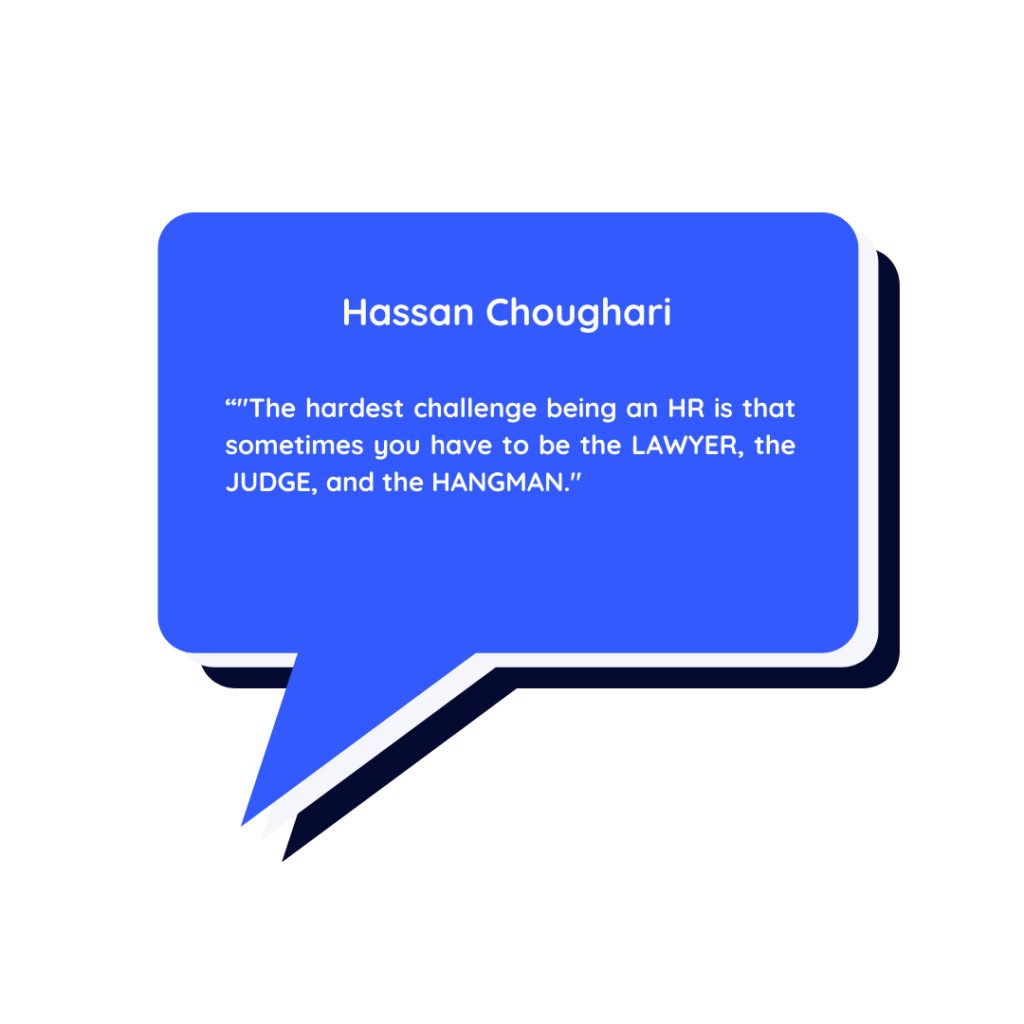 The importance of HR policies in an organization
✅Helps communicate expectations
Human resource policies allow employers to set clear expectations for employees. These HR manuals contain all the guidelines on how employees should behave, conduct, or perform in the workplace. This way employees know what is expected of them and what can get them into trouble. Thus, ensuring that all employees behave ethically.
✅Boosts accountability among managers
These guidelines increase accountability among managers as they understand the ill effects of not adhering to the set rules and regulations. Therefore, they become more prompt in encouraging employees to conduct themselves and follow the HR guidelines and procedures. This improves transparency in the organization as everybody in the team is treated equally irrespective of their position or experience.
✅They keep organizations regulatory compliant
Every organization wants to create a positive and safe work environment for its employees. When every person in the organization adheres to the rules and regulations, there are fewer chances of any legal complications. However, it is important to be wary of any changes in the regulatory laws and keep your business policies updated.
✅Offers a safety net against employee claims
Working with people with different mindsets isn't easy. There might be instances where employees will feel they are treated unfairly and they can decide to take legal action. During such instances, employers can take advantage of up-to-date Human resource policies to defend themselves against legal claims. They can claim that they have equal rules for all the employees and can present the written policy statement before the jury or concerned authorities.
✅Act as employee helpdesk
These policies act as a mini employee helpdesk. It gives them a clear idea of how to reach out or how to respond to a certain situation. This is why it is important to mention a point of contact for queries relating to every guideline so that employees know who is the right person they can contact with questions.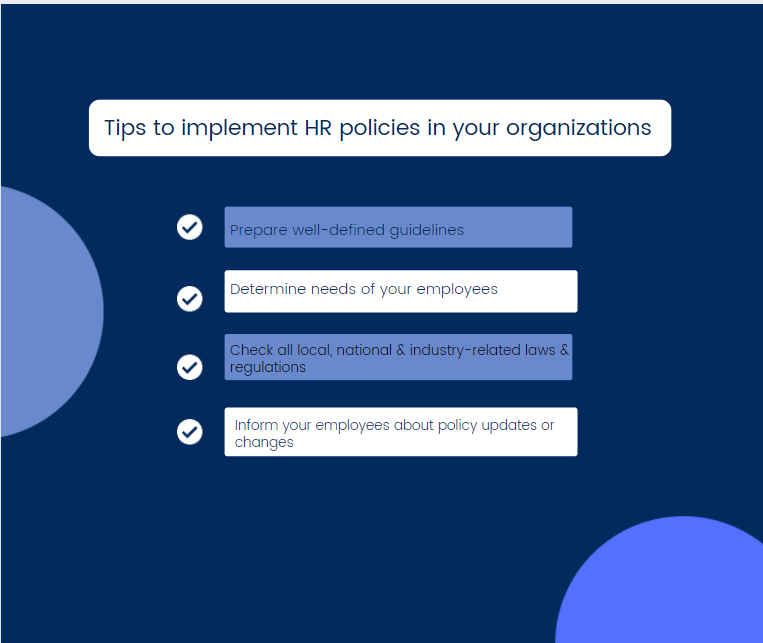 Most common Human Resource Policies In India
1. Employment Contract
The employment contract is a signed document between an employee and his/her employer or a labor union that covers a list of HR policies and agreements. Employers can use the employment contract to define the terms and conditions of employment and prevent future legal complications. Therefore, it is necessary for HR professionals to keep themselves updated and develop employment contracts in accordance with the regulatory requirements. This document is signed by the employee during the date of their joining. An employee must carefully read the information present in the contract before signing it.
2. Employee Wages
Paying employees competitive salaries is crucial for any business. Your HR manual must clearly define the employee wages structure and should periodically audit it to ensure that you are staying in compliance with government regulations. The HR leaders can take references from the Minimum Wages Act, 1948, The Code on Wages Bill,2019, The Equal Remuneration Act, 1976, The Payment of Wages Act, 1936, the Bonded Labor System (Abolition) Act, 1976 to ensure that employees receive their rightful monthly remuneration.
3. Prevention of Sexual Harassment (PoSH) Policy
Recent reports claim an increase in the number of cases registered for sexual harassment at the workplace. This is why it is imperative to educate your employees through sexual harassment policy. You must take proper steps to protect all employees, managers, interns, or even any person who visits the workplace. Your sexual harassment policy must clearly communicate zero-tolerance guidelines for any misbehavior, inappropriate comments, or actions.
4. Code of Conduct
Your employee handbook must have proper guidelines on how an employee should behave or carry himself/herself in the workplace. The code of conduct policy includes guidelines around dress code, electronic usage policy, attendance conflict of interest, etc. Along with the aforementioned components, this policy also contains a list of penalties or consequences if employees fail to follow the code of conduct. Overall, this aims at maintaining discipline in the workplace.
5. Leave and Time-off Policy
Every organization needs to have a leave policy in place to provide proper guidelines regarding holidays, leaves, or other time-off benefits. There are different types of leave policies and you must take all of them into consideration before drafting your HR manual. The leave policy must also contain the leaves required by the law including voting leaves, domestic violence leaves, It should also cover leave required by law, for example, voting leave, family leave, paternity and maternity leave, etc. You should also take into consideration the public or regional holidays. The leave policy should also include the provision for unpaid leaves, half days, comp-offs, or late arrivals.
Trending HR Policies In India
1. At-will Employment Policy
Life is uncertain and you never know what the next moment will bring. Therefore, it is important to be ready for any situation. Organizations must have an at-will employment policy. It is a significant policy that reiterates that both employers and employees can terminate the employment relationship at any time and for any lawful reason. This is important in cases where both parties don't feel they are the best fit for the organization. Employers must try to display this policy at the beginning of the employee handbook.
2. Remote Work Policy
Almost every organization has switched to a remote working or hybrid work model in the wake of the pandemic. This has compelled the HR professionals to craft a work from home policy or telecommuting policy. The remote work policy includes guidelines for employees to work appropriately outside the office. The policy generally covers who is eligible for remote work, what tools the organization will use for internal communications, time tracking processes, guidelines on data security and office equipment, etc.
3. Health and Safety Policy
Research indicates that employees are more productive in workplaces that are committed to health and safety. Your HR manual must include a health and safety policy to define safety and emergency procedures in the workplace. The HR department can take references from the Occupational Health and Safety Act to define the rules and regulations in the policy. As per this policy, employees need to inform their employers about any work-related injuries.
4. Confidentiality Policy
There are certain matters that should be kept private in the organization. Therefore, organizations must have a properly documented confidentiality policy in place. The confidentiality policy covers specific topics such as employee salary details, social security numbers, background checks or interview notes, etc. that employees must keep confidential.
5. Alcohol and Drug Policy
Employers must design a zero-tolerance policy for alcohol or drug use in the workplace. Your employee handbook must clearly state which substances you prohibit, and the disciplinary action for violations of this policy. This promotes safety and prevents any misconduct in the workplace. There are certain organizations that ask prospective candidates to submit a drug test report before hiring an employee. You can also include such tests in your policy.
Conclusion
Employees can't follow guidelines that don't exist. If there are no formal HR policies, then employees will have no clear guidance on how to behave professionally and ethically. Moreover, this will hinder their ability to make the right decisions. Therefore, it is important for every business to have a strong set of guidelines for smooth functioning. Organizations must regularly review and update policies and bring structural changes into account.