It's obvious for an employee to feel excited and nervous on the very first day of their new job. New people, new culture, new teammates, new seniors, new policies, and new responsibilities make your new hires feel foreign in your organization. This is why it is your responsibility to offer a smooth onboarding experience to your new employees so that they feel comfortable and aligned with the organization right from the start. But how can you ensure that? Do you have a solid employee orientation program in place or are you just doing formalities? If you have a robust orientation program in place, then you are doing a great job, if not, then worry not. In this article, we are going to discuss all about employee orientation programs and how they can help you not only attract but retain top talent. Let's dive deeper: 
What is an employee orientation program?
Employee orientation is part of the employee onboarding process. Simply put, it is the process of introducing the new hire to the organization- its culture, people, and processes. As the employee is new to the organization, an orientation program gives them a basic understanding of how the organization operates and what job responsibilities they are going to manage. During the employee orientation process, the employee is required to complete the paperwork, understand the products/services, and meet their new team members. A good orientation program lays the foundation for a successful onboarding process. Therefore, an HR manager's focus should be on improving the process and ensuring the candidate feels at home even during the first day. Let's now have a look at some of the best tips to design an effective employee orientation program: 
Tips to design an effective employee orientation program: 
1️⃣Make the employee feel genuinely welcomed 
Get rid of mundane onboarding ideas, don't just invite the employee to the organization and make them sit for hours before you begin with the process. Your onboarding process should start right from the date of releasing the offer letter. You must share the employee handbook and welcome email and follow up with the employee until they are physically present in the office. Ask their teammates to record a welcome message to make the new hire feel special. You can also send a welcome package along with a welcome note to the employee before their joining. 
2️⃣Provide continuous support
Sent the offer letter? Great! But do you think your job is done? No, it's not. In reality, the actual onboarding process starts after you release the offer letter. Don't just forget about your new hire, instead offer them continuous support and reach out to them to assure that they have made the right decision. Joining a new organization can be confusing and stressful. To help your new hire cope with this stress you can assign a buddy or peer mentor who can offer them the support they need to be successful in their new role. They can also help them in socializing and making new friends in a completely foreign place. 
3️⃣Give an introduction to the culture 
Share pictures and videos of team outings, office trips, fun Friday activities, and other special events to familiarize them with the company culture. Share company tour videos as well to give them an idea of what their new workspace looks like. Also, share the HR policies and guidelines so that they are ready to be a part of your organization right from the beginning. You can also provide them with other necessary information such as where to park their cars and bikes, which route to follow, who to reach out to, etc. 
4️⃣Make preparations beforehand
Don't get your papers, seats, and process ready just before the orientation starts. A robust employee orientation program means making preparations beforehand. Make sure the workplace, team members, and other stakeholders are ready to welcome the new hires. Ensure that their seats are clean, all the equipment are fully functional and ready to use, login credentials are shared, and resources are allocated. Doing preparations at the last minute isn't going to help anybody. So always ensure that you are ready to welcome your new hires before they are ready to join you!
5️⃣Don't miss out on the fun part 
Ensure that your new hires feel comfortable from the very beginning and to do that you need to make your onboarding process fun. Plan something fun for your employees. For example, you can organize some games such as dumb charades, photo hunts, scavenger hunts, etc. Also, organize lunch with your new hires to make them feel involved or you can plan other activities that you think might be loved by your new people. 
6️⃣Get feedback 
After you are done with the onboarding of the new hire, you can ask for their feedback. Don't just make the feedback process a formality, instead listen to the feedback and act on it, if you think the feedback is relevant and useful. This way you can improve your employee orientation program and ensure a smooth onboarding process for future new hires. This is one of the most important things you need to do right after the completion of your employee orientation.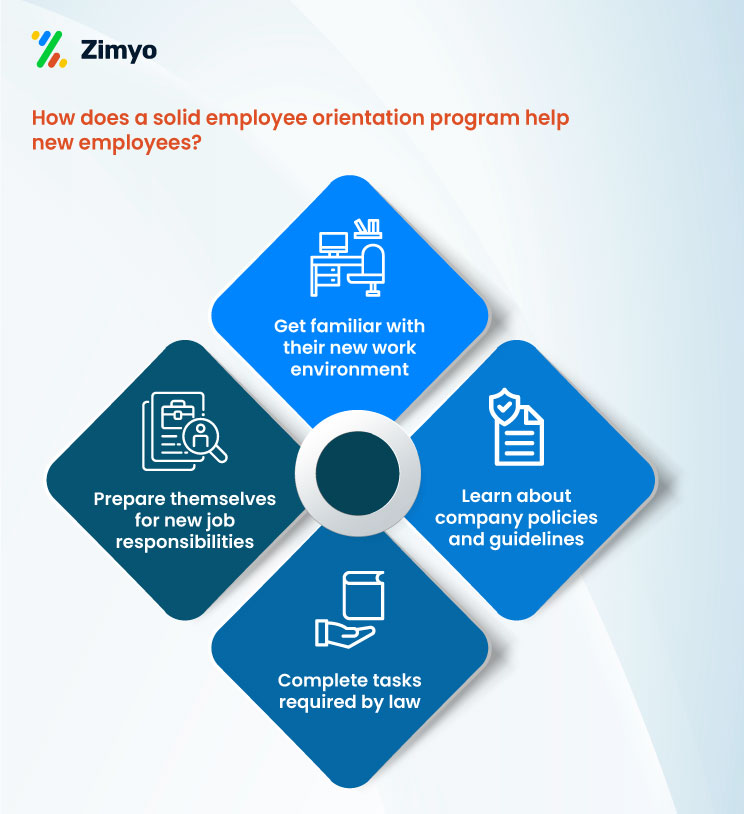 How does an effective employee orientation program help organizations?
➡️Improves  Retention
According to research by Glassdoor, companies with a strong onboarding process improve new hire retention by 82%. An effective onboarding or orientation program ensures that the new employee feels valued and appreciated in the organization. 
➡️Saves Time
An effective orientation program ensures that the new joiners get a basic understanding of all their job responsibilities, tasks, managers, etc. This saves HR leaders from providing extra training or sessions.
➡️Increases Productivity
When all things are in place, the new employees are clear on their expectations and are equipped with all the necessary tools and resources, there are higher chances of increased productivity. 
➡️Boosts Employee Experience
When your onboarding is done right, your new hires feel more comfortable and experience less anxiety. A good orientation program makes them feel belonged to the organization from the very first day of their jobs. 
➡️Reduces Costs 
A good employee orientation program means good employee experience, which eventually leads to reduced turnover. Reduced turnover means no new hirings and thus reduced costs. It's as simple as that. 
So these are some of the advantages of having a solid orientation program in place. Let's now know what new hires or employees can do to make the right first impression on their new employer. 
Tips employees can use during the orientation program 
✅Don't Get Late
Arriving late on the first day of your new job doesn't look good. So try to reach your new office on time and make a lasting first impression. To ensure your timely arrival, plan things accordingly and get an understanding of the route you'll need to take for arriving at your new workplace. 
✅Dress Appropriately
It's your responsibility to look neat and clean. Ask your HR manager if they follow a certain dress code and dress accordingly. If there is no such code then you can wear something decent that looks nice. You can then observe other employees for a few days and then choose your attire accordingly. 
✅Be Prepared 
Similar to employers, employees also need to make preparations for the orientation. There might be a situation where you might need a pen or notepad or some cash. So always carry these things with you during your first day on the job. 
✅Know Your Company 
Before you enter the workplace, it is important to do some research about the company, its people, and the processes. Go through the employee handbook and other manuals provided by the company and have your questions ready.
✅Sleep Tight 
We get that new experiences make us all feel anxious or restless and that is completely normal. But that doesn't mean this feeling should hinder your sleep. It's important to get enough sleep before your first day. You can try some meditation or book reading before going to bed to get a good sleep. 
✅Bring some snacks
The onboarding process takes a long time, and you might need some energy to get through the day, so it is a good idea to bring some snacks and a water bottle on the first day of your joining. 
✅Give a good introduction
Don't just talk about your name and your previous experiences or educational background. People want to know more about you- not just professionally but personally. So do make sure to give an impactful introduction. 
The Bottom Line 
So this is how you can ace your employee onboarding process. Executing an effective orientation program needs more than just a checklist and guidelines. You need to get personally involved in the process and ensure that you offer a seamless onboarding experience to your new hires. Managing all the paperwork and other tasks during the onboarding process can be daunting. Therefore, you can opt for employee onboarding software that makes the process smooth and hassle-free by automating all the redundant activities. 
---
                                                                                          Also Read:
                                    Employees' Provident Fund Act- All You Need to Know
                                                 Full and Final Settlement Process – Detailed Overview