Leading firms prioritize administration – things just work better with the correct administrative structures in place.✅
Employees feel more confident when there is more transparency. The business can run more smoothly if the files are updated regularly.
Although it may not appear so, good administration is a competitive advantage critical to every company's success. Employees are, after all, a company's most valuable asset. They have the potential to rise with the right management.?
Access to an employee database is essential for efficient employee management, according to HR. Every company uses employee database management systems to store and manage data regarding their employees.
We'll go through the essentials of employee data management software in this article. We'll go over what it is, what it can offer, and the numerous advantages it may provide to a company.?
What is Employee Database Management Software?
Employee database management software is a self-service system that allows employees to enter, update and access their data. It not only reduces the likelihood of human error but also saves a lot of time. It comprises all of the necessary information about an employee in their profiles.
Personal information, attendance, performance history, expenses, timesheets, relieving letters, holidays, ID proofs, and other data could be stored in database management systems.
This isn't just a modern, digital version of the old-school paper desk drawer from back in the day. Instead, it includes capabilities that simplify HR operations and improve management-employee relationships. The database management system makes it simple to manage large volumes of employee data with features like staff tracking, performance management, and digital time-off requests.?
Best of all, you can utilize this data to generate unique HR reports that will help you better understand your company.✅
Organisations of all sizes are increasingly implementing employee database management systems. Why?
Because they understand that good employee engagement is the first step toward success.?
Why Is Database Management Software Important?
Consider a scenario in which each piece of important data relating to the most valuable assets, i.e., employees, is accessible through a centralized database on a single dashboard and is available at breakneck speed 24 hours a day, seven days a week. A successful employee database management system essentially provides a consolidated center for all of your critical employee data.?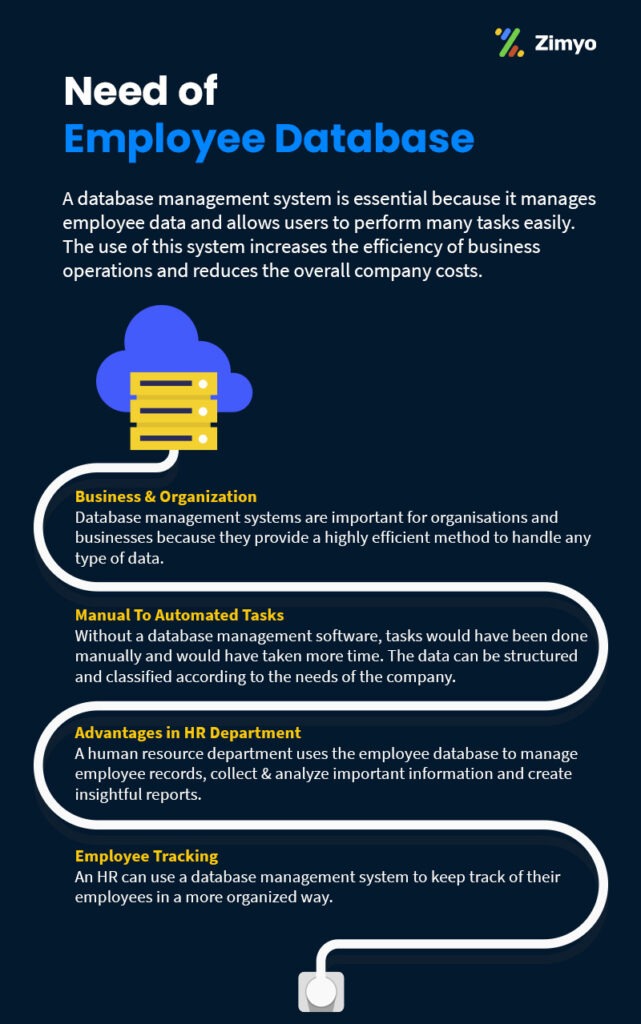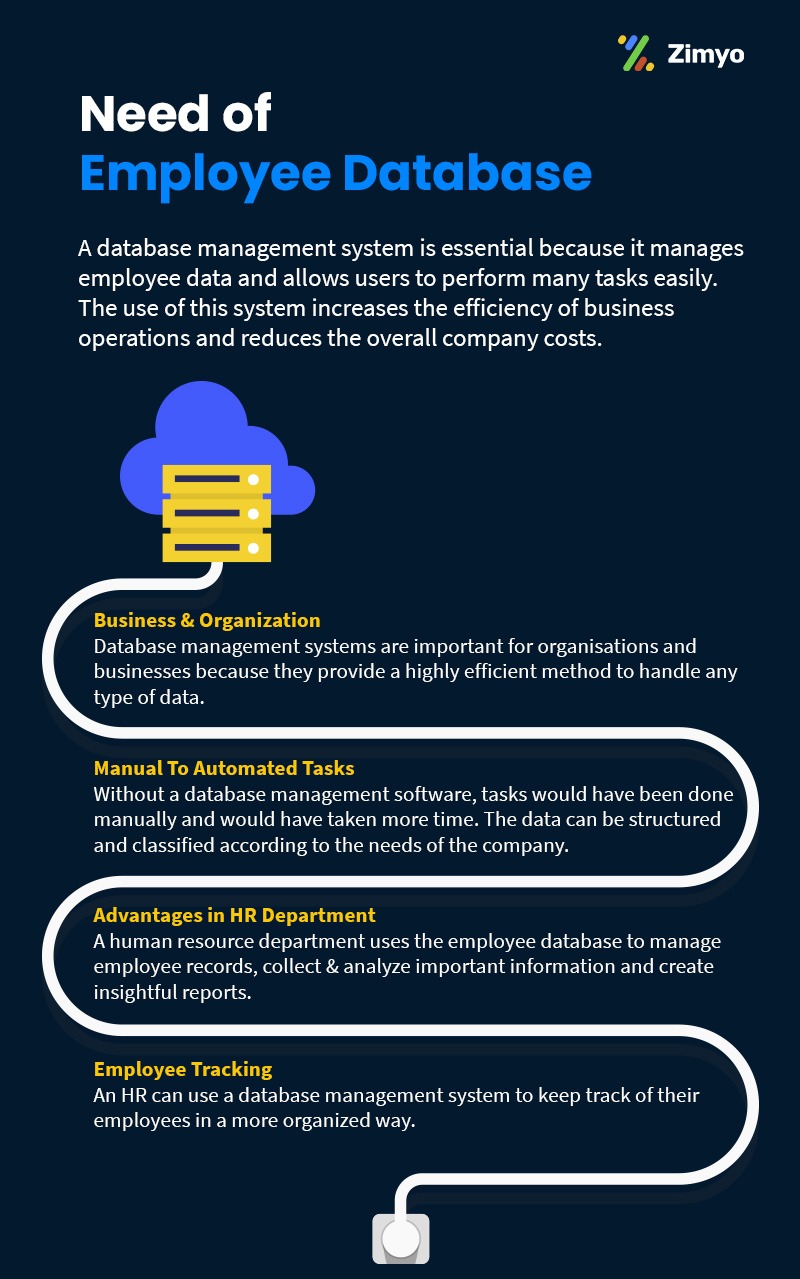 The fast-paced evolution of today's world necessitates technology, without which it is difficult to survive. Managing the modern workforce needs a technologically advanced employee database management system or cloud-based HR software. It not only makes database management easier, but it also helps HR managers to handle multiple tasks at once, such as:?
New employee integration goes smoothly.

Employees will have a smooth transition.

Make sure you're up to date on employee information.

Allow for rapid response to administrative issues.
Human resources professionals have a lot on their plates, and it's tough to maintain accurate numbers when data is strewn over spreadsheets and paper files. You'll always be hunting for other documents that need to be changed if you require an update.❌
Employee database management comes into play here. Once the data is sorted, you can immediately add and amend employee data, ensuring that employee records are always up-to-date and that you never have to bother about their validity. Employee data is precisely synchronized across numerous key components in a safe environment.✅
Common Features Of Employee Database Management System
Here are some of features that an employee database management system offers:?
➡️ Storage Of HR Data
You can upload all the HR related documents such as offer letters, relieving letters, ID proofs, passports, licenses, etc. in an easily accessible and secure cloud-based database.
➡️ Employee Tracking
HR professionals can track employee work and performance history in a centralized database. From onboarding to retiring every job responsibilities and appraisals an employee has taken can be tracked in a systematical and hassle-free way.
➡️ Effective Communication
Employee data management system allows you to communicate with your team and managers in real-time. Teams can collaboratively work on projects.
➡️ Custom Fields
HR professionals can create their own set of fields to store data customized to their organization's needs.
➡️ Integration With HRMS Tools
The database management system integrates with other HRMS tools such as Payroll software, application tracking system (ATS), performance management system, etc. Information related to employees gets synced automatically which reduces a lot of manual effort.
➡️ Employee Self Service (ESS)
ESS or employee self-service is one of the key features of modern HRMS software. In simple words, ESS is a system where employees are given access to add and edit their information. Employees can apply for requests related to leave and expense and whereas managers can approve/reject leave requests and reimbursement requests through their portal.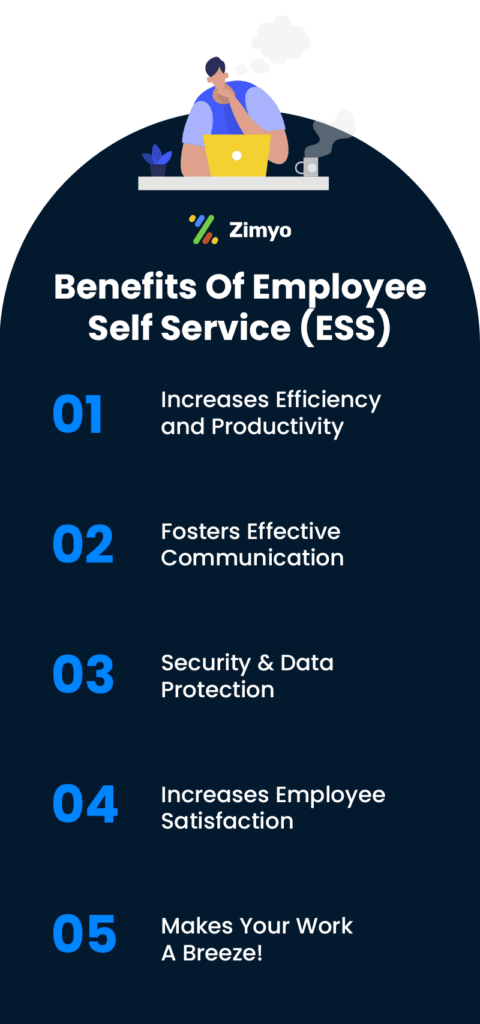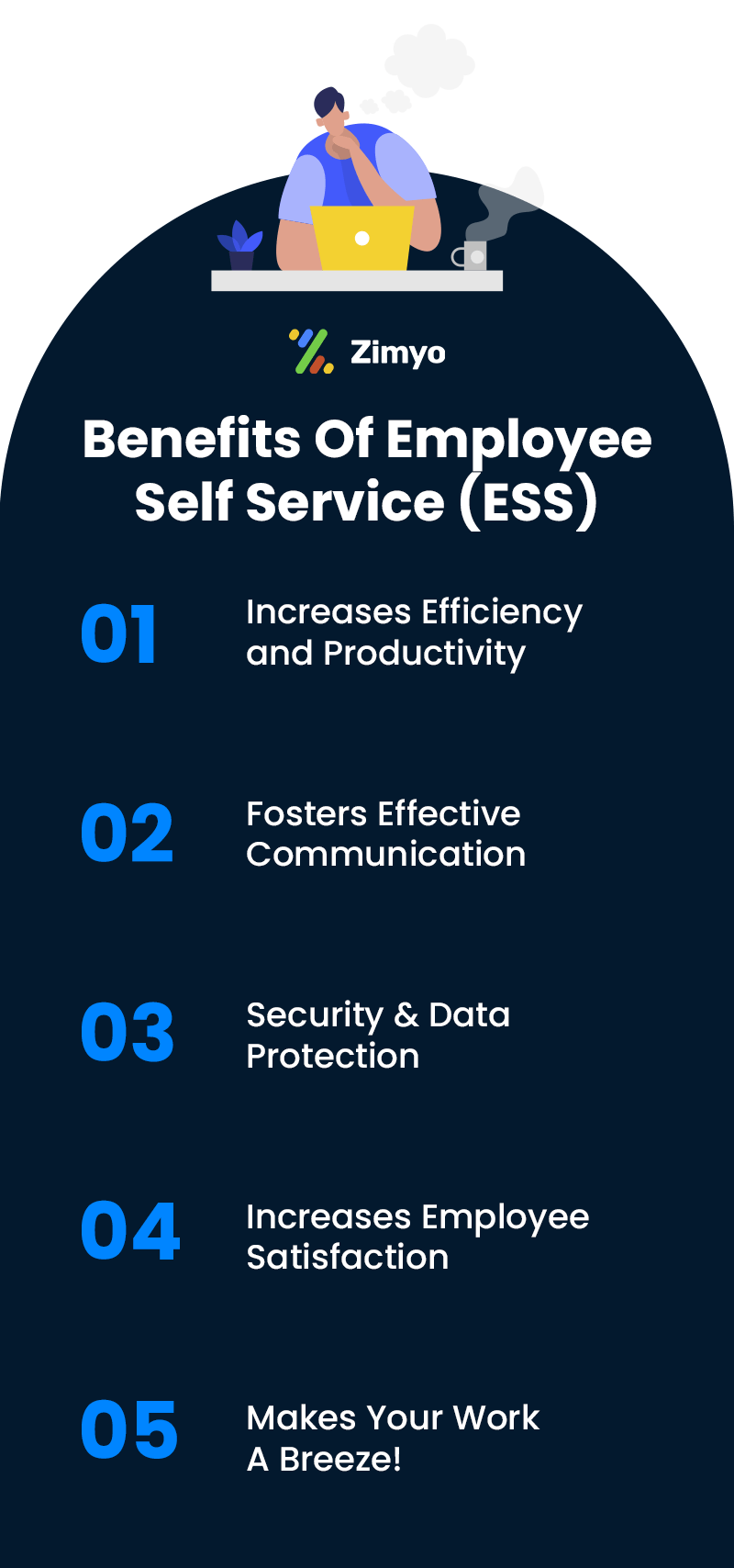 In SaaS based HR platforms, mostly it is a small feature of a part of a large module called human capital management (HCM) or enterprise resource planning (ERP).
Attendance and leave

: Employees can request for attendance, leave.

Web clock-in:

Employees can punch-in and out from their intuitive app and web portals. They can even apply for regularization in case of missed clock-in. This reduces the irregularities of late punch-ins.

Time-Tracking:

employees can create and update their tasks and timelines.

Access to personal information:

Employees can add and edit their personal information at their fingertips.

Communication:

Bridges the communication gap and allows employees to reach out to their peers and managers in real-time.

Reports:

Employees can view their salary and tax slips for any month.

Payroll regularization:

Employees can submit their declaration and compliance.

Reimbursement claims:

Employees can claim various expense requests like fuel, LTA, phone, medical, travel, etc.

Declare Flexi:

Can submit their

Flexi declarations

.
Benefits Of Employee Database Management System
Let's take a look at some of the advantages of using an employee database management system: ?

➡️ Reduced Workload On HR
Most database management systems come with employee self-service, which allows employees to add and edit their data. Empowering employees to do this reduces the chances of mistakes and workload on HR.
Though HR professionals know it is more efficient than manually adding data, they also want to control who can access sensitive company data. Custom access level allows permitting employees to have command over data under their purview while limiting access to sensitive company information. It speeds up the data updating and onboarding process.
➡️ Data-Driven Decisions
The employee data system provides all the required information at the fingertips. You can customize which information you want according to your organization's requirements and culture. The most important function of the employee database is managing reports and people analytics.
The system provides the information, but it also generates instant beautiful reports with reporting tools, so you can analyze the data and make better strategic decisions. You can generate various employee analytics, which will help in better decisions backed by accurate data analytics.
➡️ Better Accessibility With Centralized Data
Software's centralized data allows organizations to manage all of their data from a central point. Tracking records is sometimes a very tiring task for HR professionals.
It's not easy to manage data when it is dispersed across so many places, but with the employee database management system, you have access to your data from a single place. It moves all your data from excel sheets and a pile of papers to a single system, which is available all time at your fingertips.
➡️ Ethical Storage Of Data
The employee database management system gives exclusive excess to employees' data based on their designation and responsibilities.
Employee data is hard to make anonymous so, it needs to be secure and accessible for the only concerned persons. In addition, the database is stored in a cloud-based server which is far more secure than traditional hard drives and a pile of paper files in the office.
Investing in the Right Database Management Software
It's never easy to organize a company to increase efficiency and employee engagement. ❌ However, employee database management software makes HR tasks a breeze and facilitates the establishment of a smoother interface between HR and employees.✅
Prioritizing employee data management speaks of a broader commitment to better employee management. This organisational strategy can lead to strong business culture and all the benefits that come with it.?
When used correctly and to its full potential, database management software provides a company with an automated and efficient employee management software as well as a healthier work environment.?
Zimyo Can Help You!
More than 500+ businesses trust Zimyo to provide them with modern, intuitive HR, employee database management, and reporting tools that help them engage, train, and retain their employees.?
---