Human Resource Management System or HRMS is a broad-gauge term that refers to the software used to automate HR functions in a business firm.   
Human resource management is not an easy job without HR software, as confirmed by HR pros. From employee recruitment, onboarding, and training or even all the way to employee exit, they juggle several balls in their daily course of work. 
HR managers often spend their time in important but monotonous activities, such as manually sending onboarding invites to new joiners, and monitoring the holiday calendar, to name a few.
HRMS software is undoubtedly one of the most popular software adopted by businesses in modern times. This software is turning out to be a great support for the HR team when they are drowned in work and fail to provide the efficiency needed by the organization. Tasks like these can be easily automated using HR software. This can enable the company to minimize expenses and allow the HR specialist to focus on its core call – strategic workforce planning and human capital development.
Benefits Of HRMS
The primary benefit of HRMS software is that it improves the efficiency of your HR activities. Many of the tasks that take up most of your HR department's time can be automated using a software system with integrated modules.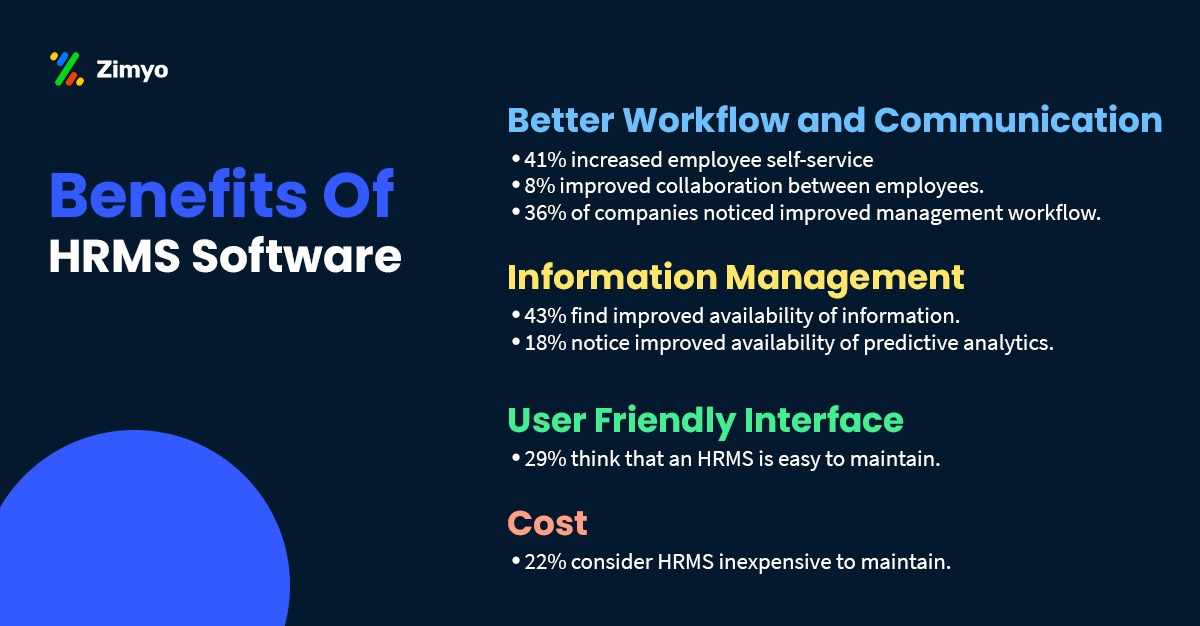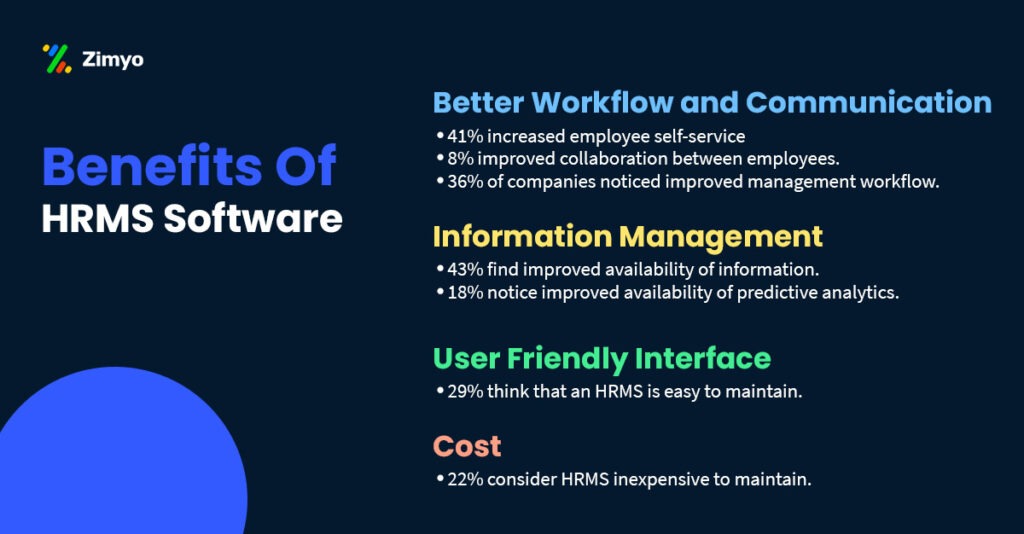 ➡️ Automates Your Workflows
Automated tools eliminate the need to physically enter data, reduce the chance of inaccuracy and improve efficiency. HRMS modules can create custom workflows to help you carry out your HR processes smoothly and effectively.
➡️ Securely Stores Your Data
An HRMS can ensure the security of your employees' confidential information. A security breach not only jeopardizes the trust of your employees, customers, and partnerships, but you also remain at risk of non-compliance by failing to follow data privacy rules. 
A cloud-based HR software has inbuilt layers of security to keep all of your data protected, such as access limitation and two-factor authentication.
➡️ Provides Employee Self Service
An employee self-service portal allows your staff to manage their personal information, freeing up time for your HR administrators. Employees can keep their data updated, access their income statement and pay slips whenever required, request time off, and avail sick days.
By putting this work in the hands of your staff, HR can focus on important, high-impact tasks like benefits packages, performance evaluations, and onboarding. 
11 Key HRMS Modules
Now that the HR software industry is constantly reinventing itself, a company must know about the key modules that an HRMS should provide for better employee productivity and insights. Let's take a look at some of the key HRMS modules that your HR software should have –
➡️ Employee Information Management 
As day-by-day data is becoming one of the most significant assets for a business, a rise in the threats to data security is also taking place simultaneously. 
The HR department maintains accurate data about employees, including sensitive employee information and confidential business-related data. Hence, managing and governing this data systematically becomes very important, which cloud HRMS does by providing you utmost security from any loss of data, information security threats, and unauthorized access to data.
Data is centralized in one easily accessible point within the software, rather than being scattered across infinite files and boxes of employee data or complicated spreadsheets.
HR may spool out all accessible information about the organization and its employee- from the total number of employees to the total count currently on leave, pending fines, the date they joined, and even filter data by department, age, salary groups, and other factors.
This software also provides an employee self-service portal, giving them access to log in and view important information and a knowledge base of informative documents. This is one of the important modules of HRMS.
➡️ Payroll Management
Every company needs to figure out the best way to manage payroll. A disorganized payroll process jeopardizes the company's reputation by upsetting employees, causing legal issues, and leading to the company's downfall. 
For a variety of reasons, having a payroll administration feature in your HRMS is critical. The risk of overpaying, underpaying, and other payroll challenges are avoided because the module is integrated with the leave management and other important modules. 
HRMS online software can fulfill all the requirements concerned with accounting and managing an employee's payroll. It involves accelerating the process of payroll, reimbursement of claims and loans, facilitating view, accessing, and printing of pay slips, customizing payroll reports as per requirement, and provisioning benefits like gratuity and final settlement.
➡️ Recruitment and Onboarding
It is essential to implement a well-structured and smooth recruitment and onboarding plan. According to Brandon Hall Group's study, companies with a good onboarding process can increase new hire retention by 82 percent and productivity by more than 70 percent.
It's a known fact that labor costs are generally one of the highest expenditures in any business. That is why optimizing recruitment efforts with HRMS online software becomes a great help to companies. 
Cloud HRMS makes it fast and simple for post-hiring needs. It can automatically sort all applications to save a lot of time from managers to HR professionals. During the onboarding and training phases, HRMS can also forward recruits to the next phase of the hiring process, which is very efficient in terms of money and time.
➡️ Managing Attendance And Tracking Absenteeism
When you have a large workforce, efficient time and attendance tracking become a very important aspect of a successful HR strategy. 
Outdated time and attendance tracking systems may cause havoc at your workplace with wrong information flowing through your records. Hence to overcome this drawback, HRMS online software automates time and attendance management. 
It reduces the possibilities of errors and eases the application of complex rules. For tracking absenteeism, biometric identification is incorporated that also keeps a check on 'buddy punching.'
➡️ Employee Benefits Administration
For some companies, the main reason behind using online HRMS software is that it benefits the administration. It is so because it reduces potential costs and saves time. This module includes online open enrollment, management of the benefits life cycle, statutory compliance, and automated communication of enrollment options and information.
➡️ Workforce Management
Workforce management is all about providing timely information and enabling employees to make the right choice in any of the circumstances. 
This plays a major role in managing and monitoring employee benefits, healthcare, pension/welfare packages, tracking enrolment options, etc. It includes features like automatic event management, contribution breakdowns, legislative compliance, and a plan comparison tool for aiding employee choices.
➡️ Performance Reviews & Appraisals
Employers can track how their employees contribute to attaining the organization's goals using the performance management module. It allows you to track, monitor, and review employee performance to increase organizational efficiency and deliver relevant feedback to the employees. 
Incorporating performance review software will help you set and manage goals, schedule appraisal meetings, and provide you with overall performance feedback.  
➡️ HR Analytics
HR analytics refers to the process of measuring the impact of HR metrics like revenue per employee, offer acceptance rate, training efficiency, training expenses per employee, voluntary turnover rate, involuntary turnover rate, time to hire, time to fill, absenteeism, and human capital risk. 
This module of HRMS integrates with other modules and systems to generate reports through which one can get a broader view of the overall performance so you can take the necessary steps. 
➡️ Employee Scheduling
Everyone is aware of the fact that employee scheduling is a very tedious job. Managers and HR personnel spend a lot of time creating schedules for the following weeks, especially complex shift patterns or a large workforce. 
When problems in scheduling arise, the quality of work might be compromised while wasting a lot of time. This module of HRMS helps to prevent such situations by providing benefits, as it has built-in scheduling software. It makes your priorities clear and enhances efficiency in the organization.
➡️ Learning And Development
Training is one of the key functions that an HR department performs. This module of HRMS makes you capable of having documents uploaded, managed, and distributed for trainees through web-based software. 
It is integrated with employee performance goals and incorporates a calendar function that helps instructors schedule training and evaluations that are easily accessible to trainees. It facilitates them to communicate with other trainees and instructors. 
It includes features like- Learning portal, setting and managing goals, individual user learning plans, streamlined learning administration, and training recommendations linked to the role, skillset, and career aspirations.
➡️ Talent Management
This module helps you in identifying the individuals who have potential. It assists in setting up talent pipelines along with specific roles and succession planning in mind. 
It keeps an eye on attracting and retaining fresh talent, skilled employees, and an efficient workforce with features like- succession planning, integration with key recruitment campaigns, alignment with organizational strategic business goals, reward benchmarking (internal and external), and identification of career paths and individual career planning.
Other HRMS Modules Your HR Software Should Have
Here are some of the additional HRMS modules that are a must-have for your organisation:
➡️ Disciplinary Management 
Without a single spreadsheet or piece of paper, your HR can ensure compliance with the organization's disciplinary policy, develop escalation steps for disciplinary cases, administer penalties, track ongoing cases, and refer to past instances using a disciplinary management module.
➡️ Exit Management  
You can provide a professional approach to employees leaving your firm for any reason using the exit management HRMS module. You can use the feature to monitor resignation requests, organize exit interviews, track the offboarding process, and even develop exit procedures based on your company's policies. 
Zimyo is a cloud-based HR software that allows HR to focus on more important tasks by automating routine, time-consuming tasks. It can help you optimize your HR department's workflow, making it more efficient and trackable, irrespective of the size of your company.
Learn how Zimyo can assist you in streamlining your HR operations.
---
Also Read: HRMS Technology in India