Top Performance Management Software
Every company or business worldwide aspires to have the most efficient and productive employees in their company. In such cases, your organization requires a process or system that could help develop a work culture that consistently encourages and motivates your employees to contribute their best in their workplace. This is where Performance Management Software (PMS) enters the picture.
Performance management software eliminates conventional performance evaluation methods, appraisals, and employee reviews. In fact, performance management software can help you provide employee recognition and transparency, including feedback. Hence it also helps increase employee engagement. 
The most important thing about performance management software is that it can be used by employees, managers as well as leaders. Because of this, everyone in a company can concentrate on the set objectives and assess performance while measuring the key outcomes. It helps to track all the activities that are associated with the goals of the company.
Before getting onto the list of best performance management software in India, we'll talk a little about performance management in general.
What is a Performance Management Software (PMS)?
Performance management software is a significant system that helps manage people by providing continuous communication & feedback among the employees and their respective managers. Companies use performance management software to increase their employee performance.
The goal of PMS or performance management software is not to develop the skills of the employees. Instead, effective performance management software helps employees to be more productive. In simple words, this system is mainly about performing a strategic alignment among employees' work to their company's objectives.
Why organizations need Performance Management Software?
Performance management software makes sure that organizational objectives are achieved successfully while helping them to be aligned with the objectives of the employees as well. An efficient performance management software is essential for companies as it helps in dealing with challenges that are often faced by organizations, such as employee growth, data analytics, and goal setting. 
Maintaining employee productivity is the primary goal of adapting this performance management software in a company. These are the following purposes that a performance management system fulfills: 
Performance management software refers to a tool that needs to be aligned with the entire company's objectives, followed by departmental objectives and employee objectives. In simple words, the company's strategic objectives must be in line with every activity done by each department or employee.  
A performance management system can also be established as a factor for deciding employee promotions, salary increments, demotions, terminations, and transfers. It helps the companies identify the employees that are very efficient and productive and those who are less efficient in the company. This system merits the skill and competency level of employees. 
This software works as a very efficient communication channel that helps to inform employees about their objectives, job duties, performance standards, and key deliverables. Moreover, due to the structure of this software, it can also highlight the main areas that need to be improved by the employees to improve their performance. It also provides the employees a platform to train and learn skills and gain knowledge for contributing more efficiently in the workplace. 
4. Organizational Maintenance
The PMS system works as a yardstick that helps to measure department, employee, and organization goals and evaluate the performance and productivity gaps by applying numerous methods. Thus, it helps to maintain an organization's performance standards while looking after the entire organization's progress. 
It helps a company to be able to establish new objectives, plan improvement needs, and plan coaching and training programs, including career development for employees and their departments. Thus, it helps to drive the organizational requirements to its established objectives.
Benefits of Performance Management Software
There are multiple benefits of using performance management software. Performance management software helps organizations around the world to stay ahead of the competition. The following are the significant benefits organizations can avail of using performance management software:
1. Increases employee morale
Every employee likes to be noticed and appreciated. They want to hear from their seniors or leaders that they are doing absolutely amazing when putting in the effort. Instead of considering reviews or feedback as a means to establish the next targets, it needs to be considered as a stage or platform for identifying hard-working workers in the department.
A company needs to make sure that its employees are happy and satisfied. It has been revealed by a survey that 68% percent of people are willing to contribute more if their hard work is recognized and appreciated. Therefore, providing a paycheck within the deadline is not enough to appreciate and recognize your workers. Regular reviews and performance-based feedback are also needed to make the morale of your workers high.
2. Timely & actionable reviews
Most organizations often hold a feedback-providing program once a year based on their employer's performance. However, this type of feedback-providing program becomes vague and highly irrelevant by the time the workers start taking action. 
If you want your employers to contribute their best to your company, then you might want to provide your workers feedback right after they are done with a project. Providing actionable and timely feedback is one of the key benefits of PMS software, as it assists in developing your worker's engagement levels as well as their growth.
3. Improved planning for employees
While your workers or subordinates contribute to the objectives of the company, the organizations need to think and plan about their workers' professional improvement as well. 
The workers are usually informed of the performance management's purpose, and it helps in their development as well as career progression. Therefore, through feedback based on their performance, they can easily identify the gaps in their skill, and they get a clear idea of the skills that they need to obtain to improve themselves and progress toward achieving their desired career. 
PMS or Performance management software helps to provide feedback whenever it is required to see the progress of the workers. 
Numerous research studies have shown that the companies that often implement daily worker feedback have lower turnover rates in contrast to those companies that rarely do. Organizations experiencing worker turnovers would have to spend a huge amount of money and time on replacing those highly experienced and talented workers.  
Performance management software assists in ensuring that the goals and workers' expectations are not left unclear and unchecked. It helps to keep them clear and checked daily. 
5. Workers prefer autonomy
It is always an excellent practice for making your workers aware of the bigger business goals as well as how their respective contributions impact those big goals. Perfect performance management software helps your workers to determine their individual choices while comprehending their duties towards the company. This helps them to be happier, more contributing, and much more loyal to the company.
6. Evaluates risks & problems
In such cases, workers, as well as managers, can apply the features of PMS or performance management software to decrease the scope of being fired and firing. Workers can easily decrease their scope of being fired at their workplace by clearly comprehending the objectives and responsibilities they must perform by applying the feedback of performance management software.
Similarly, leaders or managers can easily take advantage of this system to prevent legal confrontations and the loss of the best talents. 
7. Enhances business performance
All the above-mentioned benefits and advantages of performance management systems contribute to making the entire performance better and more productive. Workers that are now thriving in your company will be able to deliver more productive work after implementing this performance management system. This underpins the benefits of PMS or performance management software as well as the value that it will bring to your whole company when applied properly. 
List of Top Performance Management Software (PMS) in India
We thoroughly researched a bag full of organizations and filtered the top 11 Performance Management Systems (PMS) of India, 2023. 
Zimyo is one of the best cloud-based performance management software available in India. 
Recognize the employees for a job well-done with performance management tools like 9-Box Matrix, Bell Curve Appraisal, Normalization Ratings, Potential and Competency Ratings, etc. Empower the entire workforce to achieve goals more effectively with 360-Degree Feedback, Continuous Feedback, One-on-One's, Surveys & Reports, etc.
It incorporates other features like an HRMS, Applicant Tracking System (ATS), Payroll software, Time & Attendance Tracking, Employee Benefits, etc., among its 40+ Modules.
Zimyo integrates a comprehensive set of features into its software, providing a  system that uses the massive amounts of data generated by employees to gauge employee performance and potential. To separate itself from its competitors, Zimyo offers a unique system of performance and payroll integration, the first of its kind in India.
Normally performance bonuses have to be calculated separately and this leads to delay and lack of transparency. However, Zimyo allows you to tie performance directly with payroll, resulting in faster deployment of bonuses and full transparency around the same.
The basic plan starts from ₹60 per user, per month and goes up according to your organization's needs. You can check the pricing details.
Recognize your workforce for a job well-done!
Set & track goals and reward deserving employees with Zimyo Performance.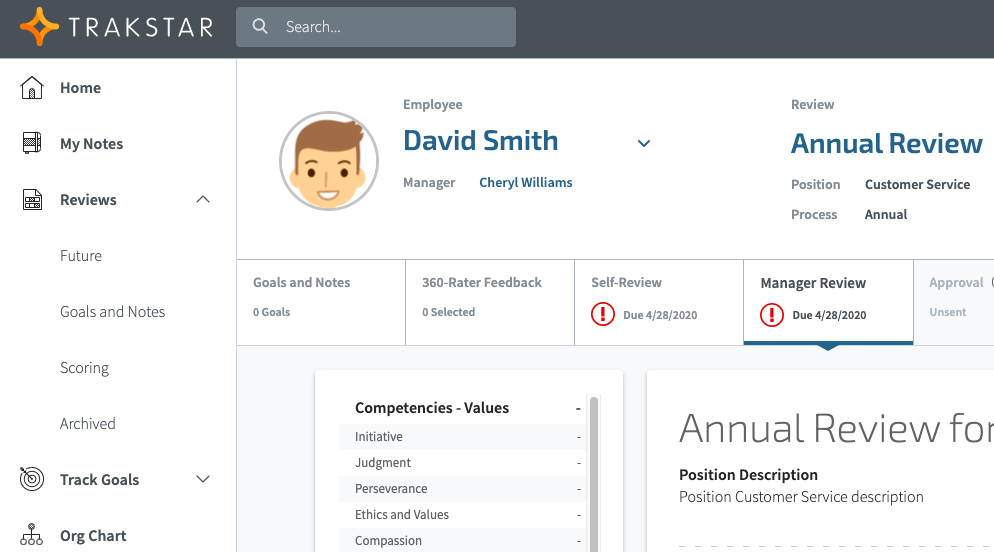 Trackstar is mainly a cloud-based productivity appraisal solution. It helps to manage 360-degree feedback between the employers, managers, and colleagues of an organization. Compared to other performance management software, it is very unique because of its simple, numerous features, and easy-handling interface. It is made for HR professionals as well as for managers to deal with competencies and objectives that align appropriate candidates with the right role, which would help to meet the objectives of your company. This particular software streamlines the methods administered by a company's managers to help them to concentrate on much more significant operations and to save their time so that they can reach their objectives.
The main modules of this solution are 360-degree feedback, objective setting, succession planning, and performance reviews which are important aspects of a company's workforce. This software provides real-time feedback and peer communication (optional) in order to finish continuous journals systematically. It offers flexibility when it comes to workflows in order to adjust in a company and helps to develop custom forms for reviews. Thai software helps to make sure that all objectives are done on time with its automatic reminder feature. Company objectives are easily established for workers and integrated with planned goals while making sure all the members are on the right track.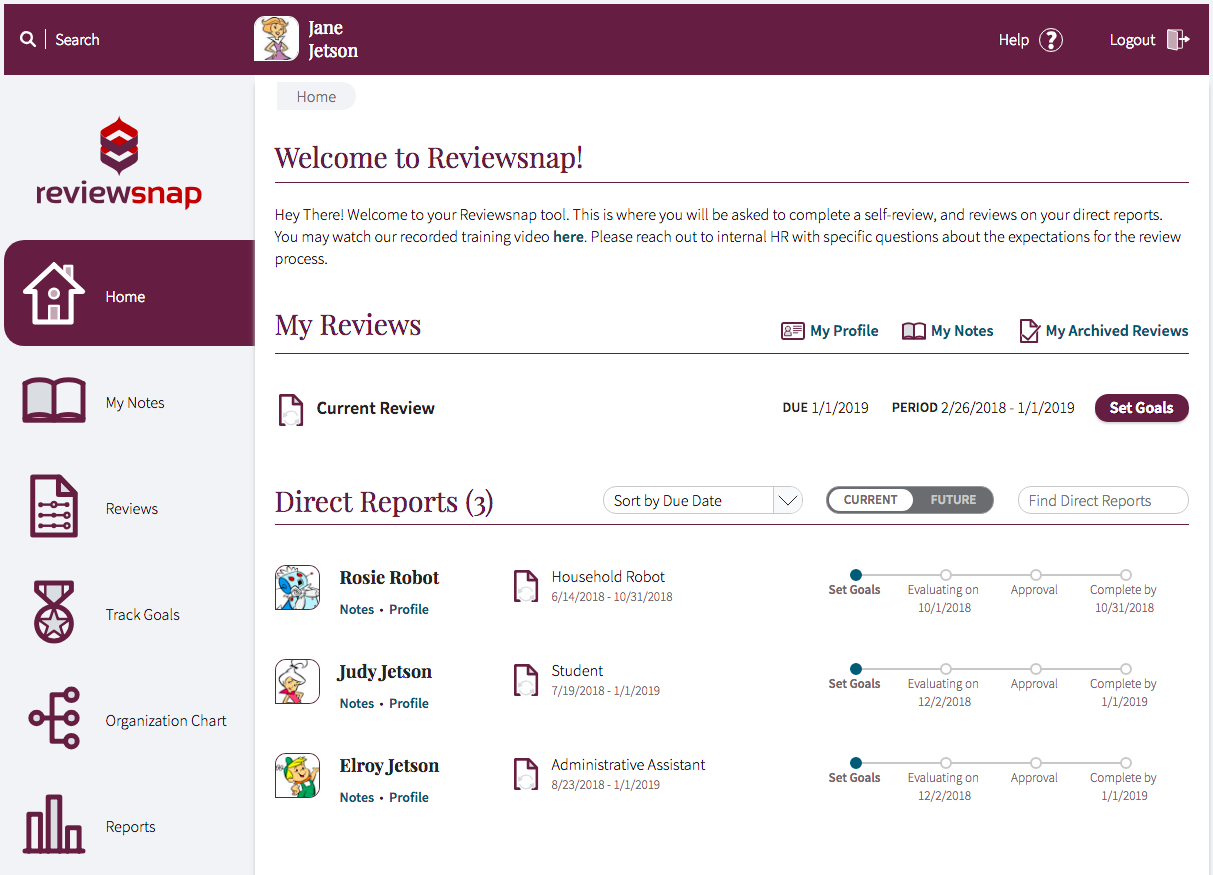 It is also cloud-based software, which helps to enable company administrators, including people in HR management, to improve and accelerate their respective performance management procedures. This software also helps to align performance review with 360-degree feedback that are multi-rater along with compensation monitoring, delivering an automated, configurable, comprehensive platform in order to develop worker engagement and performance. 
With this software, companies have the right solution, which helps them to have entire control over the worker's development and performance. Workers are more able to notice their performance reviews through feedback & Appraisals and recognize areas where they need to work on themselves and excel. This software also helps you to make your employees integrate with your company's objectives while equipping them with motivation, skills, and empowerment to deliver positive results. 
The thing that makes this software the best is its implementation support. If you already own a procedure that you might like to automate or if you want to start from zero, this system will offer you highly experienced specialists that help you to implement this software systematically. This way, one will be sure that this is worthy of their investment.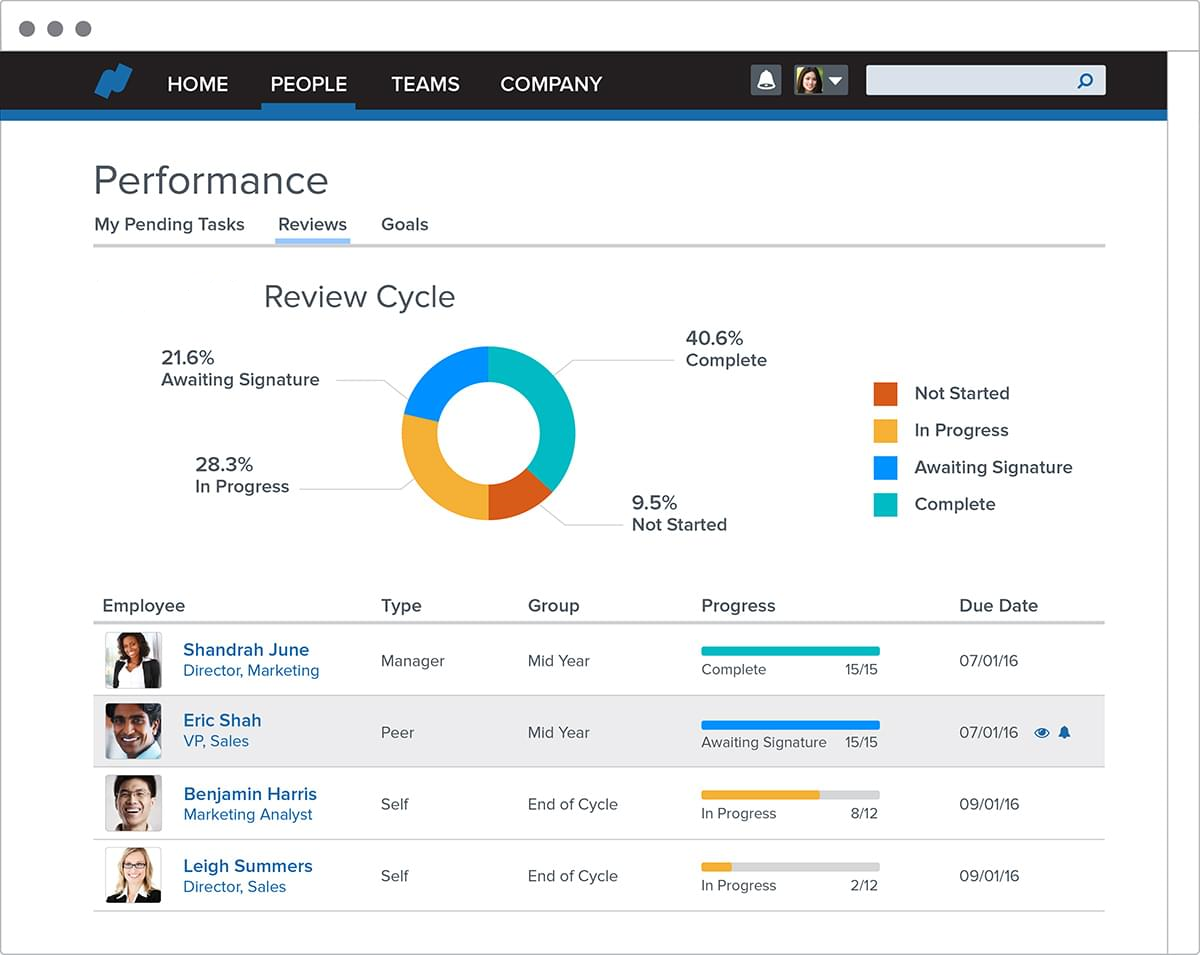 Another best performance management software is Namely. It is an understandable human resources group that integrates¹ elements of payroll, benefits, and talent management. This software has been adopted by around four hundred companies all over the world. It has handled around 60,000 workers and a yearly payroll of $2.5 billion globally. This software is also a cloud-based method that helps organizations to manage and adhere to compliance and streamlines complex and basic HR procedures, along with payroll, advantages, talent management, etc.  
Namely is an extremely direct platform of human resources management, which does more than simply HR. It is a systematic HR, payroll, & benefits solution which easily adjusts to a company's culture. This software is available with various features that are made to accelerate and simplify HR workflows and procedures. It also helps in team planning, performance reviews, reporting, benefits management, payroll, 360° performance, and many more. With this software, one could have a merged location where one can administer all of their HR data. There are numerous modifying procedures as this software is configurable. Because of this, a user can measure the system depending on their requirements and business needs. 
This software also has a strong permission engine, which helps an organization develop layered permission levels to safeguard data, reports, functions, and views from unauthorized users. Customer support is extremely noteworthy. Namely offers a committed account manager for every customer and could deliver services for twenty-four hours.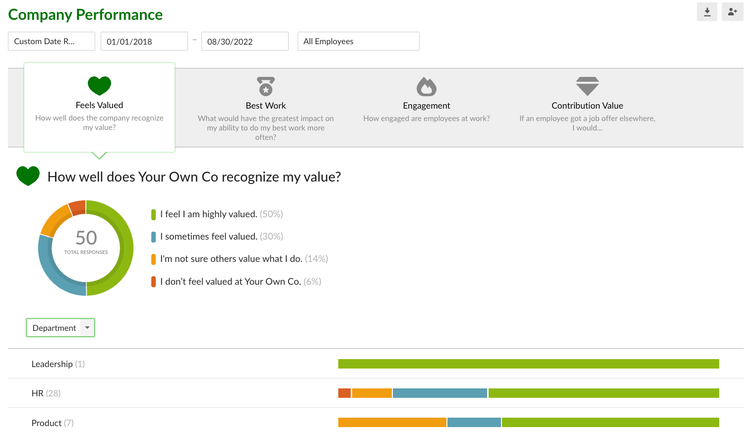 This software offers a small and developing organization an HR or human resource data system, which involves an applicant monitoring system, time monitoring, payroll methods, worker engagement and workers satisfaction tools, workforce data, and automated reminders to manage all the aspects of the worker work cycle. 
With this software, any human resource team or human resource department could develop their recruiting procedures, onboard fresh workers, administrate compensation, balance and examine workers' data, and improve a company's entire culture.
It also gives modifying facilities, numerous managing roles, inactive worker management, and user support. This software pricing applies a model that is based on subscription, which also relies on the number of workers. Applying this aligned applicant monitoring system, users can easily monitor recruiting assessments for each candidate, deliver notifications to the recruited candidates during each phase of the method, and cooperate with others involved in recruiting decisions. Users also can arrange and monitor work hours, paid time off, and requests for time to determine an appropriate payroll for each worker.
Recognize and Reward the star employees!
With robus PMS recognize the star employees and compensate them for their hard-work.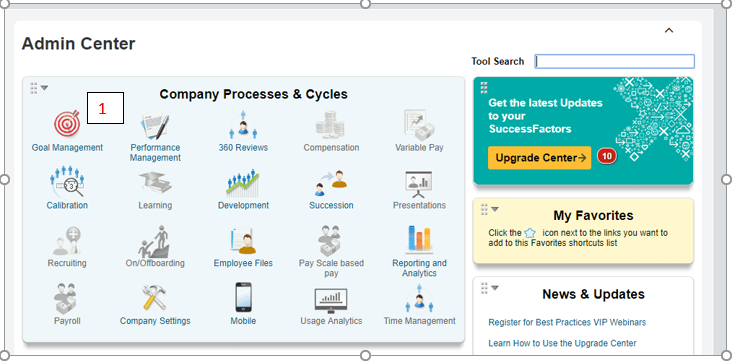 It is an American worldwide company. The headquarters is located in south San Francisco, California. It provides cloud-based software for human source departments to apply this software as a service model. SAP's SuccessFactors help companies to easily manage numerous HR operations. It is made to meet all the requirements of high-level companies. SAP SuccessFactors can also help a company to develop business execution as well as achieve better outcomes.
SAP SuccessFactors helps companies to administer Human resource functions efficiently and effectively in a cloud environment. This cloud computing software can also help a company to integrate or align with SAP ERP, applying SAP PI or SAP HCI. Although, many customers in SAP SuccessFactors do not prefer aligning with SAP ERP solutions.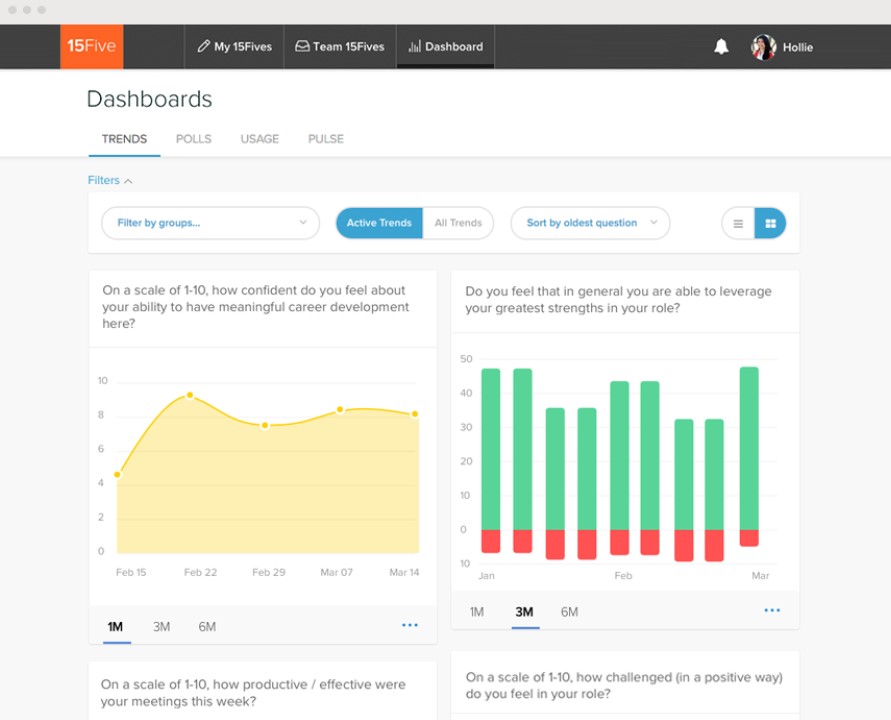 It is a worker administration & continuous performance administration software solution. It is made to help in elevating the company culture, maintain a top level of productivity and performance among the workers as well as maximize workers' engagement.
15five is a platform that is very appropriate for managers, team leaders, corporate VPs, executives, and project directors in developing companies as well as organizations. 
This software solution is performed by contributing to seamless communication among team leaders, managers, and all staff members. The main objective of this software is to ensure workers, managers, as well as executives, are always aware of the things going on inside the workplace. It also helps them to understand the psychological and emotional conditions of their respective workforce. 
To obtain this, this software offers tools and features, such as pulse surveys, weekly reviews, worker recognition, & people analytics, which are all developed in a merged platform. 
Through this software, workers and executives would be able to talk about certain areas of development, and opportunities, including key challenges, which might create hindrances in obtaining company objectives as effectively as possible.
The ultimate goal of employing 15Five is to create and maintain a strong and lasting relationship between decision-makers and their staff. 
Optimize your workforce productivity!
Upskill your employees by making a clear path of goals and objectives for them.

This performance management software can be used for kinds of problems within the workplace. This software can be used by business owners for managing and dealing with their workforce. From the interviewing to recruiting and handling procedures, this talent administration suite drives entrepreneurs an edge in developing workers' lifecycles. 
By applying this software, one's company's Human Resource department could increase entire work performance via more streamlined candidates onboarding while keeping one's company's objectives aligned. 
The most effective feature of this software is applicant monitoring, and this helps to accelerate the company's candidate screening, assessing, and recruiting procedures. This software does these things via its unique video interviewing and screening abilities. 
Its sourcing tool provides one to access hundreds of millions of candidates' profiles, and this data can be shared with internal groups by clicking an option only. Generally, ClearCompany gives high-level reporting features to help one to ensure that they comply with all the regulations.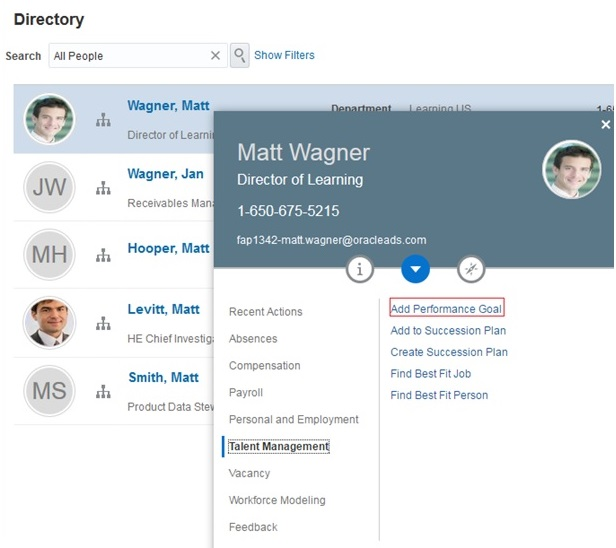 It is a cloud-based software for HCM or human capital management. It is suitable for moderate-sized companies to huge enterprises. It is made to integrate HR or human resources procedures, from recruiting up to retirement. This involves international HR, workforce management, talent management, as well as payroll. 
This software can also provide for increasing HCM-associated functions with supply chain, finance, and consumer experience. This software also helps cover all the human resource requirements like workforce planning, hiring, international human resources, Human resource help desk, benefits, workforce compensation, performance management, learning, career development, talent review, workforce health, safety incidents, absence, and labor management, safety incidents and workforce health, payroll, and advanced Human Capital Management controls.
Organizations have the option of buying all modules of this software for an understandable solution or modifying the Human Capital management solution in order to meet certain requirements.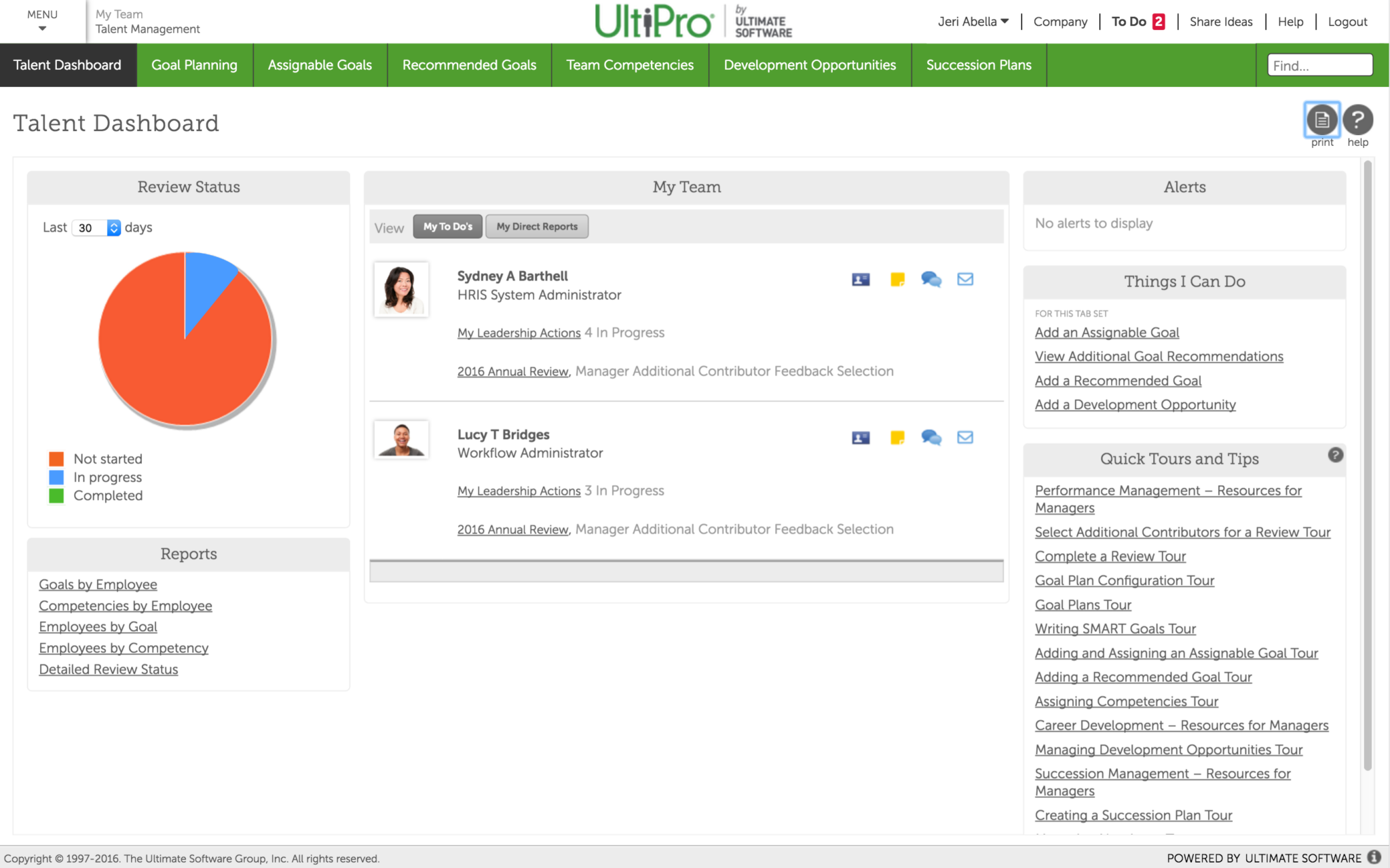 This software is a cloud-based system for payroll management and human capital solution. It aims to assist enterprises and companies in activating complicated business-related operations and obtain relevant ideas into the sentiments and performance of their respective workforce. The software has an inbuilt user interface and artificial intelligence in order to recognize high performers among the workers. It centralized every organizational information and replaced manual labor and paperwork with automation.
The merged solution assists the enterprises in administering their whole employee population in the entire workplace. Moreover, Utlipro provides automatic guidance on suitable taxation amounts, examining employee location. Companies could also give dynamic & engaging content for learning to their workers that would meet their requirements.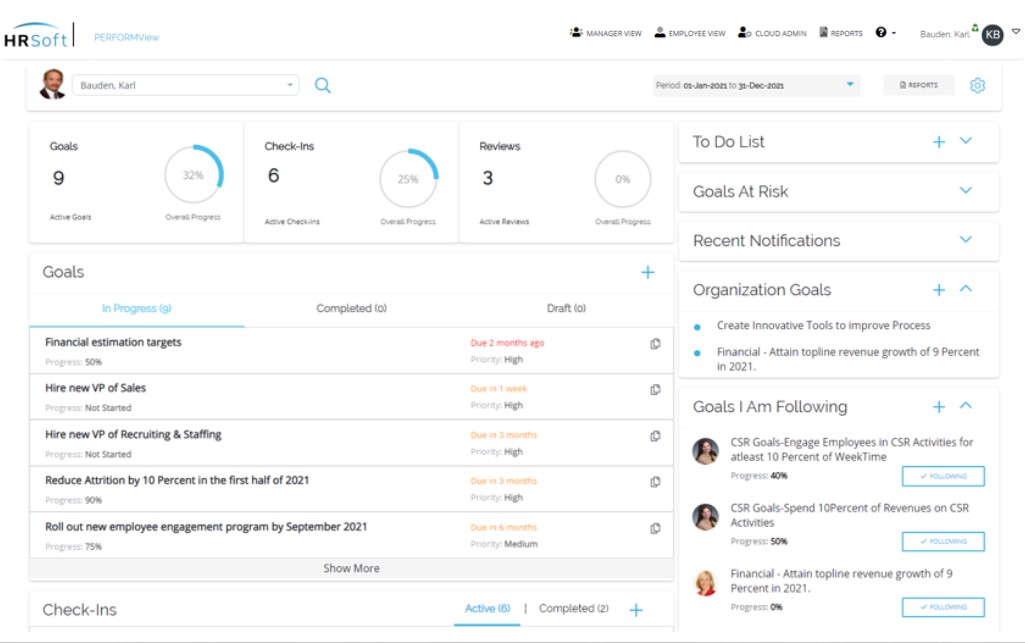 It is a cloud-based talent administrator solution it helps enterprises from numerous industries to administer their candidate monitoring and acquisition routines. The main features of this software include compensation management, performance management, reward decision, and many more. 
HRsoft software can also be modified to meet certain requirements of an organization, and it can be merged with numerous third-party complementary methods. The compensation administration module provides administrators with a centralized platform to decide, recruit and administrate bonuses and salaries and develop compensation-related plans. 
This performance management software includes features for establishing objectives & an in-built competency library in order to assist the managers in measuring outcomes and delivering appropriate feedback.
Now that you are aware of the top 11 performance management software, you can easily select and implement the most suitable performance management system and progress your company's entire performance.
Set, Track, Reward!
Set employee objectives, track them whenever, and reward the well-deserving employees.
Performance management software is an extremely effective and essential system that all levels of companies, organizations, and enterprises need to adapt in order to regulate their entire workforce performance. A performance management system makes it extremely easier to recognize small issues and rectify them before it creates bigger issues. 
Organizations like Zimyo are leveraging the #1 employee experience worldwide with their new-age solutions. From managing HR and Payroll to Recruitment and Performance, everything is automated. Zimyo is already catering 2000+ customers over the globe like Bajaj Capital, Yash Raj Films, TVF, Vivandi, Leena AI, etc., among many other renowned names.
As this software focuses on developing communication and objective setting, organizations can obtain better performance and productivity while spending less time-solving issues related to management by applying the numerous benefits of performance management software. This permanence management system comes with numerous features that help managers and leaders to monitor their employer's performance and determine their payrolls, promotions, increment, etc.  
Engagement among employers improves, and they feel more empowered when they are able to comprehend that PMS or performance management systems are there to guide them and help them to develop and have greater control over their career progression. Therefore, Implementing this software is also extremely easy, which makes it an excellent method to progress your company.
Testimonials & Achievements
Modern software for new-age workforce!
Zimyo brings a modern look & feel to HRMS software. I really like their user interface & the fact that it offers all features in one place so you don't need multiple products for your HR needs. You have one product which meets all your needs.



Self-configurable and user-friendly!
Zimyo has all the required features that matters for a company like us. We now enjoy complete elimination of manual data entry. It is one of the only software that we found to be self-configurable and user-friendly.



Modern software for new-age workforce!
Zimyo brings a modern look & feel to HRMS software. I really like their user interface & the fact that it offers all features in one place so you don't need multiple products for your HR needs. You have one product which meets all your needs.



Performance Management FAQs
What is a Performance Management Software (PMS)?
Performance management software is a modern-day tool that helps organizations by streamlining and automating the process of employee performance management. The most common Performance Management Software include features such as goal setting, performance reviews, feedback, performance tracking, recognizing star employees, integrations with payroll to compensate the winners, etc.
What are the benefits of using Performance Management Software?
A few vital benefits of using performance management software include:
Improved communication and feedback between the employers and employees.
Better alignment of the employee goals with the organizational objectives.
Performance tracking and evaluation boosted.
Streamlined and automated performance review processes.
Reports and analytics on-the-go for performance insights.
Seamless integrations with other software.
Incentives and bonus calculated automatically based on performance, etc.
How does Performance Management Software work?
Performance management software is a new-age system and generally operates as a cloud-based platform accessible to every individual in an organization. It allows users to set objectives, track work progress, provide feedback, recognize the star employees, and conduct performance reviews within a centralized system, among other things.
Can Performance Management System integrate with other software?
Yes, a modern-day robust performance management software easily integrates with other existing or new software. A performance management system can integrate with other HR systems such as HRMS, payroll software, talent management software, learning management system, etc.
How to choose the right Performance Management Software?
To choose the right performance management software, consider factors such as your company needs, scalability, easy to understand interface, customizations, seamless integrations, pricing, customer support, online reviews, etc. Exploring through various vendors and taking demos or trials can help you make an informed decision.
Is Performance Management Software suitable for organizations of all sizes?
Performance management software is beneficial for organizations of all sizes, from small startups to medium organizations and large enterprises. Providers like Zimyo cater to businesses of all sizes.
How long does it take to implement a Performance Management Software?
The implementation time for performance management software can vary and generally depends on factors such as your requirements, the size of your organization, implementation speed of the provider, etc. It can range from a few weeks to a couple of months. Platforms also provide implementation support to guide you through the entire process without a hitch.