If you set company or team objectives regularly, you are most likely familiar with the term OKRs. "Objectives & key results," known as OKR, is a goal or objective-setting methodology. It could help your team to set measurable objectives.
Most employers complain about the ineffective setting of goals and poor communication of the employees as they often fail to set achievable objectives for them. In order to increase engagement among employees and help your groups to set and achieve ambitious objectives, OKR software or OKR tracking can be your best bet.
What is OKR tracking?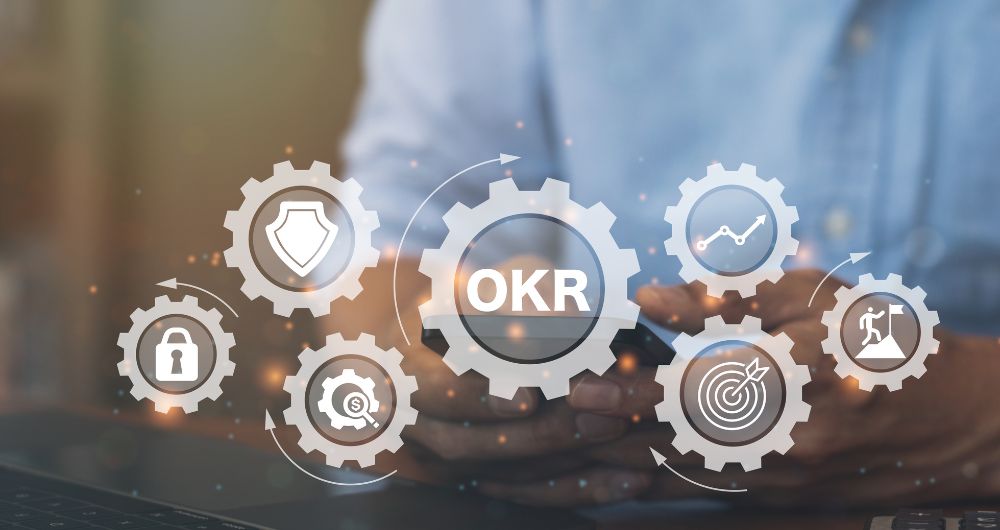 OKR refers to a shared objectives system that helps align, connect and engage all the company members around measurable corporate goals. OKR tracking is essential to ensure that all team members are sticking to their individual goals and no one is falling behind, and to continue encouraging them to contribute more to the company. This system helps employees to focus on thier most important tasks and measure performance of employees.
Earlier, most corporations used to set a large number of goals for their employees to achieve at the beginning of a year. These goals were measured at the end of each quarter to evaluate an employee's performance. However, the problem with this progress tracking method is that employees used to get confused among many different tasks due to a lack of reminders or encouragement.
Since Google started using OKRs back in 1999, this structure has transformed and developed goal setting. It has become the standard system for aligning corporate goals with the worker's objectives for the best of the best companies around the world, including Oracle, LinkedIn, BMW, Amazon, Twitter, and various other companies.
An objective or goal in OKR refers to a strategic goals that the corporation wants to achieve. The objectives are generally qualitative and measured in a specific time frame. Generally, every Objective is measured against the metrics of Key results every three months.
Key Results are the measuring metrics that help determine a particular objective's success. Generally, every "Objective" has around 3 to 5 "Key results", which act as a metric for measuring the success of the Objective.
The Importance of OKR Tracking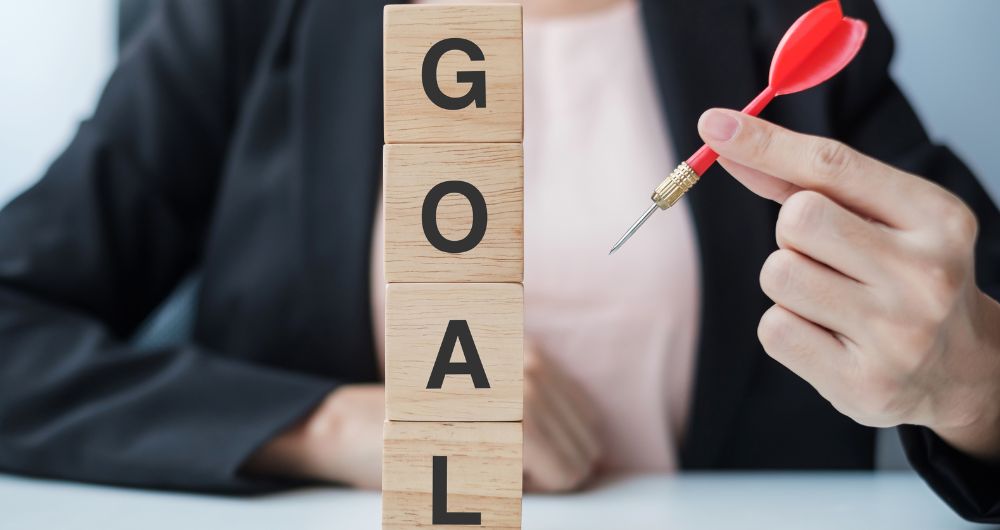 OKR tracking is one of the most crucial steps in the OKR implementation process. By continuously tracking the progress, you can resolve the problems at any time instead of waiting for the end of the month. Moreover, OKR tracking also helps the CEO to assess whether the Objectives are working or not and prioritize the tasks accordingly. Here are some reasons why OKR tracking is important. 
1. OKRs Tracking Helps to Increase Focus
One of the main importance of OKR implementation is that this methodology encourages it to work less. This might sound confusing, but it works in the long run. According to this methodology, in every planning cycle, groups, companies, and individuals need to prioritize around three to four goals and key outcomes only.
By concentrating on the most important results, companies could increase the scope of achieving the desired result easily. If focus is mixed with alignment, then companies will be able to provide the workers a transparent sight between every day's tasks and highly desired objectives and goals. This procedure results in productive and efficient groups that are capable of driving the best outcome. This is one of the main benefits of OKR in OKR tracking.
2. OKRs Reactivate Engagement
It has been proven in many cases that the more employers are engaged, the more they work harder, remain longer, and increase the company's profitability. But the question remains is how to engage them. One of the important points of engagement is to make sure that the work the employees perform alongside their group & cross-functional members – supports companies achievements. OKR tracking makes this possible.
As every member of the group has their individual goals to obtain, OKR software tracking makes them feel responsible, autonomous, and accountable. Moreover, since every OKR is transparent for the entire organization, employees can collaborate and engage with their colleagues to achieve the goals.
3. OKRs Tracking Helps in Decision Making
Another benefit of OKR is that OKRs provides clarity on what things are working and what things are not working. Having this transparency into objective progress helps the leaders spend quality time on much more strategic options and rapidly recognize where they need to prioritize their attention, efforts, and assets to easily obtain the organizational goals.
4. OKRs Tracking Help to Enhance Agility
The recent business environment needs companies to daily consider, transform or alter to remain highly competitive in the market. This is why agility is an important indicator of company's performance that is long termed. Managers and leaders are encouraged and motivated to hold OKR reviews every week to assess which Objective needs to be prioritized and which are on track. This will help adapt to market needs and develop agile teams.
5. OKRs Tracking Enables Autonomy
Another importance of OKR is that OKR is capable of empowering the workers to perform autonomously while remaining on track with highly desired company objectives. When objectives come down from companies to individual group members, OKR tracking makes sure that each group member knows their responsibilities regardless of where they are situated or what kind of team they are on.
This way, workers can avoid getting stuck waiting for another assignment or thinking about whether they are performing the correct work. And leaders no longer need to spend their quality time and effort delivering speeches, checking progress updates, or working on assignments. Rather everyone could concentrate on high-value tasks and feel extremely confident that their hard work and efforts are pushing the business towards the correct path.
6. OKR Tracking Contributes to Positive Work Culture
OKR highly contributes to the betterment of a strong company environment or culture, as it helps to increase the engagement among the workers and motivates them to contribute more to the company, which strengthens the bond between them. By tracking the progress of OKRs, managers can provide feedback to employees who are underperforming and reward the employees who are performing well. Thus, by evaluating the progress through detailed reports, an organization can build a positive culture of rewards and recognition.
How to Start Tracking OKR?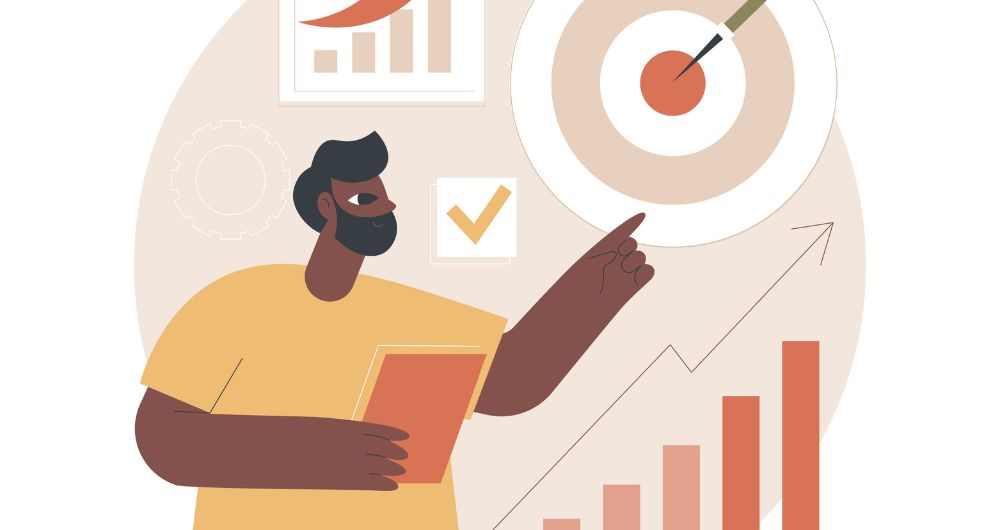 When setting OKRs for your company, it is crucial to keep the things in sight that are guiding your company. Thus, you need to align your top-line OKRs with the company's values, vision, and mission. This way, your OKR would help to define the employers the importance of the established goals and how to achieve them. At the same time, the company's vision would motivate the employees to contribute in achieving the goals. Here is a look at the process of tracking OKRs:
Set Qualitative Goals and Quantitative Key Outcomes
When writing the company's objectives, you need to briefly explain the things you are looking forward to developing. You must use descriptive languages that would help identify the qualities you would like to obtain, for example, "develop a welcoming consumer experience" or "organize a high-class event", and apply such description to inform the key outcome. Key results need to be written in the measurable, quantitative language in order to measure the success of the Objectives. For example, the Key Results for "developing a welcoming consumer experience" could be to improve the product features from 10% to 20%.
Recruit Percentage Benchmarks for Every Key Outcome.
Just because a goal has five key outcomes or results, it doesn't mean that if three are completed, half of the OKR is done. Not all the key outcomes need a similar amount of struggle. To measure the progress efficiently, apply weighted measurements for every key outcome in order to make the progress bar much more suitable.
Establish Accountability and Responsibility for Key Outcomes
The outcome of a particular Objective would likely impact overall organizational goals. Therefore, you need to be sure about explaining the whole expectations and accountability for every key result so that every participant can help to make sure that given tasks are done.
Share Your OKRs with the Group
Even if all the group members are not involved in every OKR, sharing with all the members of the group would help to keep everyone informed about the OKRs. This would provide transparency regarding the key objectives and priorities that the company is looking forward to obtaining. One of the effective ways of ensuring transparency in the OKR setting is using OKR software like Zimyo to cascade the OKRs from top to bottom line and make them transparent throughout the organization.
Track Outcomes on a Daily Basis
Checking the company's OKRs on a daily basis is the most important way to make sure about the process and check real-time achievements. You need to set weekly, daily or biweekly meetings in order to discuss the OKRs of the company as a team. You can use OKR software with advanced features like progress check-ins and email reminders to track the outcomes and measure the progress.
Discuss the Key Learnings
It is significant to not only check the key outcomes that have been achieved but also to check how they have been achieved and what the members learned from them. For example, one Key outcome was to develop the number of content subscribers to the organization's vlog by 18 percent, but the members have increased it only by 15 percent. The next step is to briefly discuss the key outcome so that your team can learn from this experience or knowledge.
How can OKR Software Help in Tracking of OKRs?
Leaders and managers are bound to trust inconsistent reports of progress and datasheets without the OKR software. This data is generally combined from various groups and systems, and it is often updated. Thus, the managers faces difficulty in assessing how efficiently their organization is working on the initiatives and how they are progressing towards achieving objectives. The OKR software and OKR coaching can help the organization to effectively track the progress of their goals and evaluate the performance of their employees. Here are some benefits of using OKR software for goal tracking.
Efficiently delineate task accountability and responsibility
Provides detailed reports and insights into data
Helps in making strategies based on numbers
Helps in monitoring the progress
Helps in building transparency and goals visualization
Eliminate the silos and increases the focus on end-result
Conclusion
In the recent years various companies have failed to develop their business due to the numerous highly desired goals they set for their employees. Setting ambitious goals is good but you should also have a way to measure the progress of those goals. When setting goals, it is important to focus on the results they generate rather than the number of tasks. Many organization suffers a major loss because managers fails to find a way to monitor the progress of every individual.
By using Zimyo OKR tracking software, companies can easily track the progress of all the teams as well as the team members and guide them towards obtaining the company's goals. With advanced features like cascading, email reminders, check-ins, reports, and analytics, OKR software can help you effectively set, track, and evaluate your company's goals.