Despite the pandemic halting growth in many sectors, the growth in HR tech market has shown a tremendous boom!
The modern business world has become a competitive landscape. However, the growth in HR tech market in India is showing promise with some amazing HR industry trends on the bay.
With processes like remote work and virtual onboarding becoming the new normal, the impact on HR tech market due to COVID is greater than ever. Technology is effortlessly integrating into the modern workplace from the first point of contact with a potential hire. It is, in the end, empowering employees to be more productive in a virtual environment.
That is exactly why HR professionals need to stay on top of their game in this competitive landscape.
Therefore, many companies are opting for tech-based solutions, in short, HR Tech.
Impact On HR Tech Market Due To COVID
We, as a generation of Indian citizens, have been extremely fortunate. We witnessed India's evolution from a closed market to the world's fastest-growing economy. From a market with a lot of physical labour to a global technology hub.
One of the most important aspects that has never gotten much attention is the HR tech market size in India. Despite being a globally powerful sector, it remained a backend role in India until recently, when the pandemic came knocking. The times have changed, and so has our emphasis on talent and technology.
As participants in this process for the past decade, we believe that now is the ideal time to discuss a topic that affects businesses far more than we think. To begin, we chose our current favorite topic: the HR tech market size in India.
The mainframes, which were used for administrative duties like maintenance of data and payroll management, were at the start of the HR tech market map. Then there were traditional ERPs, which solved the physical storage issue but made it harder to deploy and operate systems efficiently.
This was accompanied by the point solution phase, which consisted of on-premise software on top of which internal teams built HR software. After that, there was the competitive landscape of cloud, mobile, and, most recently, artificial intelligence.
HR Tech Market Size In India: Getting The Numbers Right!
With the growth in the HR tech market in India, the HR Tech market map has widened a lot in the past few years.
According to research, the HR Tech industry will be worth $34 billion by 2021. And Asia, particularly India, is likely to account for about $3.6 billion of that market.
According to Tracxn, VCs spent over Rs 1,000 crore on Human Resource startups between 2012 and 2016.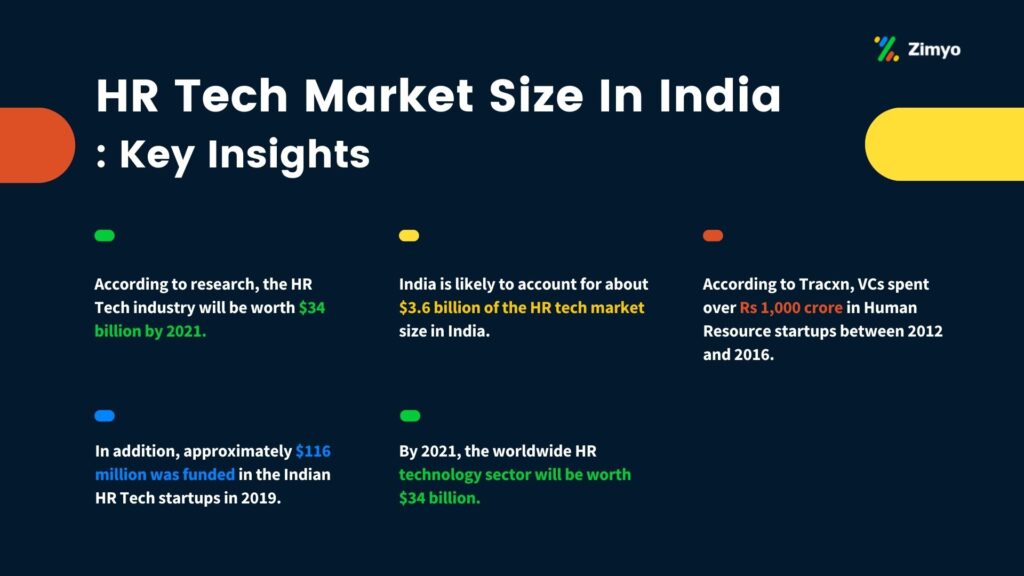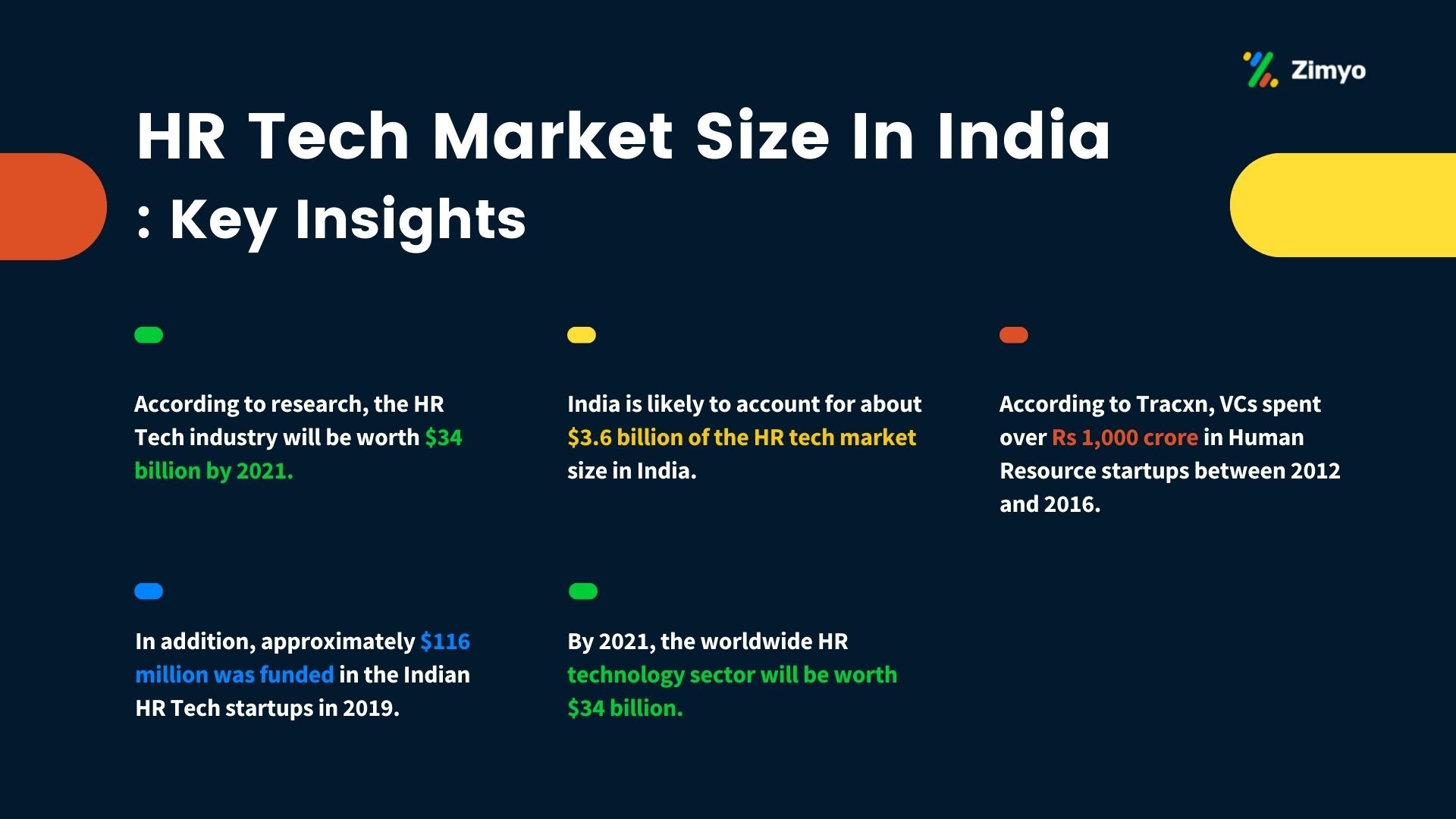 In addition, approximately $116 million was funded by the Indian HR Tech startups in 2019.
The HR tech market size in India, as well as its dynamics, grew in importance as technology matured. Here's how we see it!
By 2021, the worldwide HR technology sector will be worth $34 billion. Existing solutions, primarily in Human Capital Management, will command nearly $20 billion. Payroll Software will command $8 billion, and the remaining $6 billion will be a new market that will be introduced to the mix as "Gig-Economy" systems gain momentum.
HR Tech Market Map In India
All experts agree that the HR tech market map in the United States, which presently accounts for around 60% of the overall market, will account for 50% of the total market by 2021. APAC and MEA are likely to account for nearly one-third of the total international HCM industry.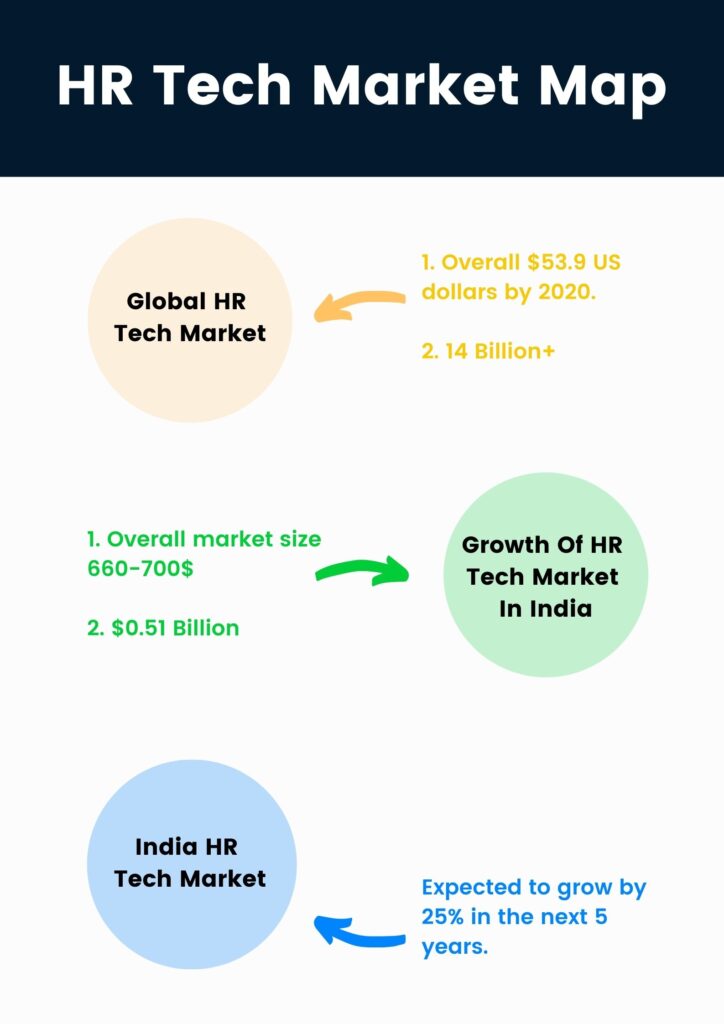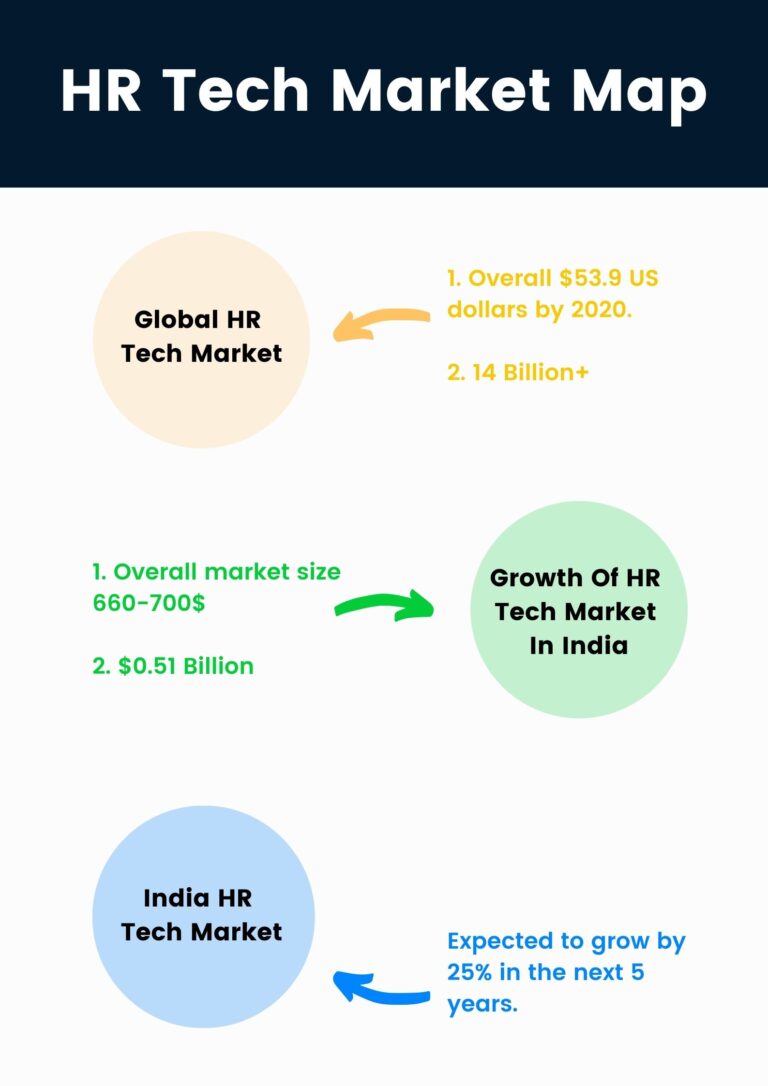 That works out to around $6.7 billion. Developing countries with vast undeveloped territories have the most potential. The Asia Pacific and Middle East-Africa regions have long been the underlying benchmarks for gauging an organization's worldwide evolution.
Japan and China will account for $2.4 billion, MEA for $0.7 billion, and the rest of APAC for $3.6 billion. Therefore, India being a billion-dollar market and ASEAN countries will be accounting for $2.6 billion. Based on current figures, the HR tech market size in India will double over the next four years!
HR Industry Trends In The Competitive Landscape
Let's take a look at some of the top HR industry trends for 2021 that will help you improve the productivity and efficiency of your HR function in the years ahead.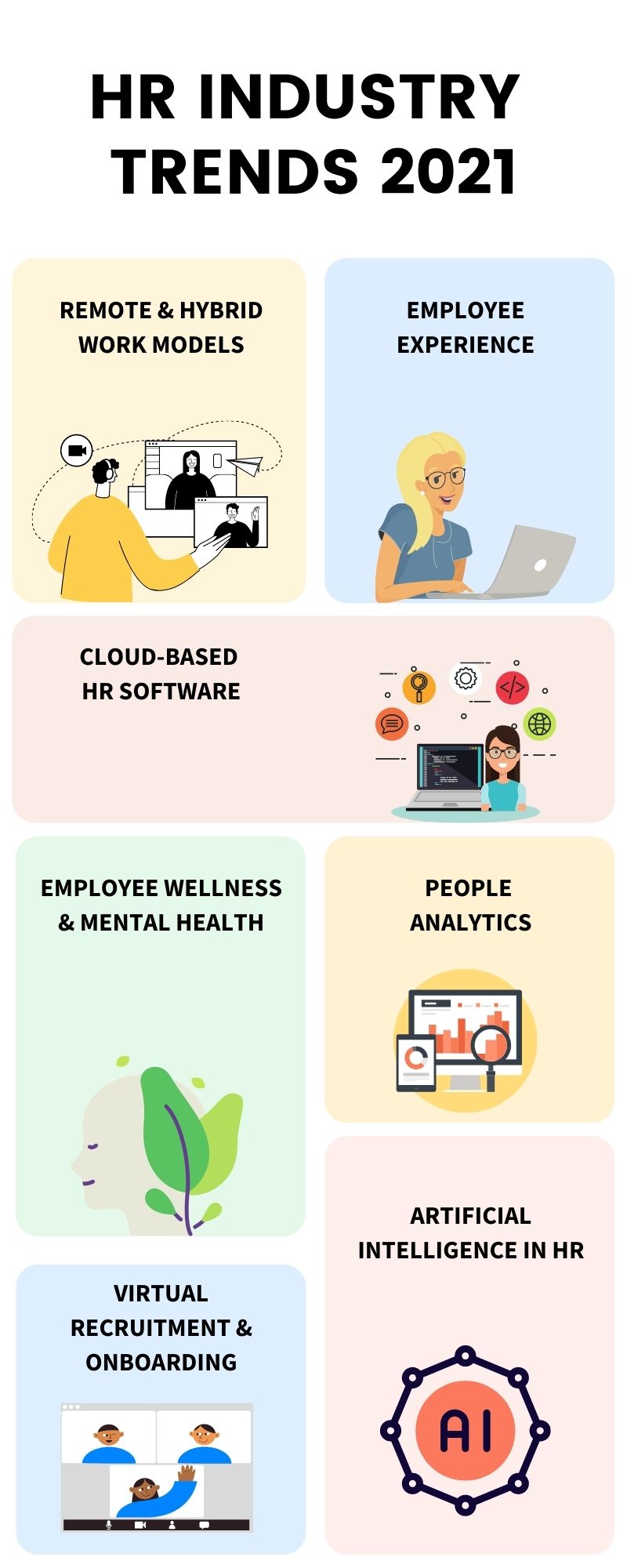 Core HR Software – Moving Towards Efficient Workspaces
Core HR software is one of the most important components of the HR tech market landscape in HR, with a market share of over $8 billion.
According to Bersin's analysis, Core HR has become even more beneficial for employees over the previous decade. They provide employee self-service portals that allow users to manage their data, benefits, and numerous activities using a unified system.
Employee Engagement & Retention: The Key To Growth
Employers are moving their mindset from routines and packages to experiences that count, according to Josh Bersin. To put it another way, businesses no longer only seek easy-to-use platforms.
They want to invest in technologies that can provide employees with simple, memorable moments. That is, they are searching for a system that can assist them in analyzing case management, transaction management, process management, and ensuring their employees' safe return to work following the pandemic.
Recruitment Revamps Itself With AI
Despite thorough testing, evaluation, and job fit analysis, about a third of the hiring strategy fails. Of course, the response is an intensifying battle to use data, clever algorithms, and social sensing techniques to improve recruitment.
The growth of HR tech in India has exploded in the previous two decades. Various recruitment software are focusing on capturing paper or online resumes and managing the end-to-end recruiting process.
The applicant tracking system in Zimyo helps you to make better decisions when it comes to recruitment, improving the strategic value produced from the entire process,. From raising requisitions to publishing a job on the careers site to candidate sourcing from different channels, it can work wonders for you.
Next-Gen Performance Management Is On The Go
It's all about becoming more real-time and continuous. Organizations have transformed the way they monitor, evaluate, and acknowledge employee productivity dramatically in the previous five years. Continuous performance management approaches are now being implemented on a larger scale after considerable early trials.
The new processes are becoming more standardized and transparent. New forms of assessment and performance appraisals are being embraced. Agile goal management, one on one check-ins, and continuous feedback are becoming more popular in the future of HR tech in India.
People Analytics Is Here To Stay
The biggest blunder one can make is to talk about the future of HR tech In India without addressing analytics and AI. People analytics is still a popular topic in HR, and it is presently the fastest-growing sub-domain of the industry.
Companies that integrate data and analytics into their workflows outperform their competition in terms of efficiency and profitability. It is true since this data can eventually assist in making better selections by depending on patterns rather than impulses.
The analytical examination of candidates, devoid of human prejudice or error, is an extra benefit of people analytics in the field of HR technology. Employers can now delve into employee data to learn about important parts of their employees' lives. This includes attrition rates and causes, performance, and the general success of leadership initiatives.
Companies may better detect talent metrics and threats that may occur as a result of new hiring and leadership styles using predictive analytics.
Artificial Intelligence Is Fueling HR Tech
A major HR industry trend is the rise of AI in HR. AI systems can process large volumes of data, use algorithms to detect patterns, and utilize the results to establish correlations, predict outcomes, or aid decision-making.
Artificial intelligence can help HR in recruitment & onboarding to make their processes more efficient than ever. How can this happen?
By taking all the hard work off their shoulders and sparing them some time to focus on more strategic tasks!
Health Tech Will Join Hands With HR Tech
One of the most recent HR industry trends of 2021 that it is witnessing is the rising importance of employee wellness.
The $48 billion corporate well-being market is making inroads into the workplace, according to Bersin's research on the HR Tech 2020 Disruptions Study. They're combining mental and emotional wellness, physical training, nutrition planning, and other tools to help employees modify their habits.
Final Thoughts
It's difficult to deny that technology has been changing traditional HR procedures for the past few years, and 2021 has been no exception so far.
It is safe to say that the future of HR tech in India is bright and will continue to transform in the years to come. Whether it is the continuous approach in performance management, improving upskilling opportunities within the organisation, or even using artificial intelligence to screen their candidates.