As we face the pandemic, a switch to the remote recruitment process is a must. Especially if you continue hiring for work from home jobs, it's mandatory. In fact, COVID-19 is pushing recruiters all over the world to innovate and revamp their recruitment and selection process.
While making the transition will take time, remote recruitment for work from home jobs has already become a reality. And, of course, we've come to your rescue. Here are some crucial remote recruitment strategies to help you hire top talent and keep your hiring game on!?
? Fact Check: In the United States, 4.7 million people, or 3.4 percent of employees, are employed in work from home jobs at least half the time. That number is rising, and as more sectors adopt remote work, it is clear that the recruitment process should follow suit.
What Is Remote Recruitment?
Top talent isn't confined to a single place – it can be found all across the world. ?Thanks to modern HR technology, remote recruitment is now possible.?
Hiring for work from home jobs involves finding, conducting a remote interview process, and hiring people who are not in your close surroundings.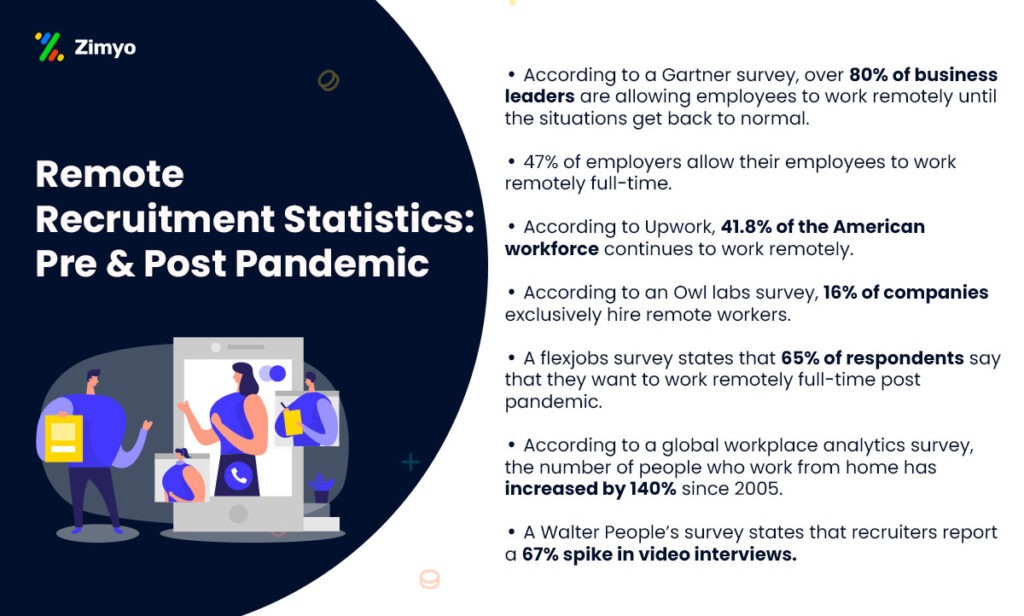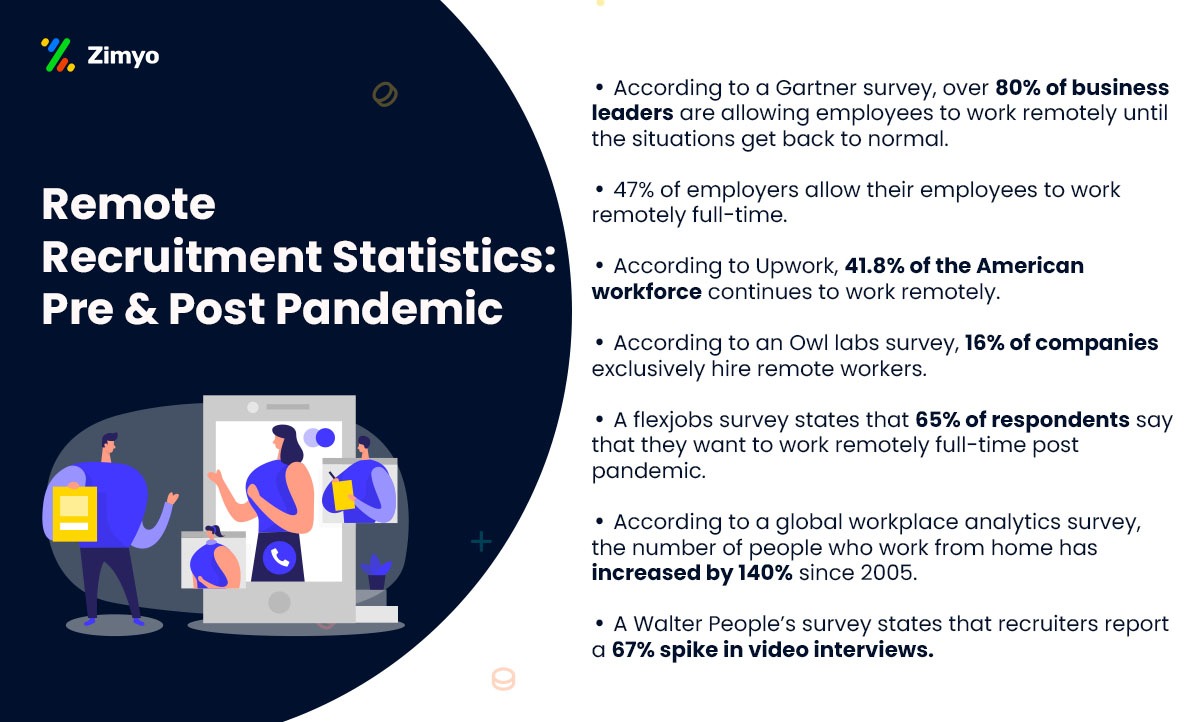 Remote recruitment uses modern technologies like applicant tracking systems and recruitment management software. This helps them find and connect with candidates no matter where they are. In the aftermath of the global COVID-19 issue, many multinational organisations are migrating to work from home jobs. This has made remote recruitment even more vital. The following is what Glassdoor's community manager had to say about the change:?
"To mitigate some of the long-term effects of COVID-19 on their enterprises, firms are turning towards technology to ensure business continuity during this transitional period."

Jo Cresswell, Glassdoor
In other words, if you want to keep hiring right away, you must adapt—or run the risk of losing out on the best talent that the competition has grabbed up.☹️
Remote Recruitment Strategies To Hire For Online Jobs
It's common to feel confused during a transitional phase. Here are some pointers to help you create and implement your own remote recruitment strategy to hire for online jobs:?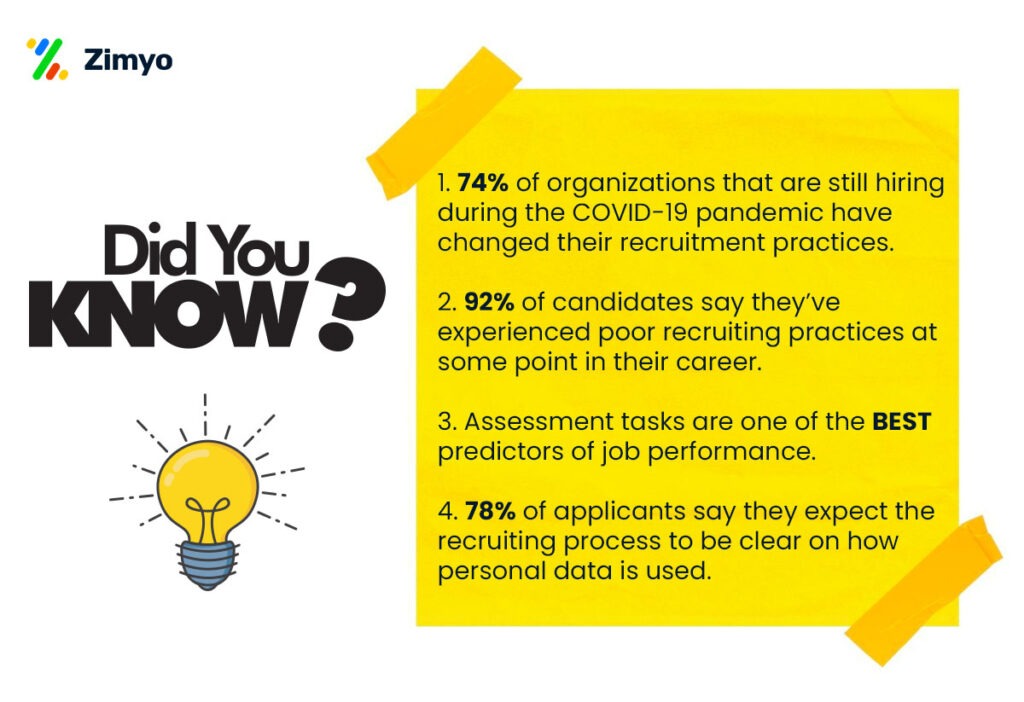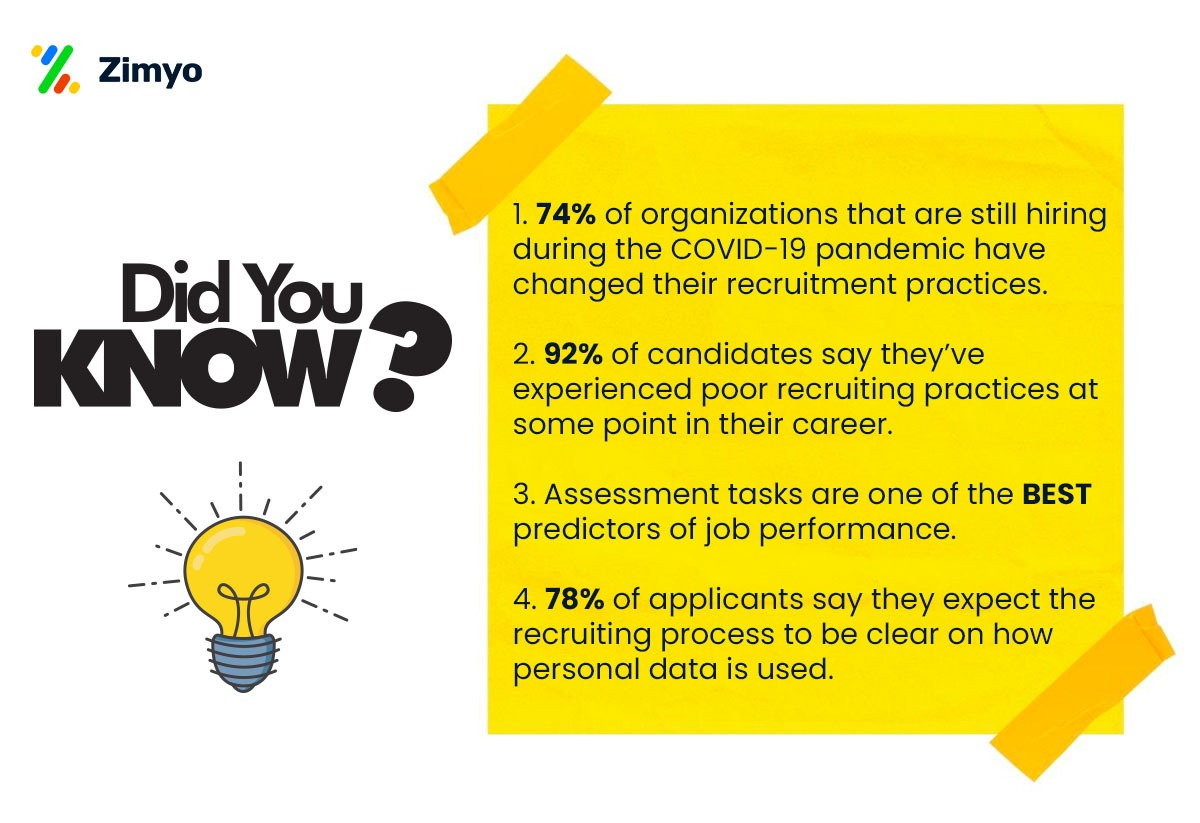 ➡️ Write Accurate and Engaging Job Ads
When it comes to the recruitment and selection process, writing factual, compelling job listings is generally a good rule of thumb. However, it's more vital when you're recruiting people remotely. ?
To accomplish this efficiently, make sure to clearly define roles and duties. For instance, you might want to consider whether your organisation is remote-first or hybrid.
You should also think about using video postings to attract potential candidates. By integrating video in a job description, you can add a more personal touch early in the recruitment process.
Moreover, according to CareerBuilder, job advertisements with video are viewed 13% more and generate 34% more applications than text- and image-based ones.
Begin by requesting the recruiting manager and relevant team members to email you some video clips that explain the job, its requirements, and overall work culture. This is a creative and interactive method to engage applicants. This also helps in including your internal team in the recruitment process and elevating your brand image.
To encourage potential applicants to apply, don't forget to highlight that you're still hiring during the pandemic.?
➡️ Have A Structured Recruitment and Selection Process
Creating a systematic recruitment and selection process is a proven way to stay organized and keep things going well, especially while recruiting for remote jobs.
It promotes consistency throughout interviews, decreases the risk of unfairness, and provides a better experience for the applicants. The key to developing structure is determining which stages must be taken in the process, who is responsible for which actions, and when each assignment should be done.
Finding the best Applicant Tracking System (ATS) for your remote recruitment is a smart approach to make this work. ? This will allow you to better manage your remote prospects and ensure that everything runs well throughout the recruitment process.
➡️ Put A Good Shortlisting Process In Place
Another great piece of advice is to implement a good shortlisting procedure to assist you to work more effectively. Finding the right candidates from a vast pool of applicants is the most difficult component of the recruitment process, according to more than half of talent management leaders (52 percent), but a robust shortlisting process can make a tremendous impact.
With well-defined criteria for scoring candidates, you can expedite the recruitment and selection process to fill open positions more quickly. First, determine the criteria: What are the "must-have" and secondary skills you seek? What influence will your existing remote-first configuration have or what you're searching for in applicants??
Collaborate with the recruitment team to define the criteria for selecting qualified applicants. You may even need to create a scoreboard to help you evaluate and compare applicants.
➡️ Conduct A Remote Interview Process
Thanks to HR technology, conducting a remote interview process is easier (and more doable) than ever before. Many of the world's leading companies like Amazon, Facebook, Google, and Microsoft are conducting virtual remote interview processes to hire effectively for online jobs.
In different stages of the process, you must conduct both one-way and two-way video interviews. A one-way virtual interview can be used in place of a phone screening, whereas a two-way virtual interview can be used in place of an in-person interview. Both of these enable you to assess the applicants' nonverbal communication even when hiring remotely.
Prepare just as well as you should for a face-to-face meeting. Asking good, relevant questions will not only tell you what you'd like to learn about your interviewee but will also help in bias reduction.
➡️ Stay Aligned With The Team
You and your team must stay on the same page during the recruitment process, especially if you are conducting remote recruitment and your hiring team is dispersed. Maintain alignment by ensuring that everyone understands the steps that must be taken and when they must be completed.
Keep your team informed throughout the workflow so that everyone is on the same page. Use notifications, remarks, and integrations with standard communication systems in your ATS to communicate efficiently.
This will ensure that nothing slips between the gaps when you're hiring for work from home jobs.✅
➡️ Consider Giving A Work Assignment
You may also use a task assignment as an assessment to examine how candidates perform in real-world situations without having them on site. Consider scheduling the assigned task to see how well various candidates perform under pressure, and keep the task assessment anonymous to avoid biases. ✅
Of course, you don't want to scare anyone away, so schedule an assigned task at a time that is convenient for the applicant. It's always a great idea to implement this near the conclusion of the remote interview process so you don't have to go through a lot of assignments and don't overburden candidates you're unlikely to hire anyhow.❌
➡️ Keep Your Applicants Engaged
Make sure your applicants are engaged, throughout the recruitment process.❤️ Inform them of their application status and how the recruitment process is going.
Many companies have now suspended their recruitment efforts and decided to leave them in the dark. Don't make such a mistake. ❌ Alternatively, adjust and change your recruiting technique in order to handle your current scenario.
To keep candidates engaged throughout the process, keep them informed about the status of their applications. The transparency will be greatly appreciated!?
Final Thoughts
You'll need to change your recruitment strategy to fit the changing realities.✅ If you have the chance to invite your applicants to the office, take advantage of it. However, there will be occasions when this is not feasible, such as today with the COVID-19 pandemic.❌
That's why it's vital to be flexible when it comes to recruitment. After all, it will not harm your company. Rather, it will help you become more tech-savvy, productive, and ready for anything.??
---
Also Read: Recruitment Management In The Manufacturing Industry