HCM, which stands for Human Capital Management. HCM Software offers comprehensive hire-to-retire solutions to organizations for managing their entire workforce. It comprises various modules to handle tasks such as employee payroll, time and attendance management, performance evaluation, and recruitment. Essentially, HCM provides a complete suite of solutions to manage HR activities within an organization. Given the hectic and time-consuming nature of HR tasks, organizations are gradually transitioning from manual processes to HCM solutions to overcome these challenges.
Here are certain features of HCM software that make it exceptional and worth spending for organizations:
HCM software must include Core HR, which encompasses employee management, benefits and perks management, time and attendance management, and performance management, among other functions. Benefit management enables organizations to provide additional benefits to employees beyond their basic salary. Time and attendance features assist employees in tracking their daily attendance.
HCM solutions provide organizations with tools to manage time and attendance, including various types of leaves for their employees. The workflows and approval processes in HCM are user-friendly and do not require extensive training. This module includes features such as shift management, manpower costing, and shift swapping.
3. Recruitment and Onboarding
Recruitment is a continuous and evolving process for organizations. Streamlining the recruitment process is essential to save manual efforts and costs. HCM software automates various manual tasks, such as job posting, resume screening, interview scheduling, and sending offer letters.
4. Performance Management
Assessing the performance of every employee is crucial for organizations, as individual performances collectively contribute to the overall organizational process. HCM software offers a performance management feature to set goals and evaluate employee performance on a weekly, monthly, or quarterly basis.
5. Analytics and Reporting
In the past, organizations made critical decisions based on guesswork and limited available data. HCM software enables organizations to make key decisions based on reports and analytics, improving the quality of decision-making and results. It provides valuable insights on compliance and employee flight risks.
Organizations must adhere to the rules and regulations established by the government of a particular country or state. Many organizations operate globally, making it essential to stay compliant with diverse laws and regulations. HCM software helps organizations maintain compliance, both from the employee and organizational perspectives, thereby avoiding legal issues. Compliance requirements can vary, and HCM software ensures that organizations stay up-to-date and in adherence with the applicable regulations.
HCM Software provides numerous advantages to organizations. Let's discuss a few of them in detail:
1. Automate manual tasks
HCM software helps organizations automate their manual tasks and save time. Previously, tasks such as resume screening, job posting, and interview scheduling were done manually, but HCM automates these processes. This automation allows organizations to focus on other strategic tasks that contribute to their growth.
2. Increase employee retention and satisfaction
Organizations have started focusing on employee engagement in addition to growth. Happier employees lead to increased satisfaction rates and long-term employee retention. With solutions that prioritize employee satisfaction, employees feel more valued in their workplace.
3. Streamline recruitment process
HCM helps streamline the entire recruitment process, including onboarding and offboarding. It enables organizations to attract top-tier talent. Moreover, candidates who experience a smooth onboarding process are more satisfied and positive about the organization.
4. Measure the organization's performance
Measuring employee performance is essential for achieving the organization's desired results. HCM provides a solution to measure employees' performance and take necessary actions if required. If an employee performs exceptionally well, the organization can provide promotions or appraisals. If they are underperforming, organizations can arrange training sessions for them.
5. Improve the overall culture of the organization
The success of an organization depends on its overall culture. A positive and healthy culture attracts top-tier employees, encouraging them to stay for a long time. Engaged employees feel valued and can easily collaborate with others. Establishing effective communication channels improves overall productivity.
List of Best HCM Software in 2024
Here is the list of best HCM Software in 2024 based on their ratings, pricing and features: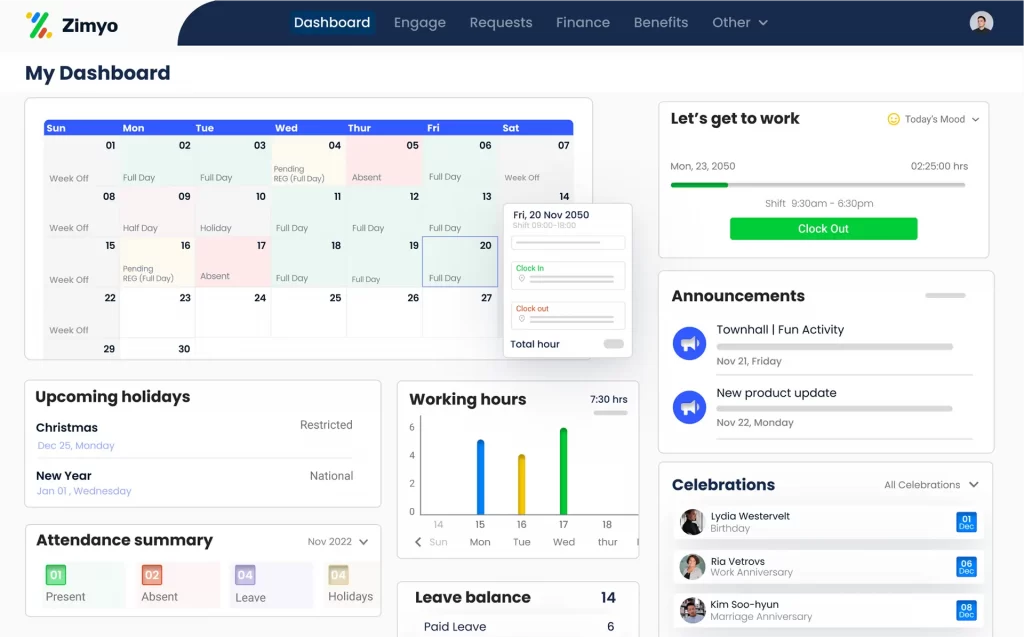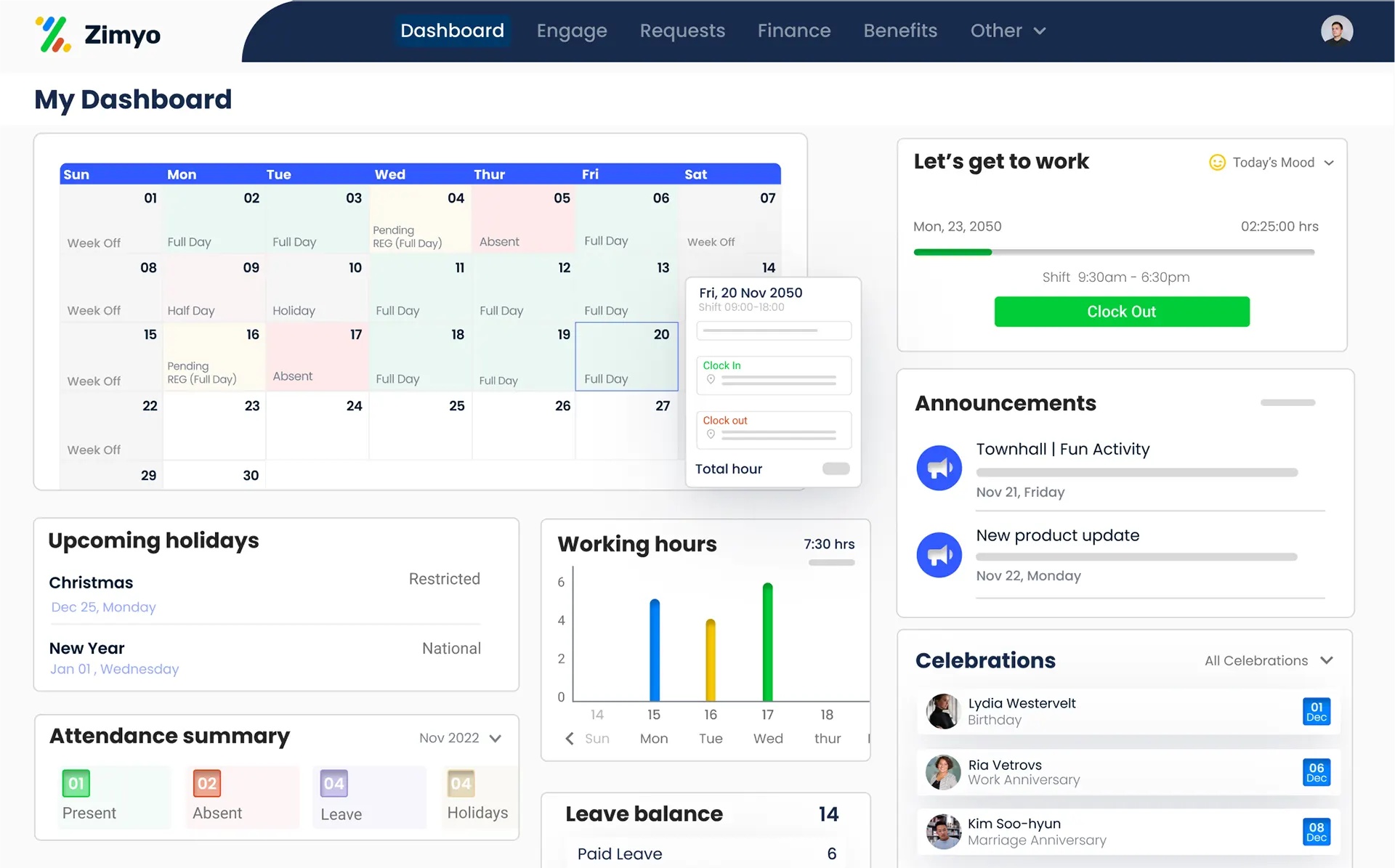 Zimyo is a leading global HCM provider having customers across the world. It offers a suitcase of products such as Core HR, Performance Management, Recruitment Software etc. It is a one-stop solution for all the needs of an HR. Zimyo has covered every essential employee management metric with its 40+ modules.
You can pick and choose the most suitable module for your organization based on your needs and according to the process you want to automate.
All the modules available are cloud-based or can be modified as an on-premise model too. Companies with an employee count of 50-10,000+ employees are using Zimyo HRMS to manage their workforce across the world.
| | |
| --- | --- |
| CORE HR SOFTWARE | EXPENSE MANAGEMENT |
| Organizational Charts | Roles & Permissions |
| Centralized Document Repository | Payouts |
| Helpdesk | Vendor Management |
| Cloud-based data management | Travel Expense |
| Time & Attendance management | Petty Cash |
| Customized Workflows | Reports |
| Leave Management | Interactive Dashboard |
| Asset Management | Error-free calculations |
| Structured Employee Directory | Integrated with HR |
| Engage | On-time pay days |
Starts at $3 per employee per month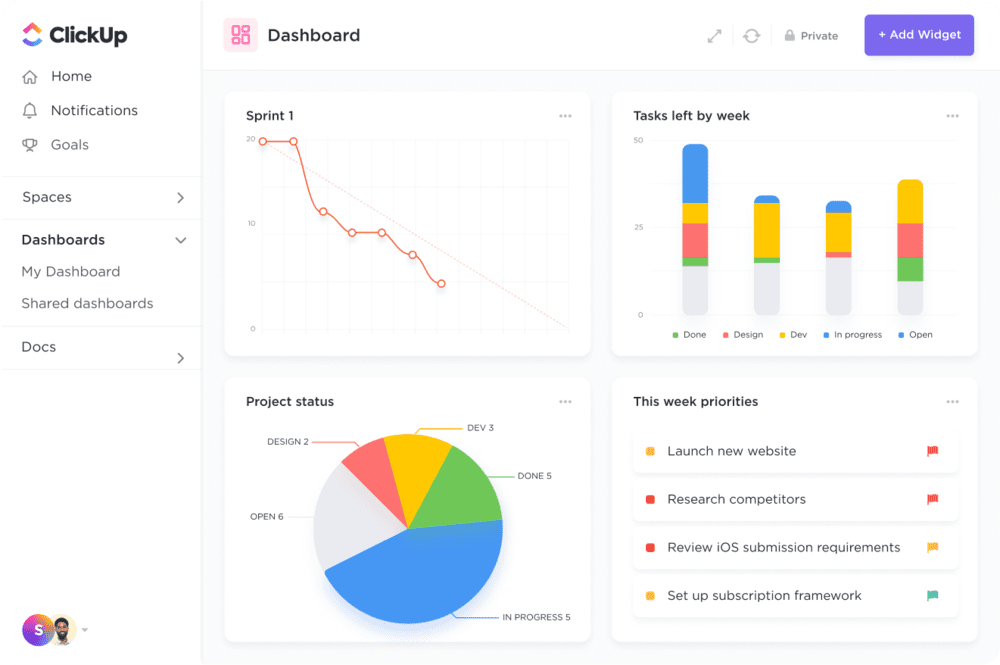 ClickUp is an all-in-one HR Software that provides vivid tools to manage HR tasks across industries. This software provides several tools to manage the entire workforce. It can help you simplify the manual HR activities that consume a lot of time and effort. Besides simplifying the complex HR processes, Clickup also helps HR manage the number of manual processes such as offboarding, employee information, time and attendance, and much more.
KEY FEATURES
Table and List view for sorting and managing data
Manage the team's data easily
Manage meetings, schedules and time off easily
Tracking milestones
KPIs
Task assignment
Starts at $7 per employee per month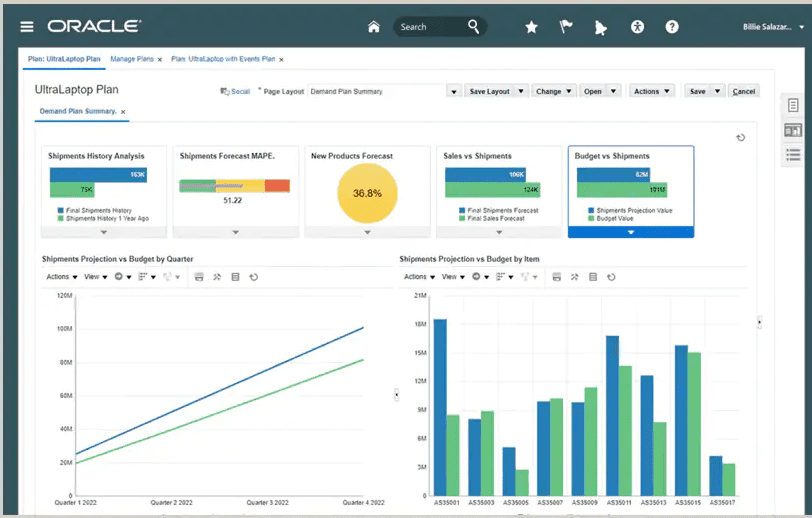 Oracle offers a comprehensive suite of HR modules for enterprise customers, helping manage human capital in organizations. It automates tasks from recruitment to payroll and includes features like workforce management, employee benefits, organizational planning, and more.
KEY FEATURES
Workforce management and employee planning
Performance management tool
KPIs and OKRs dashboards for easy analysis
Inventory management
Supply chain planning
Project management
Multi-currency payroll
Procurement and risk management
Optimize your entire workforce!
Revolutionize Employee Management for Enhanced Retention and Engagement!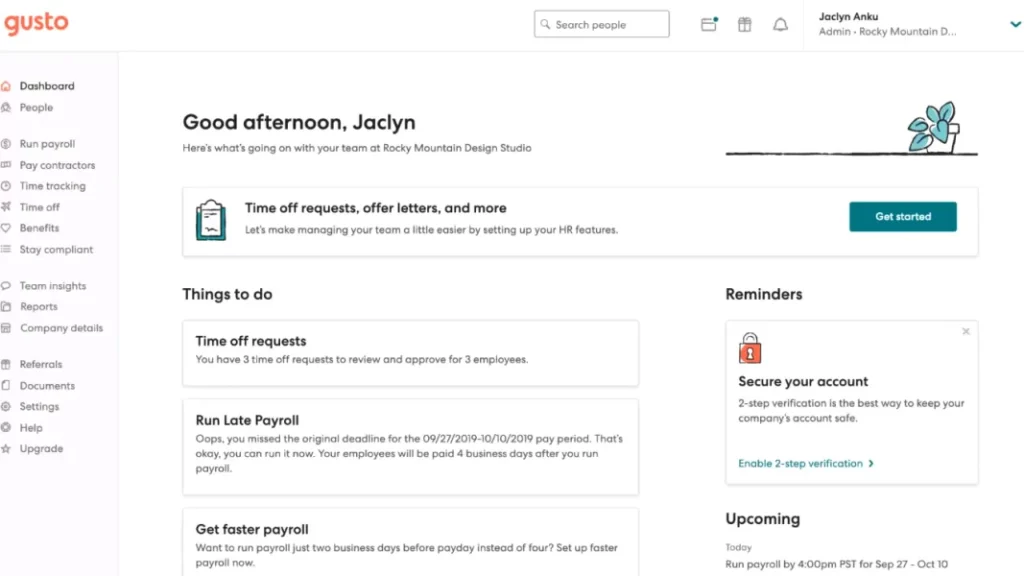 Gusto offers HR management tools for small and medium-sized businesses (SMBs) worldwide. It provides a variety of modules, including payroll, employee benefits, employee onboarding, and offboarding, as well as performance management. Gusto's hiring software offers benefits such as job posting, offer letter templates, and feedback requests, among other features.
KEY FEATURES
Global payroll with compliance management
Automated tax filing for employees
Ready-made template for vivid use cases such as offer letters, job posting
Employee management system and onboarding across the globe
Time and attendance
Employee benefits management
Performance management
Starts at $6 per employee per month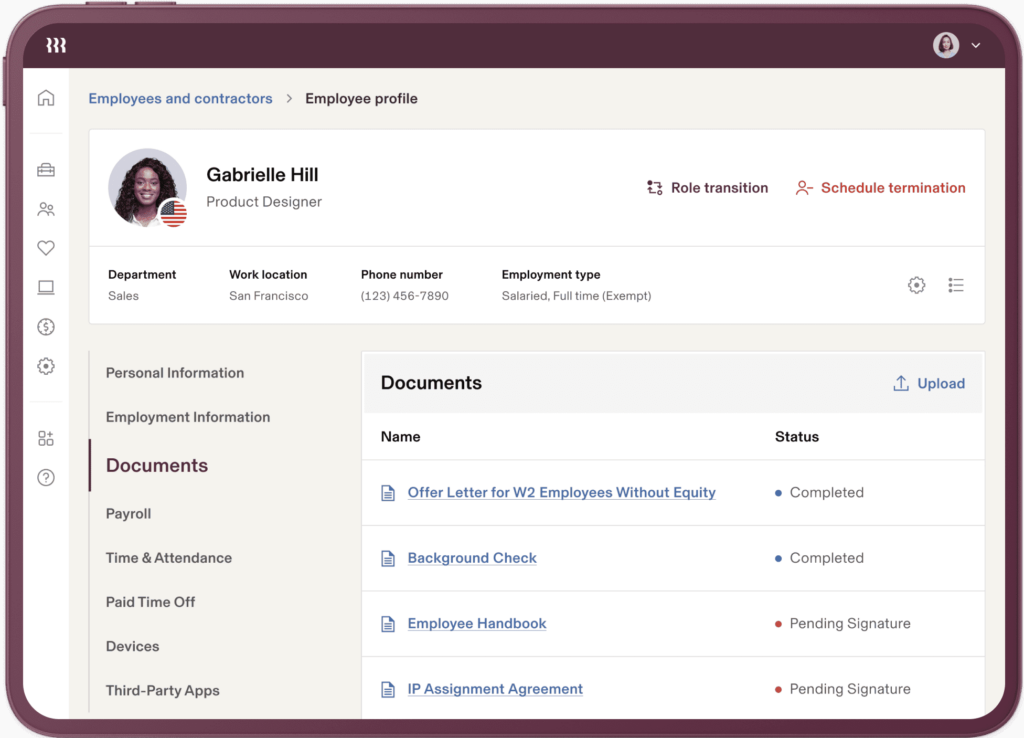 Ripping offers a variety of HR modules designed to simplify operations in HR, IT, and Finance. It features a range of tools to streamline intricate HR processes, including role-based permissions with customizable multi-level approval settings. The software integrates seamlessly with numerous other applications, ensuring effortless adoption and use. Additionally, management can effortlessly conduct multiple surveys for employees with just a single click.
KEY FEATURES
Analytics and reports to hire better talent
Global compliance management
Time and attendance management
Learning Management
Benefit Management
Expense management
Maximize Efficiency with Best HCM
Elevate Your HR Efficiency with Zimyo's Advanced Cloud-Based HCM Software!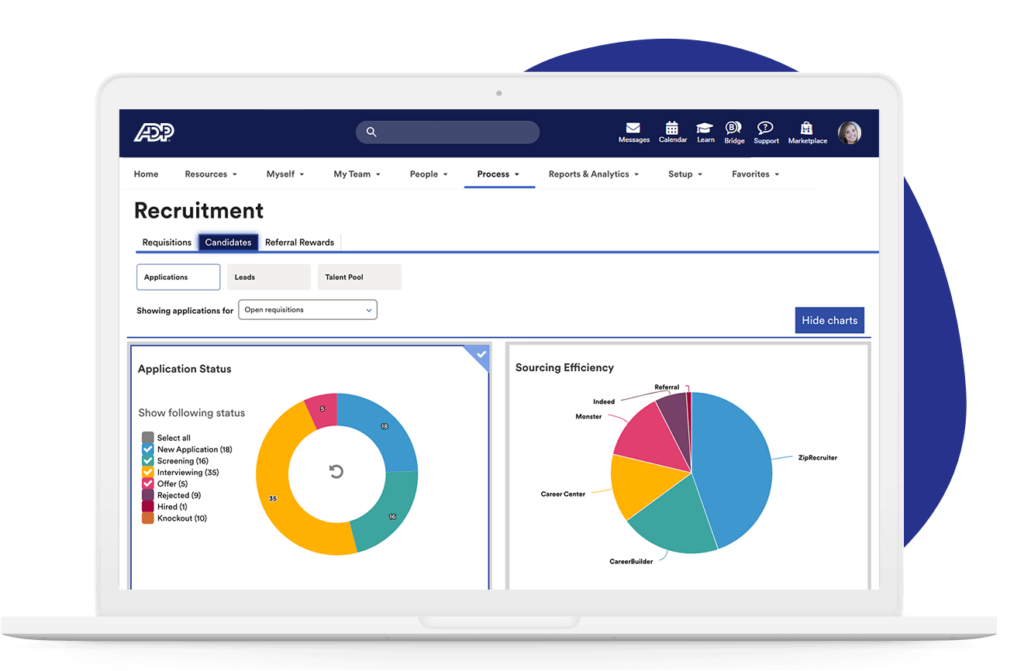 ADP offers a variety of modules designed to meet the requirements of HR professionals. These modules encompass payroll, time and attendance, talent management, benefit management, and more. ADP caters to organizations of all sizes, including small, medium, and enterprise-level businesses. In addition, they provide business insurance services to their clients. ADP facilitates seamless integration with multiple platforms, streamlining manual tasks. Their solutions are tailored for organizations with both 1-49 employees and 50+ employees.
KEY FEATURES
Payroll Management
Time and attendance management
Talent management
Insurance benefits
Compliance management
Benefits and compensation management
Recruitment management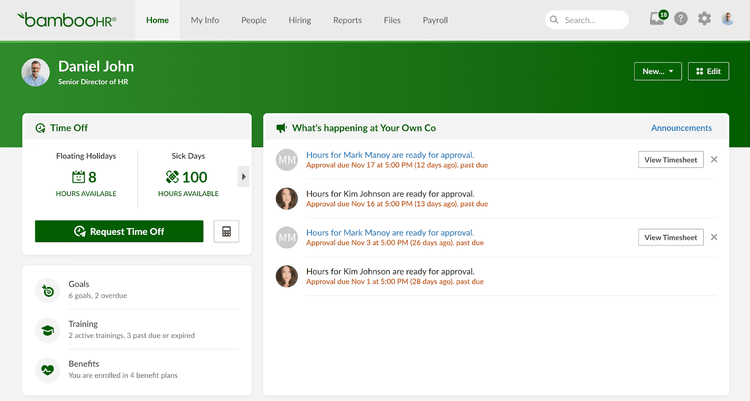 Bamboo HR is a provider of Human Capital Management (HCM) software, offering various modules including payroll management and employee benefit management. It delivers comprehensive solutions to address the diverse needs of HR professionals. Bamboo HR serves small, medium, and enterprise-level organizations, providing a sophisticated management solution tailored for modern HR requirements. It has streamlined numerous HR tasks, making it an efficient choice for businesses.
KEY FEATURES
Employee recruitment and onboarding
Leave management system
Data insights and reports
Performance management
Compensation management
Document management
Shift to paperless solutions with HCM!
Enhance overall productivity and reduce paperwork by making a shift to modern HCM.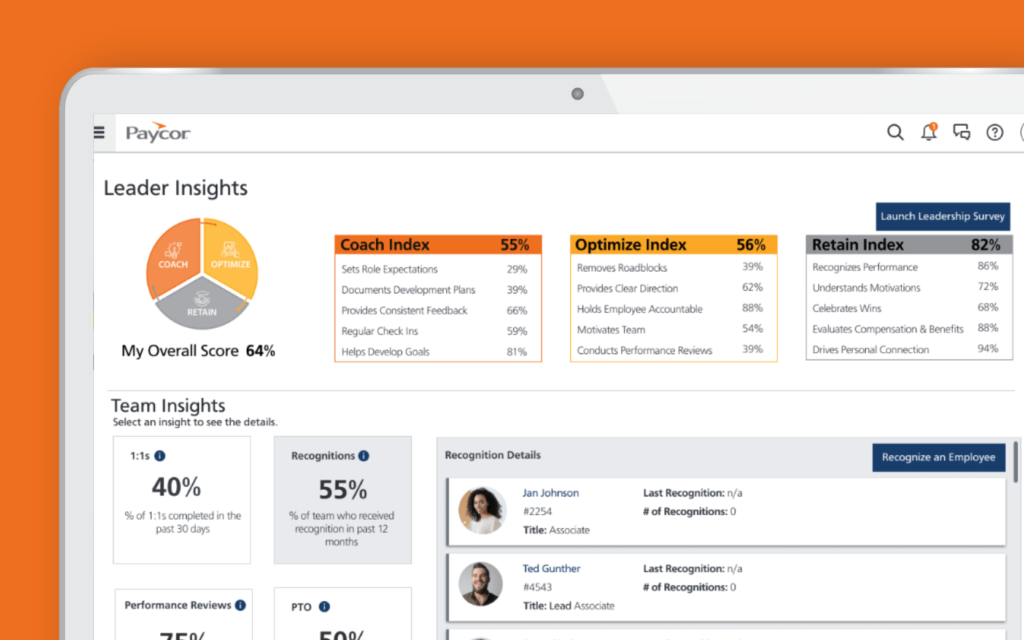 Paycor is an HCM provider that has revolutionized global workforce management within organizations. They offer a comprehensive suite of modules, including payroll, recruitment, and employee benefit management. Paycor ensures seamless implementation for their customers by integrating with various platforms, providing an efficient solution for workforce management.
KEY FEATURES
Core HR
Payroll
Recruitment Management
Payroll management
Time and attendance management
Benefits management
Analytics and data insights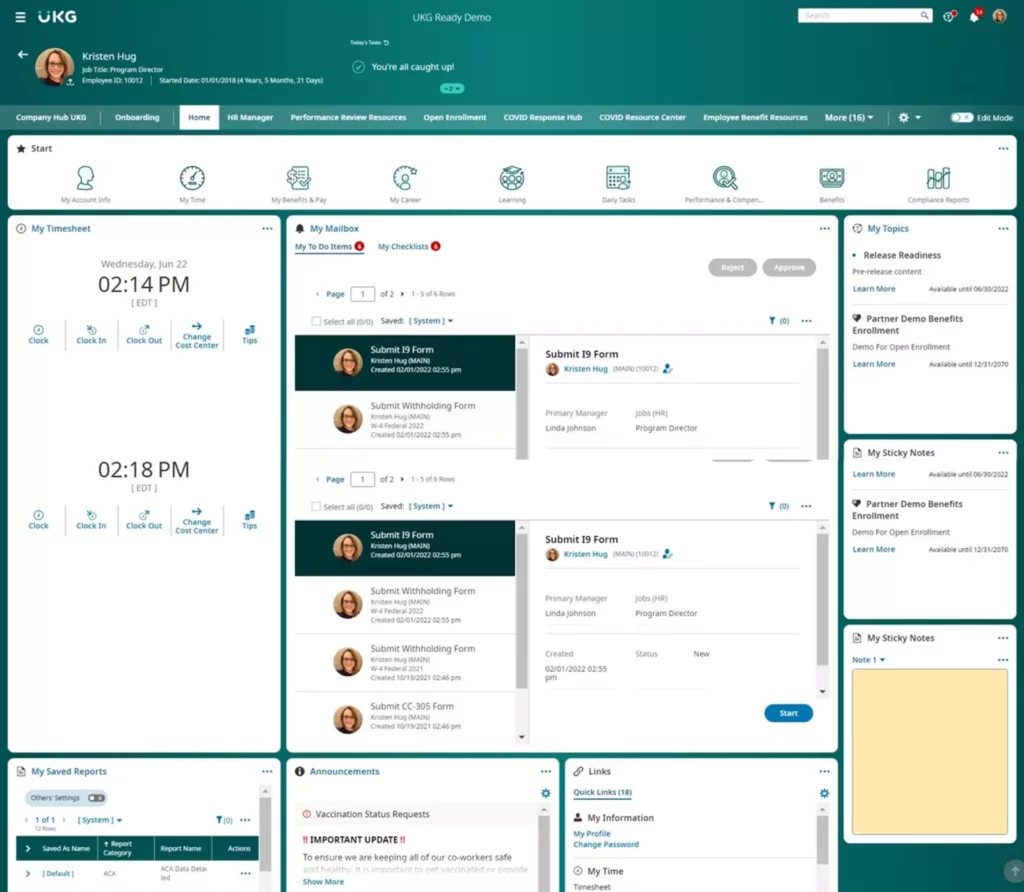 UKG is a premier HCM provider globally, offering diverse modules to effectively manage workforces worldwide. Their solutions encompass payroll, core HR, time and attendance, talent management, and more. UKG caters to a wide array of industries across the globe, providing comprehensive and tailored workforce management solutions.
KEY FEATURES
Core HR
Time and attendance management
Talent management
Talent management
Time and attendance management
Benefits management
Analytics and data insights
Embrace Excellence with Best HCM
Unlock full potential with HCM and stay ahead of your competition!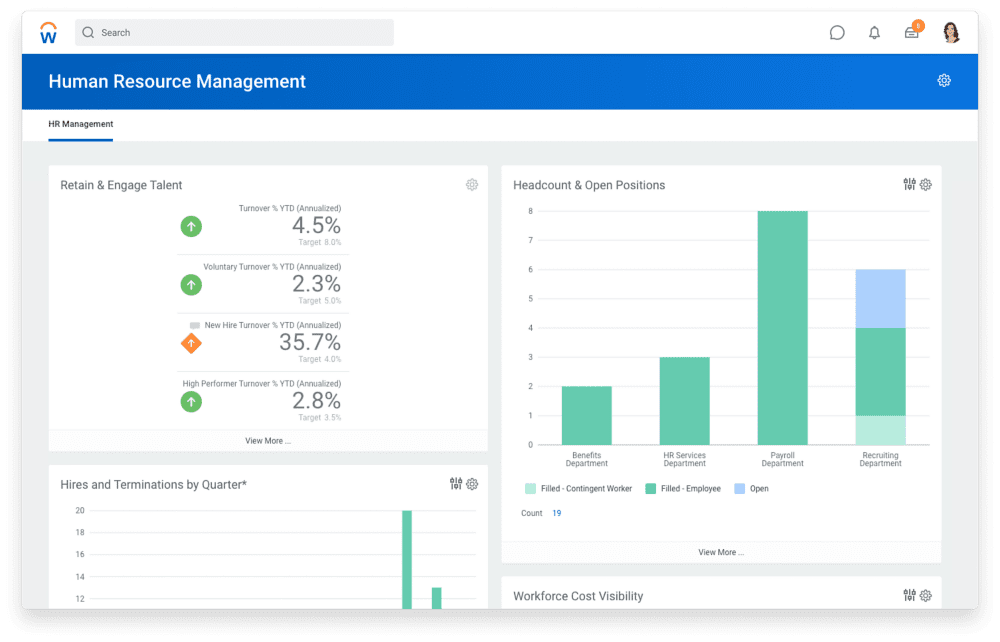 Workday stands as a top-tier HCM provider, offering a range of modules including payroll, core HR, and benefit management, tailored for efficiently managing substantial workforces. Ideal for mid-sized and large companies, Workday provides an intuitive employee self-service portal. This portal empowers employees to effortlessly manage leave requests, attendance, and other essential information, enhancing overall workforce management.
KEY FEATURES
Finance management
Core HR
Global payroll management
Workforce Planning
Supply chain management
Talent management
Reporting and data management
How to choose the best HCM Software for your organization?
Choosing the appropriate HCM software for your organization is crucial. Here are some key factors to consider while making your decision:
1. Features- Evaluate the software based on essential features such as:
1. Employee self-service portal
2. Compliance management
3. Reporting and Analytics
4. Integrations
5. Mobile Access
6. Collaborative interfaces
2. Budget- Consider your organization's budget constraints. While well-funded companies can opt for top-tier software, those with limited resources need to choose wisely to avoid overspending.
3. Integration-  Check if the chosen HCM software integrates seamlessly with your existing modules. Integration compatibility is pivotal; many organizations prefer HCM software that integrates well with popular applications they already use.
4. Customer support- Opt for software providers with excellent customer support. Responsive and helpful customer support is crucial, especially when addressing implementation, integration, or training issues. A positive customer support experience fosters client satisfaction and retention.
FAQs (Frequently Asked Questions)
Starts at $6 per employee per month