Feeling helpless in times of need is the worst thing one can experience. An emergency can arise at any time and sometimes it is easy to deal with it with the support of friends and family. But sometimes you need financial assistance to deal with such contingencies. Everybody has their needs and requirements and people can only help you to a certain extent. In such instances, an emergency loan can be your friend in need. Emergency loans can help you navigate through financial disasters.
Also known as unsecured personal loans, emergency personal funds you during trying times. When life throws a curveball at you, it is the best option to apply for emergency loans online and leverage their benefits. However, most people don't know how to get quick emergency loans online. Therefore, we are sharing a few tips below that can help you get an instant emergency loan without any hassles. Have a look at them:
Tips to get quick emergency loans:
Identify your needs
Before applying for emergency loans, you need to be clear on why you need them in the first place. Do you need it for home repair, medical purposes, or educational expenses? Determine your needs and calculate the exact amount you might require to prevent waste of time. This helps you complete your application quickly.
Make an informed choice
To ensure you don't get tricked by fraudsters while applying for emergency personal loans, it is better to exercise prudence and caution while opting for such lending partners. You can check review or rating platforms to check the credibility of a lender. You can also compare interest rates, terms, fees, and other charges from multiple lenders.
Apply online emergency loans
When there's an immediate need for emergency loans, the urgency of the situation may not permit you to waste time in lengthy processes, standing in long queues, and managing all the paperwork. This is why it is advisable to apply for an emergency loan online which offers you a hassle-free experience. It is easy to get personal loans from websites or online apps as they help you keep track of the entire process- from application to verification to approval. 
Keep your documents ready
Don't go looking for the necessary documents in the nick of the time. Keep all necessary documents ready beforehand. The infographics give you details of the documents your lender might require: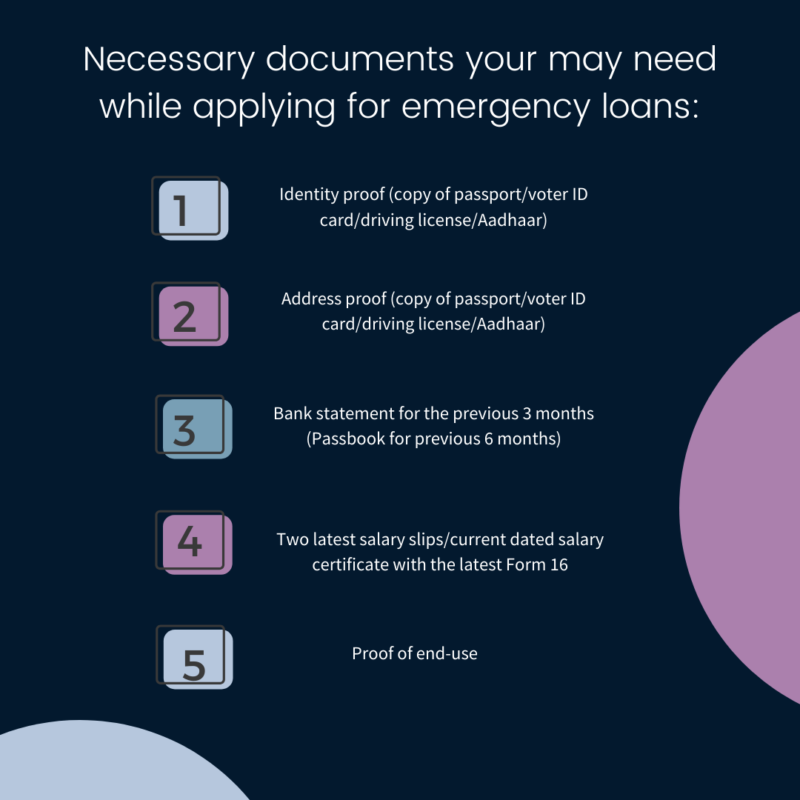 You should save soft copies of these documents. This will help you save a lot of time and will help you get your emergency personal loan quickly.
Try not to make mistakes
Applying for an emergency loan seems easy but you need to be wary of any errors. Be cautious while filling out the application form and properly read all the terms and conditions before signing any documents. You should also keep track of your credit card score as an invalid score may further delay the approval process. Because proving your credibility will require further verification and additional documentation.
Grab pre-approved offers for emergency loans
If you need an emergency loan immediately, then opting for pre-approved personal loans might be the right choice for you. Pre-approved loans require minimum documentation and no security. You just need a good credit history and repayment record to avail of this exciting loan service. These types of loans are offered by banks or non-banking financial companies (NBFC) to increase the sales of their loan products and meet the urgent financial needs of customers.
Clear your previous EMIs
Another important tip to get emergency loans fast is to keep a good repayment record. You should clear all your arrears or EMIs to strengthen your creditworthiness. This makes you eligible for getting further loans and will make the process much easier. The bank or lender will approve your request quickly when you have a good credit history.
Review eligibility
It is also important to know if you are eligible or not for an emergency loan. There are different eligibility criteria for different types of loans and this criterion may also vary from lender to lender. So if you want to make the right choice then go through the lenders' website or directly get in touch with them to know if you meet the eligibility criteria.
Maintain a good bank balance
If your bank statements show any discrepancies in your bank statement then you may face difficulty in getting the emergency loans. Therefore, it is crucial to review your bank account balance before filling out an application form for loan approval. Apart from that, lenders also evaluate your source of income before approving your application. So always keep track of your spending and savings.
A good application increases your chances of getting a personal emergency loan so follow the aforementioned tips and get quick loans. However, do you know when can emergency loans help you? No idea? Below are some of the situations during which employee loans come in handy.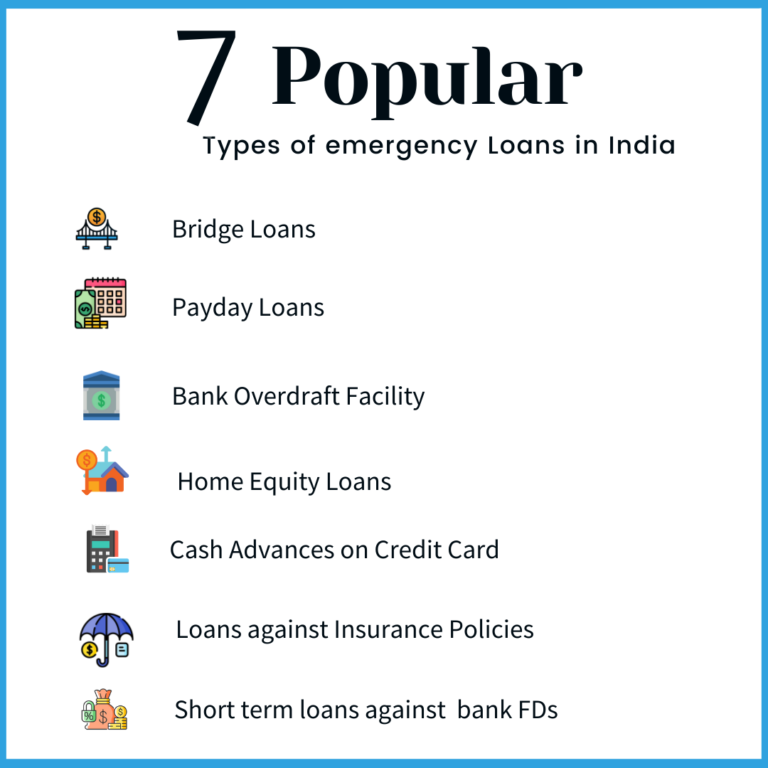 When can emergency loans help you?
Medical emergencies
Emergency loans act as a lifesaver during a medical emergency. If you or anybody from your family is suffering from any medical emergency which requires immediate surgery or hospitalization, then you can simply opt for a medical emergency loan to pay for medical bills or buy medicines.
Debt consolidation
There might be times when you need to repay your loans or clear your dues in just 24 or 48 hours. This can cause a lot of stress and problem in your life. So if you are facing any financial stress due to multiple debt obligations and repayment schedules, then you can choose emergency loans to deal with the situation. It can also help you clear your credit card dues.
Wedding expenses
We all know how much Indians love to spend their money on weddings. However, their love for grand weddings can cause a financial problem when the budget gets out of control. In such instances, emergency loans can help them manage expenses and save the day for them.
Home repair and renovation
Some of the things that need to be maintained and repaired immediately in your home may include damaged ceilings, walls, downspouts, alligatoring or blistering house paint, etc. So if you are facing any of these issues in your house, then personal emergency loans can be the best solution to repair your home.
Higher education expenses
Apart from an educational loan from the bank, you might also need additional financial assistance to bear the cost of travel, food, or other living expenses when you or your child is undergoing higher education. If you are short of funds, you can simply apply for a personal emergency loan and meet his/her higher education expenses.
Final words
Being financially prepared is imperative given the uncertainties that surround us. We all have a few people in our life who are always there for us- in good times and bad. We know if we get caught up in an emergency, they will always be there to help us navigate through tough times. But you can't rely on these people in times of urgent needs as expecting them to be available for you 24×7 is unrealistic. During such times, an emergency loan can be the best option you can rely upon. Emergency loans with Zimyo can be processed and disbursed quickly, they can be applied online without any hassles, and sometimes you don't need any collateral to apply for these loans.
---
Also Read: How an Earned Salary Advance is better than a Personal Loan?