Do you want your employees to be your brand ambassadors? If yes, make them feel valued. But, not sure how to do that? The answer is simple and effective- a group health insurance policy for employees. Group health insurance policy can work wonders for both your organization and your employees. When you give equal importance to their health and families, employees appreciate it very much. Let's have a look at what group health insurance policy is and how you can choose the best group insurance policy for employees.
What is a group insurance policy for employees?
A group health insurance is offered by an organization to its employees as part of an employee benefits program. This policy covers the employees against several healthcare expenses, the premium for which is borne by the employers. The policy covers the following expenses:  
In-patient hospitalization expenses
Pre-hospitalization and post-hospitalization expenses
Daycare procedures
Miscellaneous hospital services (such as X-ray, diagnostic tests, laboratory)
Cost of prosthetic devices if they are implanted during a surgical procedure
Ambulance expenses
Some organizations may also extend the group health insurance policy to the family members of the employees. Not getting it, let me explain it by presenting an example:
Let's suppose, Hema is a Gurgaon-based PR manager and like every working day, she was on her way to her office. But unfortunately, she met with an accident and got her arm injured, which required surgery. Apart from her health, her family was worried about the medical expenses of hospitalization and other ancillary costs related to surgery. Hema is, however, covered under an 'Employee First' corporate or group health insurance scheme which provides comprehensive coverage for all expenses associated with accidents. This offered a sense of relief to her parents and she was provided with the best possible treatment. This is how a group health insurance policy for employees can prove to be beneficial in times of need.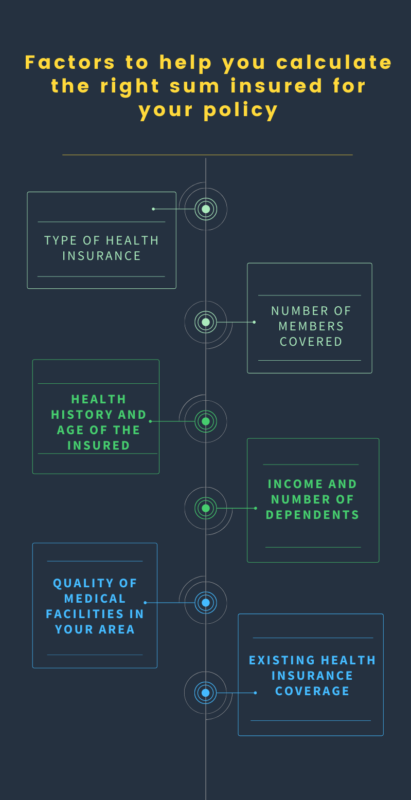 Types of Group Insurance Policy for employees
There are various types of group insurance plans available in India, such as health insurance cover, personal accident, vehicle insurance, travel insurance, and many more. Let's look at the types of insurance plans in India.
1- Group medical insurance policy
As the name suggests the group medical insurance policy provides health insurance coverage to employees. These plans also cover the family members or dependents of employees, in some cases.
Features of Medical Insurance Policy:
Covers employee and his/her dependants
Cashless treatment at Hospitals
Covers pre and post hospitalization expense
No waiting period
Covers critical illness
2- Group term life insurance
This policy is offered by employers to employees to ensure financial security of the employee's family in case of death. The policy provides life cover to each member (employees) working in the organization. The premium is provided by the employer which can be deducted from the salary of employees.
Features of Group Term Life Insurance:
Any number of employee can be added anytime of the year
The insured will be paid a fixed amount in the event of death
Reasonable compared to single policy
Minimum group size is 50 members
3- Group Personal Accident Insurance
The group personal accident insurance provides employees financial protection against expenses related to accidental injuries. This policy undercovers the following things:
Covers all accidental injuries
Covers hospital expenses
Some amount of sum insured in case of temporary disability
100% of sum insured amount in case of accidental death
50% of sum insured amount in case of partial disability
4- Employee Compensation Insurance
Employee compensation Insurance is an insurance provided by employers to its employees under the Employee Compensation Act. The insurance covers the liabilities of employee in case of death/injury during the employment.
Features of Employee Compensation Insurance
Financial support in case of accident during employment
Covers loss of pay due to injury/ disability
Ensures financial support to workers
5- Group Travel Insurance
The group travel insurance plan covers the combination of health, accident, and liability insurance. The insurance plan covers the risk of loss of luggage, medical emergencies, accidents, and third-party liabilities of a traveler group. An employer can purchase this plan for employees who travel several times in a year. The premium is calculated on the basis of the number of travel days in a year.
Features of Group Travel Insurance
Covers employee personal travel
No minimum number of employees required to purchase the plan
Hassle-free handling of employee's travel emergencies.
6- Public Liability Insurance
Public liability insurance is suitable for the groups who directly deal with the public, clients or agents. The policy covers the liabilities arising due to accidents, injuries, and damages in the business premises. For example, a customer got injured in your office leading to hospitalization.
Features of Public Liability Insurance
Covers the unexpected losses arising from injury, accident, or property damage on business premises
Protection against legal obligations
How to choose the best group insurance policy for employees?
Today, many organizations have started focusing on employee health and well-being. This is because employees are their most valuable assets and healthy and stress-free employees make a more productive and engaged workforce. According to a survey, 46% of employees stated that health insurance was either the deciding factor or a positive influence in choosing their current job. This is why it is imperative to offer health insurance to your employees. However, with so many options available today, how can you choose the best group health insurance policy for employees? Try these tips:
Choose a policy with high sum insured
The sum insured is the amount paid to the policyholder by the insurance company during unforeseen circumstances such as an accident or illness. This amount must be adequate enough to meet the medical or hospitalization expenses of the insured person. Besides, it is also important to consider the cost of treatment and medical inflation before making a final call. This is because the insufficient sum insured can lead to an increase in an insurer's out-of-pocket expenses.
Try to avoid group health insurance policies with sub-limits
Sub-limits refer to the maximum amount an insurance company will pay for claims related to certain medical treatments. It means if you have opted for a health insurance plan with a sum assured of Rs. 3 lakh, then the insured person can choose to stay in a room which has a tariff of let's say Rs. 3,000. But if the insured person wishes to stay in a more expensive room then he/she will have to bear the additional cost. The insurer will not provide more than the fixed amount. Therefore, employers should opt for policies that do not have such restrictions.
Examine the list of network hospitals
You must also consider the insurer's partnership with several multispeciality hospitals before choosing the best group health insurance policy for your employees. Employers should consider insurance companies that are associated with a broader range of network hospitals. This ensures that the employees receive world-class treatment or care. Furthermore, this also helps settle claims in a cashless manner. So it is important to choose an insurer that has a wider network of hospitals. This is because getting admitted to a non-network hospital will mean no cashless treatment benefits. You will have to pay all the bills out of your pocket and then file a claim for reimbursement with the insurance company.
Your policy shouldn't have a waiting period
One shouldn't wait when he/she is unwell and is in immediate need of treatment. Sometimes, employees don't go for treatment because of financial issues. In such cases, a group health insurance policy for employees can be a real-life savior. But it won't be of any help if the policy has a long waiting period. If you are opting for a group health insurance policy then you must know all about the waiting period. Generally, employer-sponsored health insurance policies don't have waiting periods. In case, if it exists, the waiting period is relatively shorter than individual health insurance plans.
There are three types of waiting periods:
Initial waiting period
Also known as the cooling period, it refers to the time for which you have to wait before the health insurance policy becomes active. It is generally one month long and during this period, you can only make claims for accident-related hospitalizations.
Pre-existing diseases waiting period
Pre-existing conditions refer to any injury, illness, disease, or health condition that exists at the time of first policy purchase. The waiting period for pre-existing diseases is typically three or four years. Specific diseases such as diabetes, blood pressure, thyroid, heart issues, etc. are some of the examples of pre-existing diseases.
Waiting period for specific diseases
On average, the waiting period for insurance claims for specific diseases is two years. Some of the examples of specific diseases include ENT (Ear, Nose, and Throat), hernia, osteoporosis or bone diseases, etc.
It must include maternity and Covid-19 expenses along with wellness benefits
Organizations must choose a group health insurance policy for employees that not only cover maternity expenses but also wellness benefits. The wellness programs encourage employees to take care of their overall health. Corporate wellness programs may also include yoga sessions, gym membership, and apps that promote wellness in the workplace. It is a great benefit for a team that involves more members from the younger generation. Apart from the wellness and maternity benefits, your policy must also include a Covid-19 cover, given the uncertainty on how and when this all will end.
Buy online group health insurance policy for employees
Purchasing a group health insurance policy can be tiresome. All the excessive paperwork, long waiting hours, and tedious processes make organizations reluctant to buy these policies. But you can get rid of all these problems by opting for an online health insurance plan. Buying a group health insurance policy online saves you from standing in long queues and having unworthy discussions with insurance agents/brokers. Moreover, it also helps you save both time and effort.
Give thought to worldwide coverage
You can ignore your need for worldwide coverage if you barely travel. However, if your organization requires employees to travel regularly to other countries, then you must ensure that your group health insurance provides worldwide coverage. This coverage might help the employees in case of any medical emergency in a foreign country. You can also consider buying travel health insurance specifically for the time you are travelling, in case you travel internationally once or twice a year.
So these are some of the factors you should consider before choosing a group health insurance policy for employees. Now, let's have a look at the benefits of group health insurance policies.
Benefits of choosing the best group insurance policy for employers:
If you are serious about taking action to retain A-players in your organization, then purchasing group health insurance for your employees can be your best bet. It helps an organization in various ways and some of the benefits of investing in a group health insurance plan for employers are as follows:
1. Tax Benefits
This is one of the best benefits you can get from offering health insurance plans to your employees. The premium paid for this insurance plan comes under the business expense category. This makes the company eligible for tax benefits in accordance with the Indian Income Tax Act, 1961.
2. Generate Goodwill
Employers who take care of their employees are appreciated by everybody. Employees who feel valued always spread good words about the organization. This helps in generating goodwill for the company and attracting more qualified employees and potential customers to the organization.
3. Attraction and Retention
Many studies have shown that employees prefer an organization with a great employee benefits program over others. Therefore, you need to create a lucrative employee benefits program for your organization that can not only attract qualified employees but also retains the best employees. And what can be a better option other than offering a group health insurance plan to your employees?
4. Reduced Absenteeism and Increased Productivity
When employees are free from financial stress they are more likely to remain active and productive. By taking care of their healthcare expenses, you offer them a sense of relief that helps them stay positive and stress-free during trying times. This can be a great thing for organizations as it promotes productivity in the workplace.
Benefits of group insurance policy for employees:
Like employers, employees can also benefit largely from group health insurance plans. Some of the benefits are as follows:
1. No waiting period for pre-existing diseases
As we have discussed earlier, corporate health insurance plans don't have waiting periods. Under this plan, the employee can get treatment for pre-existing diseases such as hypertension, thyroid, diabetes, etc. without spending a single penny.
2. Quick claim settlement
Group health insurance plans eliminate all the hassles in claim settlement. All the work and processes are managed by the third-party administrator and the insurance company, thus keeping employees free from all the paperwork.
3. No medical check-up required
When you opt for a general health policy, you can't get yourself insured without a proper medical check-up. But the terms are different in a group health insurance plan. When you opt for an employer-sponsored health insurance plan, there's no need for a medical check-up to get enrolled under the plan.
4. Cover for Family
We all want our family to be safe and protected and employer-sponsored health insurance can help us get the protection for our family as well. Generally, if you go for a normal health insurance plan, you will have to pay more premium for each member insured under the plan, however, 5 dependents are usually covered without any additional premium in a group health insurance plan.
5. Offers financial protection
Challenging times don't come announced and you don't know what will happen the next moment. Medical emergencies can cause financial turbulence and can cause a lot of stress. However, having a health insurance policy in place can help you sail through challenging times.
Conclusion
Now that you know how to make the right decision while buying a health insurance plan, let's now know where you can buy the best health insurance online. You can visit Zimyo to choose the group health insurance policy for your employees. Zimyo is a HRMS platform that helps organizations manage their employee lifecycle without hassles. It offers amazing employee benefits that are affordable and available for organizations of all sizes. Here are some reasons why SMEs should consider the Zimyo benefits portal.
1- Administrative and work costs- Small and medium-sized organizations may not have sufficient resources and funds to manage the administrative cost. For such SMEs, Zimyo benefits is a wonderful option as Zimyo will bear the cost of every employee in the organization.
2- Easy Access- The employees do not need to involve themselves in paperwork or go to the insurance company office to claim their settlement. Everything can be managed from a single platform. For the employer, the employee details can be added or deleted from the portal itself.
3- Claim Consultant- An employee may have doubts or queries regarding the claim settlement process. With Zimyo benefits administrative suite, employees can directly get in touch with claim consultant experts to resolve any question regarding their claim settlement.
---
Also Read: Emergency Loans: Tips to get quick loans