The deadliest pandemic of the century is currently ravaging India. Today's situation has already deteriorated because of the second wave of COVID. Hospital bed shortages and oxygen deficits are hot topics in the news these days. The pandemic has affected 2.3 crore people, and more than 2.5 lakh people have already died as a result of it.
Furthermore, COVID has had quite a significant impact on the livelihoods of a large number of households. After minor employment losses in February and March, India's second pandemic wave struck in April, wiping out at least 73.5 lakh jobs.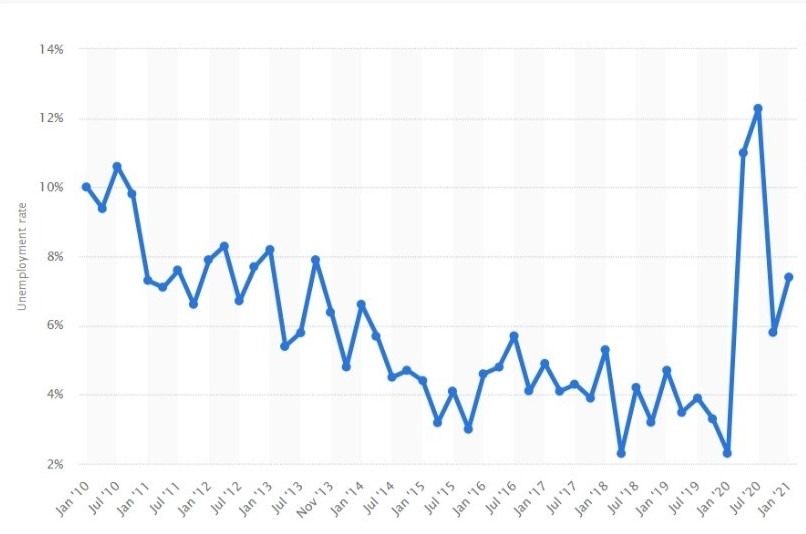 At the end of December 2020, India had 38.8 crore people working in both the organized and unorganized sectors. By the end of January, the figure had risen to 40 crore, but had fallen to 39.8 crore in February, 39.8 crore in March, and 39 crore in April.
In rural areas, 28.4 lakh salaried jobs were lost, while in cities, 5.6 lakh were lost, bringing the total number of paid employees down from 4.6 crore in March to 4.5 crore in April. The number of salaried people in villages decreased from 3.3 crore in February to 3.07 crore in March and 2.7 crore in April.
Did You Lose Your Monthly Income As A Result Of…
➡️ Termination or dismissal, layoff, temporary suspension of the insured individual.
➡️ Retrenchment of the insured due to any mandatory retirement scheme.
➡️ Critical sickness or injuries as a result of an accident
➡️ Closure of the Employer's company due to poor financial conditions or merger/acquisition.
Why Is Income Shield Insurance Important?
Your income is your most valuable asset since it helps you to maintain your existing lifestyle. Think about it: the money you make pays for practically everything you own, including your mortgage, vehicle loan, bills, children's education, insurance, and so on. When an injury or illness prohibits you from working, the financial strain can be excruciating. How would you maintain your current lifestyle if you were unable to work for days, weeks, or even months?
Here are some of the ways income shield insurance can help you in the long run:
? Continue To Make Mortgage Payments
As soon as the ink on your home loan paperwork dries, you are committed to a large debt. Many of these debts take years, if not decades, to repay. Would you be able to make these payments if you were unable to work?
When you become unwell, your other bills and debts do not vanish. In fact, an expensive recovery may cause you to incur more debt. Income protection might help you manage your bills more easily.
? Concentrate On Recovery
When you're healing from an illness or accident, financial stress isn't a pleasant companion. In fact, any form of stress might have a negative impact on your recovery. Isn't it great if all you had to worry about was regaining your health?
⭐ Maintain Your Quality Of Living
If you're afraid about having to radically adjust your routine and lifestyle if you get sick or injured, Income Shield insurance is a terrific option. This may be necessary, based on the level of incapacity. Minimal financial interruption, on the other hand, can help you feel better about your circumstances.
? No Employee Compensation? No Problem!  
It's possible that your injury or illness qualifies you for workers' compensation. That's fantastic, although the income shield insurance will be deducted from any workers' compensation benefits you may be eligible for. It can, however, be a pleasant safety net if you don't qualify for employee compensation. It will safeguard the insured's financial interests if the employer decides to terminate the insured's employment relationship.
⛔ Protection From Unexpected Termination
Income Shield Insurance is designed to cover unexpected job loss that is not caused by the insured member's actions or inactions. This assistance enables the insured to find alternative sources of income or work.
But, of course, there's still the big one…❓
To insure or not to insure??
Do You Need Income Shield Insurance?
We often think of sickness as a few days off work with the flu, and we don't contemplate what would happen if we were out of work for a longer period of time owing to a severe sickness or an accident. While many employees will continue to pay their bills with their salary savings when they are unable to work, this may only be for a few weeks. Well, what's next? In any event, safeguarding your income is critical to your future well-being. 
ZIMYO INCOME SHIELD INSURANCE
Employers offer loyalty when they see their employers assisting them in times of need. A last-minute EMI installment, rent payment in advance or a medical expenditure for the mother-to-be… Don't worry, we've got you covered with our plan!
Zimyo Income Shield Insurance allows you to provide financial security to your employees without having to worry about losing their job!
➡️Assists the insured in meeting his financial obligations, such as EMIs and other bills.
➡️During the unemployment period, provide family support and satisfy their day-to-day demands.
So, do you want to be caught off guard? With all of the threats out there, it may be a gamble not to get Income Shield Insurance to safeguard your future earnings.
---
Also Read: Protect Your family by Not Only Buying Health But Term Life Insurance Too!