We are going through the most significant transition in "how we work" in our generation's history. Therefore, employee benefits that were available before COVID are no longer available. However, employees require additional assistance from their employers in adjusting their families, communities, and lives to the new normal. Meanwhile, companies are under pressure to provide the employee experience that they believe their employees deserve.
Every year, scores of new studies covering practically every element of the employee benefits market are published. Whether it's data on new technology adoption or which benefits employees genuinely want: our comprehensive list of benefits statistics will provide you with a rapid overview of the benefits and HR tech business as a whole.
Employee Benefits to Attract & Retain Top Talent
Prepaid amounts that can be spent anywhere are preferred by 75% of respondents over prizes for retail or online shops or reward catalog options. (DaVinci Payments)
70% of US employees say they are at least somewhat inclined to quit their current employer and accept a job offer from a new company that is known for investing in training and development activities. (Harris Poll)
According to a FlexJobs survey, 80 percent of respondents would be more satisfied and loyal if they had more workplace flexibility. (FlexJobs)
According to a Deloitte research of 10,000 people, the most common reason for a millennial to quit their job is a lack of work flexibility. (Deloitte)
78 percent of employees said they are more inclined to stay with a company due to their benefits package. (Watson Willis Tower)
According to recent industry research, 48 percent of employees consider innovative business perks and benefits when deciding where to work next. (Snacknation)
According to an Unum survey, 41% of workers are inclined to hunt for new employment with better benefits. However, this figure is significantly higher among Millennials (57%) and Gen Zers (65 percent). (Unum)
Approximately 60% of people say employee benefits and perks are a big influence in deciding whether or not to accept a job offer. According to the report, 80 percent of employees would prefer greater perks over a pay boost. (Glassdoor)
Almost all employees (94 percent) want their companies to ensure that the employee benefits they provide have a real impact on their quality of life. This includes benefits that help them pay off employee personal loans and providing more flexible work arrangements. (Randstad)
Over 40% of employees felt their company loyalty would strengthen if their benefits packages were tailored to their specific needs. (Rogers Gray)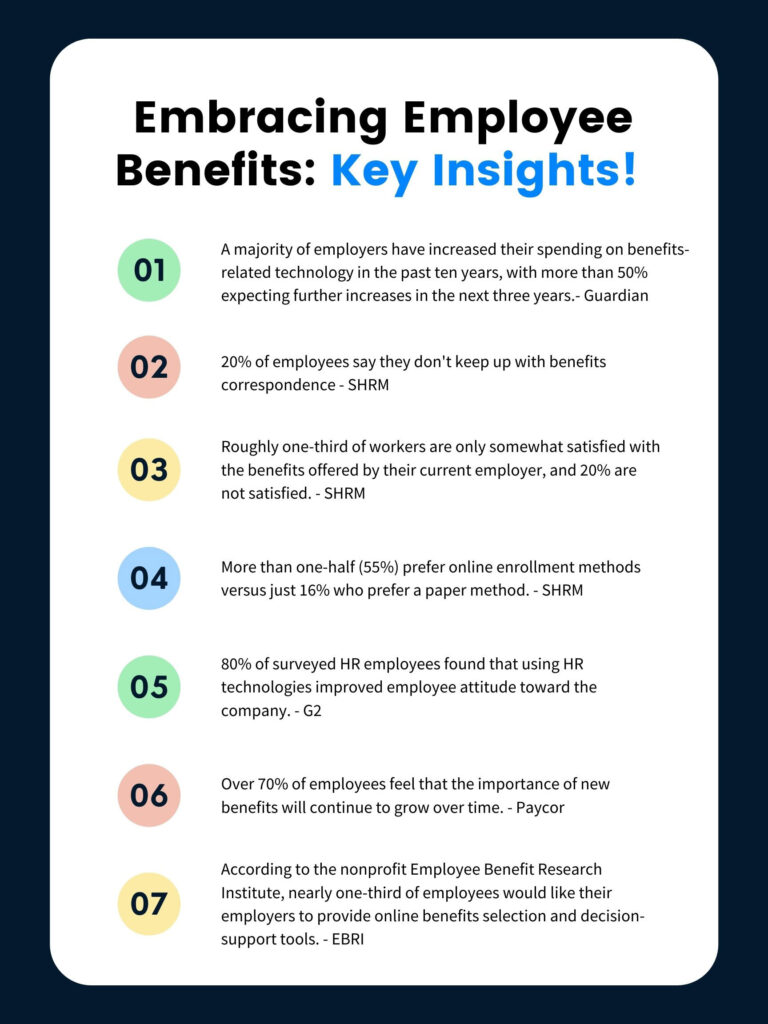 73 percent of firms provide some form of mental health program, such as stress management (Robert Half)
55 percent of HR experts and business leaders who do not provide perks claim they cannot afford them (Compt, State of Perks)
In recent years, more than one-third of employers (34%) increased their employee benefits package. (SHRM)
Impact of Employee Benefits on ROI
44 percent of business leaders feel that measuring the adoption and engagement of their benefits program is tough. (Compt, State of Perks)
Companies that invest in corporate social responsibility and business culture reduce turnover by 50%, enhance employee performance by up to 13%, and drive engagement by up to 7.5 percent. (Pope)
Companies that employ benefits strategically to outperform their competitors. Whether it's in terms of overall company performance, above-average hiring efficiency, and stronger retention or corporate performance. 58 percent vs. 34 percent, recruitment effectiveness: 19 percent vs. 8 percent, and retention effectiveness: 28 percent vs. 11 percent (SHRM)
The three major reasons for improving employee benefits were to retain employees (72%), hire fresh talent (58%), and respond to employee feedback (54 percent). (SHRM)
"The Benefits Gap": What Employees Want vs What They Get
91 percent of C-level executives and vice presidents believe their employees are satisfied with their benefits. However, nearly a third, 31 percent, do not. (State of Perks, Compt)
Four out of ten employees believe their employer does not currently provide benefits or initiatives that assist them (Metlife Employee Benefit Trends Study)
Employees want more personalized, agile, and holistic rewards, as well as an emphasis on fair and transparent pay. In fact, only 8% said their rewards program is 'very effective at providing a customized, adaptable solution. (Deloitte)
Talent shortages were indicated as the primary motivator for 52 percent of hiring managers in embracing a more flexible workforce. (Upwork)
According to a Gallup poll, only 24 percent of workers participate in wellness programs at their workplaces, and only 12 percent believe they assist their wellbeing. (Source – Gallup)
Final Thoughts
Employee benefits are still in their early stages of implementation in businesses all over the world. Therefore, the job market tightens and the proportion of Gen Z and millennials in the workforce grows. Moreover, more and more firms turn to benefits as a strategy to enrich their culture, distinguish themselves, and make a real difference in the lives of their workforce.
---
Employee Well-being = Zimyo
Instant salary advances, loans, insurance, etc., enhance the employee experience!