For any organization, the HR Department is critical as it manages all the core tasks. It plays a crucial role in the productivity, performance and success of any organization. The HR Department performs a variety of key functions such as onboarding candidates, processing payroll, performance management, employee engagement etc. Moreover, it acts as the backbone of any organization.
Core Benefits of Using HRMS
Managing human resources is an ever-evolving process, HR professionals require a range of tools to perform these tasks effectively and efficiently. This is where HR systems came into the limelight making the life of HR professionals and employees easy in the following ways:
HRMS Software in Saudi Arabia allows HR professionals to conduct analysis and review all the performance metrics based on data-driven results. It is the task of HR to prepare a hiring budget for every department to calculate the turnover rate.

Although, it sometimes becomes typical to calculate accurately. With HRMS software in play, HR professionals can ensure that calculations are correct and then take important decisions based on it. This brings organizations closer toward their goals.
2. Enhancing overall productivity
One of the vital benefits of using HR systems is that it enhances the productivity of employees. These systems are designed in a way to speed up the HR processes. 
However, HRMS Software improves the productivity of the finance department by processing payroll through Payroll Software. Tasks like these consume a lot of time and manual effort but HR systems automate these processes. 
HR activities are regulated and even the smallest mistakes can result in legal complications. In some cases, it can also result in financial loss for the company. Let's take an example of how a small mistake can result in legal complications.
 
If the resumes of candidates are not reviewed properly it may result in a lawsuit. By adopting an HRMS one can avoid risks like this and other errors. Moreover, HR systems are designed in a way to comply with the rules and regulations related to the function of the company.
Boost Efficiency and Productivity!
Zimyo HRMS and its modules helps to improve the productivity of businesses in Saudi Arabia.
How to choose the right HRMS Software for your organization in KSA?
Good HRMS Software not only drives positive growth but also automates various HR processes. It depends how an organization uses HR systems to reap maximum benefits out of it. 
However, it's necessary to keep certain key pointers in mind while choosing the right HRMS software for your organization. Some of the key pointers that HR Software in Saudi Arabia must have are:
An HRMS must allow employees to communicate with each other in the organization, fostering a sense of collaboration, and employee engagement and enhancing decision-making power. 
Moreover, including a social element in HR software in Saudi Arabia provides valuable data related to employee trends, performance and goals.
Although every organization has similar HR processes like onboarding, offboarding, employee engagement, etc., specifics are likely to vary from company to company. 
Therefore, organizations should look for those HR Software which are easily adaptable according to their needs.
If the HR System is difficult to adapt, the employees will shy away from using it. To avoid this issue an organization must ensure that while choosing the HR Software they must ensure it is user-friendly. 
An ideal software should be simple and easy to use after simple training. After all, the benefits of HR software must outweigh its cost.
4. Comprehensive Reporting
An ideal HRMS Software should depict how employees are using the software. This helps to conclude what's working and what is not so that organizations can make changes according to them. 
These reports are generated through data collected from user engagement surveys and no complex programming is required. 
Zimyo is a leading HR Software provider in Saudi Arabia. After serving 2000+ organizations Zimyo aims to help Saudi businesses to automate their HR processes with robust HRMS. From managing employees to resolving payroll problems, Zimyo HRMS has 40+ modules. 
Each module is specifically designed keeping in mind the needs of Saudi Arabia businesses. Moreover, Zimyo is considered as best HR Software in Saudi Arabia. Zimyo offers extensive solutions to automate day-to-day HR processes such as Onboarding, Offboarding, Payroll, Time and Attendance Management, Performance Management etc.
Founded in 2018, and trusted by leading industry experts such as Yashraj Films, Vivandi, Kayfi, Qatar Wire Products, Clic Qatar, Crowe and two thousand others. Zimyo centralized all HR operations which reduced manual efforts, time consumption and increased productivity and efficiency.
Starts at $2 per employee per month (7.35 AED)
Bring the Tech Infused Modern HR to your organization
Zimyo HRMS helps businesses in Saudi Arabia to stay above the competition with the new-age platform.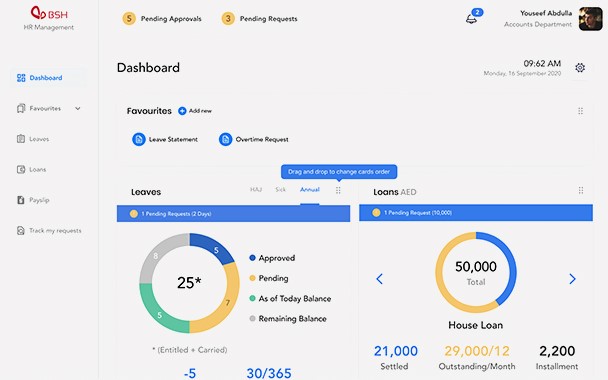 BSH provides multi-country outsourced HR and Payroll services in Saudi Arabia. They have been delivering their services in Middle East countries for more than 25 years. This software allows users to set up process rule-based allowances. BSH allows users to generate and post payroll reports, bank files and request funds automatically.
Visit the website for pricing details and other information.
Founded in 1998 Hits HR Solutions provides HR and Payroll solutions in Saudi Arabia. Organizations can choose the features as per their needs and requirements across HITS modules such as Core HR, Payroll Management, Benefits Management, Training Management, Recruitment and Dashboards etc. The solutions offered by them are very advanced and innovative.
Feature of Hits HR Solutions
Visit the website for pricing and other information.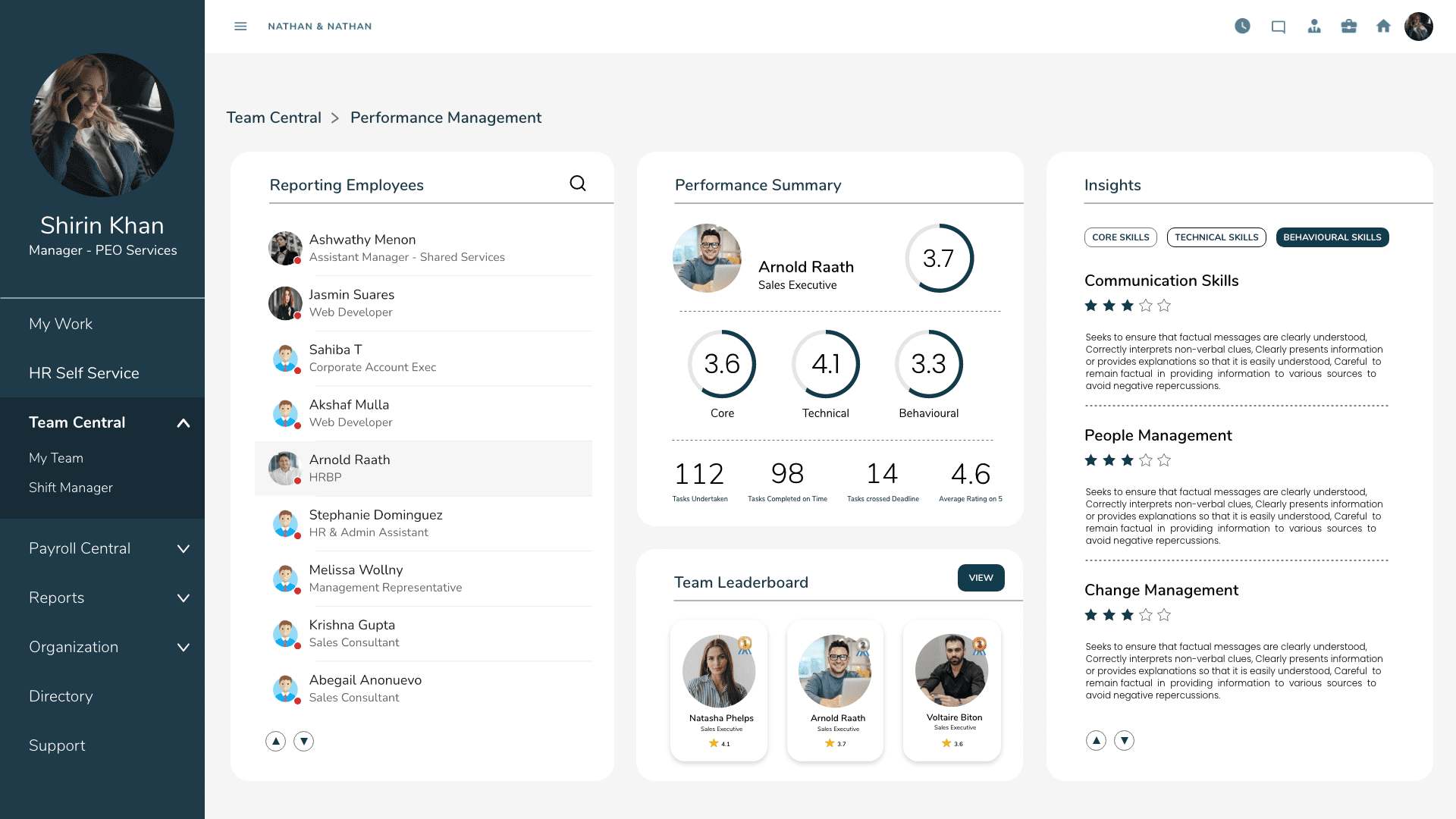 Nathan HR began servicing their customers in 2012 in Saudi Arabia and other Middle East countries. Their HR Solutions are available on the cloud and can be accessed through desktop or mobile applications. The core HR and Payroll solutions include visa tracking, onboarding, attendance, leave management, automated payroll slips and multiple reports.
Pricing depends on the needs of the organization.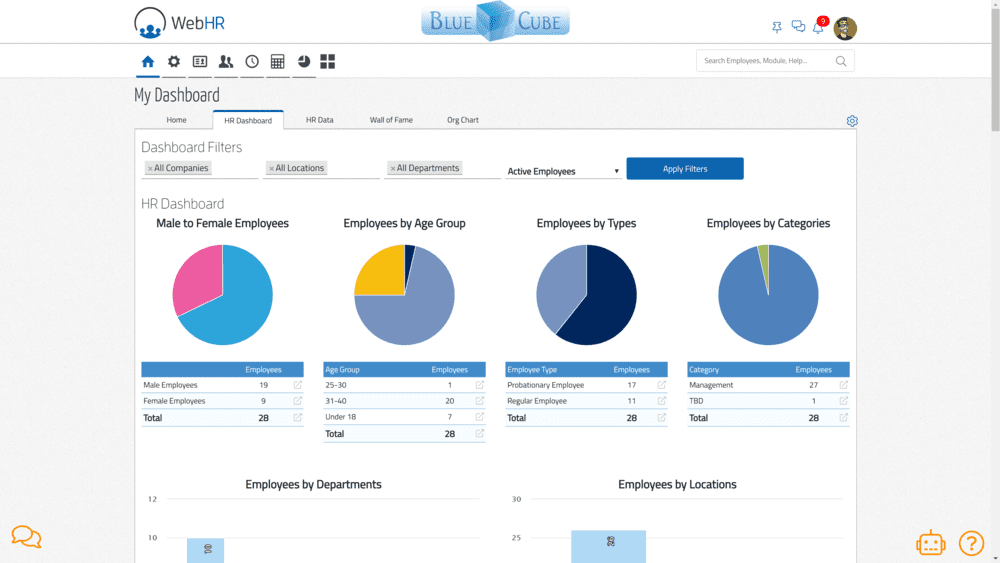 Web HR is a Cloud-based HR Software for SME organizations in Saudi Arabia and other Middle East countries. Web HR facilitates all human resources functions in an organization such as recruitment, employee management, performance management, training etc. Thus, Web HR helps to simplify the HR processes in an organization.
Free for 05 Employees and start as low as $ 1.0 per employee per month.
It can be difficult for organizations to choose the right HR Software as there are several vendors available in the market. You must evaluate the HR Software based on various key pointers that are discussed above. One of the best ways to choose the right HR Software is to schedule a demo with 2-3 vendors and select the best out of them.
If you are looking for robust HR Software in Saudi Arabia you can book a demo with Zimyo. From onboarding to offboarding Zimyo HRMS provides robust solutions for every single aspect of the employee experience.
Manage the entire employee lifecycle!
From hire to retire, your workforce management process is now effortless.