To ensure the efficiency and effectiveness in an organization, it's crucial to have a description of how, when, and where the productiveness of employees is utilized the most, which task took how much time to be completed, and to know whether the employees are working up to the designated timings or not. It's essential to monitor the employees to ensure that they are working to their full potential to fulfill the organization's future goals.
To render all these requirements, software that helps track the time spent by the employees on a particular task and calculate their working hours is a must-have for every other organization in the Saudi Arabia. Gone are the days when all this tracking had to be done manually, creating a mess in managers' minds and leading to misunderstandings. An employee time tracking software is the answer to this problem for people in Saudi Arabia.
So what exactly is time-tracking software, and what does it do?
What is a time tracking software?
Employee time tracking software is a tool used by the managers of an organization to record and analyze the working hours of an employee or the work spent over an assigned task to calculate the billing, payroll, or client invoicing at the end of a period.
The software for Saudi Arabia helps contemplate which task takes up the most resources, human resources, time, and money to plan a budget for future reference.
This is one of the core features of a time tracking system that records the working hours of an employee down to the minutes. At the end of the month or any other specified period, this helps in calculating the accurate payroll that is to be paid to an employee or bill clients accordingly.
By visualizing the recorded data, it gets more accessible for the managers to appoint deadlines and completion dates to the employees.
A well-built employee tracking software in Saudi Arabia inherits a feature that allows you to segregate employees into groups or departments according to their work.
This ensures easy and accessible communication among the employees working on the same task or the managers who want to communicate a similar piece of information among various employees.
This builds systematic management and efficiency in the organization.
This feature is a blessing if you charge the clients on the basis of hours or minutes.
It automatically tracks the amount of time dedicated to a task and accordingly calculates the billable hours.
This feature helps in avoiding any misunderstanding related to payroll or billing issues, as it provides transparency and detailed data about the hours spent.
This saves a ton of time for the managers, the employees are just expected to clock in and clock out, and their working hours and presence is captured in a timesheet resulting in the payroll calculation at the end of every month.
Another feature that ensures efficiency in employees is providing them with necessary alerts whenever needed. For instance, employees are notified in case they forget to clock in and clock out on a particular day. This makes sure that the payroll of any employee does not get affected negatively without any reason. 
Other than that, if an urgent task is lying pending that the employee might have forgotten about, a notification of pending work is issued to them. In many similar cases, notifications are sent to the employees or the managers. This makes sure all the tasks are completed on time, and the working of the organization is carried smoothly.
5. Reporting and Analytics
An employee tracking system of Saudi Arabia lets you summarize a wide range of data quickly. For instance, it becomes much easier to review the amount of time spent on the completion of a project and analyze the efficiency of the employees as to whether the time taken is acceptable or not.
It also helps in creating a budget and analyzing the areas where to cut costs. To avoid chaos, the reports are prepared in charts and graphs, which provides a better and quick understanding of the data.
Not every, but the best time tracking software provides a feature of managing an online/ digital timesheet that keeps track of the absence, presence, and time off taken by an employee in a specified time period. It is converted into a pdf and used to calculate the payroll or invoice.
A time-tracking system built well that possesses these features is the best fit for any organization. The features may sometimes vary from one software to another. It's the task of the organization to identify its organizational needs and choose its best fit accordingly.
Keep track of all your employees through timesheets!
Zimyo's robust Time Management Software for Saudi Arabia manages every minute of an employee.
Benefits of employee time tracking system
Other than the core benefit of tracking the activities of your employees, that is to know efficiently one has worked in the month to calculate their payroll accordingly in the end. Using this software comes with many other benefits, some listed below:
One of the features of employee tracking software is that it helps in calculating the time spent in completing a task, giving the managers an idea about the team's capacity and efficiency and giving them an idea to prioritize future projects accordingly.
2. Improves Communication
As an employee is aware of his specified deadlines, in case they won't be able to meet them, the manager can be informed in advance to avoid any chaos, and it also makes it easier for the employees to communicate with managers about their needs.
3. Increases Productivity
By using time tracking software, it becomes easier for the managers to get an insight into the task where the team is lacking efficiency. By working on those specified areas, the productivity of the team can be increased as a whole.
With the use of tracking software, the employees have access to the data by which their payroll is to be calculated. Even the employees only are responsible for clocking in and out on a regular basis to mark their presence. This provides transparency between the employees and the payroll calculation technique, avoiding any disputes.
5. Set clear objectives & goals
When a team is able to track time devoted towards specific tasks, it helps in setting goals for the future to how many people should be doing the job to complete it in the efficient time.
Manage workforce time & enhance profitability!
Keep check of all employee tasks, their availability, and much more with Zimyo.
Choosing one software among all the existing ones in the market might get a little overwhelming. To ensure an unproblematic and hassle-free time tracking of your employees, it's imperative to do your research up to the mark and choose the software that fits best with your company. We are here to provide you with knowledge of the top 8 employee time tracking software in Saudi Arabia.
Top 8 Employee Time Tracking Software in Saudi Arabia
Zimyo is a leading software provider company growing its acknowledgment more and more daily, nationally and internationally. It is known for its top-tier employee experience with its 40+ cloud-based suite of modules like Performance Management Software, HR and Payroll Software, Applicant Tracking Software, etc, and much more.
One of the best time tracking software in Saudi Arabia, it provides more than just the necessary features to ensure a fast and accessible way for tracking time spent by the employees on a particular task along with easing the task of managers.
With a feature of clocking in at the beginning and clocking out at the end of a day, employees themselves are responsible for marking their attendance every day with just one tap on the screen, providing them complete transparency of the data that is being analyzed for calculating their payroll at the end.
The software also provides in-depth detail to the managers regarding the time taken by the team to complete a given task/ project. It makes it easier to manage and regulate the resources more efficiently.
Billable working hours are directly aligned with invoice generation that is calculated with the help of employee logs in a month.
Along with all these outstanding features existing in the software, it also provides friendly reminders to the employees to remind them of the deadlines, clock-in/clock-out, online timesheets, customizable workflows, employee calendar, or any other important event that the employee might have forgotten.
With the presence of all these features that no doubt makes software to be one of the best for any company, Zimyo's time tracking software is always be considered among the best ones in Saudi Arabia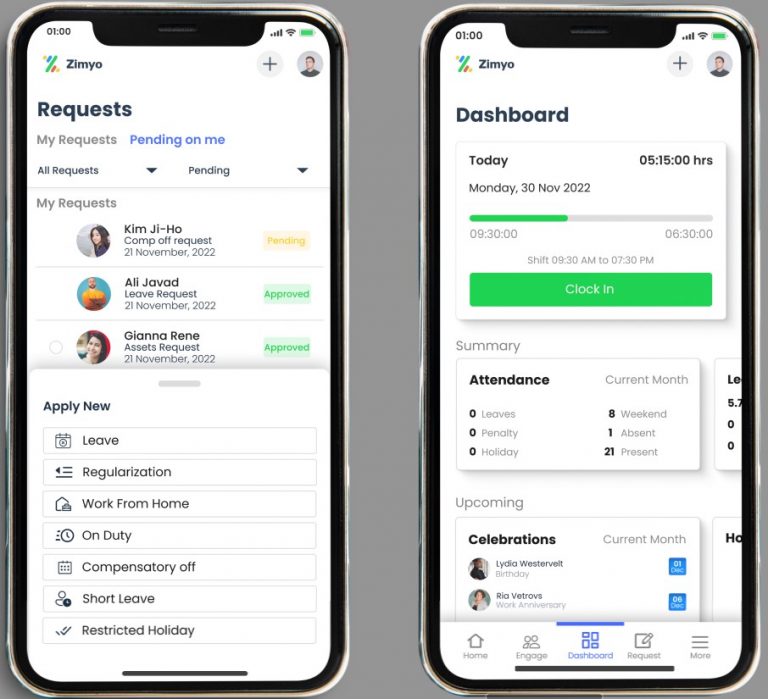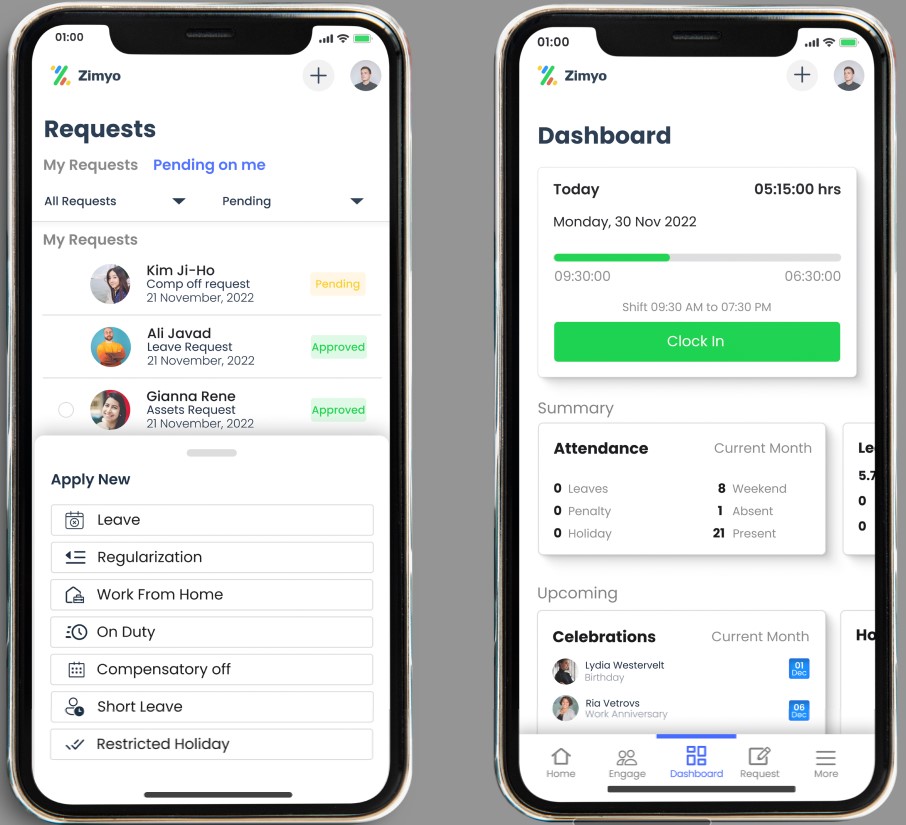 Track Time & Attendance like a clock!
Track and optimize the hours that employees spend on their jobs with Zimyo for Saudi Arabia.
Bayzat is a UAE-based innovative HR, payroll, and insurance human resource management platform.
This software helps in managing attendance your own way and gives you complete control over time tracking, whether they are working onsite or offsite.
The mobile app is easily accessible; employees can clock in and out to mark their presence with just a tap. The employees working hours are directly synced with their leave balance, keeping in mind the public holidays and weekends, avoiding any chance of misalignment or errors.
The attendance data is easily accessible and centralized in a single sheet available at a click.
Bayzat is known for providing clients the best of its services and must be considered if you are looking for an all-in-one software to fulfill your time-tracking needs.

Codis is known to be one of the best time-tracking software provider companies in Saudi Arabia known to have had an impact in the market in the last 25 years.
With the acknowledgment of sage awards, it is a Microsoft silver partner in software development and has also earned Microsoft silver ISV accreditation.
With the necessary features available such as time tracking, timesheet management, project administration, online billing, and powerful integration, it helps track attendance, hourly salary and customer billing rates with just one click. The information is further used to calculate the payroll of the employees without any chaos and misunderstandings. Timely alerts are also provided to the employees in case they forget some specific deadlines or mark their attendance.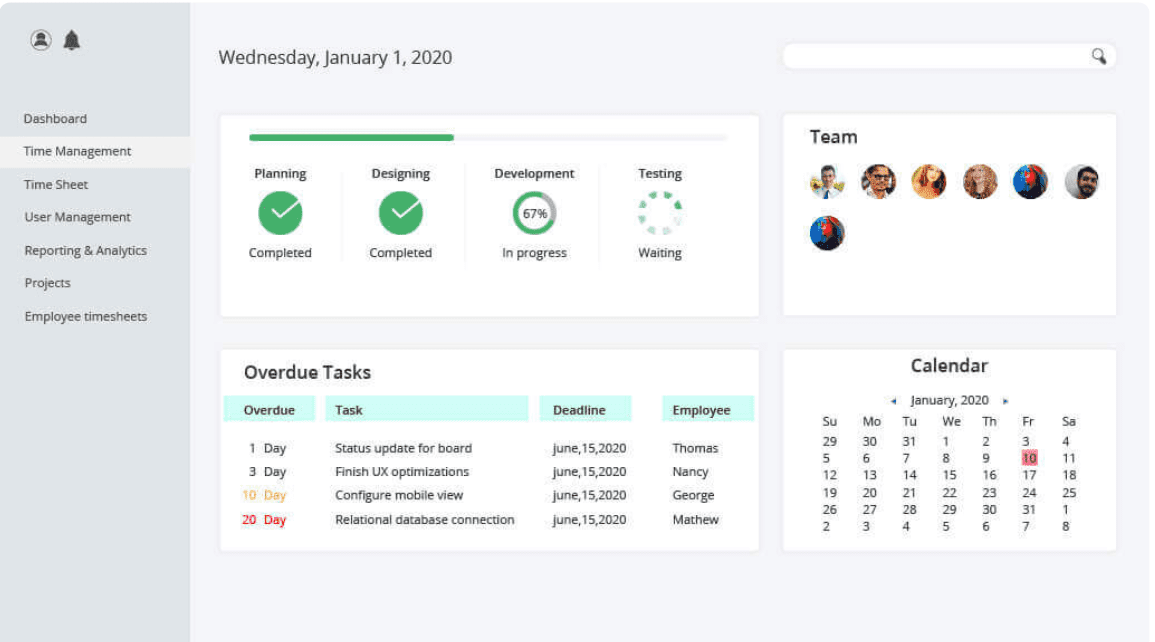 With over 30+ years of grip in the market, domestically and internationally, better tech is known as one of the best software and information technology solutions provider companies in Saudi Arabia. It offers modern and innovative technology solutions to tackle time tracking activities without confusion.
IPX PMS is a tool used for keeping track of the activities of your employees. From managing their attendance to creating work schedules, managers do not need to waste their time on such tasks anymore. Keeping track, thus time tracking software presents proper insights to avoid any disputes.
The software is 100% cloud-based and is extremely reliable with high accuracy rates.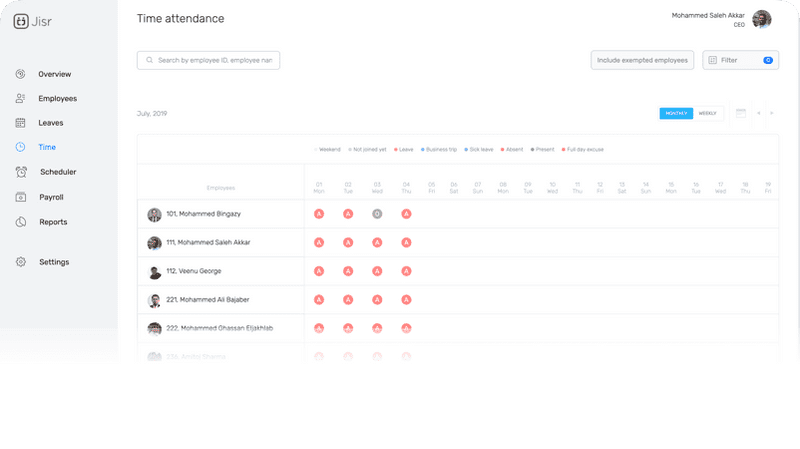 JISR is a Saudi Arabia-based company that provides tech-driven HR and payroll automation software to the organizations of Saudi Arabia. It has a vision of making payroll and HR management easier for the companies for smooth functioning in a seamless and efficient way.
The software provides regulated data for the last 14 days of employee attendance in a grid view form.
The grid view formation makes the data easily accessible and readable for the conclusion.
With a provided feature of narrowing down the information according to your preference, a filtering feature helps in saving a lot of time and effort and makes the data easily accessible.
Due to its distinct features and elegant layout properties, JISR has proved to be one of the best time tracking software provider companies in Saudi Arabia.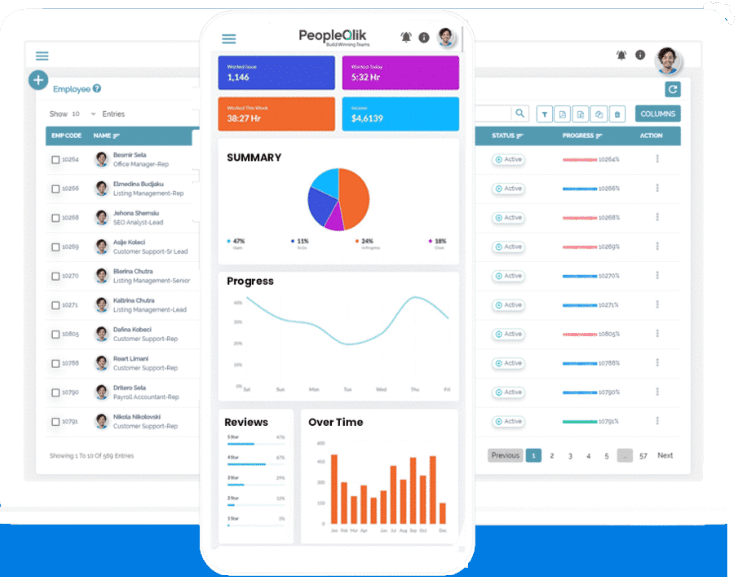 PeopleQlik is known to be the #1 company to offer efficient web-based employee tracking software in Saudi Arabia. It automates and streamlines the attendance and time sheet of the employees, making it easier to calculate the payroll at the end of a period.
It comes with various features like time administration features to track the presence of employees, time trackers that help in contemplating the time spent on completion of a specific project and help in building future strategies accordingly.
Problems like employee management, business intelligence and reporting, scheduling, document management and effective communication have an all in one solution in the face of this software.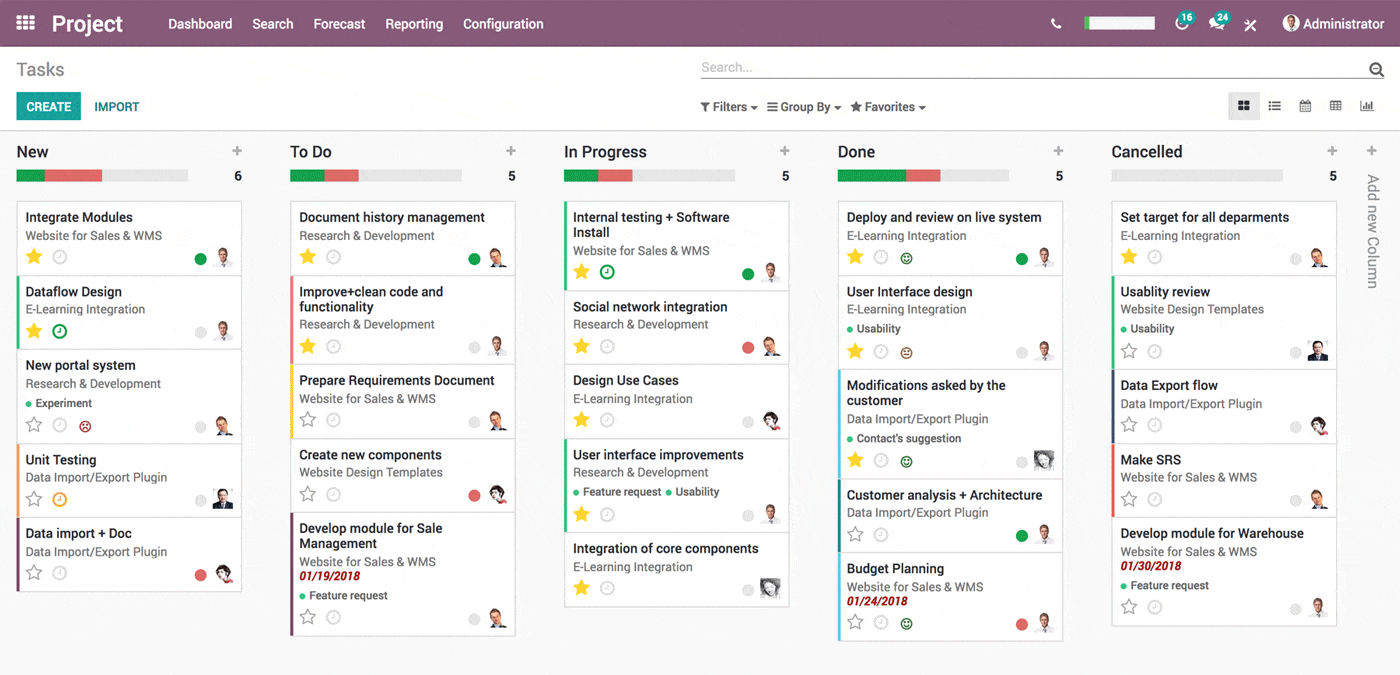 With getting acknowledged as one of the best companies known for solving major business issues with its time-tracking software services in all of Saudi Arabia, it has made an impact on the market.
It helps in checking the daily working hours of an employee by just logging into the timesheet app, which is easily accessible at any time or place.
The software is inbuilt with the feature of a day planner that helps in increasing the productivity of employees by providing them a clear vision of the tasks time done on a particular day.
A timer helps in tracking the time spent completing a task, making it easier to plan and prioritize tasks more effectively in the future.
A bad internet connection is never a problem as the timesheet can be updated even in offline mode which gets synced automatically once the device connects to an internet connection.
It helps in keeping track of the employee's absence and coming holidays to create a futuristic plan accordingly.
Creative solutions are known as the best time tracking software in Riyadh, Saudi Arabia.
Loaded with the best features that are needed for a chaos-free and accurate time tracking of employees in a company, it also provides help desk software and much more to its clients.
It is a well-known company in not only software providing services but also specializing in mobile applications and web development.
It also comes with various features like employee personal records, objection management, leave or holiday management, multiple shift assignments, and overtime reports, along with easy report generation making it easily accessible and understandable for managers as well as employees, ensuring complete transparency, building trust, and minimizing conflicts.
Managers of a company have a lot in their hands to take care of, from building strategies to supervising juniors. By taking up the services of a time tracking software, it takes a ton of burden away from the minds of managers, making it easier for them to focus on more critical aspects ensuring the success and completion of the organizational goals.
With time tracking software, it provides complete transparency by making the data accessible to all, also avoiding the errors in calculating the payroll to be given to an employee at the end of every month, building more trust in the company, and avoiding disputes and misunderstandings.
It's essential for every organization, be it big or small, to have the services of time-tracking software for the smooth and effective functioning of the company.