It is difficult to manage the number of employees in an organization in Dubai. From recruiting the top talent in an organization to enhancing employee productivity in an organization, an HR has to manage multiple tasks at a time. However, these repetitive tasks often consume most of the time of HR managers. 
The enhancement in technology has automated most of the tasks of HR through modern HR Software. With the use of these HR solutions, it has become easy for HRs to handle these tasks with ease.
HR software streamlines various processes from monitoring time and attendance of employees to running the payroll of employees. There are vivid features of HR software in Dubai for different HR processes. 
The software empowers HR managers by streamlining repetitive tasks like resume parsing, interview scheduling, and sending offer letters to every candidate. If you are looking to boost your company's growth with HR Software, you can check out the list of the best HR software in Dubai.

HR Software offers numerous benefits to the employees and the employer. Some of the benefits of HR Software are:
1. Efficiency and Productivity
A research study concludes that HR Software improves the efficiency and productivity in the organizations by more than 75%. There is no doubt that organizations using HR Software can reap benefits and save their resources while freeing up HR managers from lot of paperwork activities. 
HR Software plays a major role in improving retention rate of employees in an organization. There is no doubt that organizations spend lot of time and efforts in order to hire and retain top talent in the organization. Getting good people to onboard is a good employment practice but retaining the top talent within organization can provide long term benefit to organization.
HR Software helps to save cost for the organization. It allows to save cost on various grounds without cutting back on employee performance. By tracking data a company can leverage to save huge costs. It is important for every organization to save their unwanted and avoidable costs.
One of the major benefit that HR Software provides is reduced manual errors. Especially while running manual payroll various manual errors can arise which results in huge costs to employees.  It also helps to comply with legal and statutory regulations.
The additional benefit of HR Software is data security. As data is an integral asset of any organization it is necessary for organization to protect their data. HR Software provides security of data as all the data is saved on the cloud. A data breach can cost huge amount to the organization.
6. Data-driven decision making
HR Software helps organizations to take data driven decision making. Decisions which are based on facts and figures are more acurate than the decisions which are based on assumptions and biasness.
Stay competitive in your industry!
Implement Zimyo HRMS to scale up your growth and productivity right away.
List of Top HR Software in Dubai
No matter whether you are a small start-up or a large enterprise company, it becomes necessary for every organization to opt for HR Software to streamline their HR processes. However, there are several HR Software in Dubai to choose from. 
Every vendor offers different features and every software has its own USP. So, how do you choose the best HR software in Dubai for your organization? We have provided a list of top HR Software in Dubai that are available and you can compare every software and choose the best one as per your business needs.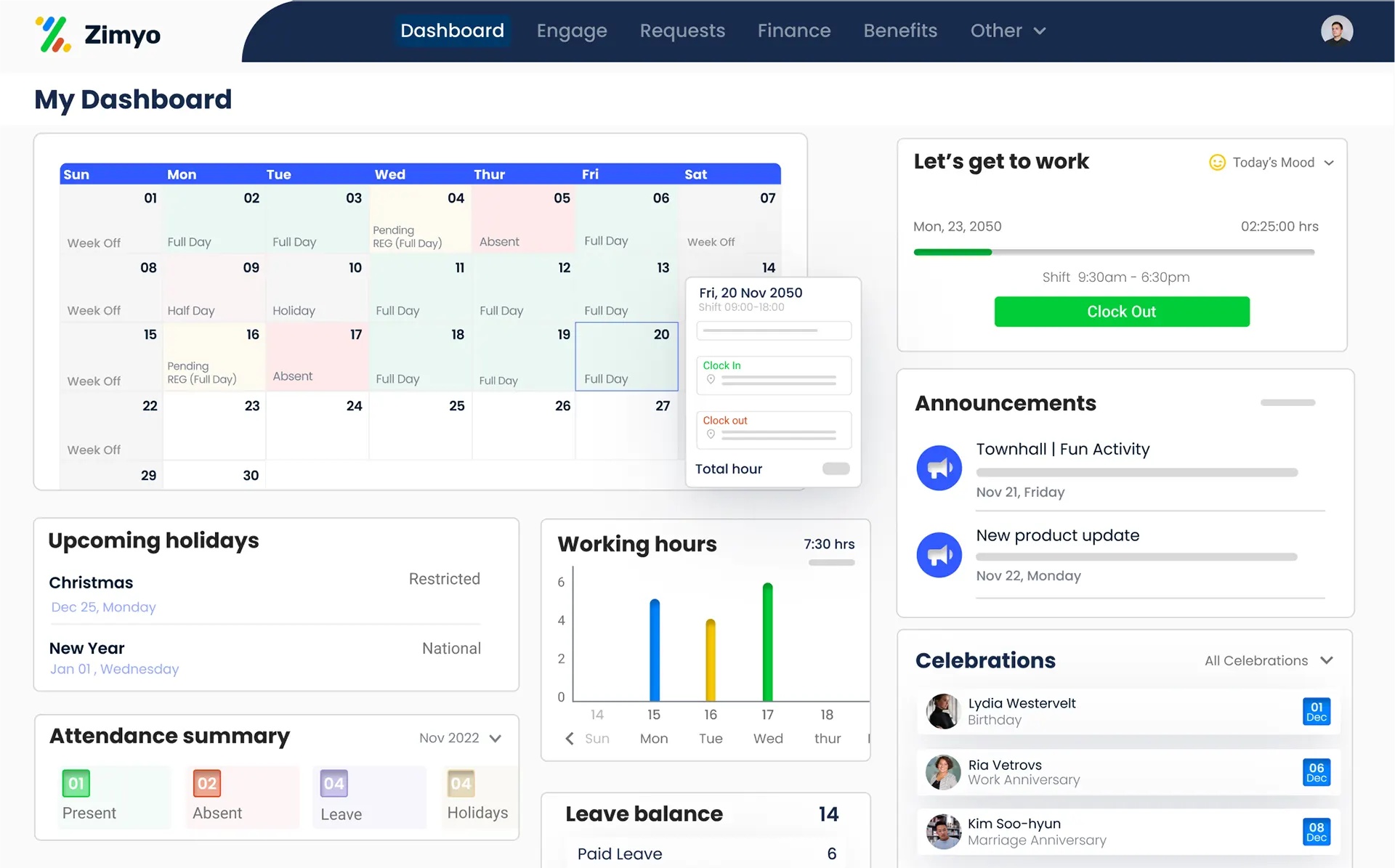 Zimyo is one of the best HR HRMS in Dubai which can be customized according to the needs of your organization. This platform automates most of the HR processes, allowing you to focus on more strategic and important tasks.
Zimyo covers all employee management problems with its 40+ modules. All the modules are specifically designed, keeping in mind the needs of Middle-East countries like Qatar, Bahrain, Oman, UAE, Dubai, Saudi Arabia, etc. Moreover, Zimyo is listed at the top of We Suggest Software's list of the most used HR software in UAE. 
Zimyo is an extensive HR-Tech platform that solves complex HR challenges while streamlining and automating the day-to-day HR operations such as Employee Onboarding/Offboarding, Payroll Management, Leave and Attendance Management, Engagement, Performance, Recruitment, and much more.
Founded in 2018, and trusted by paramount organizations such as Bajaj Capital, Yashraj Films, Vivandi, Kayfi, Morni, and 2000 others, Zimyo centralizes all the HR operations into a single platform which reduces manual efforts, increases efficiency, and strives businesses toward success. There are various features which make Zimyo different and best from other vendors in Dubai.
Core HR
Payroll Management 
Performance Management
Time and attendance management
Structured Employee Directory
Statutory Compliance (GCC)
Asset Management
Engage
Customized workflows for employees
Recruitment Management
Integration with job boards
Tax compliance and calculation
Downloadable Payslips
OKRs, KPIs, and KRAs 
Employee Engagement
Polls and Surveys
Employee Self Service, etc.
Starts at $2 per employee per month (7.35 AED)
Boost efficiency with Zimyo HRMS!
Get rid of unnecessary worries and lot of paperwork in a jiffy.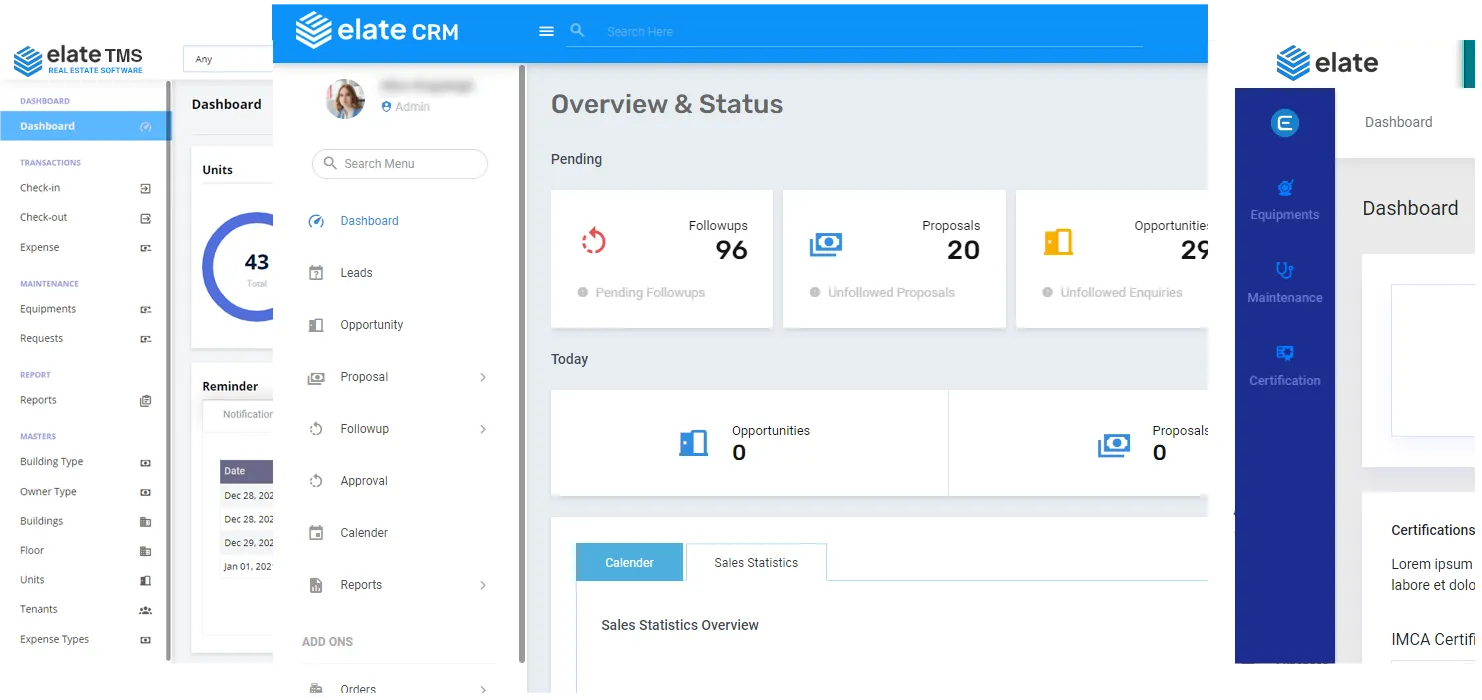 Elate Soft provides HR and Payroll Software to employees in Dubai and other GCC countries. They can customize their software as per the needs of your business. They value good employee relations in every company. Their system enrolls all the data accurately.
Elate Soft's HRMS is a great way to reduce stress and take care of employees and it is a trustworthy HRMS in Dubai.
Design for Payroll Software
Inter-company and Location Transfer
Promotion and Appraisal
Training
Performance Management
Visit the website for pricing information and more details.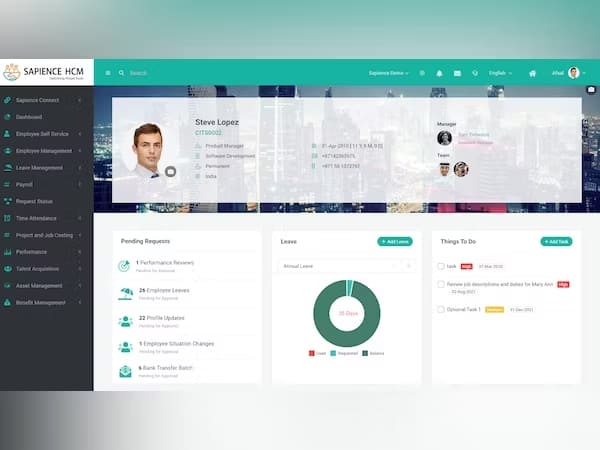 Sapience HRMS is a unified HR and Payroll Software in Dubai to meet the HR needs of an organization. This software can be customized according to the needs of the users to capture real-time data. It offers a variety of features to streamline the HR processes.
Core HR
Payroll
Time and Attendance
Compensation and benefits management
Performance Management
Training Management
Visit the website for pricing information and more details.
Oracle HCM Cloud is one of the HR Management Software providers in Dubai. There are several enterprise organizations in Dubai which use Oracle. This software suits the organization's demands. It also helps to comply with UAE Labor Law and other various compliance requirements.
Moreover, the social collaboration of this tool helps to improve productivity and results.
Core HR
Benefits Management
Priority Helpdesk
Advanced controls
Collaboration with tools
Work-life Solutions
They have 3 price editions $4, $10 and $15 per employee per month.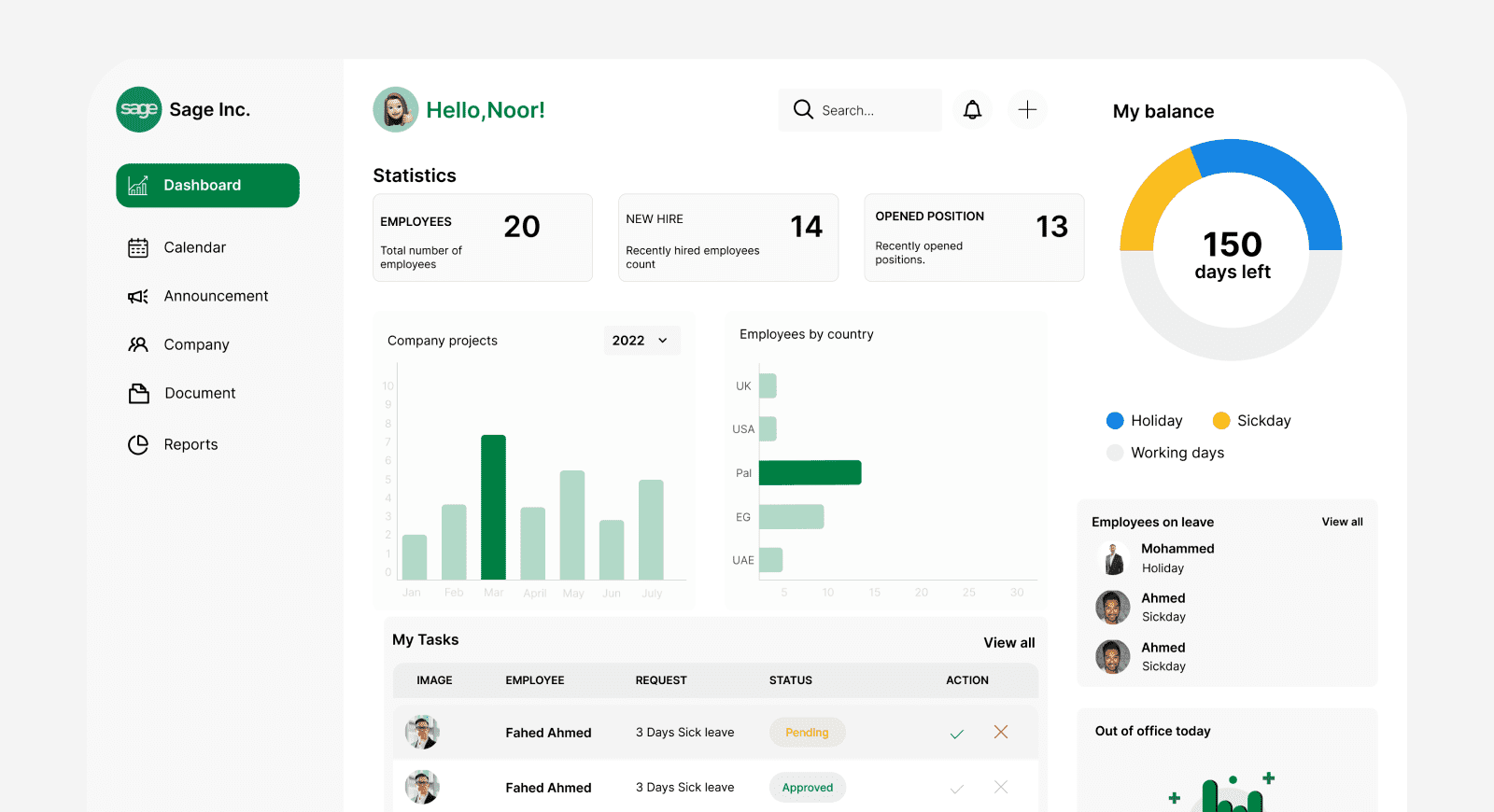 Sage HRMS is a cloud-based HR Management Software for Dubai's businesses. The user-friendly interface of this software allows HRs to manage their activities independently. This software can be customized according to the needs of users.
This software easily fits the organization's climate.
Payroll Management
Talent Management
Benefits Management
User-friendly interface
The pricing of this software starts from 5.5$ per employee.
Moreover, additional features can increase the cost.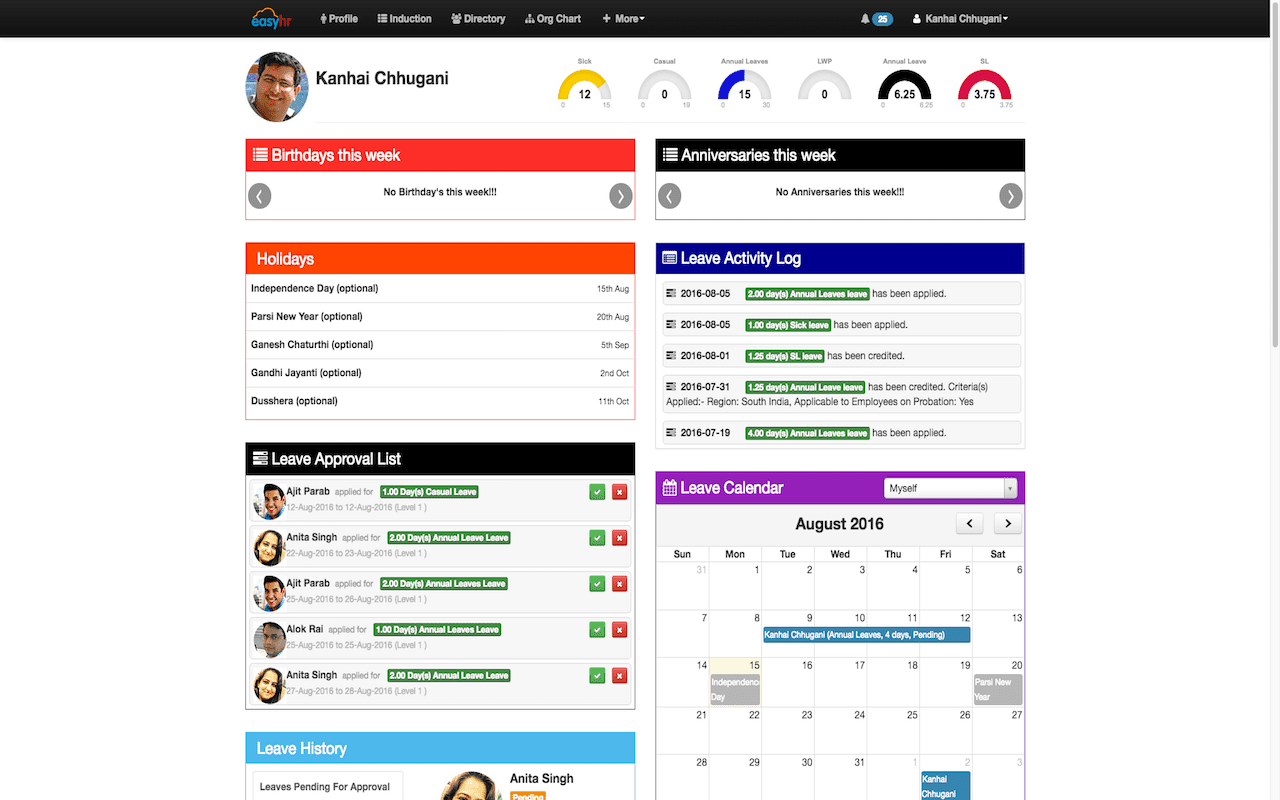 Easy HR is a premium HR Software for startups, SMEs and enterprises. It has a user-friendly and easy-to-use UI. Using this tool HR Administrators can manage employee information, onboarding process etc.
The Customer support of this tool is available 24*7.
Employee Self-Service portal
Leave and Attendance
Recruitment Management
Payroll and compliances
For pricing-related queries, you can visit their website.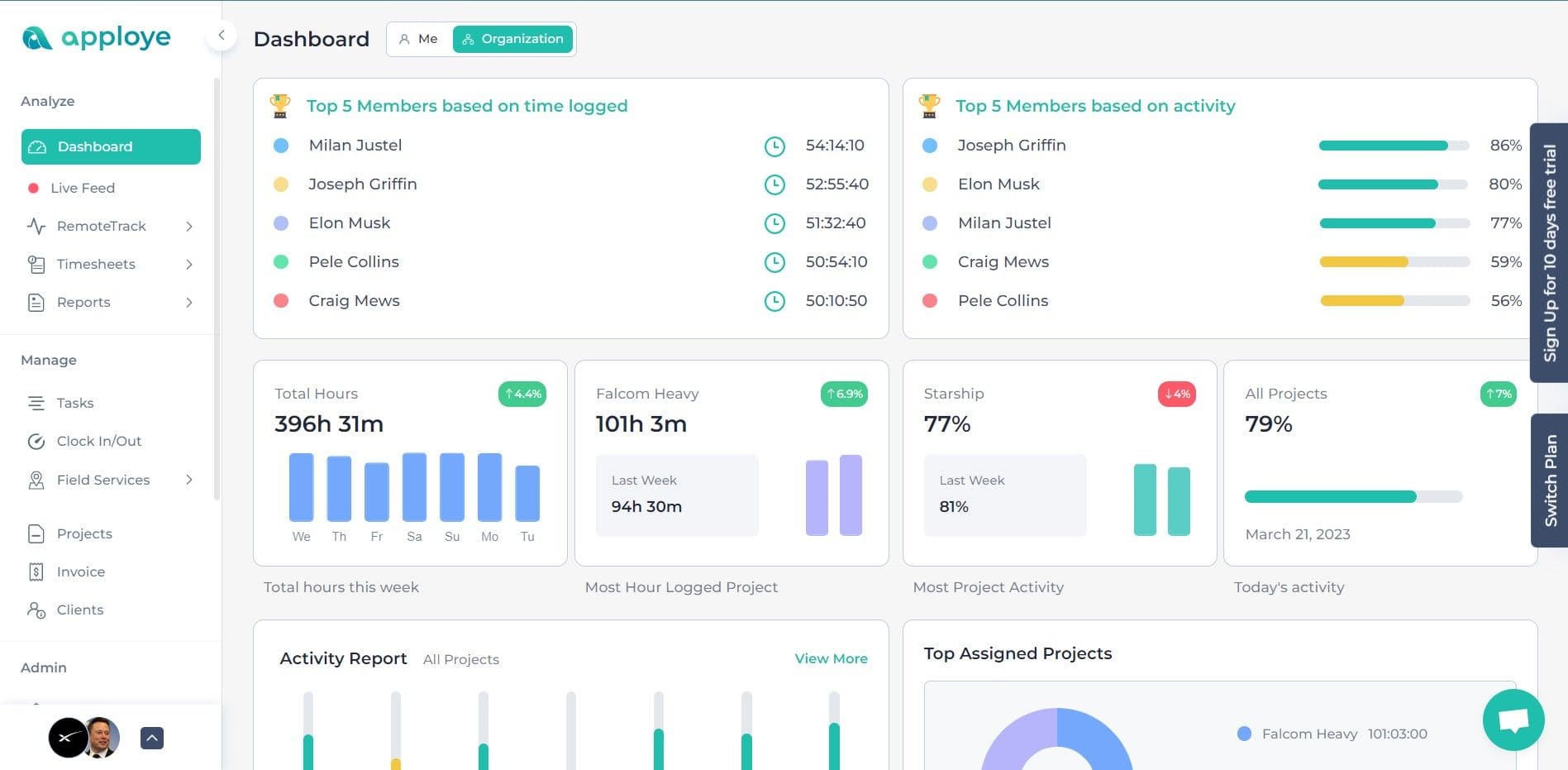 It is one of the HR Software providers in Dubai which offers comprehensive solutions for HR. It provides an overview of employee's time and attendance, performance, projects assigned to employees etc. It helps enterprises and other businesses to reduce construction procedures costs and increase the results of the particular project.
Time and attendance tracking
Employee GPS tracking
Timesheets
Geofencing Attendance tracking
Weekly activity report
This software has four pricing plans $2, $2.5, $3 and $3.5.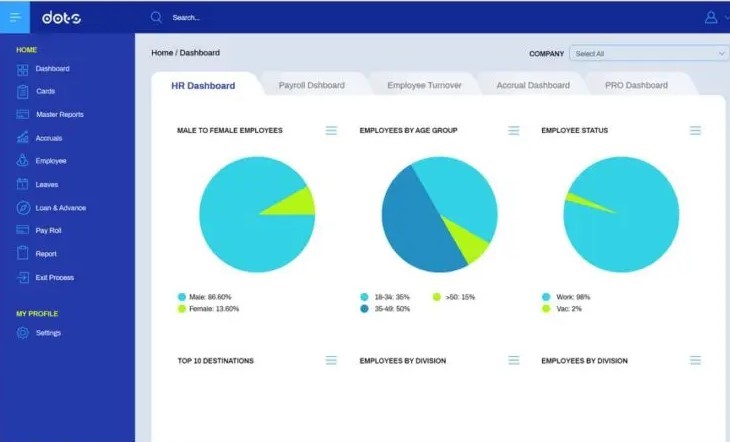 Dots HR provides quality HRMS solutions in Dubai and other GCC countries. It can link with biometric sensors to track the attendance of employees as well as their overtime and absence. It is highly customizable to meet the changing demands of organizations. You have to pay for only those modules which you will use and not for the modules you don't use.
Attendance and time management
Payroll
Time off
Caters to other HR needs
You need to get a quotation from the vendor based on your needs.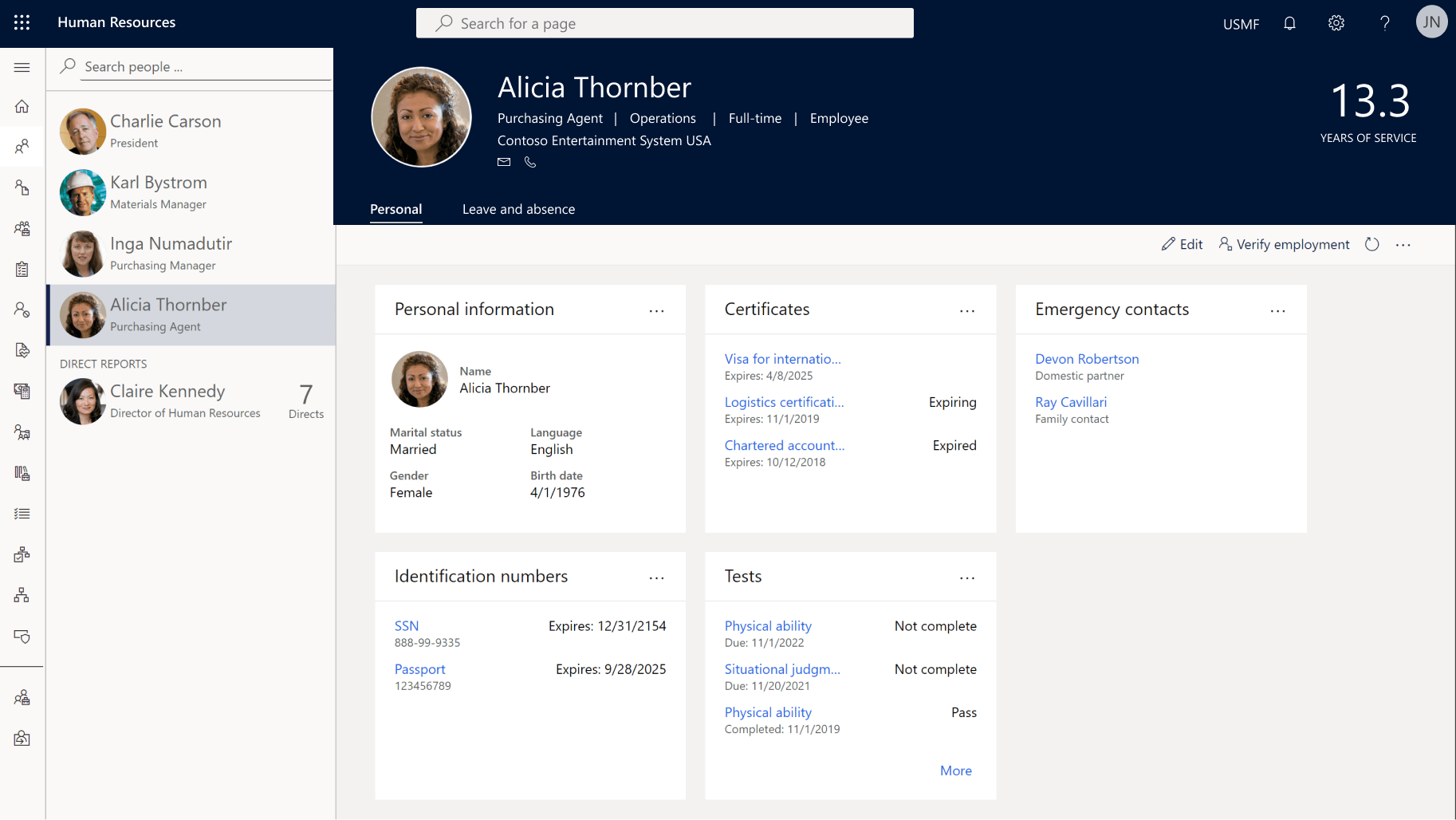 Organizations in Dubai can make use of this software to meet the management of employees. It helps to organize the data of employees and ease the HR processes. This software can be customized according to the needs of organizations in Dubai. It can be used by startups as well as enterprise companies. It is ideal for organizations in Dubai.
Employee self-service portal
Performance Management
Talent Management
Benefits Management
Compliance Management
The pricing of this software is $4 per month for each employee for a self-service portal and $120 per user per month for full application capabilities. 
Frequently Asked Questions (FAQs)
Manage your workforce efficiently!
Zimyo HRMS and its modules helps to manage entire employee lifecycle and HR processes. .