Foreign employees who stay in the UAE for a long time must have a Residence Visa. Those who wish to work in the UAE must possess a work permit or employment visa.
It is necessary to make sure that your employer is willing to hire you before you proceed with an application for a residence and employment permit for the UAE. The employment visa in UAE or any other country comes with certain conditions and rules to ensure that the rights of workers are not violated.
Rules Applicable for UAE Employment Visa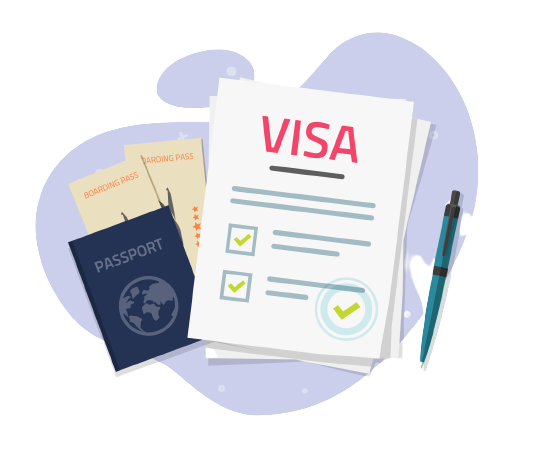 In order to work in UAE you must qualify for certain criteria:
Your age must be 18 years old
The license of your employer or hiring company must be valid
The company must have not violated UAE Labour Law
The work you do must correspond with the working of the organization as a whole
Who is eligible for a UAE Work Visa?
Any foreign entity who is above the age of 18 is eligible to work in the UAE, provided that they abide by the rules of MoHRE (Ministry of Human Resources and Emiratisation). No maximum age is defined to work in UAE but organizations hiring employees above the age of 65 are required to pay a higher fee. 
Foreign employees are categorized into three parts based on their academic qualifications:
If you have at least a bachelor's degree or related in a relevant field
If you have a post-diploma degree in a relevant field
If you have a high school diploma
Documents required to apply for UAE Employment Visa
Several supporting documents are required when applying for for UAE Unemployment Visa:
Original passport along with its photocopy
A passport-size photograph in line with the UAE rules
Photocopies of academic qualifications. The qualifications have to be authorized by the UAE Embassy as well as the Ministry of Foreign Affairs of your country
A medical certificate is issued by a government-approved healthcare center in the UAE
Documents from the company hiring you such as trade license of the company and card of the company
According to new employment visa rules in 2018 it is not necessary to provide a certificate of good conduct, until further notice.
How to get a work permit in the UAE?
The organization or employer hiring you is required to obtain an employment permit on your behalf. The application process for a UAE permit is:
1. The employer prints the work permit at the TasHeel website, the Ministry of Labour's online portal.
2. They are required to submit the required documents.
3. The Ministry reviews the application and asks to correct the irregularities or mistakes if any.
4. The Ministry issues the approval after checking all the documents and the same can be downloaded from the portal by the employer.
The fee structure of the UAE Work Permit is:
Requesting an initial approval of new electronic work permit: AED 200 for all category employees
Approval of new electronic permit requires the following fees to be paid for different categories:
Category 1: AED 300
Category 2: 
Level A – AED 600
Level B – AED 1500
Level C – AED 2000
For foreign workers above the age of 65- AED 5500 for all the categories
Different Types of Visa Categories
UAE has expanded Golden Visa categories, simplified the whole application process and increased the validity up to 10 years for all categories of visas. The grace period for expiry or cancellation of visa has been extended to 6 months for Golden Visa holders.
The UAE Green Visa now offers a 5-year residence visa to attract skilled and professional people to the UAE. The benefits provided earlier have also been extended which included extended grace periods provided to renew or cancel the visa. Green Visa holders can also provide a residency visa to their near and dear ones.
3. Three-Year UAE Work Permit
The UAE's Federal National Council has increased the work period visa from 2 to 3 years. The major aim of the extension was to ease the financial burdens. The permits issued by the MoHRE are currently valid for two years. Working without a work permit in the UAE is completely illegal.
4. Five-year residency visas for children of Emirati women
Recently, the UAE government has extended the validity of residency visas for children of Emirati Women from three to five years. The major reason to make this change is to provide them equal benefits in healthcare and education, ultimately improving their quality of life. 
How long is a UAE Work Permit valid?
When you receive the work permit it is initially valid for 30 days and can be extended for another 30 days. So it provides you a total of 60 days to get a Residence Visa, Emirates ID along with a UAE Labour Card.

Along with the UAE Labour Card, it is necessary to get a residence visa to ensure a legal stay in the UAE. UAE residence visas are generally issued for a period of 1, 2 or 3 years depending on the purpose of travel.

A person can also renew his residence permit within 30 days before its expiry. However, your sponsor may also renew the work permit after it expires but within the grace period.
Getting a Work Visa for Dubai
Since Dubai is attracting people to work and businesses to set up it is necessary to discuss the process of getting a work permit for Dubai. This includes:
1. Find a job using the Top Job Portals in UAE or recruitment agencies.
2. While you are still in your home country, your employer can still apply for the work permit on your behalf.
3. If approved by the MoHRE you can use the work permit to enter Dubai.
4. Your employer or organization arranges a medical examination for you and applies for a residence card in Dubai. They must do all this within 60 days, which is how long the work permit is valid.
5. Your employer arranges a Labour Card and Emirates ID for you.

FAQs (Frequently Asked Questions)
The new visa rule states that work permits has been increased from two to three years in order to reduce the financial burden.
Employment visa in Dubai may cost you around AED 3000 TO AED 7000. Foreign workers above the age of 65 years had to pay AED 5000 (applicable across all the categories).
The cost of a one-year freelance permit is AED 20,000; the price of a residence card valid for a year is AED 2,000; the cost of a 3-year employment visa is AED 2,750; the cost of a 5-year employment visa is AED 5,000.